HUMBOLDT'S GERMAN BITTERS
Stephen Deschauer – Chicago, Illinois
27 August 2013 (New photographs added 03 September 2013)

It must be Octoberfest in August this year because I keep stumbling on extremely rare or unlisted German bitters bottles. My first encounter of late involved the addition of a milk glass, German Balsam Bitters from San Francisco to my collection. Even though I picked it up in late July at the Manchester National Glass Works auction it set the wheels in motion. Next it was news of an unlisted German Army Bitters from Ironton, Ohio. That post will be ready on Thursday when pictures of the newly cleaned bottle arrive from Gary Beatty. While researching that bottle I came across another unlisted, Dr. Nauman's German Army Bitters from San Francisco. That post too, will be published this Thursday or Friday.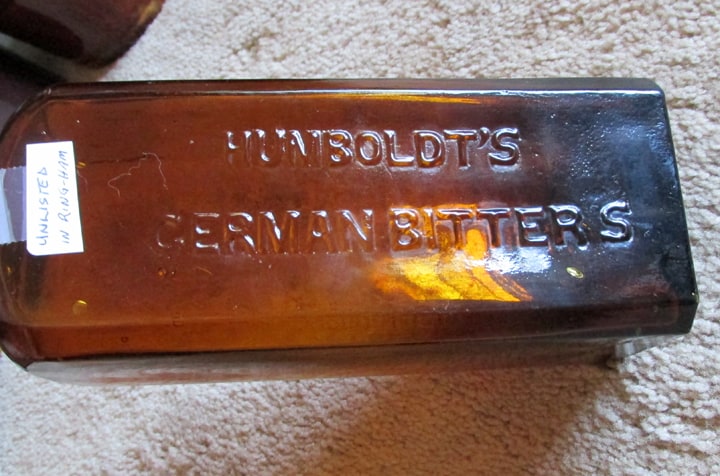 Yesterday I received yet more news and pictures on a Humboldt's German Bitters from Mark Newton saying:
Hi Ferd, I purchased this Bitters last week and the tag says "unlisted in Ring and Ham." It was included in a box of bottles at the local Flea market. There was another German bitters (Dr. Bells ) in the box and eight other bottles and inks. I'm pretty sure it has an applied top but will have to make sure after work today. I don't have the book but have not found anyone yet who has seen this one before. Would appreciate any info you can give me on it. Thank you! – Mark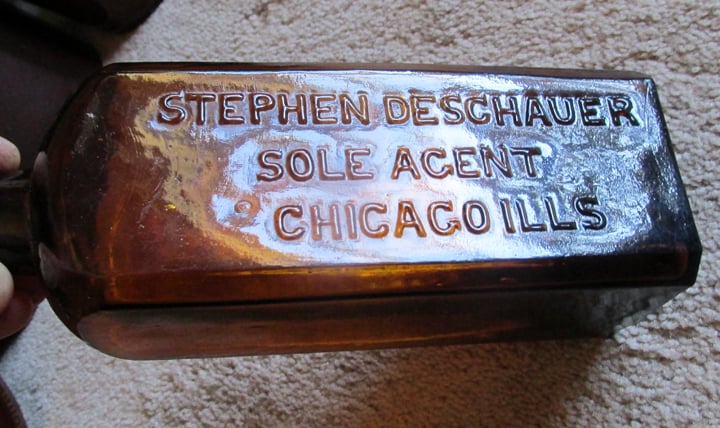 Mark also posted this over on Bottle Collectors on facebook and a few of the super sleuths started looking for information. I could see they were having little luck so this piqued my interest even more. Obviously no 'direct' hits with searching for "Humboldt's German Bitters" or "Stephen Deschauer in Chicago". That's a strong German name so I thought I would pick up the hunt.
New number issued by Bill Ham:
H 208.3  HUMBOLDT'S GERMAN BITTERS
HUMBOLDT'S / GERMAN BITTERS // f // STEPHEN DESCHAUER / SOLE AGENT / CHICAGO ILLS // f // // b // L& W
Square, Amber, Extremely rare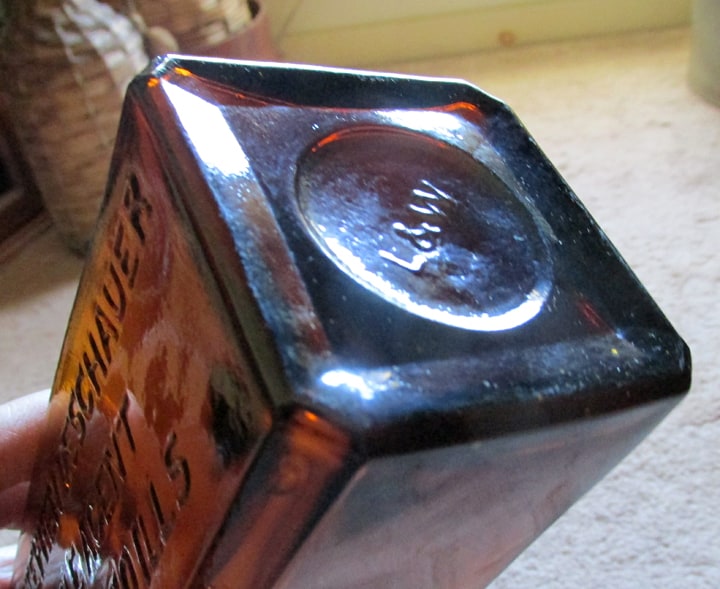 Looking at Google, Ancestry.com, Fold3 and other sources, I do see the following which is listed in various City of Chicago Directories:
Stephen Deschauer, 1861, 1862 (tinsmith), 79 Blue Island Ave., 1865 (tin and hardware), 1870 age 32 living in Chicago. Born in Austria around 1838, wife Fanny. Later listings: 334 Blue Island Ave. (1875, 1877) Dep, collr, water dept. (1878) (1882, 1885, 1888, 1889, 1904, 1906) Retail Hardware and Cutiery. Why would he be a Sole Agent for a German bitters?
Dr. Joseph Deschauer, (Dentist), 1887. This guy is listed all over the place and is listed in many Chicago directories. He obviously had a well-established Dental practice. He was the son of Matthias and Martha Deschauer from Austria. Interestingly, his fathers brother, Sebastian Deschauer, was Surgeon General of the Austrian Army. I can not find a Stephen in the family.
Deschauer Bothers (Lake Zurich, Illinois). Lake Zurich is basically an old, predominately German, neighborhood and area north of Chicago. This is where it gets interesting as the Deschauer name gets co-mingled with Henry Seip who was an early druggist. Look at this except from:
Union Store to Drug Store to Hot Dog Restaurant
Building at Main and Paine has changed hands many times.
Seth Paine came to Lake Zurich in the middle 1800s and settled on the shores of Cedar Lake. Later he changed the name to honor Zurich, Switzerland. He opened a Union Store in 1841, printed the first newspaper in town called the Lake Zurich Banker and built the Stable of Humanity, which was a meeting hall and living quarters for people who needed help.
Paine also built a general store in 1850 on the northeast corner of Paine (Old Rand Road) and Main Sreet (Route 22). The store remained a general store until 1908. Some of the owners were: James Parker, who took it over later and ran it until 1874. Then Henry Seip ran it from 1874 to 1902 and Charlie Schultz had the store from 1902 to 1904. John Fink and William Algrin ran it together from 1904 to 1906. Algrin sold out to Fink and he continued to operate it until 1908.
In 1908 a new type of store was established that sold ice cream, candy and newspapers, this was owned by Emil Frank. Then in 1946 he sold the store to Harold Giese and continued the same business. During the 1920s through the 1950's this store was a real treat for the young people and others who enjoyed ice cream and candy!
The penny candy counter was a place of wonder. With five pennies you could get a bag of candy – if you selected carefully. The Deschauer Brothers would wait very patiently as you tried to make up your mind.
Irving Deschauer was village attorney and a member of the Lions Club. His brothers owned a corner confectionery.
Look at these old pictures of a store associated with the Deschauer name. I can only imagine the Humboldt's German Bitters being sold to the German neighborhood around 1885 or so. Unfortunately imagining is all I can do as the trail runs cold. At least for tonight. This could be a red herring unless the father or grandfather is named Stephen.
FYI: There is an extremely rare, H 208 Humboldt's German Bitters / C. H. Plantz / Chicago that is listed in Bitters Bottles. I will move here next.
Druggist, Hermann C. Plantz, 519 Milwaukee Ave. (1876)
 1880 United States Federal Census: Hermann Charles Plantz, born 1844 Prussia, wife Minnie. Son Herman W. Plantz, Druggist
1900 United States Federal Census: Hermann C. Plantz, born 1844 Germany, wife Minnie. Son Herman W. Plantz
If you look carefully at the false storefront you can see the original Seip House in the top picture.
NEW PICTURES