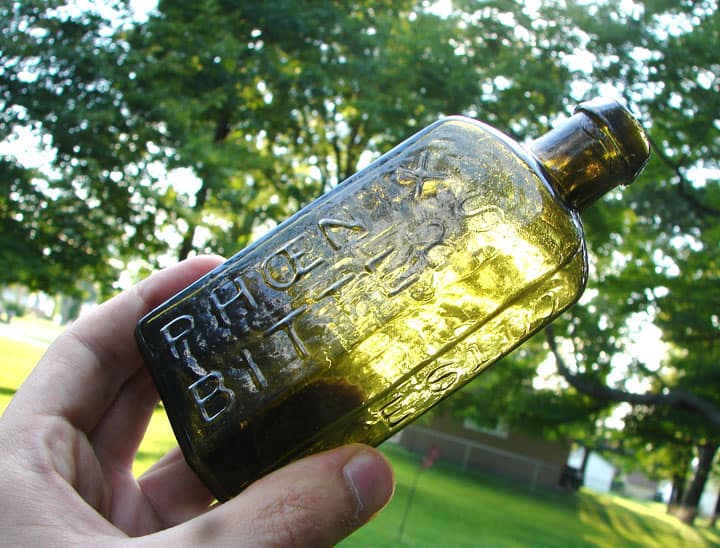 This is my first bitters find and I don't think I could be any happier…
Patience Paying Off

–

Three Amazing Finds
Hi Ferdinand!
Cody Zeleny here, Just thought I would share some more recent finds that I am really excited about
During my travels while not in college, the best thing for me is going to a great shop, antique show or flea market and coming home with some great glass. Well, patience paid off and I'm excited to send these to share!
Firstly, there's this beautiful piece from today! It's a John Moffat Phoenix Bitters in a great lighter, see through olive, green shade. I'm still stunned I stumbled upon this piece, and as soon as I saw it my heart began to race as fast as It could. Looking at and handling this great piece of glass is incredible. This is my first bitters find and I don't think I could be any happier, its a really great early piece of glass and im proud to add it to my shelves. Dare I say that Bitters are growing on me more than flasks? Somedays I wonder!
Next was a surprise as well. Its a great GV-4 railroad flask in an almost matching shade of olive as the bitters! Since I didn't have a Success to the Railroad flask yet I was really happy this turned up in a little antique shop I frequently go to.
Lastly, I have to credit this one to my dad. While in Pennsylvania, we stopped at an old church converted to an antique shop. As I walked in, I knew in my heart that there was probably nothing to be found, as it was mostly crafts and things that don't interest us. As I walked ahead my dad asked to see something in a case, and I figured it was most likely a piece of advertising or maybe a fruit jar of some sorts. As I turned around in his hands was a flask. As he handed it over to me I was instantly interested. Turns out it was a GXIII-3 Woman on Bicycle / Eagle. To me this is what the hobby is about, great glass and great memories
Hope all is well! Take care!
Cody

Pretty amazing Cody. Great examples. Please get me a few more pictures of the GXIII-3 Woman on Bicycle / Eagle. I'm not familiar with the flask. I love the embossing.