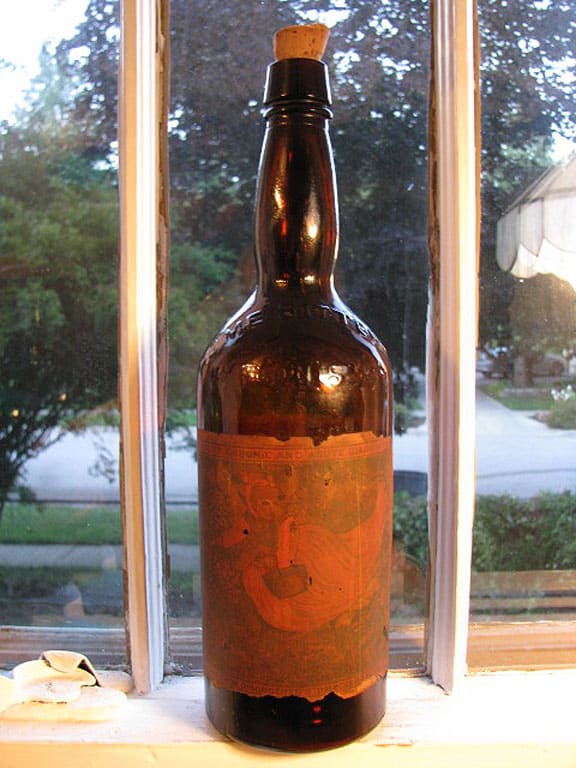 Home Bitters Company | Prepared Black Berry Brandy – St. Louis
22 August 2013 (R•102013)

Here is a bitters bottle that I have not seen before. The bottle is embossed, HOME BITTERS CO. / ST. LOUIS, MO. / PREPARED BLACK BERRY BRANDY and has a decent label.
A few weeks ago I received an email and pictures from Jeff Scharnowske for a Home Bitters cylinder. This prompted the Home Bitters post a few days ago. The Carlyn Ring and W.C. Ham listing in Bitters Bottles is as follows:
H 163.5  HOME BITTERS CO. BLACK BERRY BRANDY
// s // HOME BITTERS CO. / ST. LOUIS MO. // PREPARED BLACK / BERRY BRANDY
11 1/2 x 3 3/8
Round, Amber, LTCR, Applied mouth, Very rare
Ferd, attached is a zip file of some pictures I took this morning before I left for work of the Home Bitters St. Louis, Mo bottle. It is approx 11.5 inches tall if I remember right and has part of the original label. There are some pictures of the label included, all of the one side with the Bitters embossing. The other side of the label (on the Black Berry Brandy embossed side) is basically gone/worn mostly away. I just love the picture of the lady picking blackberries, though the label is darked with age.  
 
Condition: attic bottle, obviously never in the ground. I believe the cork to be original as it was stuck in the lip real good and it took me a bit to get it loose – lip is undamaged, some cork remnants sticking to the inside of the lip can be cleaned up easily. No chips, cracks, dings, etc that I can see.
 
I took the pics before I left for work, so the sun wasn't up.  If you want some more pictures in sunlight, I can take them and send them to you.
 
I can find only one that sold at auction and that was in 1992.  
 
Jeff Scharnowske
According to Jeff…
The bottle was found in a local estate sale in Owosso, Michigan. A long time antique collector and resident of Owosso died and his relatives contracted with a local company who conducts estate tag sales. I am often called by these local firms to appraise bottles and jars. This is the only really good bottle that was there.
Also from Jeff: The bottle will be listed with John Pastor in an upcoming American Glass Gallery auction.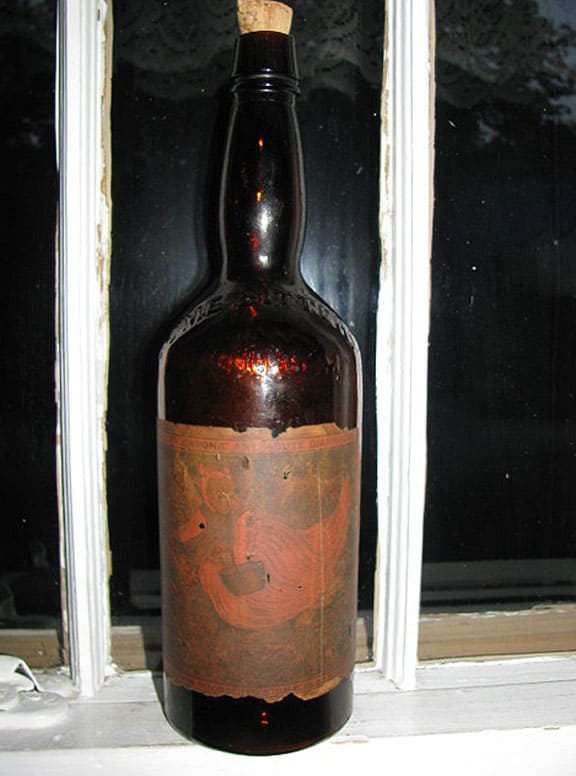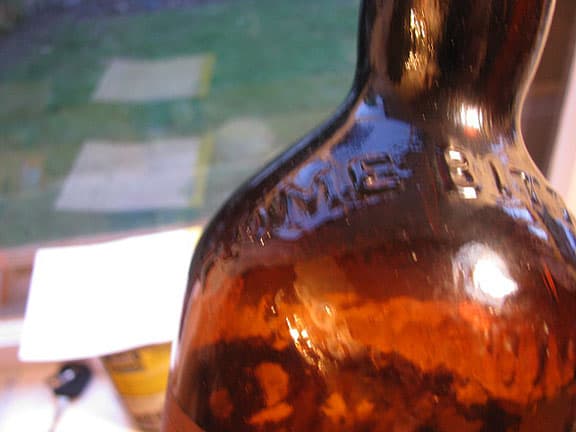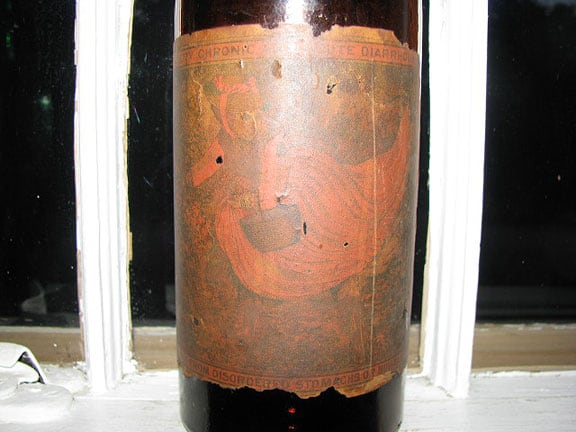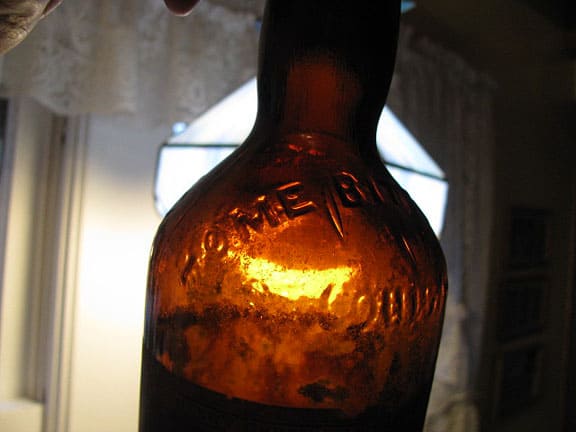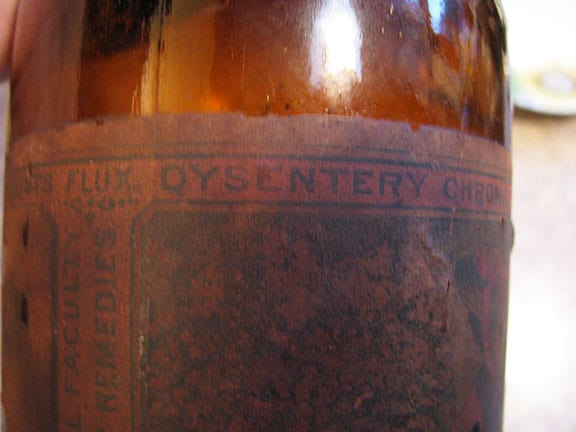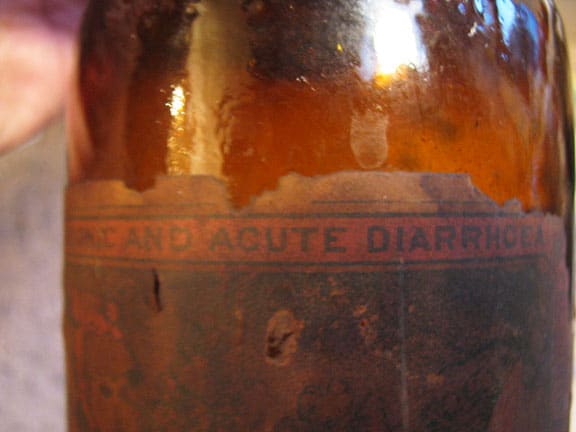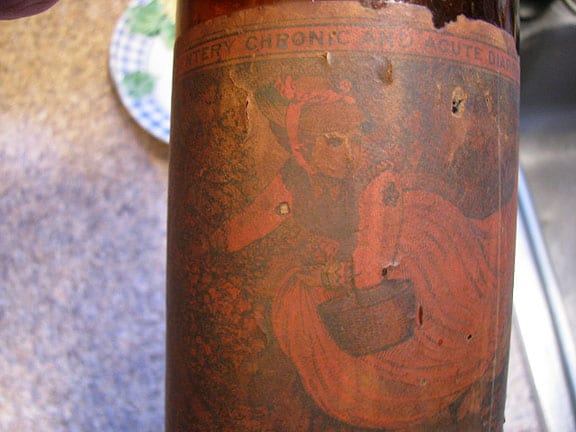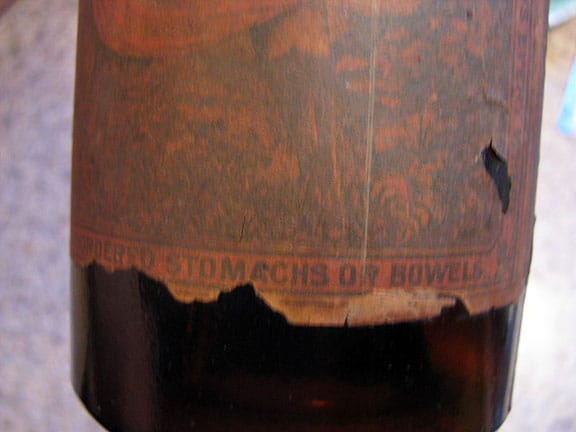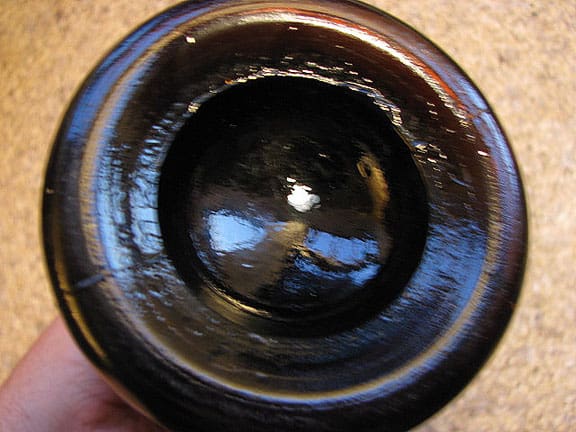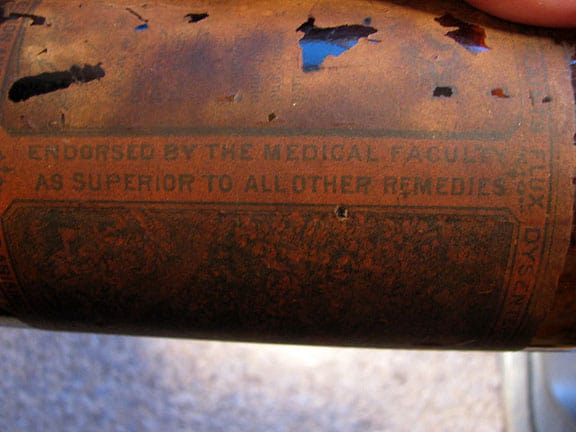 American Glass Gallery | Auction 11
"Home Bitters Co. / St. Louis Mo. – Prepared Black / Berry Brandy" (with label), America, 1865 – 1875. Medium to deep golden amber, cylindrical with "ladies leg" neck, applied sloping collared mouth – smooth base, ht. 11 1/2″, attic mint; (some minor interior residue, most of which should easily wash out). R/H #H163.5. 80% original wrap-around label, the back being faded and illegible, the front darkened, but still legible depicting a girl in a dress picking blackberries. Very rare, the 1st example to be offered at auction in almost 20 years.
A fresh discovery from an estate sale in Owosso, Michigan. This is the 1st example to be offer at auction in almost twenty years. The other examples auctioned in the mid-1990's, all had some form of minor damage. A very rare piece, especially with the original label!