HEMINGER COLLECTION
Bill Heminger (Virginia, Minnesota) and I were having a telephone conversation the other night and the conversation eventually came around to the Barto's Great Gun Bitters and guns!
You see, Bill and I had chased a few of these Barto's back in the Rod Walck Galleria Auctions days. Bill ended up with a great example that probably had the strongest embossing that I have ever seen on one of these bottles considering most of them are weekly embossed.
If you remember, we have written about the Barto's figural cannons before and looked at two great examples that joined the Sandor Fuss collection in Denver this past year or so.
I asked Bill to send me a few pictures and he graciously obliged. They were photographs that I had to scan so I lost a bit of detail and color. Bill did note in an accompanying letter that "the color is perhaps a little washed out in the pictures. It (the Barto's) is more green". The condition is perfect, glass is clean, tons of bubbles, no issues".
Bill is an interesting collector in that he selects a finite group of bitters that will fit in his cabinet. He chooses for the most part, to eschew color and go for amber examples. He then meticulously searches for the best example of each that satisfies his criteria. Bill also said in the letter "I grouped my bitters and flasks in my upstairs collection on the basis of how they grouped symmetrically. I'm very A-type about such things. Condition of my collection here, as well as downstairs (the man cave) is the best examples for each mold type, bitters as well as flasks."
We are all different in how we collect. Just another interesting way. Thanks Bill for sharing a few photographs of the Barto's and your bitters cabinet. Just a fantastic collection. Very impressed.
HEMINGER GUNS
Bill also shared some excitement and pictures of his new interest. From Bill, "This is where I am going now. I got to cherry pick a number of some very top collectors and authors who were about to sell their life collections. I had a bucket list of my favorites and for the most part found them all in the nicest of conditions.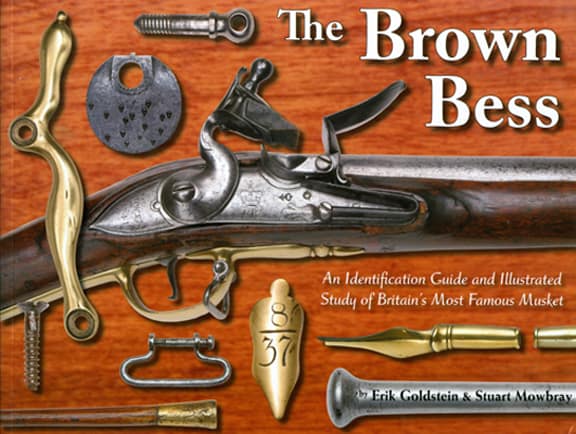 My best one is coming next week from the United Kingdom. A 'pattern" 1738″ heavy dragoon pistol dated 1739. It was the example used in a number of the published books on the subject. I was most influenced by a book called "The Brown Bess" by Erik Goldstein which shows the full shots as well as large detailed pictures of the close ups, all in color.'