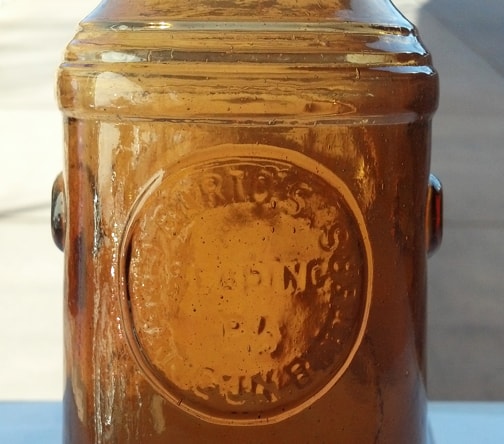 With a shot that is sure to be heard clear around the world, Peachridge Glass announces the sale of a legendary, Reading, Pennsylvania figural bottle in the shape of a cannon. Not only is this bottle extremely rare, it is arguably the finest example in existence of a Barto's Great Gun Bitters. With a chameleon like color most closely approximating Apricot, this bottle stands out from other, tough to get amber and green examples.
This bottle resided in a private collection for many years and last sold publicly at the Honorable Judge Edward McKenzie auction conducted by Norman Heckler in October 1994. Bitters collector Jeff Burkhardt from Cedarburg, Wisconsin remembers the bottle as it was the last lot in the famous floor auction. Jeff further states "nearing the end of that McKenzie session, I recall sitting with John Feldmann on one side of the aisle (hotel conference room venue) and Ted Krist sitting on the other. For whatever reasons, neither John nor I were bidding on the Apricot Barto's. As it was about to close, I glanced over to see if Ted was 'going for it' and he gave me this "aren't you guys bidding on this great piece???" LOOK/gesture. I believe I gestured back as if to say "YOU go for it" and he did, winning the cannon with a final bid. Yeah, I think I screwed up…"
The bottle changed hands earlier this week in a private transaction between an undisclosed seller to advanced collector Sandor Fuss in Denver, Colorado. This bottle will join other top examples of Bitters and Historical Flasks in his supreme, stellar collection. The sale price was rumored to be in the six figure range. We thank Sandor for taking these great pictures that are posted below. I can't wait to see this bottle the next time I visit Sandor. The color shift alone is off the charts. This is certainly a bottle that will be on permanent display in the planned, FOHBC Virtual Museum of Historical Bottles and Glass.
B 32  BARTO'S GREAT GUN BITTERS
BARTO'S (au ) / READING / PA / GREAT GUN BITTERS ( ad ) // c //
11 x 3 ½
Cannon, Amber, Green and Apricot, DC, Applied mouth, Label panel on reverse, Rare