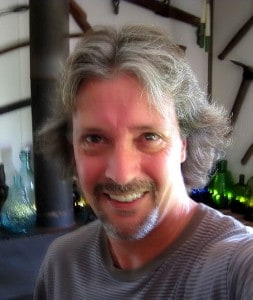 Hi Ferdinand,
Please read below before you view the pictures.
I was out pickin' today and scored two amazing items; both Charles Gardner Collection pieces. They are not bottles, but items I think may be a bit more rare.
I noticed in your October 15th Peachridge Glass article on Charles Gardner (Read: American Bottles in the Charles B. Gardner Collection) you featured the Heckler Gardner bottle collection book. I don't have a copy so I was wondering if you could take a peek and see if the below pieces are listed there. I'm not sure if the Gardner Skinner Auction catalog is available, or, if the Heckler book covers both.
The first item is a very heavy 6″ x 6″ chunk of Teal glass with the Gardner Auction sticker, "2606 0n 20"

Charles Gardner Lot 2606: Glass Fragments, Lot of twenty pieces of colored glass fragments with labels of factory origin.
There is also a very old sticker (appears 1800's) with the name "Latie Dunmore." (Can't place it, but the names sounds familiar.)
There are 3 different engravings all dating to 1886 on it.
The first reads: "Maud Floyd & Rob Daisy March 16th '86"
The second reads: "Chas Gricnnev(?) Oct 27 /1886"
The third reads: "Gus & Jennie Rob & Daisy Oct 8th 1886."
The second item appears to be a solid glass " bottle mold warmer." It's 4-1/4″ x 2-3/8″. The color is a very dark emerald green.The Gardner Auction tag reads "2848 on 7" Charles painted his own inventory number in gold on the base: G 383.
Charles Gardner Lot 2848: Freeblown, Lot of five incomplete glass forms, together with one color block and one broken fan shaped glass plate.
Did Skinner have his name on the auction stickers, is there any way to tell if these stickers date to 1975 and that original auction?
If you could forward this email and pictures to anyone who you think may know anything about these and possible the names inscribed from 1886, (glassblowers and family members?) it could really be of help to me if I get enough info for a possible Bottles and Extras article. (Bob Ferraro may have some idea.)
This type of find is a bit heavy duty for my website with all it's 16 readers 😉
I feel these are pretty important pieces that should be shared with the FOHBC.
Thanks,
Eric Richter
PS: I paid $22.50 for each piece, (I hope I did okay 😉