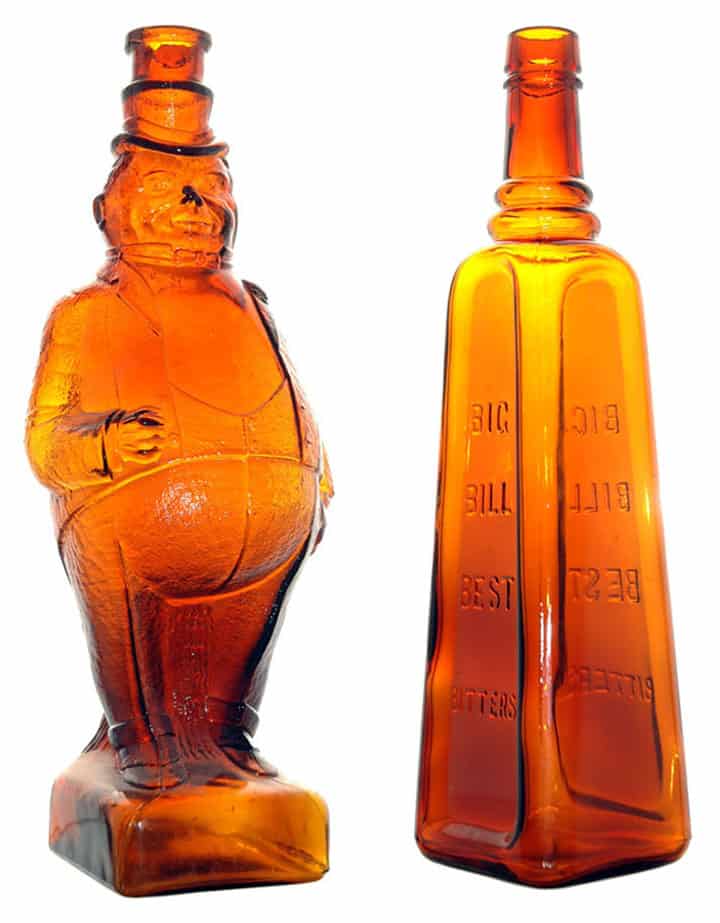 BIG BILL BEST BITTERS
STOMACH-MAGEN
10 January 2013 (R•102013)
Alcohol 21%
Guaranteed by Liebenthal Bros. & Co. under The Food and Drugs Act, June 30th 1906

As a companion post to the Royal Flush Bitters article (Read: The Ultimate Hand – Royal Flush Bitters), I thought it might be BEST to follow up with BIG BILL BEST BITTERS as most bitters collectors pair these very similar brands and bottles together, at least in discussions or photography. Very few people own examples of both as the Royal Flush Bitters is extremely rare. The Big Bill Best Bitters is common. Big Bill Best also comes in a really cool figural bottle (see below).
What initially started these posts this morning was my complete admiration of the fully labeled example of a Big Bill Best Bitters in the Glass Works Auction #96 – "The Cabin Fever Auction" which is occurring now. Wow, what a great example.
I wonder who Big Bill is? Could it be President William Howard Taft? Could he be Big Bill Haywood?
President William Howard Taft
[from American Glass Gallery Auction 11] The figure is believed to be that of William Howard Taft. See Bob Strickhart's article in Antique Bottle & Glass Collector. August, 2013. Also, see the article by Wm. Floyd Dill of Bridgeton, New Jersey, "The President Taft And Santa Claus Figural Bottles" by M. Husted, Antique Bottle & Glass Collector, July, 1990. In this article, Mr. Dill provides some very convincing points as to why these figural bottles were actually blown to commemorate our 27th President, William Howard Taft.
"They can't stop us. No matter what they do we will go on and on until we – the roughnecks of the world – will take control of all production and work when we please and how much we please. The man who makes the wagon will ride in it himself…"
"BIG BILL" HAYWOOD
William Dudley Haywood
William Dudley Haywood (February 4, 1869 – May 18, 1928), better known as "Big Bill" Haywood, was a founding member and leader of the Industrial Workers of the World (IWW), and a member of the Executive Committee of the Socialist Party of America. During the first two decades of the 20th century, he was involved in several important labor battles, including the Colorado Labor Wars, the Lawrence textile strike, and other textile strikes in Massachusetts and New Jersey. [Wikipedia]
The Carlyn Ring and W.C. Ham listing in Bitters Bottles is as follows:
B 95  BIG BILL BEST BITTERS, Circa 1890 – 1910
BIG / BILL / BEST / BITTERS // f // BIG / BILL / BEST / BITTERS // f //
12 1/8 x 3 1/8 x 2 1/4 (8 3/4)
Tapered rectangle, Amber, LTCR, Tooled Lip, Common
So back to trying to figure out a little more about the Big Bill Best brand. Very little information is online but if you look closely at the label you will see Liebenthal Bros. & Co.
A search online pulls two possibilties from Pre-Pro.com:
LIEBENTHAL BROS & CO., Cleveland, OH.,1899-1919, 14-16 Huron (1899-1900), 118-120 Huron (1901-1905), 208 Huron Rd SE (1906-1911), 1400-1430 W 9th NW (1912-1913), 1430-1438 W 9th NW (1914-1919)
LIEBENTHAL BROS. & CO., Kansas City, MO. 1910-1911
I have a hunch it is Cleveland because I found the following letterhead with a strong German influence. Keep in mind that the label also says "STOMACH-MAGEN". Cleveland was also a strong labor and union city during the time period.