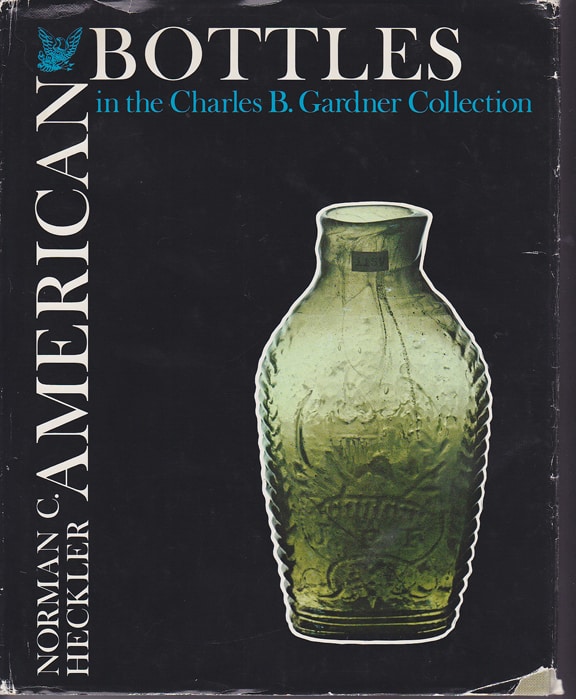 The Lure of the Empty Bottle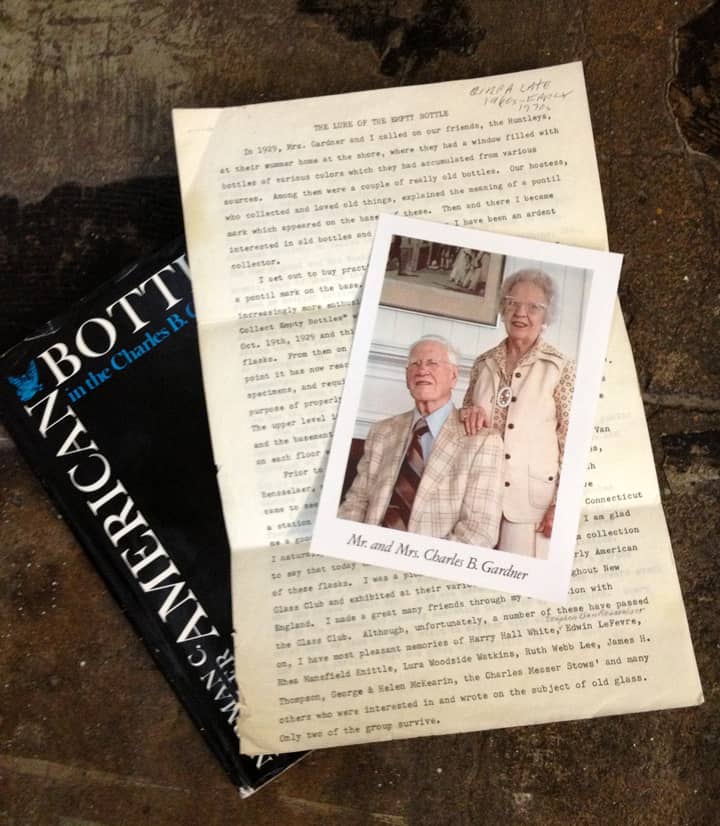 As the Norman C. Heckler Auction 100 – The Warren C. Lane, Jr. Esquire Collection of Historical Flasks winds down and ends this Wednesday evening, 17 October 2012, I thought it might be appropriate to post some information about a book in my library.
This book is titled 'American Bottles in the Charles B. Gardner Collection'  by Norman C. Heckler. This is the second example of the book in my collection. This latest example was graciously provided by FOHBC Hall of Famer Bill Baab as a gift. It has the original loose picture of the Gardners tucked within plus a typed three-page letter with a story "The Lure of the Empty Bottle" by the Gardners. You can read the letter below or by clicking Read Story.
The inside book jacket reads:
"For the amateur and expert collector alike, the Charles B. Gardner bottle collection represents the finest and best-known personal collection of its type in the United States. The product of some 46 years of assembling by an expert with a deep knowledge of the art of glass-making, and an abiding love for man's expression of beauty and utility in glass, it is a rare example of he great variety available to the bottle collector.
The Gardners have generously and graciously shared their home and time with interested collectors from throughout the country who have viewed the display of 3,200 bottles in an effort to study and appreciate for themselves the range and diversity of this remarkable personal collection. Never before, and perhaps never again in American bottle collecting, will such a variety of bottles be assembled and made available to the collector."
One of my favorite passages from the Gardners: The Lure of the Empty Bottle"
"As an example of how bottles increase in value over the years I would cite a few instances. In 1931 I purchased a flask known as the Jared Spencer and marked Manchester, Conn. from Stephen Van Rensselaer for $75.00. A few years later a friend collector offered me a $500.00 G. E. electric refrigerator for this flask and right away the wife made up my mind to accept. About three years later the same friend obtained a duplicate of the flask and traded it back to me for three flasks that cost me a total of $45.00. In 1956 a duplicate of this flask sold for $570.00."