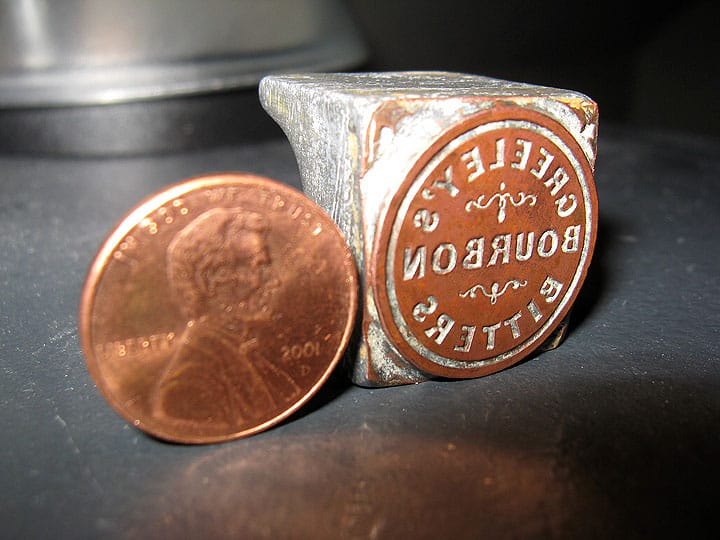 GREELEY'S BOURBON BITTERS STAMP



25 December 2012
Hi Ferdinand and Elizabeth.
I have been enjoying your Peachridge site ever since finding this item and looking for information. The basics are: It appears to be a stamp for Greeley's Bourbon Bitters. I would assume a wax seal marking. Appears to be lead block and copper stamp top. Approximately nickle sized. Found by myself in my home town of Shasta, California. Gold Rush era community in the woods. I am sending a cell phone picture, but would love to talk more about this. Let me know if you would like me to send you better pictures. I ]would love your advice. I am going to be leaning towards selling this item at some time, but also might like to collect Greeley's bottles to display with this! They are beautiful! I have not found any yet however. Something tells me I might be warm though. Thanks, Jon K.
Hi Ferdinand.
I did clean it up a little, but won't be doing anything else to it. It's a sturdy little slug and there are no nicks or dings in the face. So I'm wondering if Greeley's used sealing wax and stamped their bottles?
Thanks and Happy Holidays,
Jon K.
Jon: I am not familiar with a wax stamp for Greeley's but I bet someone out there is. I do know that some of the medicinal products related to bitters such as Roback's Blood Pills were sold in a box with wrappers sealed in wax.
Read More: Greeley's Bourbon Bitters – A Great Boston Bitters Barrel
Read More: Double Pontiled Greeley's Bourbon Bitters
Read More: Killer Green Greeley's Barrel found the Old Fashioned Way