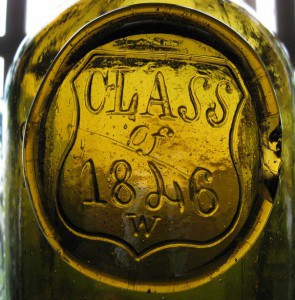 Civil War era Dyottville Embossed Cylinder Bottles
29 September 2012

PRG" Incoming email and material related to the Class of 1846 – West Point Bottle post
"Hi. This is just an FYI. There are at least two more Dyottville cylinder whiskeys out there with seals. One says in script letters ELS. It is a very dark green. Last I knew, there were two of these known. The other says Renault & Co. Cognac – 1805 – W.H.Y. It's the only one I've ever heard of. I owned these and the 1846 piece in the past. Love that Philly glass!" 

Jerry "DYOTT" Dauphinais
Readers: I am looking for some more pictures of Dyottville cylinders with the seal embossings similar to the above picture. The copy may vary with different dates, with or without the 'W', Renault & Co. Cognac – 1805 – W.H.Y., and ELS. Please forward for inclusion into post. Also curious about the history as some call these 'Harvard' commemorative bottles while others 'West Point'.
Jerry also sent me pictures of the book 'AN EXPOSITION OF MORAL AND MENTAL LABOR, ESTABLISHED AT THE GLASS FACTORY OF DYOTTVILLE', by T.W. Dyott, M.D. Jerry recommends the book and has put it on CD (see cover image below). This made me want to look back at some Dyottville information and look more closely at the embossed Dyottville cylinders.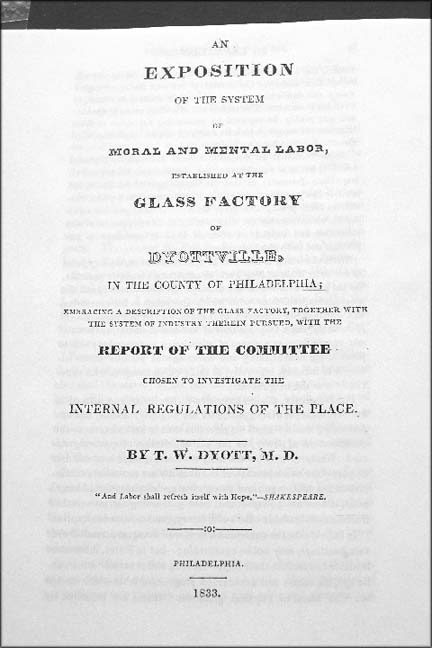 Dyottville began as a novel experiment in factory labor. In the early 19th century, Dr. Thomas Dyott initiated a new system of "moral and mental labor" in order to undercut European-made glass, which was of a high quality yet very expensive.
What at title for a boot on Dyottville! It seems like Dr. Dyott was way ahead of the curve in glass manufacturing and labor practices (Read: Boys in Glass Houses – Taking on the Mannerisms of Men). I found some great supporting information in the article Dyottville Glass Factory by Ian Charlton of Historical Society of Pennsylvania.
In the mean time…I have put together a gallery of the rather popular, collectible and colorful Dyottville cylinders.