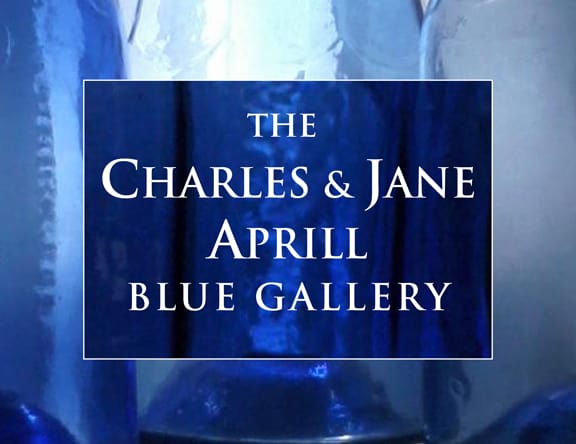 The Charles & Jane Aprill Blue Gallery
01 June 2012 (R•030817)

You can be sure of two things when you come across a picture from the collection of Charles and Jane Aprill from New Orleans. The first is that the glass piece will be extrtaordinary. The second, it will most likely be blue. Here are a few pictures I have grouped together of some of the blue Aprill pieces. I plan to add more.
Charles, in a recent email stated "Historically, Jane and I started collecting in the 60's. We liked all genres. We decided one could not have everything so we decided to try to get the best we could from each group, but in blue. Flasks, medicines, inks, bitters, cures, whiskeys colognes, sodas, sarsaparillas, cathedrals jars. etc. Along the way we were distracted by creamers and snuffs and other "not blue" items."
"She's the one who provoked me into being a very serious collector. She went up to Skinners and got Charlie Gardner's gallon Harrison's ink and Willington 1/2 gallon amber pickle. She pushed to get Sam Greer's 1/2 gallon Wynkoop. Much more and the light of my life as well."
Charles noting the influence of his wife Jane
Read more: More on Harrison's Columbian Inks
Read more: Both Blue Fish Together Again – at least online!
Read more: The GIV Eagle Masonic Historical Flask
Read more: The big star in Hollywood, Mississippi is the Imperial Levee