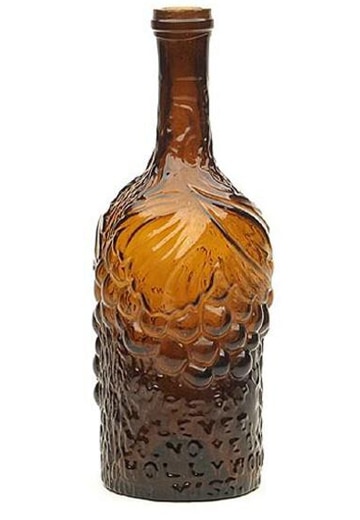 An absolute favorite bottle of mine is the 'Imperial / Levee / J. Noyes / Hollywood / Miss.'  figural wine bottle. This bottle comes embossed with the typography noted above and un-embossed. The bottle was made somewhere between 1845 and 1860 and is in the form of a cluster of grapes and grape leaves on a stump. It has an applied mouth with ring and an iron pontil mark. This is a beautiful and very fancy bottle and is probably the finest Mississippi bottle in form, color and age. Most examples are amber, with only a few known in cobalt.
Updated information 13 June 2012: James Noyes – Hollywood, Mississippi & the Imperial Levee
Updated 13 June 2012: Hollywood is the name of the Noyes plantation near Natchez, Mississippi. Hollywood does not refer to Hollywood, Mississippi.
An absolute killer example of this bottle was posted by advanced collector, Charles Aprill on my facebook page a few nights ago per my request. You see, though I have not met Charles, he is a legendary collector of blue bottles and glass. We even spoke once, years ago, about my blue fish. The picture is posted below with a few comments from Charles.
[Charles Aprill describing the bottle] The top and bottom of the bottle are of thicker glass and qualify as "cobalt blue". The middle, about the grape clusters is thinner glass and is "sapphire". This bottle is extremely light in weight, surprisingly so. The camera settings are off. The background is a white wall and door, the bottles are sitting on a white marble top table.
[Charles Aprill discussing how he obtained the bottle] I got a Polaroid photo of this blue one, which we kept on the refrigerator for about 25 years. The owner was not identified and the dealer wouldn't left me know who it was. Just a tiny tease. Suddenly I was informed he wanted to sell. I jumped and it has had a happy home for the last 10 years or so.
One of the rarest of the Imperial Levee bottles (pictured above) was this 10″ Figural Cluster of Grapes on a Stump in cobalt blue sold on eBay in 2005 for $18,800. I have owned two or three unembossed examples over the years and have added a few pictures below. I think I will put Charles' blue example on my refrigerator door for good luck!