Well the dust has settled on that surprising blue Cathedral Pickle that closed today on eBay for a handsome $16,200. WOW! Here are a series of pictures and write-ups the seller (storybook553) posted:
On this bottle, the paper is taped to the bottom and I have decided to leave it. It reads: $25.00, April 12, 1976, Bernard Taylor.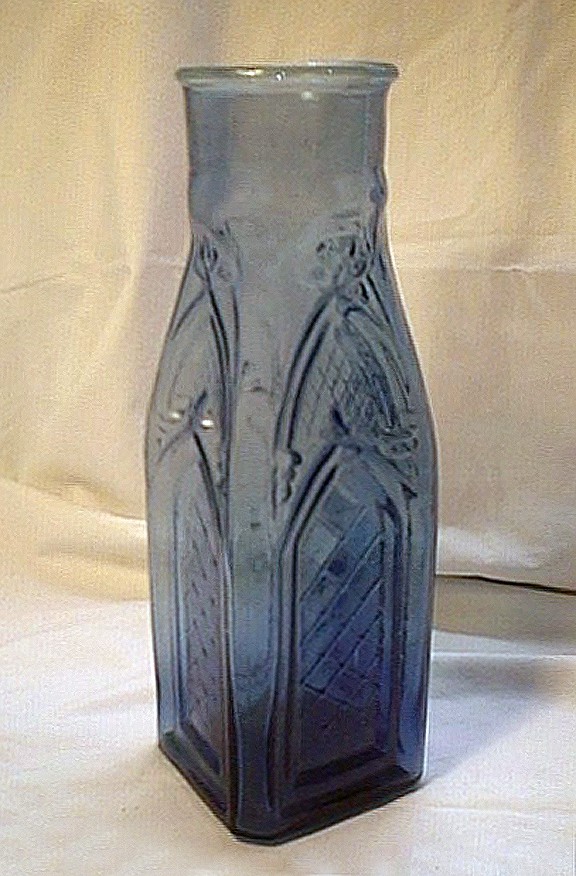 [Initial Description] This is a beautiful old bottle in wonderful condition. I bought this from an estate sale. The owners of the estate had been collecting for years and had many fine antiques. On just about every item they had there was a slip of paper that stated the date they bought the item, what they paid and whom they bought it from. On this bottle the paper is taped to the bottom and I have decided to leave it. It reads: $25.00, April 12, 1976, Bernard Taylor. There are air bubbles through out this bottle and the one close-up photo shows two side-by-side "blemishes". The blemish to the left is a blob of glass that is only felt from the inside. The blemish on the right is an area that is "spalded" and is probably where the blob of glass came from. It can only be felt from the inside also. The bottle is 10 3/4″ high and 3 3/8″ across on the bottom. Three sides are decorated, one is smooth. The mouth is not perfectly round and the lip seems to roll outward slightly. The color in the close-up photo is most true. There are no chips or cracks in this bottle-it is nice.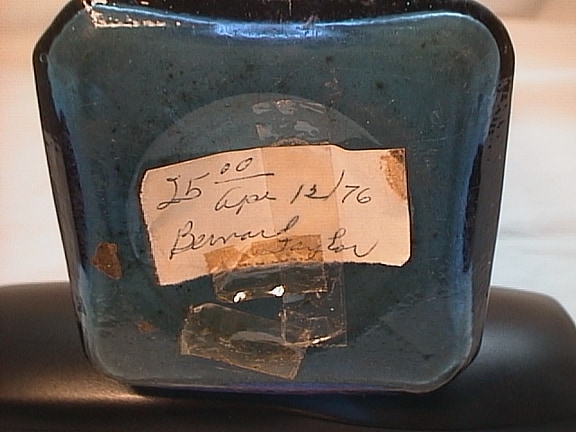 [Seller follow-up] First of all, thank you for the interest in this bottle…and thanks for suggestions and info. Mostly, the question is: "What color is it?" I have taken 4 more photos outside this morning to get truest color. I also found two other bottles to help make visual comparisons. One is what I would call "aqua", and the other is what I would call "cobalt". In my opinion, the comparisons make the pickle bottle "blue". It is a soft blue-the new pictures show it very accurately. Notice how just the lip turns aqua though…very pretty. I hope these pictures help. I also took one good close-up of the blemishes…please understand, this is not a hole (many questions on that from people-and that is ok-I am happy to try and clarify anything.) This area is more like a slight "void" on the inside only….cannot be felt from the outside at all. Overall, this bottle is a lot like my husband…..a few blemishes, a slight void on the inside. and wonderfully imperfect!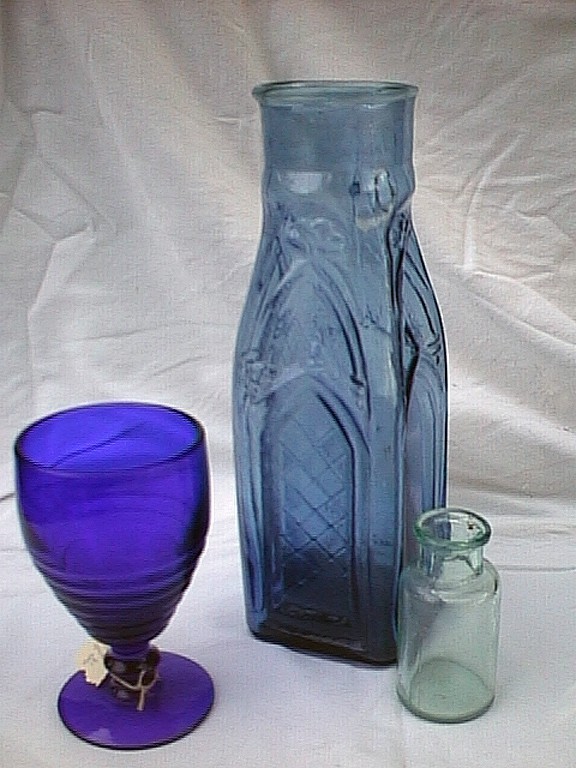 [Seller follow-up] Because I am getting a lot of questions on the bottle, and due to the amount of money already bid and the possibility of more money involved, I would like to have the bottle professionally evaluated today or tomorrow (my only opportunities), and be able to post that evaluation Monday evening. I am not feeling comfortable evaluating myself and don't want anyone being unhappy with their purchase. I have had so many questions regarding color and condition. I am happy to answer ANYTHING-I just want to feel comfortable about my answer. I would rather pay for a professional evaluation. So, does anyone know a good bottle appraiser in Centre County Pennsylvania? Please let me know. Thanks! Carol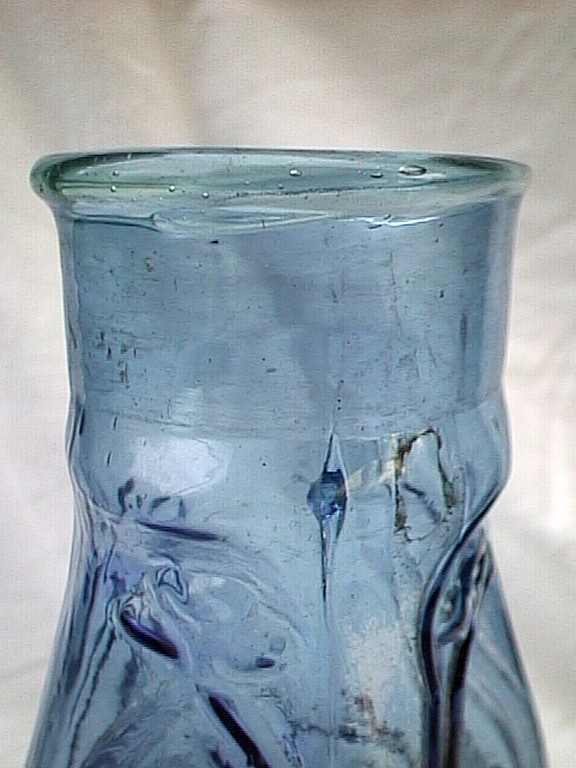 [Seller follow-up] I have taken the bottle to someone whose expertise I have a great deal of faith in. He has been in the antique business for decades and deals ONLY in the finest antiques. His evaluation is that the bottle has no concerns other than those I have already stated with the exception of a  surface scratch felt on the outside of the bottle. His advice was "Stop worrying and offer them their money back if they aren't happy with it"…. Good ol' common sense…I love it. So, there you go….if you aren't happy in the end, I'll refund your money. The bottle is blue and "no" – It isn't dyed. It has no chips or cracks that we can detect. There are air bubbles throughout. That's the best I can do. Hope this helps to alleviate concerns to some degree.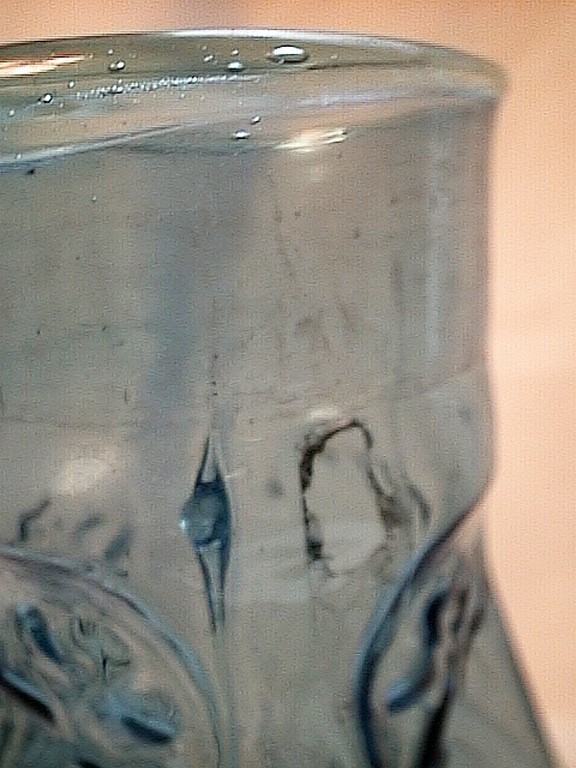 [Seller follow-up] Have posted a few more pictures to try and help those interested….One thing I feel very certain about: the bottle is blue. Lord only knows I have looked at it enough lately to be able to say this. Also, I am an artist. When I look at this bottle, I see blue until the lip. At that point I see green color coming in quickly which transitions the lip into an aqua. The last new picture was taken inside near a large storefront window with loads of natural light. Included in this picture is a blue magnesia bottle and an aqua bottle. This pickle bottle is truly quite lovely and, depending on the light it is in, changes in its blue intensity slightly. I have talked to several people on the phone regarding the bottle and have really enjoyed that…you bottle people are a nice bunch! One of you explained that the lip could have been applied which would explain the color transition…hard to tell. I don't think whoever ends up with this bottle will be disappointed…..but I have stated that I will accept the bottle back and refund your money if you are. I hope this help you. Good luck to all involved!