Yerba Buena Bitters – A San Francisco Strap Flask
29 March 2012 (R•041417) (R•053019)

I was looking at the prices realized in the latest Glass Works Auction 94 that closed on 19 March 2012 and was reminded of Lot #211. How often do you see a labeled, boxed and full example of a Bitters bottle? This is refreshing because I am constantly on the hunt for information on elusive, rare Bitters bottles and many times, can not find much support information. Here we have it all. Makes me want to go back and look for some related advertising. I do have a question? Is the product named after San Francisco or the Yerba Buena plant?
211. "YERBA BUENA – BITTERS S.F. CAL.", (Y-3), California, ca. 1890 – 1900, medium amber strapside flask, 9 3/4"h, smooth base, tooled mouth, 99% original front and back labels, contents and box. The bottle is perfect, the box is missing the top flap, but otherwise is in good condition. You can't find a more complete example!
Yerba Buena was the name of town that was renamed San Francisco
[Wikipedia] The earliest archaeological evidence of human habitation of the territory of the city of San Francisco dates to 3000 BC. The Yelamu group of the Ohlone people resided in several small villages when a Spanish exploration party, led by Don Gaspar de Portolà arrived on November 2, 1769, the first documented European visit to San Francisco Bay. Seven years later, on March 28, 1776, the Spanish established the Presidio of San Francisco, followed by a mission, Mission San Francisco de Asís (Mission Dolores).
Upon independence from Spain in 1821, the area became part of Mexico. Under Mexican rule, the mission system gradually ended and its lands began to be privatized. In 1835, Englishman William Richardson erected the first independent homestead, near a boat anchorage around what is today Portsmouth Square. Together with Alcalde Francisco de Haro, he laid out a street plan for the expanded settlement, and the town, named Yerba Buena, began to attract American settlers. Commodore John D. Sloat claimed California for the United States on July 7, 1846, during the Mexican-American War, and Captain John B. Montgomery arrived to claim Yerba Buena two days later. Yerba Buena was renamed San Francisco on January 30 of the next year, and Mexico officially ceded the territory to the United States at the end of the war. Despite its attractive location as a port and naval base, San Francisco was still a small settlement with inhospitable geography.
Yerba Buena is also a rambling aromatic herb of western and northwestern North America, ranging from maritime Alaska southwards to Baja California. The plant takes the form of a sprawling, mat-forming perennial, and is especially abundant close to the coast.
The Carlyn Ring and W.C. Ham listing in Bitters Bottles is as follows:
Y 4 f // YERBA BUENA // f // BITTERS, S.F. CAL. //
L … Dr. Warren's Yerba Buena Bitters
H. Williams & Co., Proprietors, San Francisco, California
Yerba Buena was the name of town that was renamed San Francisco
8 1/2 x 3 1/2  x 2 (6 3/4)
Rectangular strap flask, Amber, LTCR, Tooled lip, Common, Aqua, Extremely rare
Trade Cards
Y 3 DR. WARREN'S YERBA BUENA BITTERS, Portrait on front of Dwight L. Moody, The American Evangelist (card 1) and Carlotta Patti (operatic soprano) (card 2). Compliments of H. Williams & Co. Proprietors of the Yerba Buena Bitters, 65 Montgomery Street. Reverse: Dr. Warren's Yerba Buena Bitters, The Great Liver Invigorator and Blood Purifier. H. Williams & Co., Homer Williams, W. T. Leavitt, S. T. Foster, Proprietors, 65 New Montgomery Street, San Francisco. Crane & Brigham, Agents.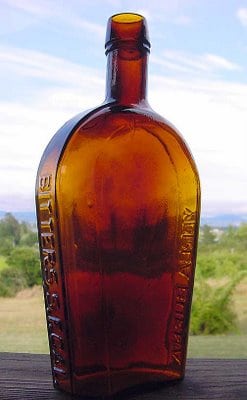 [Western Bitters News] The Yerba Buena Bitters. The longest produced western bitters known, from 1870-1920. The early ones have the famous curved R's and come in some wild colors. Homer Williams and Alfred Wright established a veterinary and medicine business in San Francisco in 1869. They purchased the formula for a new product they thought would be a great seller. The formula was purchased from a S.F. doctor and it wasn't long before the two began producing their own "Good Herb" or Yerba Buena Bitters. In 1880, after 10 years or so, The Paul O. Burn Wine Company of San Jose purchased the rights to the now famous Yerba Buena Bitters. They continued to sell it quite successfully for the next 27 years, until prohibition finally forced them to stop making it. "California Kid"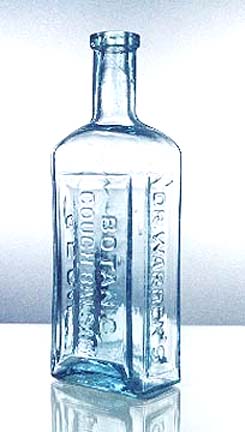 Dr. Warren's // Botanic / Cough Balsam // S.F. Cal., 6 3/4 inches tall. This product was advertised in the 1870s and is thought to be Dr. Joseph S. Warren's medicine. It was distributed by Homer Williams and Alfred Wright who established a proprietary medicine business in San Francisco in 1869. Homer became the sole owner and wealthy with Yerba Buena Bitters which was introduced in 1870, Homer's Ginger Brandy and Warren's Cough Balsam. Williams retired in 1880, and in the mid 1880s the Paul O. Burn Co., San Jose, purchased Yerba Buena Bitters, and Lash's Bitters Co. purchased Homer's Ginger Brandy. Dr. Joseph Warren was in the San Francisco directories from 1887 through 1900, but I do not know who took over the cough balsam. [Dr. Richard Cannon]