Benjamin Lieber's French Cordial Bitters
Philadelphia
13 February 2019

I recently came across this neat advertisement (above) held by the The Library Company of Philadelphia for B. Lieber (Benjamin) showing his storefront in Philadelphia in 1849. The illustration shows that Lieber is an Importer of Brandies, Wines and Gins. His address is No. 121 North Fourth Street between Vine & Callowhill Streets in Philadelphia. The ad also notes that he specializes in Foreign Wines and Liquors, London Brown-Stout, Scotch Ale, Absinthe, Segars, &c. and that he is a Manufacturer of Punch Essence, Cordials, Lemon Syrup, Raspberry, Lavender, Rose, Blackberry and Wild-Cherry, Brandies, Bitters &c. The bitters reference set me off in a search for more information.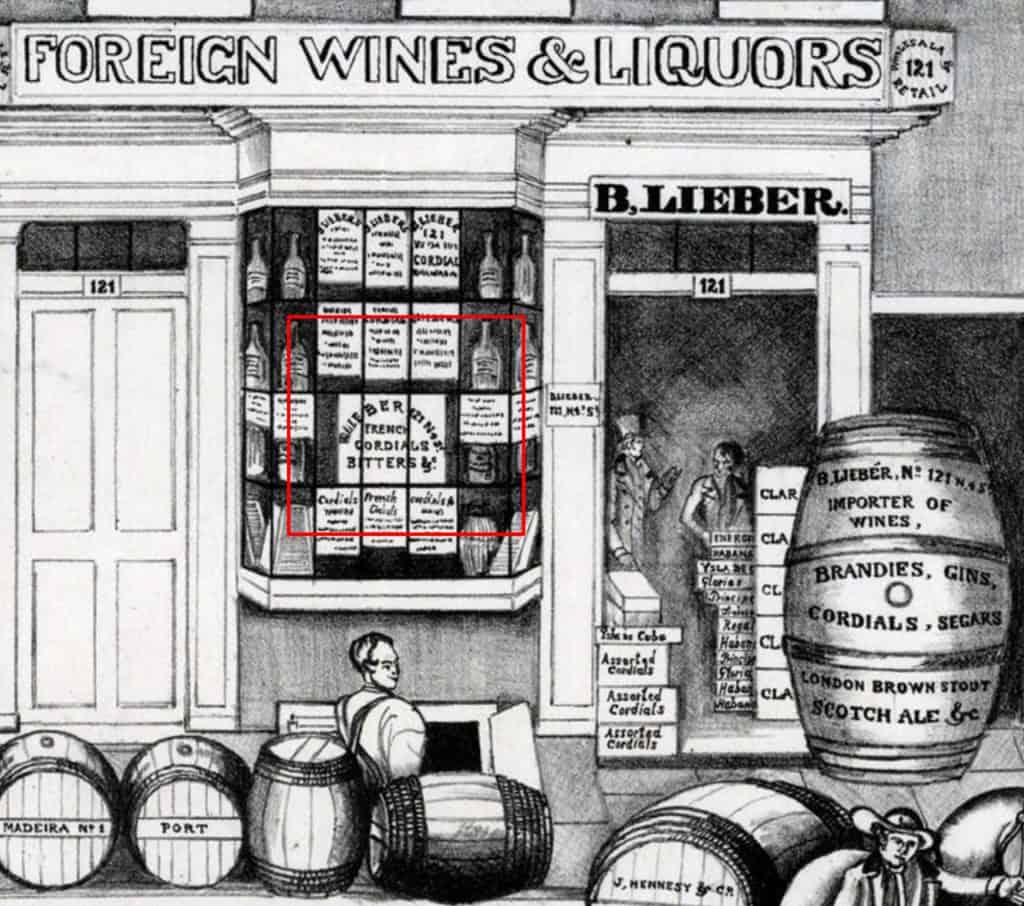 Closer inspection of the advertisement shows the four-story storefront adorned with signage and displays including bottles, small boxes, and broadside advertisements, predominately for French cordials and an unlisted B. Lieber French Cordial Bitters crate or sign in the center of the display window. There is also a large model cask with advertising text and stacks of labeled boxes flank the open entrance. Box labels include "Ysla de Cuba," "Assorted Cordials," "Glorias," "Habano." A clerk confers with a patron within the entrance as a laborer enters the cellar to continue to retrieve barrels of "Madeira No.1" and "Port," which line the sidewalk. In the street, a drayman departs with his delivery of a cask of "J. Hennesy [sic] & Co. Cognac." The illustration also includes a massive street post adorned with a weather vane designed as a Native American figure, and partial views of adjacent buildings. Another signs says wholesale & retail.
There is a listing in the Carlyn Ring and W.C. Ham Bitters Bottles as follows:
L 87  LIEBER'S WINE BITTERS
B. Lieber, Philadelphia, Pennsylvania
Philadelphia Directory 1853
Bitters Bottles Supplement 2 may want to be updated per this post to say Lieber's French Cordial Bitters or a new listing may want to be created. I din not find any reference to Lieber's Wine Bitters and suspect both bitters are the same. No bottle examples exist that I am aware of.
Benjamin Lieber
Not much is known about Benjamin Lieber who was born in England on February 26, 1813. Both of his parents were English. His wife was named Rachel. The earliest Philadelphia listing I could find was for a B. Lieber noted as an Importer of Wines and Liquors at 239 South 2nd Street in 1837. By 1849, he has a retail and wholesale establishment at 121 North 4th Street. That is the building image posted above. He also had a second outfit at 283 Market Street.
This guy moved his shop around like it was on wheels. By 1861, he is located at 123 South 2nd in Philadelphia. In 1863, he is located at 333 North 3rd. In 1864, it is 911 North 2nd. In 1866, it is 239 South 2nd. He would finally settle in 1868 at 111 S. Water in Philadelphia. The business was now called Lieber & Son as his son David joined him. They were still listed as importers of wines and liquors. They would remain at this location until at least 1872 when the pair drop off the Lieber & Son business radar. David would move into the sales business. Benjamin Lieber would die in 1903 in New York City.
Select Listings:
1813:

 Benjamin Lieber, Birth Date: 26 Feb 1813, Birth Place: England – U.S., Find A Grave Index, 1600s-Current
1837:

Importer of Wines and Liquors: B. Lieber, 239 S 2d – McElroy's Philadelphia city directory
1849:

Advertising print (above). B. Lieber, Apri 1849, importer of brandies, wines, gins, brown-stout, scotch ale, absinthe, segars, &c. and manufacturer of punch essence, cordials, lemon syrup, raspberry, lavender, rose, blackberry and wild-cherry. Brandies, bitters &c. No. 121 North Fourth Street between Vine & Callowhill Streets Philadelphia. – The Library Company of Philadelphia
1849:

Newspaper advertisement (below) To Country Merchants, Hotel Keepers and Others. For sale on liberal terms by B. Lieber, Importer, at 121 North Fourth Street or 283 Market Street. Note Napoleon Bitters for sale – Public Ledger, Friday, August 31, 1849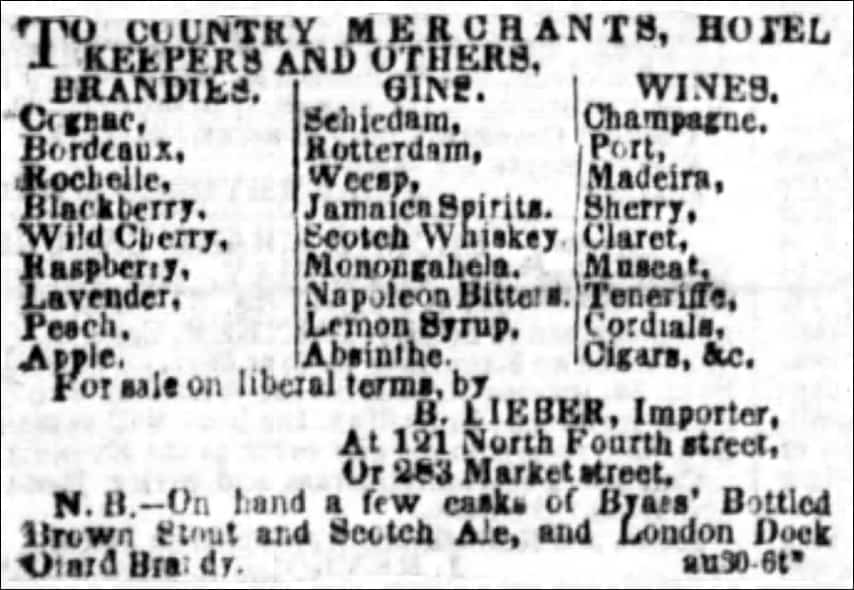 1849:

Newspaper advertisement (below) Punch Essence sold by B. Lieber, 283 Market Street and 121 N. Fourth Street – Public Ledger, Friday, November 9, 1849

1850:

Benjamin Lieber, Liquor Merchant, Age: 37, Birth Year: abt 1813, Birthplace: England, Home in 1850: Philadelphia North Mulberry Ward, Philadelphia, Pennsylvania – 1850 United States Federal Census
1850:

 Newspaper advertisement (below) To Families, Very superior Old Brandy (1801) just arrived, 283 Market Street between Seventh and Eighth Streets, B. Lieber, Wine Merchant – Public Ledger, Friday, April 19, 1850

1851: 

Newspaper advertisement (below) Danzic Spruce Beer just received at B. Lieber, Wine Merchant, 283 Market Street – Public Ledger, Thursday, May 8, 1851

1853: 

Newspaper advertisement (below) To Confectioners, Hotels &c., B. Lieber, Wine Merchant, 283 Market Street – Public Ledger, Thursday, December 22, 1853

1856:

Lieber B., wines and liquors, 283 Market ab 7th, h 101 Franklin ab Buttonwood – McElroy's Philadelphia city directory, Volume 19, 1856
1856:

Lieber Isaac, wines & liq., 441 Market – McElroy's Philadelphia city directory, Volume 19, 1856
1860:

Benjamin Lieber, Merchant, 45, Benjamin Lieber, Birth Year: abt 1815, Birth Place: England, Home in 1860: Cheltenham, Montgomery, Pennsylvania, Post Office: Cheltenham, Dwelling Number: 223, Family Number: 223, Real Estate Value: 50,000, Personal Estate Value: 11,000, Household Members: Benjamin Lieber 45, Rachel Lieber 40, David Lieber 14, Juliet Lieber 16, Flewrette Lieber 12, George Lieber 10, Washington Lieber 8, Franklin Lieber 6, Harriet Lieber 4, Clara Lieber 2, Walter S Lieber 1 – 1860 United States Federal Census
1861:

Benjamin Lieber, Wholesale Wines and Liquors, 123 S 2nd, Philadelphia, Pennsylvania – Philadelphia, Pennsylvania, City Directory, 1861
1863:

B Lieber, Wholesale Wines and Liquors, 333 N 3d, Philadelphia, Pennsylvania – Philadelphia, Pennsylvania, City Directory, 1863
1864:

B. Lieber, Liquor, 911 N. 2d, h Abington, Philadelphia, Pennsylvania – Philadelphia, Pennsylvania, City Directory, 1864
1866:

B. Lieber, Importers of Wines and Liquors, 239 S 2d, Philadelphia, Pennsylvania – Philadelphia, Pennsylvania, City Directory, 1866
1868:

B. Lieber & Son, (Benjamin & David), Wines, 111 S Water, Philadelphia, Pennsylvania – Philadelphia, Pennsylvania, City Directory, 1868
1869: 

B. Lieber & Son, (Benjamin & David), importers of wines and liquors, 111 S Water, Philadelphia, Pennsylvania – Philadelphia, Pennsylvania, City Directory, 1869
1870:

Benjamin Lieber, Wholesale Liquor Dealer, Age in 1870: 57, Birth Year: abt 1813, Birthplace: England, Dwelling Number: 367, Home in 1870: Cheltenham, Montgomery, Pennsylvania, Personal Estate Value: 10,000, Real Estate Value: 27,000, Inferred Spouse: Rachel Lieber, Inferred Children: David Lieber, Fleurette Lieber, George Lieber, Benj F Lieber, Harriet Lieber, Clara Lieber, Walter S Lieber, Morean Lieber – 1870 United States Federal Census
1870:

B. Lieber & Son, Wholesale Wine and Liquor Dealer, 111 S. Water, Philadelphia, Pennsylvania – Gopsill´s Philadelphia Business Directory, 1870
1871-1872:

B. Lieber & Son (Benjamin & David), liquors, 111 S. Water, Philadelphia, Pennsylvania – Philadelphia, Pennsylvania, City Directory, 1872
1874:

 B. Lieber , Merchants, Commission, 111 S. Water, Philadelphia, Pennsylvania – Philadelphia Trade Directory, 1874
1880:

Benjamin Lieber, Liquor Merchant, Age: 67, Birth Date: Abt 1813, Birthplace: England, Home in 1880: Cheltenham, Montgomery, Pennsylvania, Dwelling Number: 82, Spouse's name: Rachael Lieber, Father's Birthplace: England, Mother's Birthplace: England, Household Members: Benjamin Lieber 67, Rachael Lieber 57, Clara Lieber 22, Walter S. Lieber 20, Morean G. Lieber 18 – 1880 United States Federal Census
1900:

Benjamin Lieber, Age: 87, Birth Date: Feb 1813, Birthplace: England, Home in 1900: Manhattan, New York, New York, Street: Seventh Avenue, House Number: 2145, Sheet Number: 3, Number of Dwelling in Order of Visitation: 21, Family Number: 53, Immigration Year: 1835, Marital status: Married, Spouse's name: Rachael Lieber, Marriage Year: 1843, Father's Birthplace: England, Mother's Birthplace: England, Household Members: Benjamin Lieber, Rachael Lieber – 1900 United States Federal Census
1903:

  Benjamin Lieber, Death Date: 7 Jan 1903, Death Place: New York, Cemetery: Mikveh Israel Cemetery #03, Burial or Cremation Place: Philadelphia, Philadelphia County, Pennsylvania – U.S., Find A Grave Index, 1600s-Current