R.C. Ridgway & Co. Lady's Leg – Philadelphia
24 December 2018

I received the email below and pictures of an exciting new find from Robert Biro that I thought I would share. I was curious who R.C. Ridgway was? It turns out that we are talking about Richard C. Ridgway, a liquor merchant from Philadelphia, circa 1855 or so.
1850s… R.C. RIDGWAY & Co PHILA – It is also embossed on the bottom with a large " B "- A rare olive black glass two-part mold ladies leg bitters type bottle. The bottle has an applied string top around the lip. It is also iron pontiled. This bottle was dug from an 1850s trash pit in downtown Savannah, Georgia. The bottle is eleven inches tall and about three and a quarter inches wide. I have christened this bottle the " B " bitters bottle. A very interesting bottle from Philadelphia!! ~~~ Robert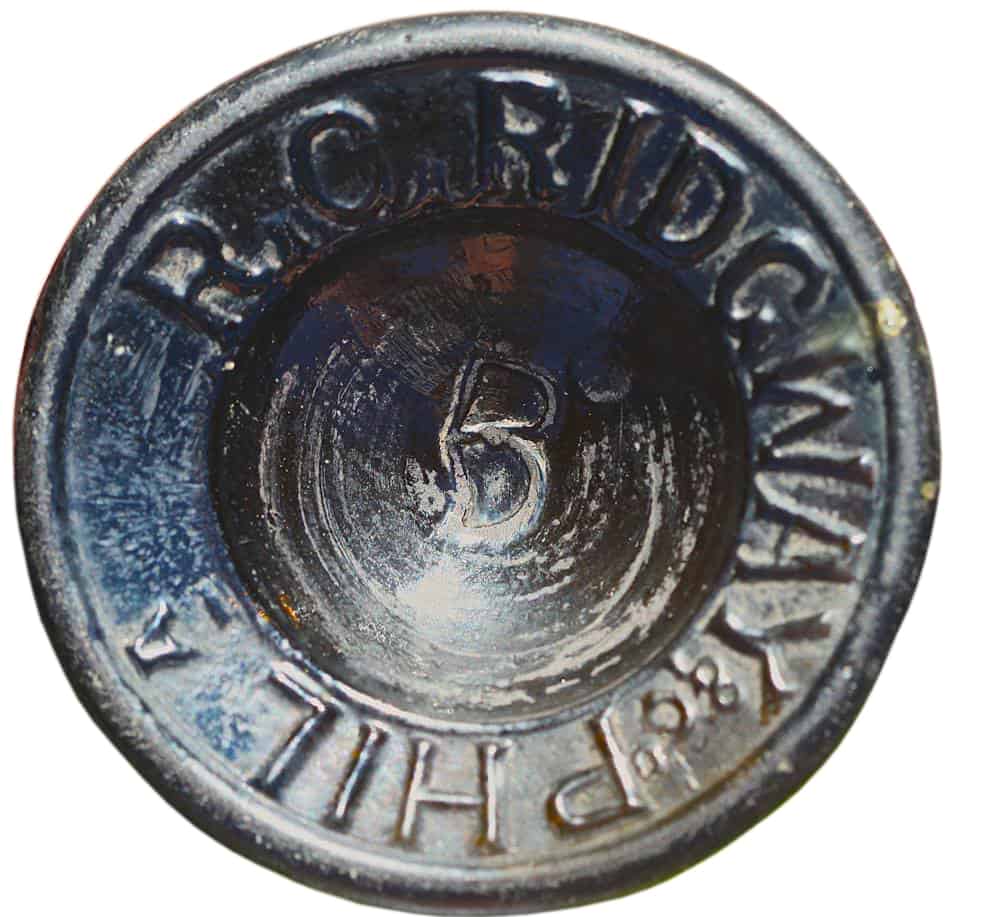 Richard C. Ridgway
Not much is known about Richard C. Ridgway though his name appears on the bottom of this dug bottle found in downtown Savannah, Georgia. Basic online searches reveal that he was born in New Jersey around 1822 and was a successful liquor dealer for many years in Philadelphia, Pennsylvania. Both of his parents were also from New Jersey.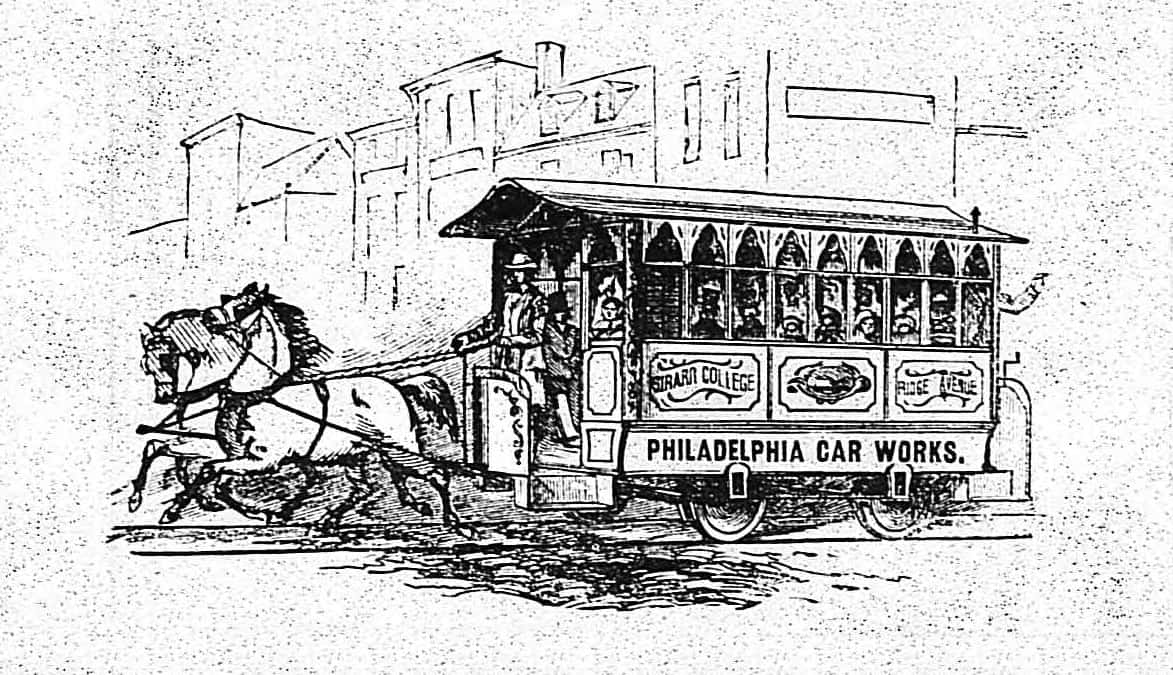 We first see him listed as selling wines and liquors at 104 South Front Street in Philly in 1855. He was single and residing at the US Hotel. By 1861, his address is 220 S. Front Street and he is noted as a retail and wholesale liquor and wine dealer. In 1865, he is residing at the famous Continental Hotel located on the Southeast corner of 9th and Chestnut which is famed for having an elevator, called a vertical train back then. It was where all the wealthy and powerful chose to stay when in Philadelphia.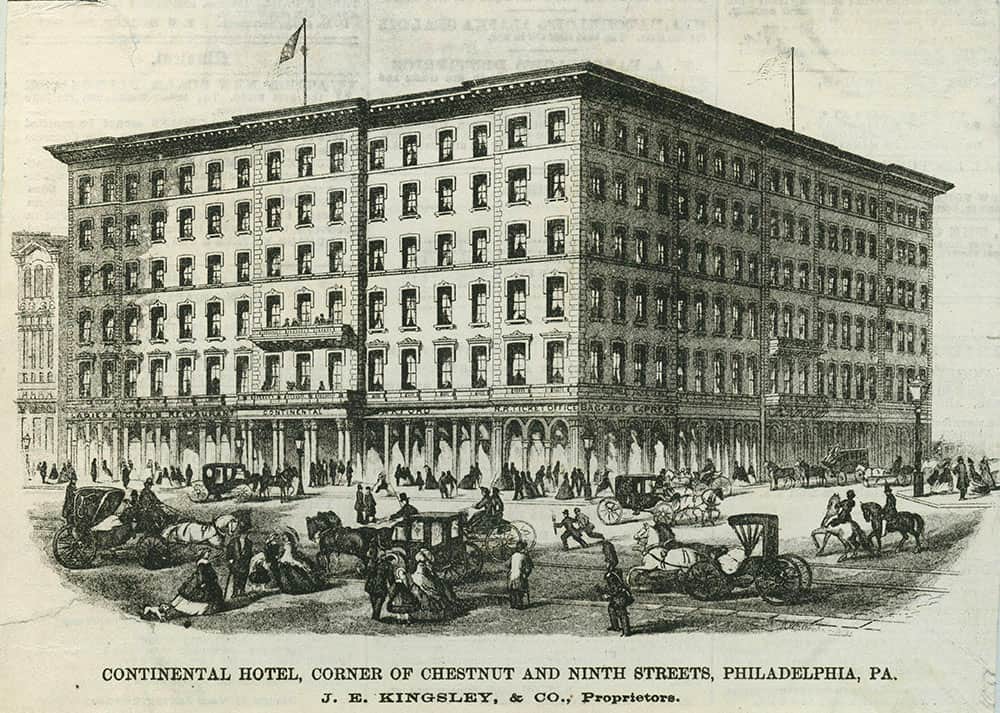 Ridgway remains at the Front Street address throughout and after the Civil War up until 1870 or so. On December 13, 1866, Ridgway married Susan R. Shreve of Mount Holly, New Jersey. They would have two children.
In the 1870s, Ridgway moves into real estate and becomes a broker. His success must have continued as the 1800 Unites States Federal Census lists his personal estate value at $85,000 and real estate value at $500,000.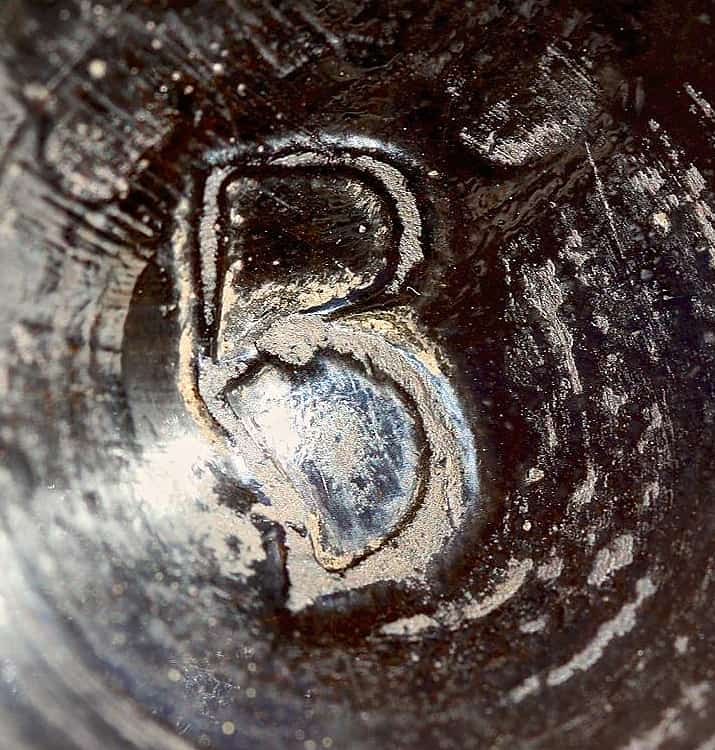 Unfortunately, I could not find out if this was a bitters, wine or some other type of liquor bottle. The fact that it was found in an 1850s trash pit is about right. Of course there is no paper label to confirm. The color of the glass and pontil is correct too. It was probably made at the Whitney Glassworks in Glassboro, New Jersey. The "B" on the base is a mystery. Maybe a personal mark by the glass blower?
Ridgway would die on March 9, 1899 in Philadelphia.
Select Listings:
1822:

 Richard C Ridgway Birth Date: abt 1822
1855:

Newspaper notice (below) R. C. Ridgway, 104 South Front Street – Public Ledger (Philadelphia) Monday, April 23, 1855

1856:

Richard C. Ridgway, wines and liquors, 104 S. Front, h U S Hotel – McElroy's Philadelphia City Directory, Volume 19, MacElroy, Biddle, 1856
1861:

Richard C Ridgway, Wines and Liquors, Wholesale, 220 S. Front – Philadelphia, Pennsylvania City Directory, 1861
1862:

 R C Ridgway, wines and liquors, 220 S. Front – Philadelphia, Pennsylvania City Directory, 1862
1863:

R C Ridgway, importer of wines, 220 S. Front, h Continental Hotel – Philadelphia, Pennsylvania City Directory, 1863
1864:

 Richard C Ridgway, wines & liquors, 220 S. Front – Philadelphia, Pennsylvania City Directory, 1864
1865:

Richard C Ridgway, wines & liquors, 218 S. Front, bds Continental – Philadelphia, Pennsylvania City Directory, 1865
1866: 

Newspaper notice (below) Married. Richard C. Ridgway of Philadelphia to Susan R. Shreve of Mount Holly, N.J. – Philadelphia Inquirer, December 14, 1866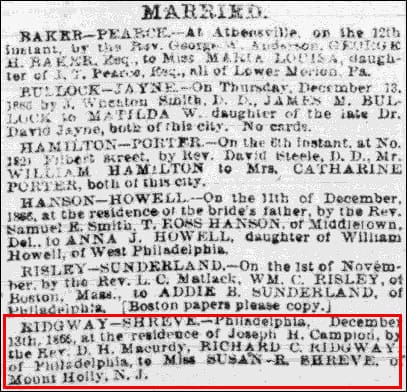 1867:

Richard C Ridgway, Dealer, 218 S. Front, h 208 S 13th, Philadelphia, Pennsylvania – Philadelphia, Pennsylvania, City Directory, 1867
1868:

Richard C Ridgway, liquors, 208 S 13th, Philadelphia, Pennsylvania – Philadelphia, Pennsylvania, City Directory, 1868
1870:

R C Ridgway, Retail Wholesale Liquor Merchant, Age in 1870: 49, Birth Year: abt 1821, Birthplace: New Jersey, Dwelling Number: 74, Home in 1870: Philadelphia Ward 8 District 23, Philadelphia, Pennsylvania, Personal Estate Value: 85000, Real Estate Value: 500000, Inferred Spouse: Susan S Ridgway, Household Members: R C Ridgway 49, Susan S Ridgway 36 – 1870 United States Federal Census
1871-1872:

Richard C Ridgway, 430 Walnut, h 208 S 13th, Philadelphia, Pennsylvania – Philadelphia, Pennsylvania, City Directory, 1871
1876: 

Newspaper notice (below) For Sale or Exchange – The Philadelphia Inquirer, Friday, March 31, 1876

1877: 

Newspaper notice (below) Residence of Richard C. Ridgway – The Philadelphia Inquirer, Saturday, May 5, 1877

1878:

Ridgway & Hogan (Richard C. Ridgway and John H. Hogan), real estate, 427 Walnut  – Philadelphia, Pennsylvania City Directory, 1878
1880:

Richard Ridgway, Age: 59, Birth Date: Abt 1821, Birthplace: New Jersey, Home in 1880: Philadelphia, Philadelphia, Pennsylvania, Street: 36st St, House Number: 202, Dwelling Number: 93, Marital Status: Married, Spouse's Name: Susan L. Ridgway, Father's Birthplace: New Jersey, Mother's Birthplace: New Jersey, Occupation: Real Estate Broker, Household Members: Richard Ridgway 59, Susan L. Ridgway 43, Susan A. Ridgway 9, Maian M. Ridgway 5 – 1880 United States Federal Census
1887:

Richard C Ridgway, 125 S 3d, h 202 S 36th, Philadelphia, Pennsylvania – Philadelphia, Pennsylvania, City Directory, 1887
1889:

Richard C Ridgway, Broker, h 202 S 36th, Philadelphia, Pennsylvania – Philadelphia, Pennsylvania, City Directory, 1887
1890:

Richard C Ridgway, 202 S 36th, Philadelphia, Pennsylvania – Philadelphia, Pennsylvania, City Directory, 1890
1893-1894:

Richard C Ridgway, 4432 Chestnut, Philadelphia, Pennsylvania – Philadelphia, Pennsylvania, City Directory, 1894
1899:

Richard C Ridgway Death Date: 9 March 1899, Death Place: Philadelphia, Pennsylvania, Age at Death: 77, Burial Date: 13 Mar 1899, Cemetery: Laurel Hill, Marital Status: Married – Philadelphia, Pennsylvania, Death Certificates Index, 1803-1915