Kohn & Adler's Bitters
Rock Island, Illinois
08 December 2018

I recently received an email and 1866 newspaper clipping from Mark Wiseman about an unlisted Adler's Celebrated Anti-Cholera Bitters which led me to do a search for "Adler" information. This led me to another unlisted bitters advertisement for Kohn & Adler's Bitters from Rock Island, Illinois (see top of post). There is no relation though, as the ad is from 1889. Here we are talking about Solomon and his two sons, Edward and Monroe Kohn and Joseph H. Adler.
Solomon Kohn was born in Austria in 1826 and received his U.S. citizenship in 1866. Adler was born in Bohemia (Dolní Pochlovice, Czech Republic) around 1832. I suspect the families knew each other well and they both came to America together. Margaretha Adler, daughter of Moses Adler and Elisabeth Adler would later marry Salomon Kohn, so there is a pretty solid link.
The new listing by Bill Ham for the forthcoming Bitters Bottles Supplement 2:
Advertisement
K 70.5  KOHN & ADLER'S BITTERS, Rock Island, Illinois
The Rock Island Argus, April 25, 1889
Kohn & Adler's Bitters sold as a medicine "To Cure Spring Fever" $1.50 per Gallon.
Rock Island, Illinois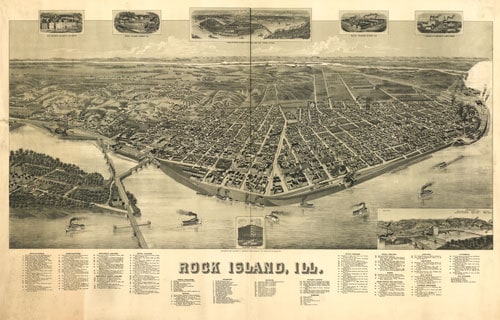 This bird's-eye view print of Rock Island, Illinois was drawn by Henry Wellge and published by American Publishing Co. in 1889. Rock Island was an industrious town along the Mississippi River. The lumber industry was thriving and railroad interests were growing. Furnishings and supplies for the railroads were manufactured in Rock Island as well as agricultural implements. Most railroad enthusiasts are certainly familiar with the Chicago and Rock Island Railroad.
One listing on the bottom of the print notes Kohn & Adler, Wholesale Liquor Dealers, 122 to 128 16th Street. They were one of the anchor businesses in the city. The illustration below is circa 1865 when Kohn & Adler were just getting started. Maybe that is Solomon and Joseph in the row boat.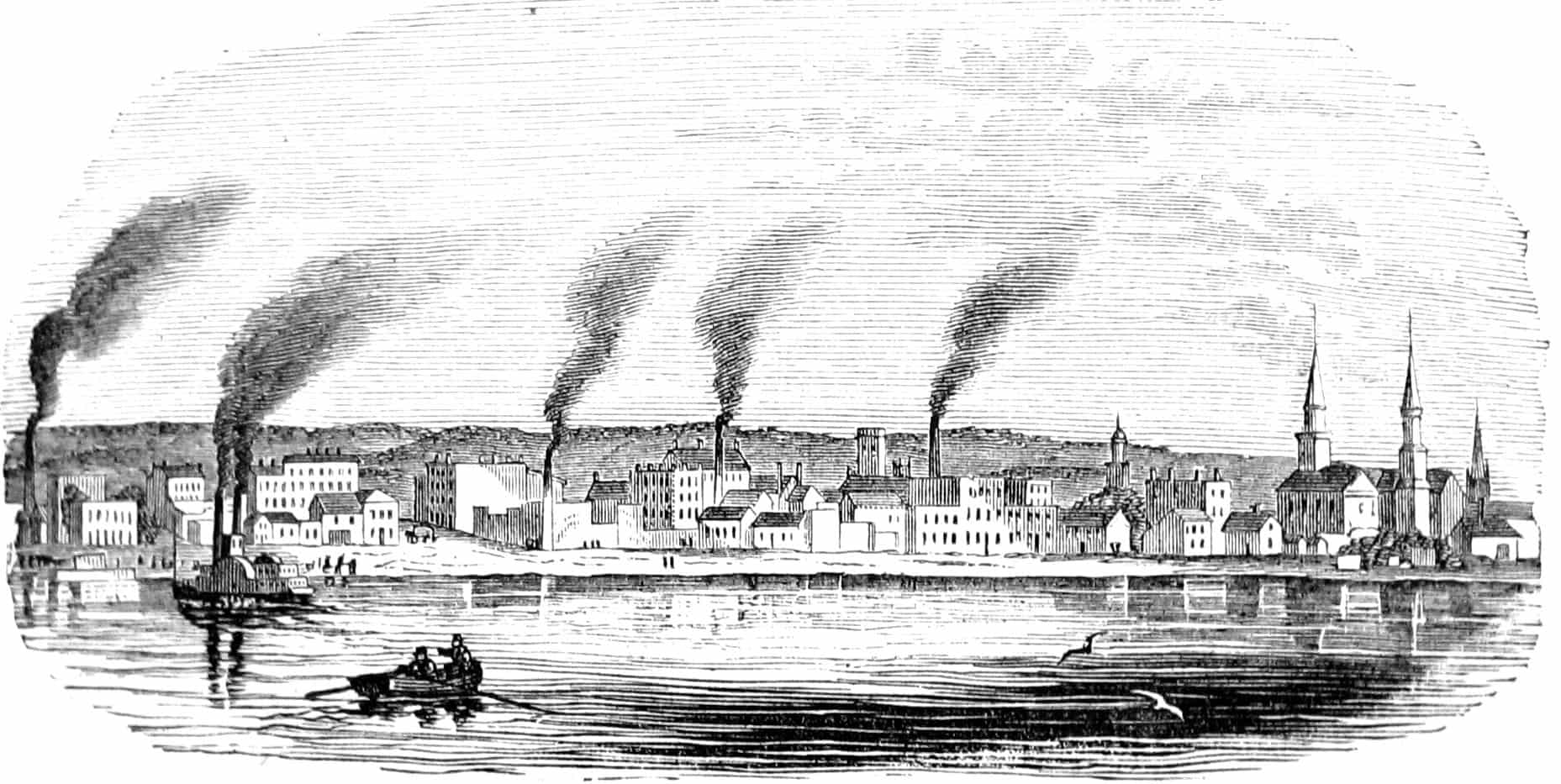 Kohn & Adler
We first find Solomon Kohn listed as a storekeeper in Milwaukee, Wisconsin in 1860 when he was 34 years old. He was probably a merchant long before that. Joseph Adler was a liquor dealer during this same time period though records are scarce for both of them in the early to mid 1860s. War years.
The liquor business of Kohn & Adler was established in Rock Island in 1868 though there was some type of business relationship as early as 1863 when Kohn & Adler were supplying the army for the Confederate States of America. The receipt below shows the sale of paper and ink.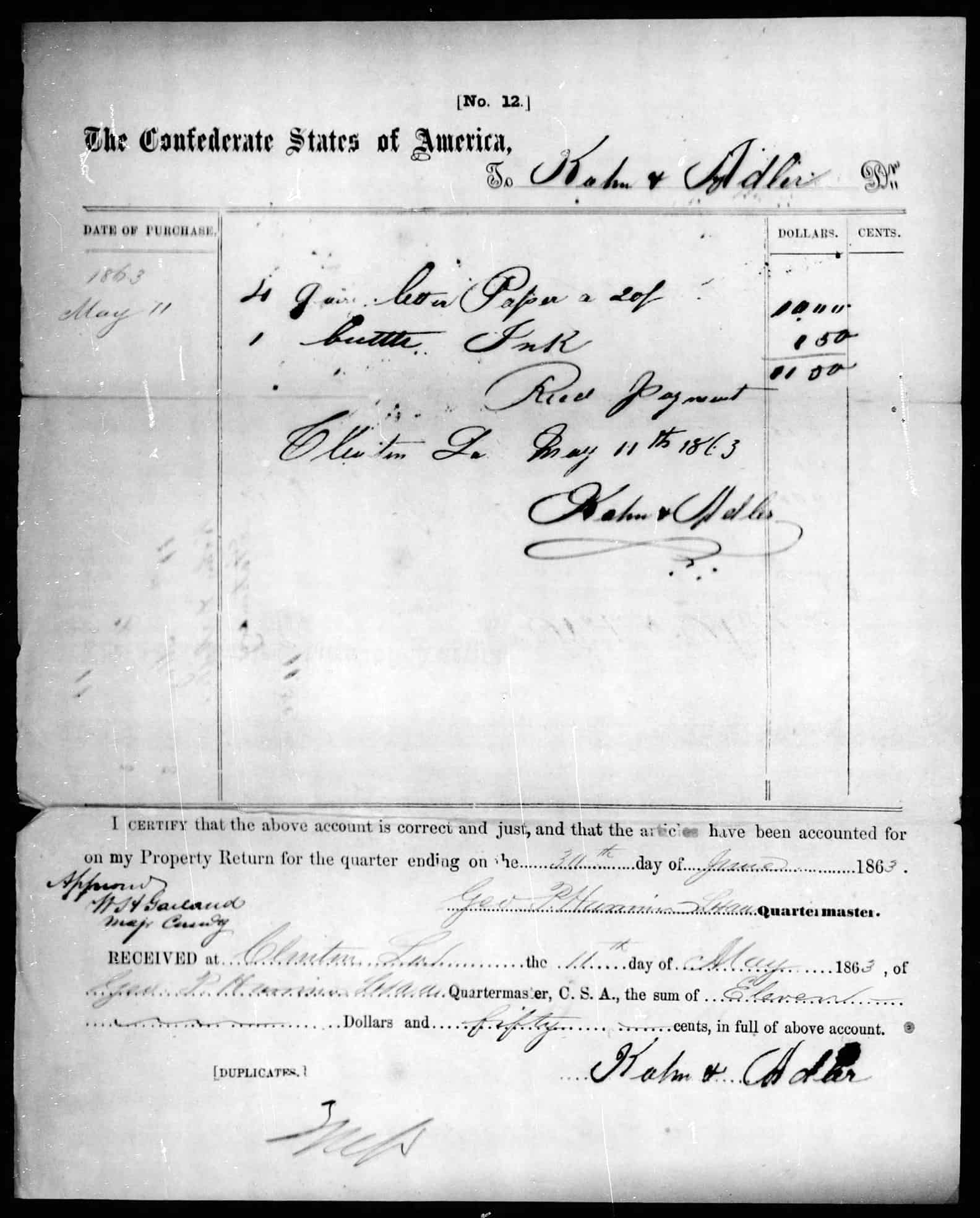 In 1871, a newspaper notice states that "Kohn & Adler have fitted up their store in style, and have this day received a new sign." I guess the 1868 date was a soft opening. Their address was noted as "opposite Harper House" which was a prominent hotel on 2nd Avenue and 19th  Street built in 1871.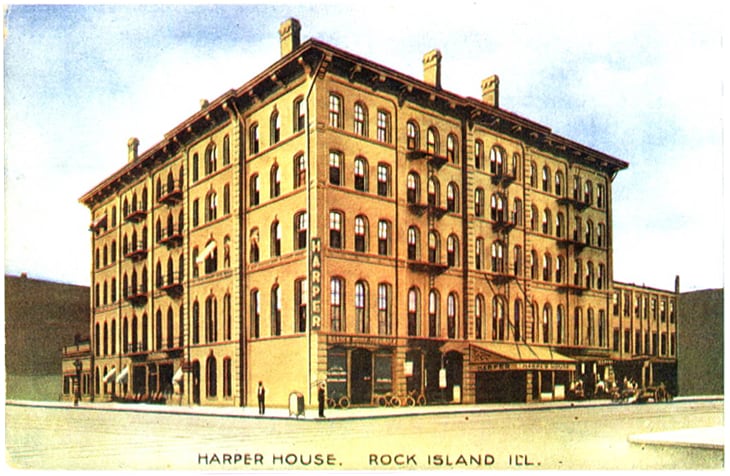 Kohn & Adler thrived throughout the 1870s and 1880s and they served the midwest region of United States. Solomon Kohn would die on November 25, 1874 after a long illness and his son Edward would take his place in the business. By this time they were dealing in all types of spirits and alcohol including whiskies, brandies, gin, rum, wines ands cordials. The full-page directory advertisement below is from the 1868 Holland's Rock Island City Directory.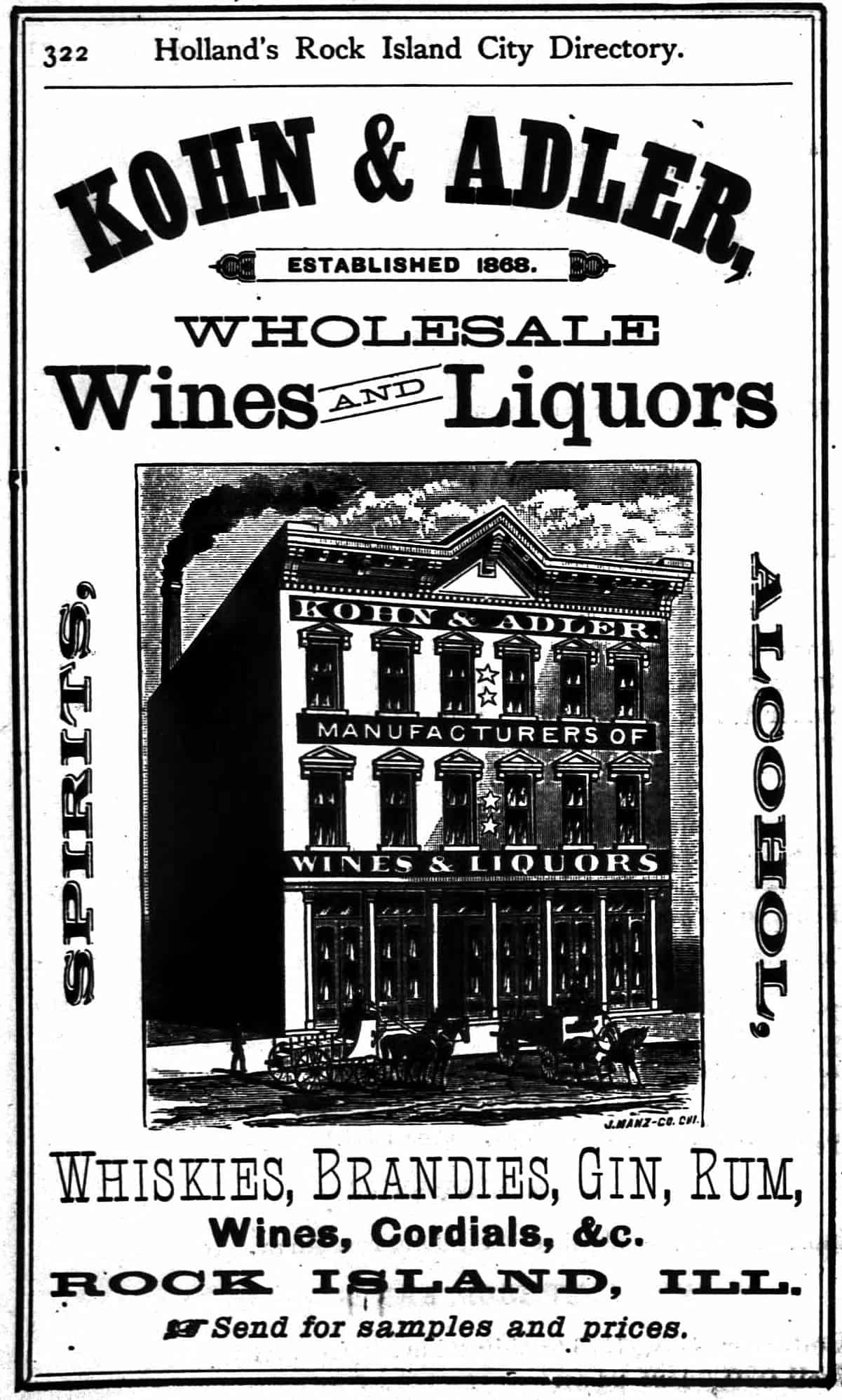 In 1888, some type of odd legal action occurred between Kohn & Adler and M. Levy & Son, a competitor in Rock Island. Seems like you had two companies competing for mail which of course contained liquor order information and payments.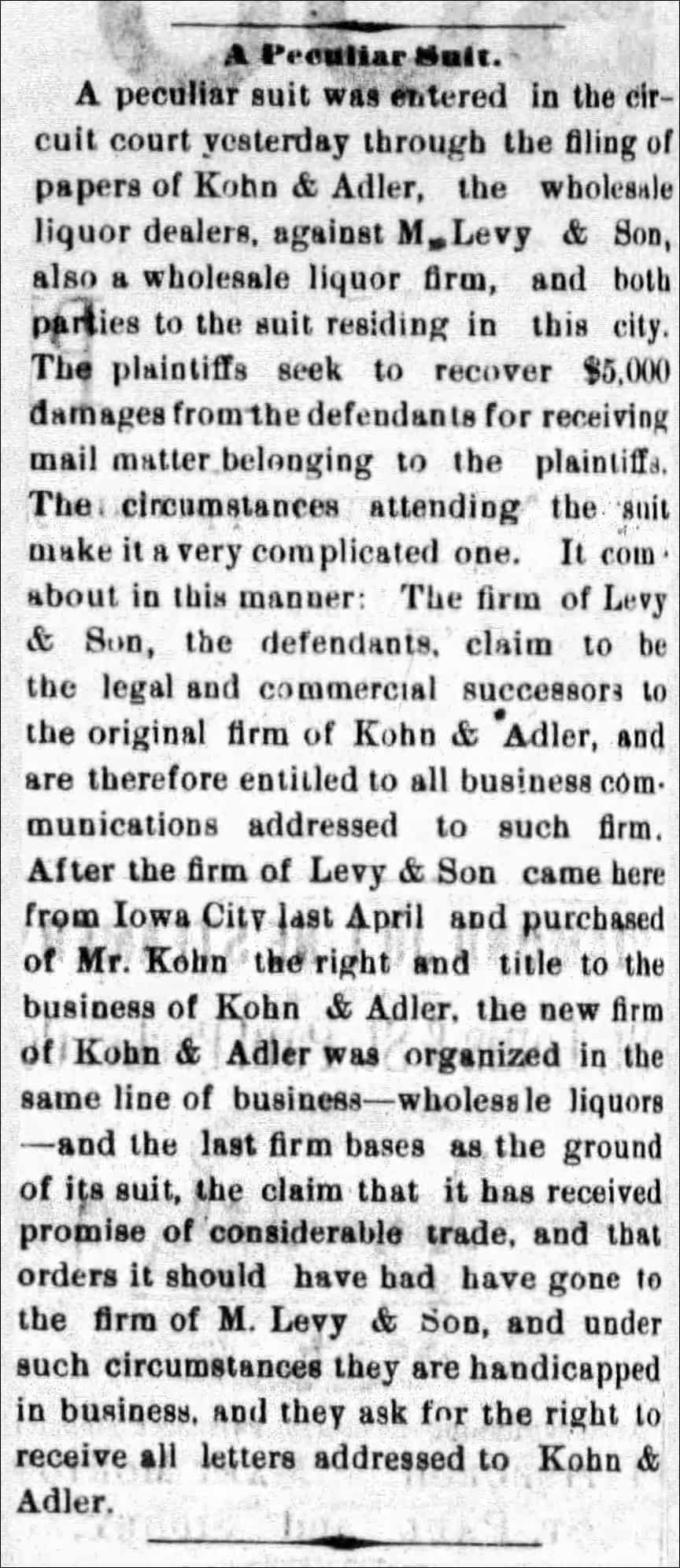 In 1889, they advertised their Kohn & Adler's Bitters as a medicine "To Cure Spring Fever." You could buy it for $1.50 a gallon. This sounds like a stoneware jug. I am not aware of any examples of bottles or jugs. Kohn & Adler were then located on the "Post Office Block" on Second Avenue & 16th Street.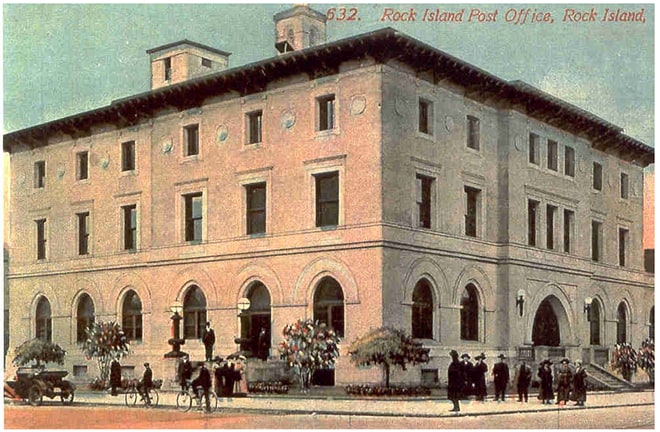 Later in 1889 the partnership would dissolve by mutual consent, Joseph H. Adler was retiring, and Monroe Kohn would continue the business under the old name of Kohn & Adler until 1894, when the business would shut down.
Kohn-Bradford House

Kohn-Bradford House (Margaret Kohn), 602 18th Street, Rock Island Landmark, 1993.
Front gable brick Italianate with good integrity associated with doctor and merchants.
Architectural Style: Italianate, Construction Date: ca. 1878-80. Ornate Brick Italianate
This front gable Italianate structure is constructed of brick. Rarely are Rock Island's 19th century homes constructed of brick, and then they are usually of this Italianate style. The Kohn-Bradford house features brackets, stone hoods above the windows and a cut stone foundation. The front porch is an early alteration, probably around 1906. There is a one-story addition on the rear that was added around 1900 for a doctor's office. This office mimicked the main house with two over two windows, brick arches and virtually identical brick.
Succession of Owners: Margaret Kohn, a widow, and her sons Edward, Lewis, Max and Monroe, first occupied this home. The Kohn family operated Kohn & Adler, one of the largest distributors of fine wine and liquor in the Upper Midwest.
*Joseph H. Adler would live in Rock Island then Milwaukee, Wisconsin.
Select Listings:
1826:

 Solomon Kohn, Birth Date: 28 June 1826, Birth Place: Hungary – U.S., Find A Grave Index, 1600s-Current
1860:

Solomon Kohn, Storekeeper, Age: 34, Birth Year: abt 1826, Birth Place: Austria, Home in 1860: Oak Creek, Milwaukee, Wisconsin, Post Office: Oak Creek, Dwelling Number: 280, Family Number: 280, Personal Estate Value: 400, Household Members: Solomon Kohn 34, Margret Kohn 30, Edward Kohn 9, Ann Kohn 6, Michael Kohn 4, Luis Kohn 2 – 1860 United States Federal Census
1863:

Solomon Kohn, Merchant, Birth Year: abt 1824, Place of Birth: Austria, Age on 1 July 1863: 39, Race: White, Residence: Oak Creek, Milwaukee, Wisconsin – U.S., Civil War Draft Registrations Records, 1863-1865
1866:

U.S. Naturalization, Solomon Kohn, Birth Place: Austria, Court District: Illinois, Indiana, Wisconsin, Iowa, Date of Action: 3 Feb 1866 – U.S. Naturalization Record Indexes, 1791-1992
1868:

Kohn & Adler established (large advertisement further above).
1870: 

Joseph H Adler, Liquor Dealer, Age in 1870: 38, Birth Year: abt 1832, Birthplace: Bohemia, Dwelling Number: 71, Home in 1870: Rock Island, Ward 1, Rock Island, Illinois, Personal Estate Value: 5000, Inferred Spouse: Kate Adler, Household Members: Joseph H Adler 38, Kate Adler 34 – 1870 United States Federal Census
1870:

Solomon Kohn, Wholesale Liquor Dealer, Age in 1870: 43, Birth Year: abt 1827, Birthplace: Austria, Dwelling Number: 287, Home in 1870: Rock Island Ward 1, Rock Island, Illinois, Personal Estate Value: 3500, Inferred Spouse: Margaret Kohn, Inferred Children: Edward Kohn, Annie Kohn, Max Kohn, Louis Kohn, Bertha Kohn, Morroe [Monroe] Kohn – 1870 United States Federal Census
1871:

 Newspaper notice (below) "Kohn & Adler have fitted up their store in style, and have this day received a new sign" – The Rock Island Argus, Friday, March 10, 1871

1873:

J H Adler, Residence Year: 1873, Residence Place: Rock Island, Illinois, Occupation: Dealer In Wines, Liquors, Etc., opposite Harper House, res Orleans nw corner Deer – Rock Island City Directory, 1873
1874:

 Newspaper notice (below) – Mr. Kohn, of the firm of Kohn & Adler, started for New York for the benefit of his health – The Moline Review Dispatch, Friday, March 13, 1874

1874:

 Solomon Kohn, Death Date: 25 November 1874, Cemetery: Chippiannock Cemetery, Burial or Cremation Place: Rock Island, Rock Island County, Illinois, Spouse: Margaret Kohn, Children: Edward D Kohn, Max Kohn – U.S., Find A Grave Index, 1600s-Current
1875: 

Newspaper Personal (below): J.H. Adler leaves for Europe for his health – The Rock Island Argus, Monday, April 5, 1875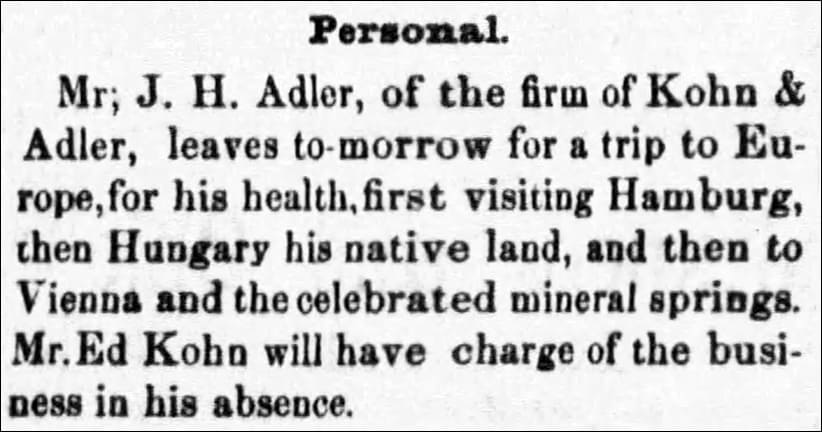 1880:

 Newspaper notice (below): Lightening Strikes Kohn & Adler Building – The Rock Island Argus, Friday, July 2, 1880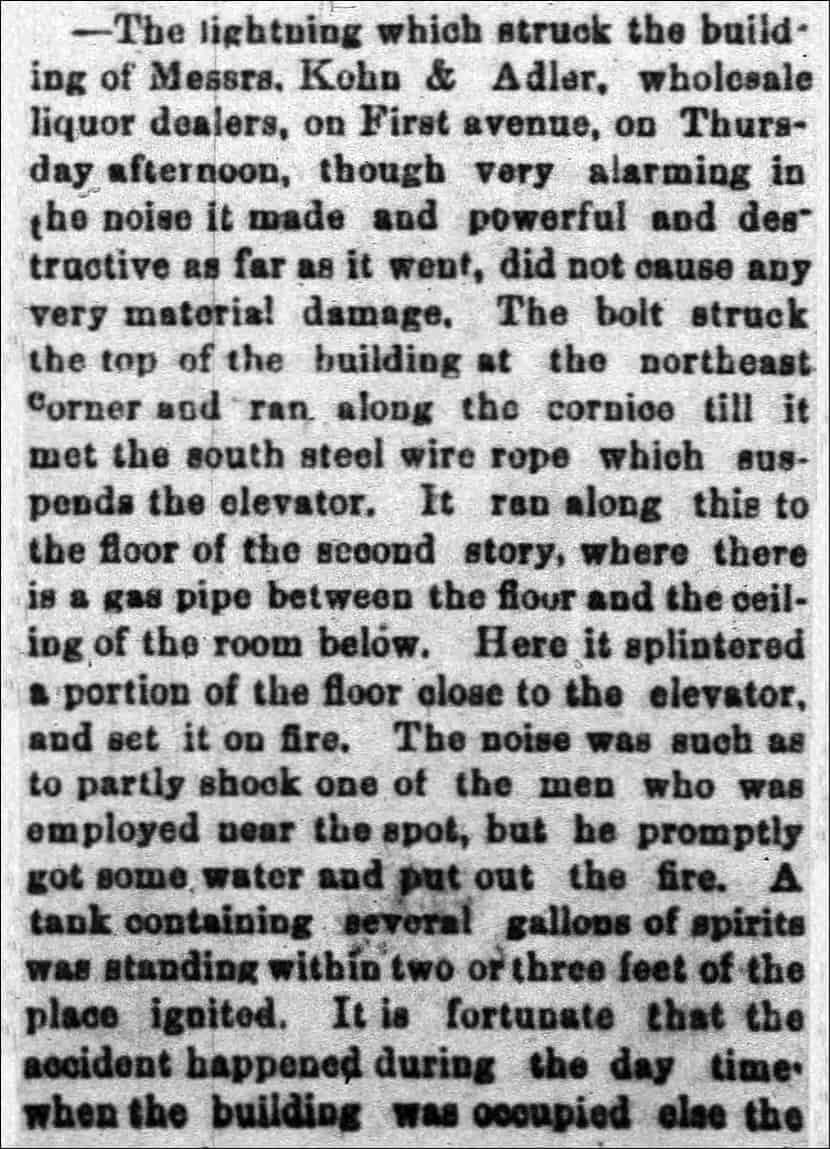 1882

: Full-page Directory advertisement (further above) – Kohn & Adler, Established 1868, Wholesale Wines & Liquors – Holland's Rock Island City Directory
1882-1888: 

J H Adler (Kohn & Adler, Rock Island, Illinois), residence 610 18th, Moline – Moline, Illinois, City Directory, 1882
1888: 

J H Adler (Kohn & Adler), residence Milwaukee Wisconsin – Moline, Illinois, City Directory, 1888
1888:

 Newspaper notice (above in post): "A peculiar Suit" Kohn & Adler vs M. Levy & Son – The Rock Island Argus, Friday, August 3, 1888
1888-1889:

Various Kohn & Adler newspaper advertisements – The Rock Island Argus

1889:

Newspaper advertisement (top of post) "To Cure Spring Fever take Kohn & Adler's Bitters, $1.50 per Gallon. Post Office Block, Rock Island, Illinois" – The Rock Island Argus, Thursday, April 25, 1889
1889:

 Newspaper notice (below): The firm of Kohn and Adler has been dissolved by mutual consent, J.H. Adler retiring, and Monro Kohn continuing the business under the old name of Kohn & Adler – The Moline Review, Dispatch, Friday, July 5, 1889

1891 & 1892:

J. H. Adler, Monroe Kohn, Rock Island, Illinois, Kohn & Adler, r Milwaukee, Wisconsin – Rock Island and Moline, Illinois, Directories
1894:

 Newspaper notice (below) Kohn & Adler relocated to 1610 Second Avenue – The Rock Island Argus, Wednesday, June 6, 1894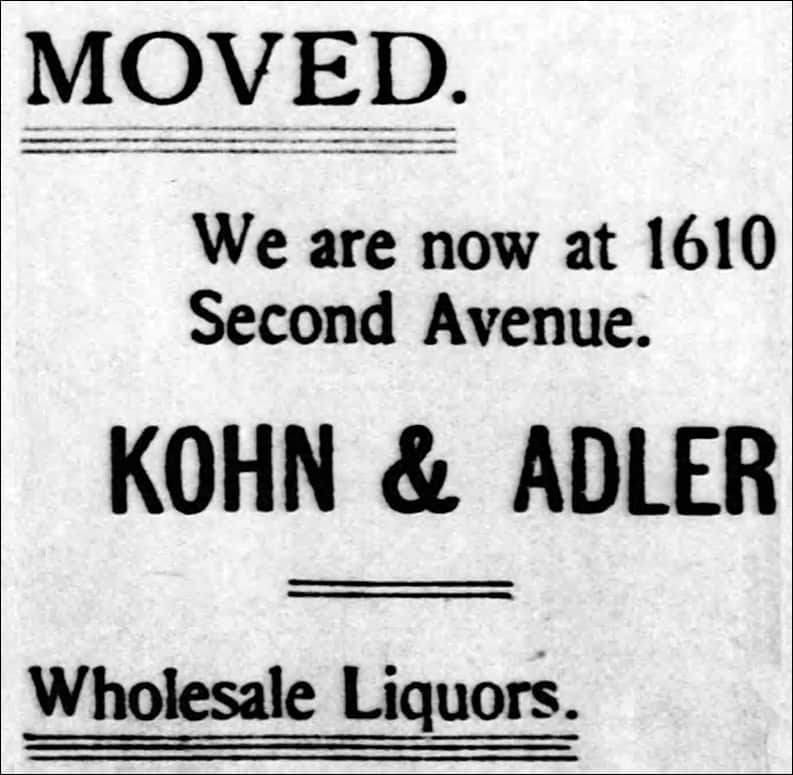 1894:

Newspaper notice (below) Kohn & Adler shuts its doors. – The Rock Island Argus, Monday, October 29, 1894