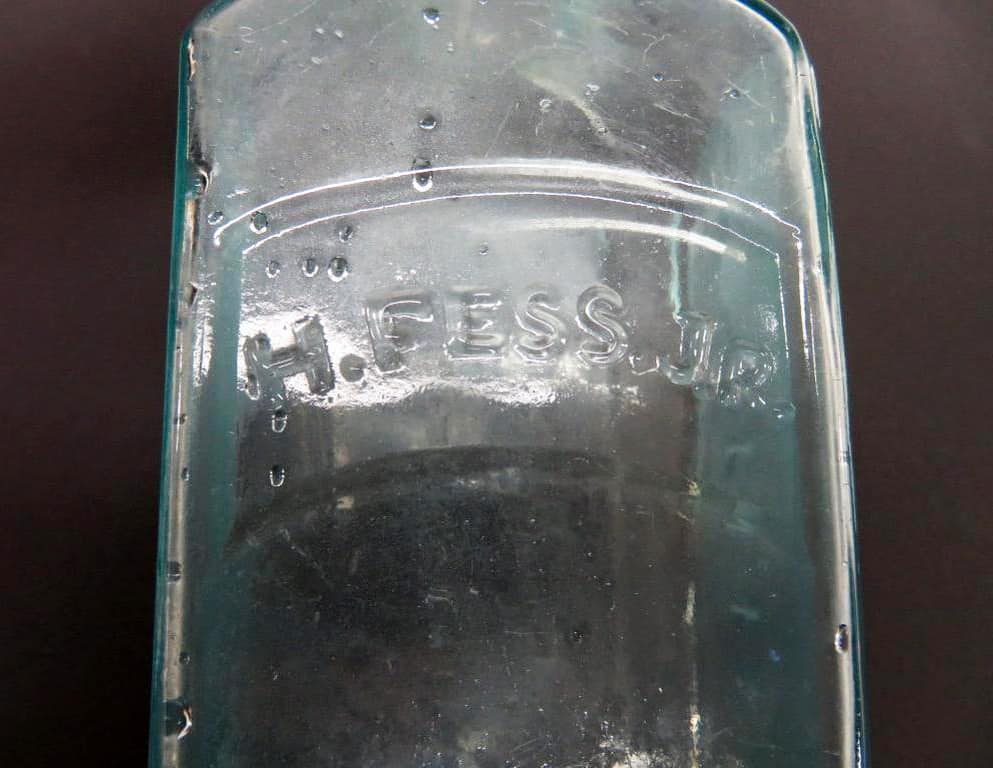 Henry Fess Jr. Jaundice Bitters
Milwaukee, Wisconsin
18 November 2018

Here is an extremely rare Jaundice Bitters from Milwaukee, Wisconsin put out by Henry Fess Jr., who was a prominent wholesale and retail druggist. The bottle recently showed up in an online auction that included other rather common bottles.
Fess came to Milwaukee from Pittsburgh in April, 1846 and initially was located next door to Ludington's Corner, at what is now 405 East Water Street. That year, to attract customers, he announced in local newspapers that he had just received a large assortment of medicines from New York.
Henry Fess was born in Switzerland in 1815 and came to America with his parents. He received his citizenship papers in 1816. He later married Catherine M. Fess (1815–1885) and they had one daughter, Croesdella C. Fess.
Water Street is a prominent historic street and an entertainment district in Milwaukee, Wisconsin. It is the site of the city's original building, City Hall, and multiple historic landmarks. Today it is still the major north–south road running through downtown and is home to Milwaukee's Theater District, Water Street Entertainment District, and much of the city's political activity.
In 1851, Fess moved to 377 East Water Street, Heidie's Block; and from there, in 1853, to 395 Martin's Block, where he conducted a robust business. He moved once again to what is now at 436 Milwaukee Street. His business was then called the Milwaukee Drug Warehouse. Advertising stated that he was a Wholesale and Retail dealer in Mediterranean, India, and all Foreign and Domestic Drugs etc. He also sold dyes, paints, oils, brushes, varnishes, chemicals, window glass, druggist glassware and other articles that were typically found in a drug store in that era. Yes, and he sold pure wine and brandy too.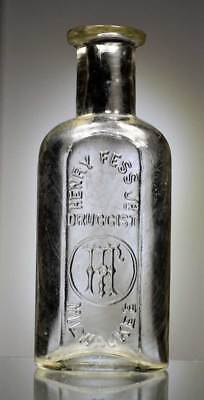 In 1868, Henry Fess filed for bankruptcy and rebounded quickly as he was advertising his celebrated Tonic Bitters in 1869. His advertising that year said it was "Designed for the use of the Medical Profession and Family. It is a invaluable remedy for all diseases of the Liver and Kidneys, and the best Purifier of the Blood in the world, and has been used here by Physicians and others for 20 years".
Steven Libbey of the Wisconsin Antique & Bottle Club has a few pictures on his web site of this bottle and reports the following, "This aqua bitters bottle from Wisconsin is embossed "H. FESS JR." on the front, "MILWAUKIE, WIS." on the back, "JAUNDICE" on the left panel and "BITTERS" on the right. Note the old German spelling of Milwaukee. It has a smooth base and a square blob, unlike the other varieties that have the double collar lip and pontil mark. Henry Fess Jr. was a prominent Milwaukee druggist in the 1840's and 1850's. There are a couple of varieties of pontil marked and smooth based bitters and at least one pontil marked druggist bottle known from this company. From left to right below are iron pontil marked bitters 8 1/4″ tall, open pontil bitters 7 1/4″ tall, and open pontil marked medicine. All are Henry Fess Jr. The large size is found with smooth base, IP (iron pontil) and OP (open pontil).
The Pioneer History of Milwaukee, in 1884, stated that "Henry Fess is one of our most respected citizens; and although like many others, he failed to get rich, has the consolation of knowing that he has the respect of his fellow citizens. He is of a very quiet temperament, is not aggressive; in fact, this is his great fault. He is no talker, greets every one cordially, if acquainted, and if he tells you a thing is so, you can depend upon its being true. I have known Mr. Fess intimately for many years, and hope the day is far distant when his pleasant face and lithe form shall be seen upon our streets no more."
Fess was a life-long druggist who had his own bitters. Not too bad. He would die in 1901 in Milwaukee.
The Carlyn Ring and W.C. Ham listing in Bitters Bottles is as follows: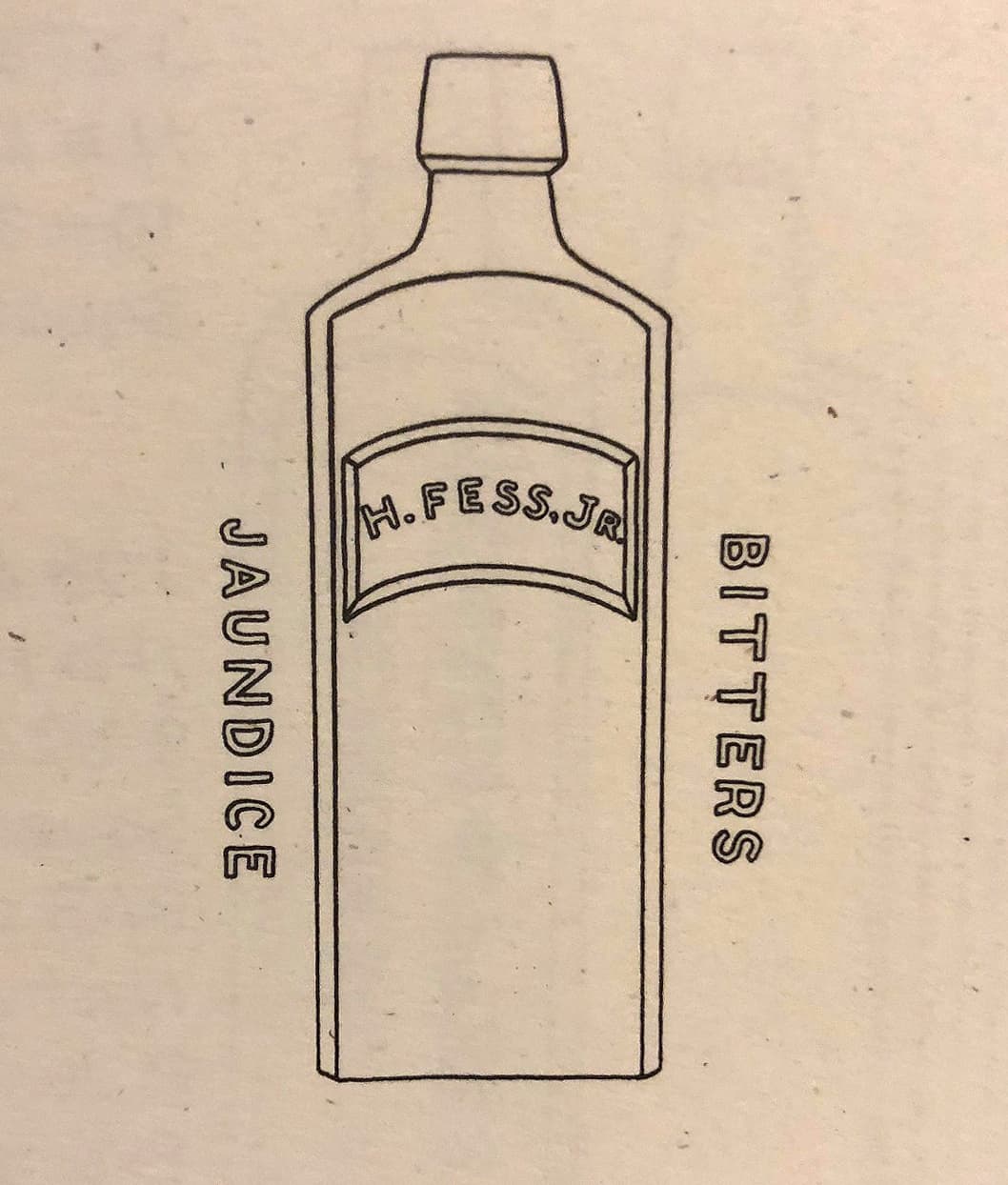 J 24  H. Fess Jr. Jaundice Bitters
H. FESS JR. ( au ) // JAUNDICE // MILWAUKEE
MILWAUKIE

/ WIS. / BITTERS //
8 x 2 3/4 x 1 1/2 (5 1/2) 3/8

*


Rectangular, Metallic pontil mark, Extremely rare
* Second size reported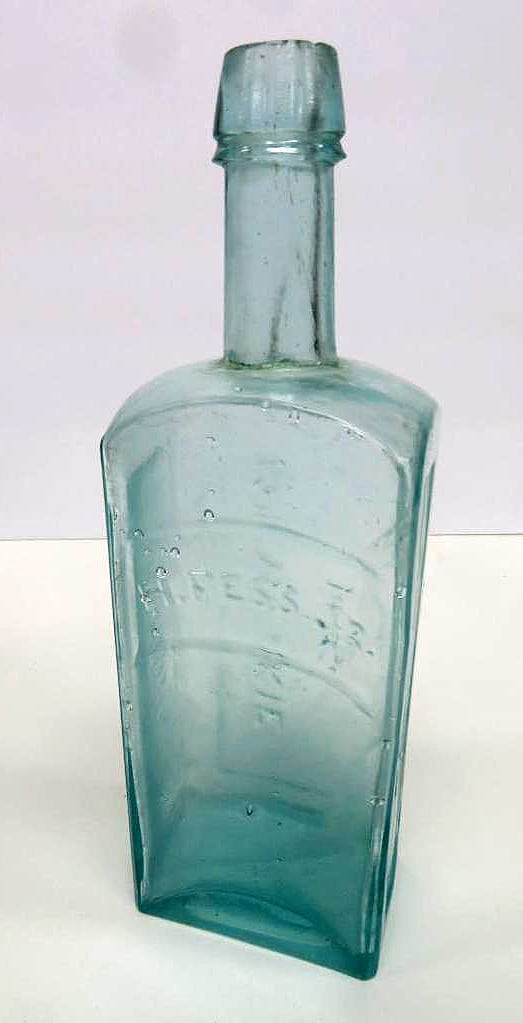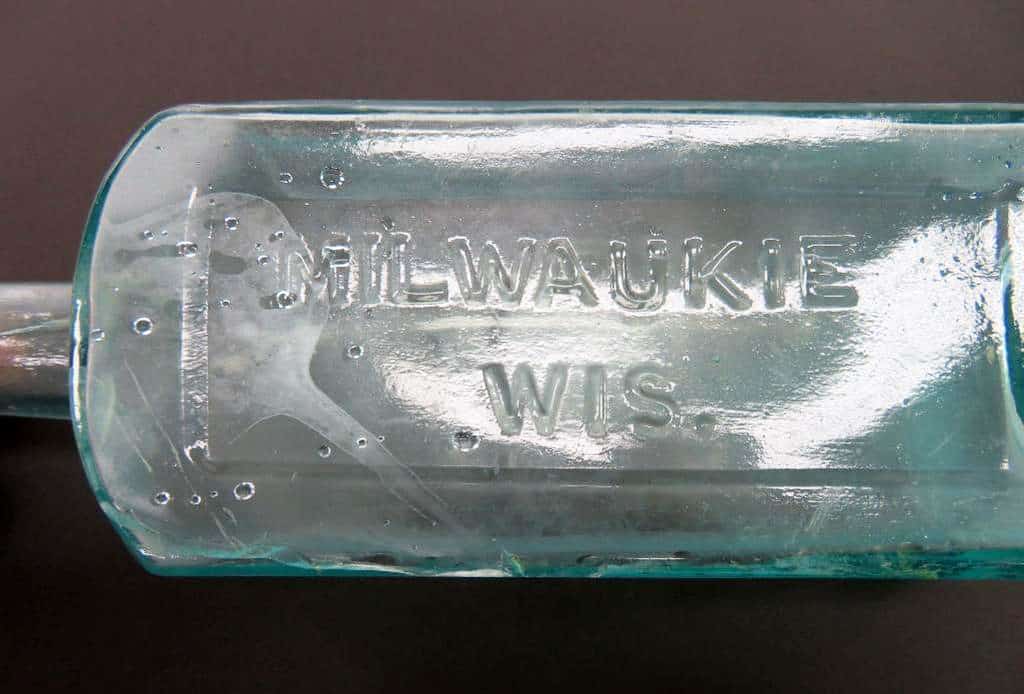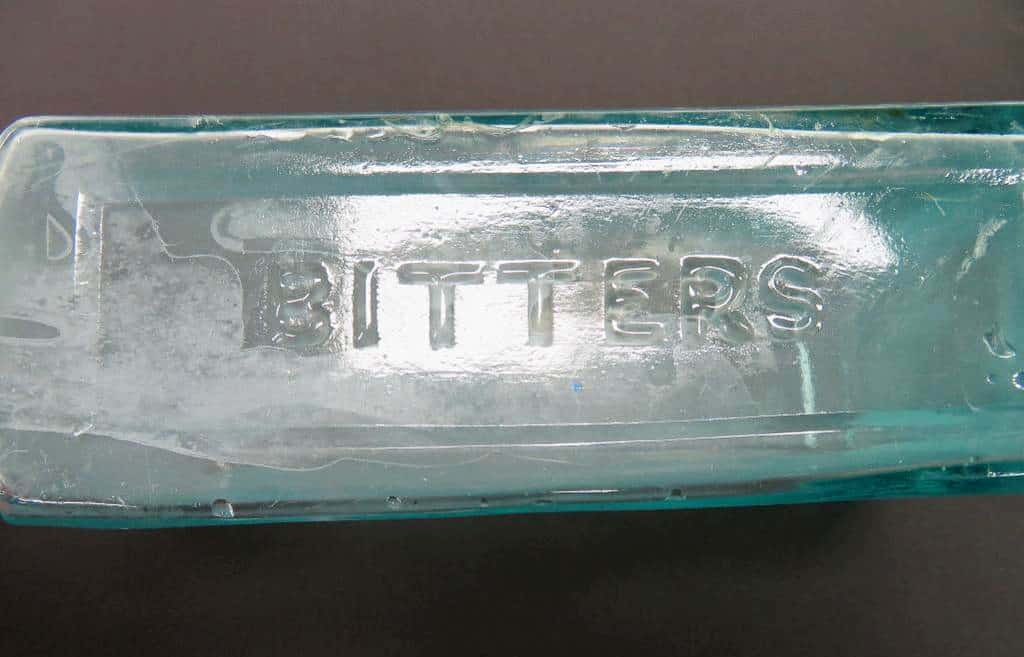 Select Listings:
1815:

Henry Fess birth, 1815, Switzerland
1846:

Newspaper announcement (below): New Drug Store, Henry Fess, Jr., Wholesale and Retail Druggist – Milwaukee Daily Sentinel, Saturday, July 25, 1846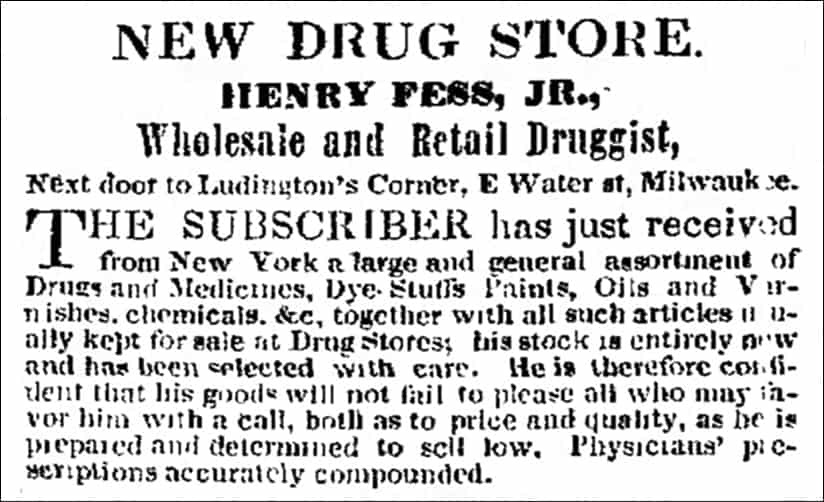 1850: 

Henry Fess, Druggist, Age: 30, Birth Year: abt 1820, Birthplace: Pennsylvania, Home in 1850: Milwaukee Ward 1, Milwaukee, Wisconsin, Family Number: 2147, Household Members: Henry Fess 30, Catharine Fess 28, Crosdella Fess 3 – 1850 United States Federal Census
1850:

 Newspaper advertisement (below): Milwaukee Drug Warehouse, Henry Fess, Jr., Wholesale and Retail dealer in Mediterranean, India, and all Foreign and Domestic Drugs etc. – Milwaukee Daily Sentinel, Thursday, March 21, 1850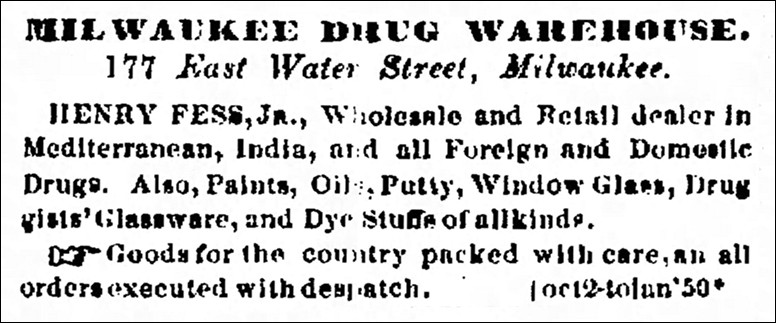 1853:

 Newspaper advertisement (below): Removal Milwaukee Drug Ware House, Henry Fess, Jr., No. 195 East Water Street – Milwaukee Daily Sentinel, Wednesday, January 26, 1853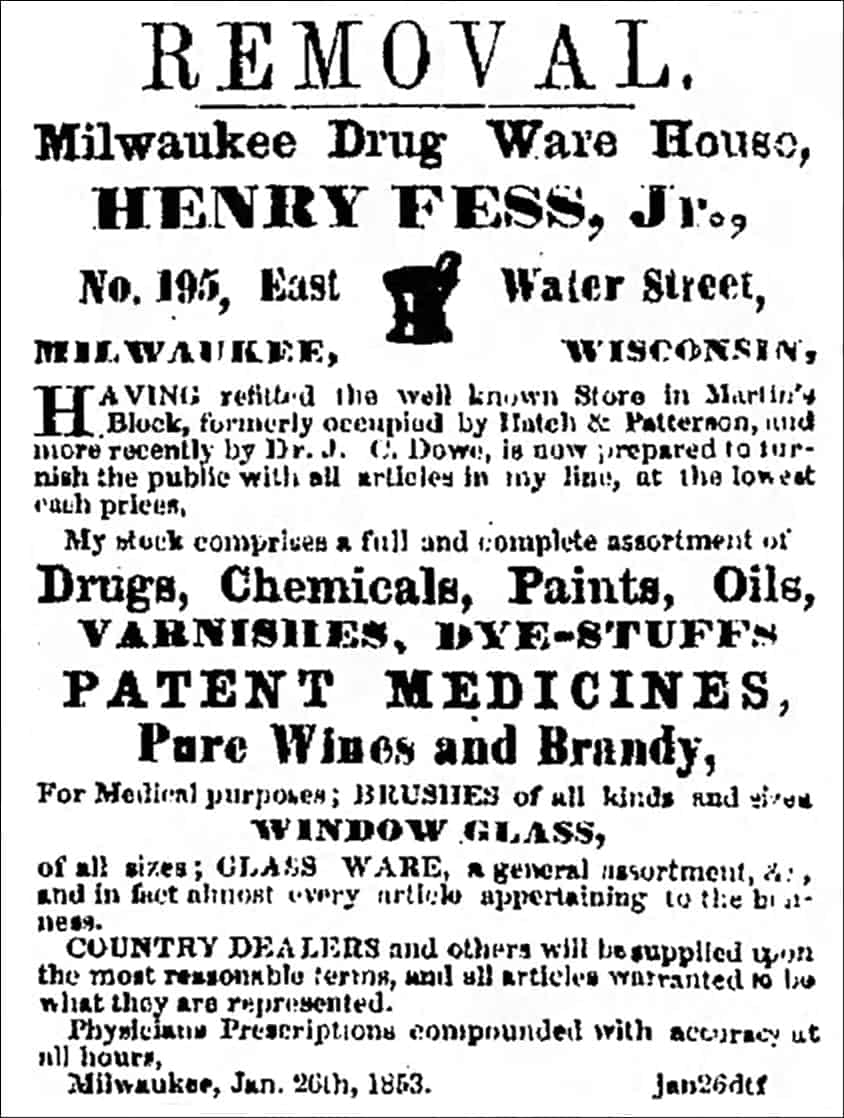 1857: 

FESS: Henry Jr. druggist, 195 East Water, h 190 Van Buren – Milwaukee City Directory for 1857-58
1860:

Henry Fess, Merchant, Age: 40, Birth Year: abt 1820, Birth Place: Pennsylvania, Home in 1860: Milwaukee Ward 7, Milwaukee, Wisconsin, Post Office: Milwaukee, Dwelling Number: 163, Family Number: 149, Real Estate Value: 6000, Household Members: Henry Fess 40, Catharine M Fess 35, Croesdella C Fess 12 – 1860 United States Federal Census
1865:

Henry Fess Jr, Druggist & Chemist, 207 E Water, Milwaukee, Wisconsin – Milwaukee, Wisconsin, City Directory, 1865
1868:

Newspaper notice (below): Henry Fess Jr. declares bankruptcy – The Daily Milwaukee News, Thursday, April 23, 1868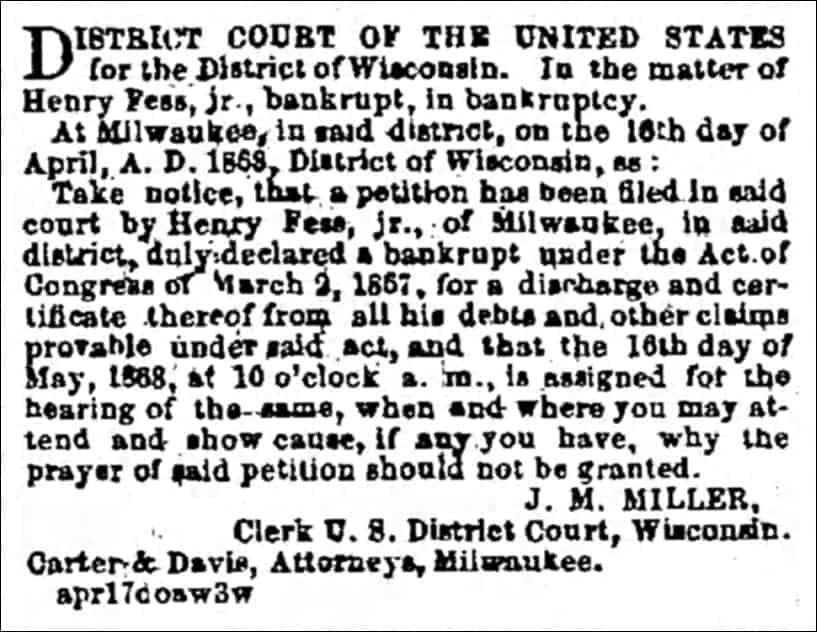 1869:

Henry Fess Jr, ret druggist, 107 Wisconsin – Milwaukee, Wisconsin City Directory
1869:

 Newspaper advertisement (below): Henry Fess, Druggist, 107 Wisconsin. Selling his celebrated Tonic Bitters – The Daily Milwaukee News, Thursday March, 11, 1869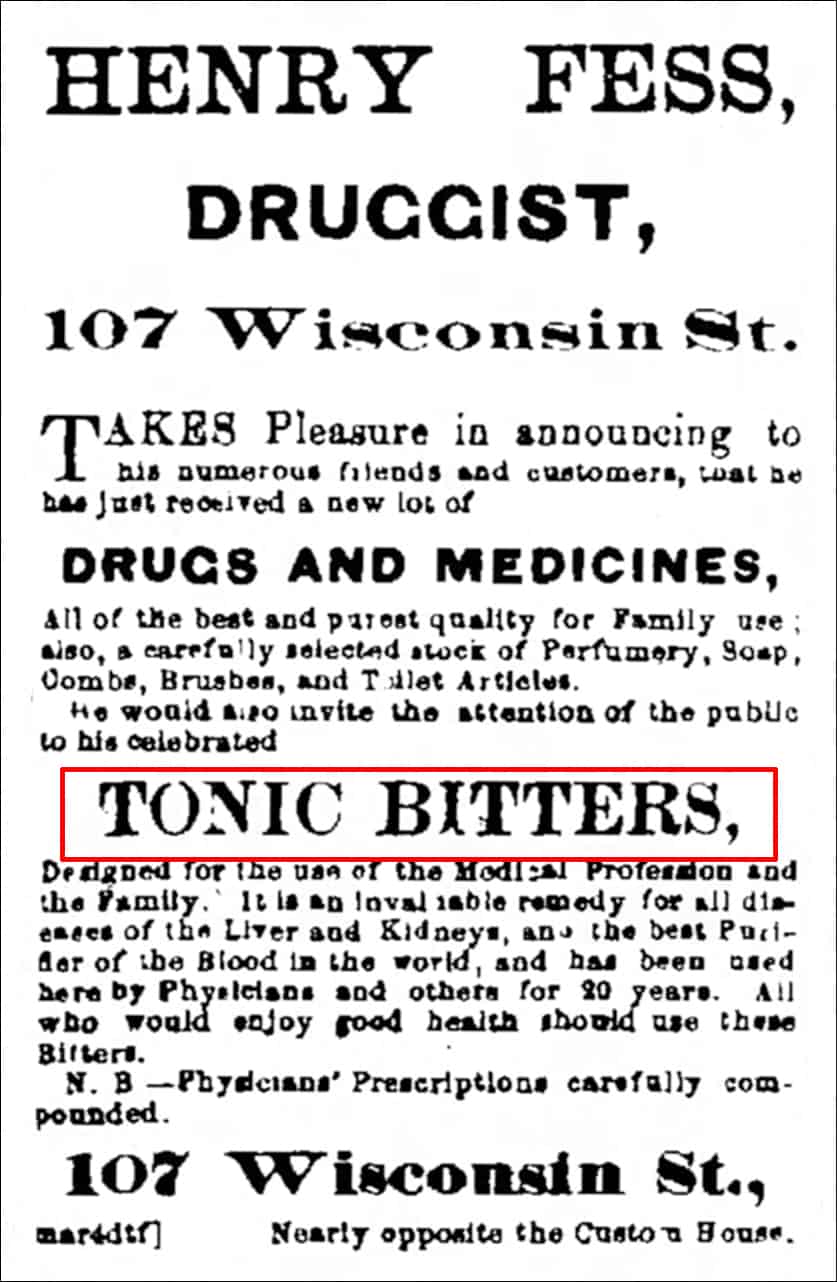 1870:

Henry Fess, Druggist, Age in 1870: 51, Birth Year: abt 1819, Birthplace: Pennsylvania, Dwelling Number: 249, Home in 1870: Milwaukee Ward 7, Milwaukee, Wisconsin, Personal Estate Value: 5000, Household Members: Henry Fess 51, Catherina Fess 45, Catherine Fess 22 – 1870 United States Federal Census
1877:

Henry Fess Jr., Retail Druggist, 434 1/2 Milwaukee – City Directory for Milwaukee, Wisconsin
1880:

Henry Fess, Druggist, Age: 60, Birth Date: Abt 1820, Birthplace: Switzerland, Home in 1880: Milwaukee, Milwaukee, Wisconsin, Street: Jefferson Street, House Number: 464, Dwelling Number: 188, Marital Status: Married, Spouse's Name: Catherine Fess, Household Members: Henry Fess 60, Catherine Fess 48, Croasdella Fess 20 – 1880 United States Federal Census
1882:

 Henry Fess Jr., Druggist, 436 Milwaukee, r 464 Jefferson – City Directory for Milwaukee, Wisconsin
1900:

Henry Fess, Jr. Age: 85, Birth Date: Apr 1815, Birthplace: Switzerland, Home in 1900: Milwaukee Ward 18, Milwaukee, Wisconsin, Ward of City: 18th, Street: Kane Pl, House Number: 364, Immigration Year: 1816, Marital Status: Widowed, Father's Birthplace: Switzerland, Mother's Birthplace: Switzerland, Years in US: 84, Naturalization, Household Members: Henry Fess 85, Catherine C Fess 52 – 1900 United States Federal Census
1891:

DRUGGISTS' REGISTER, List of pharmacists in attendance at the Milwaukee meeting, Aug. 11, 12, 13, 1891., Henry Fess, Jr. – Proceedings of the Annual Meeting, Volumes 11-19, Wisconsin Pharmaceutical Association
1901:

Henry Jr Fess, Death Date: 11 December 1901, Death Place: Milwaukee, Wisconsin – Wisconsin, Death Index, 1820-1907