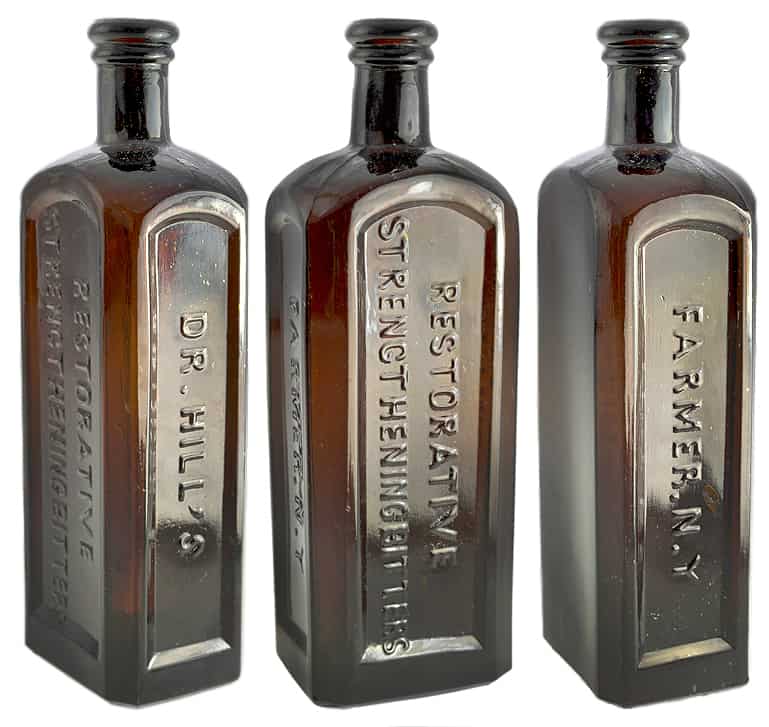 Dr. Hills Restorative Strengthening Bitters – Farmer N.Y.
20 September 2018

The Dr. Hills Restorative Strengthening Bitters is a hard-to-find bottle that I have only seen once at a bottle show and now twice at auction. Read: Two Exceptional Western New York Bitters
As far as auctions, Glass Works Auctions #107 previously sold the top pictured example from the Jack Stecher collection and last week, one was sold at Heckler Auction #167 (pictured below). I do not think it is the same bottle. Apparently there is a pontiled aqua example too.
The bottle has a smooth base, is 9 1/2″ tall and has an applied double collar mouth. The GWA write-up said, "Perfect 'attic' found condition. Extremely rare and to our knowledge the only one to ever come up for auction! Possibly earlier than we indicate as an aqua example exists with an iron pontil. In 1907 the town of Farmer became Interlacken, which it is today."
The Carlyn Ring and W.C. Ham listing in Bitters Bottles is as follows: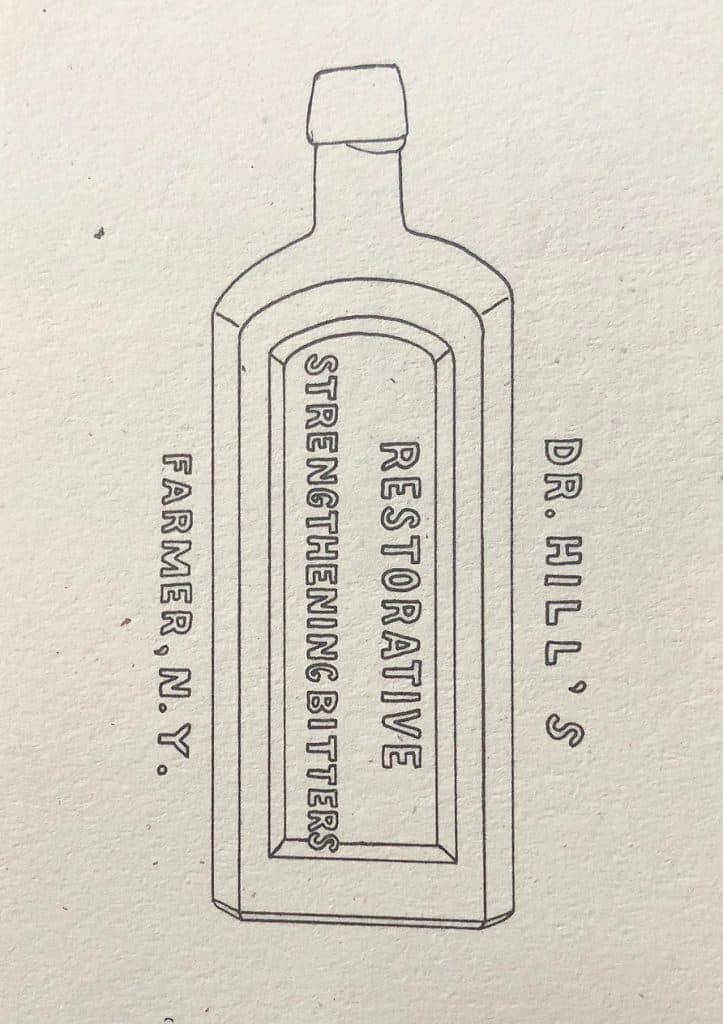 H 122  Dr. Hill's Restorative Strengthening Bitters, Farmer N.Y.
// f // DR. HILL'S // RESTORATIVE / STRENGTHENING BITTERS // FARMER, N.Y. //
9 1/2 x 3 1/2 x 2 1/4 (6 1/4) 3/8
Rectangular, Applied mouth, 3 sp; Black amethyst and Amber, DCM – Extremely rare; Aqua, Metallic pontil mark, LTC, – Extremely rare
Trade Mark in 1894
(I doubt this applies here)
Farmerville, then Farmer, and Farmer Village now Interlaken, New York
From Wikipedia. Interlaken is a village in Seneca County, New York, United States. The population was 602 at the 2010 census. The name is related to the village's position between two lakes. The Village of Interlaken is in the northern part of the Town of Covert and is northwest of Ithaca, New York.
First settled in the late 1790s and early 1800s, the Village of Interlaken was home to many families from the New England and New Jersey areas. Early businesses included hotels, blacksmiths, post office, bank, and in time the railroad station. All designed to support the local families and the farmers from the surrounding area.
Four churches were established to serve the community, Union Baptist in 1819, Reformed Church of Farmerville in 1830, a Universalist church in 1850 and St. Francis Solanus Catholic Church in 1874.
Originally called Farmerville, then Farmer, and Farmer Village, the hamlet continued to grow. Prosperous homes were built on Main Street, Lodi Street (now West Avenue), and along the side streets. LeRoy, Lake View, Clinton and Knight Streets were the last to be added.
Dr. John O. Hill – Death by Strychnine
So, I have no positive confirmation that Dr. John O. Hill is the same Hill in Dr. Hills Restorative Strengthening Bitters but I am pretty darn sure. You see, there is no label or advertising that I could find to assist in identification. What we do have is that the bottle is also embossed Farmer NY which is a huge clue. Dr. John Oscar Hill was born in 1821 in New York and lived in the village of Farmer. He practiced for many years in Ithaca, New York and would commute by train each day from Farmer or Farmer Village. He was very well known and respected. Dr. Hill must have liked to tinker with compounds and chemicals too and could have made his bitters product in his lab while ordering his bottles from Pittsburgh.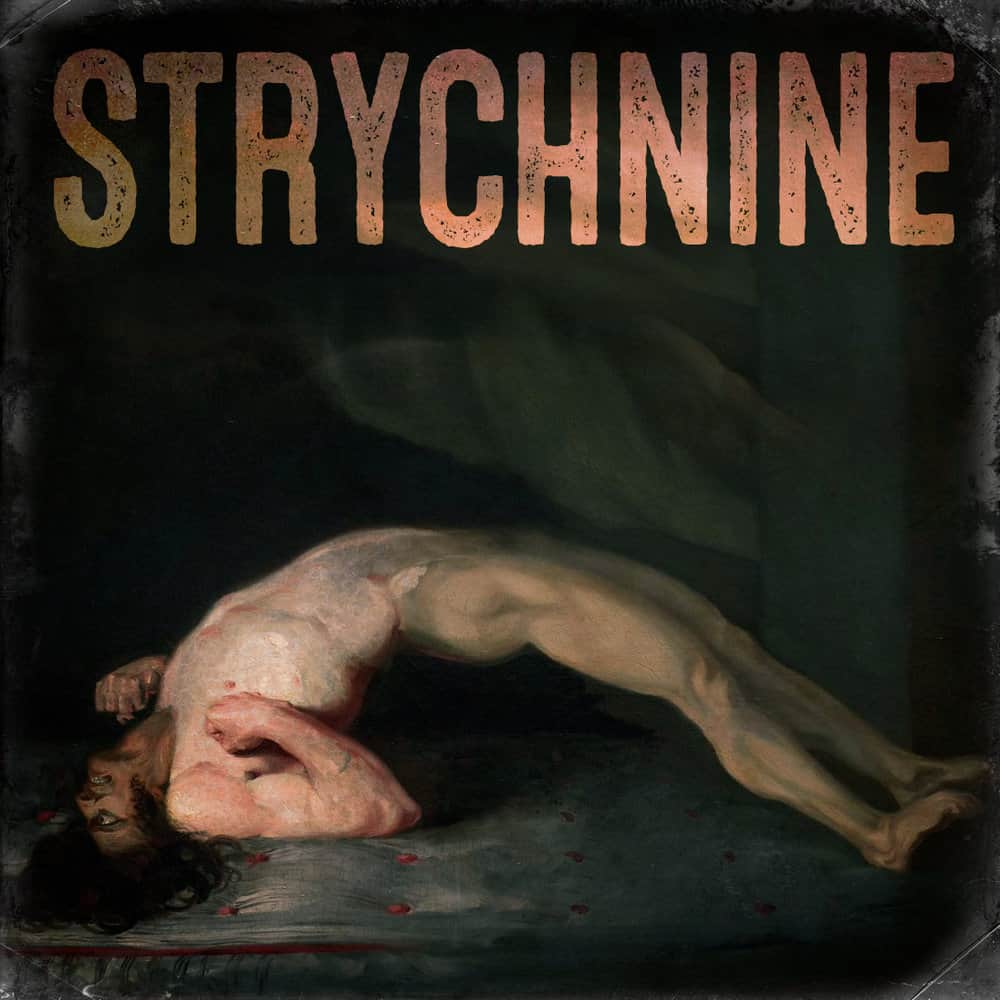 "I was tired and in a hurry, and took a drink of water out of a graduated glass in which I had dissolved strychnine. The water was bitter, but not much so. I can't have taken very much. I shall soon be over it; don't you think so?"
One day Dr. Hill died a horrific death by accidentally drinking a glass of water where he had dissolved some strychnine. Reported as an accidental poisoning, he died over the next half hour or so from leaving his office and catching his train home. The train was alerted of the death before leaving Seneca 20 minutes late and the local passengers were shocked with the terrible news. When the train arrived in Farmer, his daughter was waiting as she usually did each evening. She overheard many passengers saying,"Dr. Hill is dead!" She comprehended the words and in a cry of agony ran to her village home to tell her mother.
You could make a movie here. Bitters usually say that they can cure many ailments but they did not claim to cure strychnine poisoning.
Please read both newspaper accounts below.
Select Listings (John Oscar Hill):
1821:

Dr. John O. Hill, Birth Date: 2 Feb 1821 – Find A Grave Index
1850:

John O. Hill, Physician, Age: 29, Birth Year: abt 1821, Birthplace: New York, Home in 1850: Ovid, Seneca, New York, USA, Gender: Male, Family Number: 1787, Household Members: John O. Hill 29, Mary Hill 24, Alice .J Hill 1, Len L. Hill 25, Isaac E. Hill 19 – United States Federal Census
1860:

John O Hill, Physician, Age: 39, Birth Year: abt 1821, Birth Place: Delaware County, Home in 1860: Covert, Seneca, New York, Post Office: Farmer, Dwelling Number: 1800, Family Number: 1800, Real Estate Value: $3,000, Personal Estate Value: $2,000, Household Members: John O Hill 39, Mary Hill 33, Alice Hill 10, Marian Hill 7, Arthur Hill 5 – United States Federal Census
1863:

John O. Hill, Physician, Age 42, 24th Congressional District, Seneca, New York – U.S. Civil War Draft Registration Records
1870:

J. O. Hill, Physician, Age in 1870: 49, Birth Year: abt 1821, Birthplace: New York
Dwelling Number: 66, Home in 1870: Covert, Seneca, New York, Race: White, Gender: Male, Personal Estate Value: $7,000, Real Estate Value: $4,000, Inferred Spouse: Mary E. Hill, Inferred Children: Alice J. Hill, Arthur Hill, Frankie Hill, Household Members: J.O. Hill 49, Mary E. Hill 43, Alice J. Hill 20, Arthur Hill 15, Frankie Hill 7 – United States Federal Census
1875:

Dr. John O. Hill Death, 24 July 1875, Cemetery: Lake View Cemetery, Burial or Cremation Place: Interlaken, Seneca County, New York, Spouse: Mary Elizabeth Hill (Taft), Children: Marian I. Hill – Find A Grave Index