Caldwell's Wine & Iron Bitters –

Medina NY
13 September 2018 (R•051019-FBN)

The other day I did a post on the triangular Caldwell's Herb Bitters which was centered around York and Harrisburg, Pennsylvania. It reminded me of another Caldwell named product from Medina, New York called Caldwell's Wine & Iron Bitters. That is a pretty strange ingredient combination that just underscores the intent to sell alcohol as medicine. I quickly confirmed that there is no relationship between the Caldwell brands mentioned above.
Anyway, I picked up my light honey amber Caldwell's Wine & Iron Bitters square, pictured below, from Jack Stecher at the FOHBC National Show, in Wilmington, Ohio in in 2010. It is extremely rare and the only one I've seen.
The Carlyn Ring and W.C. Ham listing in Bitters Bottles is as follows:
C10  CALDWELL'S / WINE & IRON // f // BITTERS / MEDINA N.Y. // sp //
W. C. Caldwell, Sole Proprietor
9 7/8 x 2 3/4 (7 1/4) 3/8
Square, Amber, LTC, Applied mouth, 3 sp. Extremely rare
The Wayne County Journal (Palmyra, N.Y.) April 23, 1874.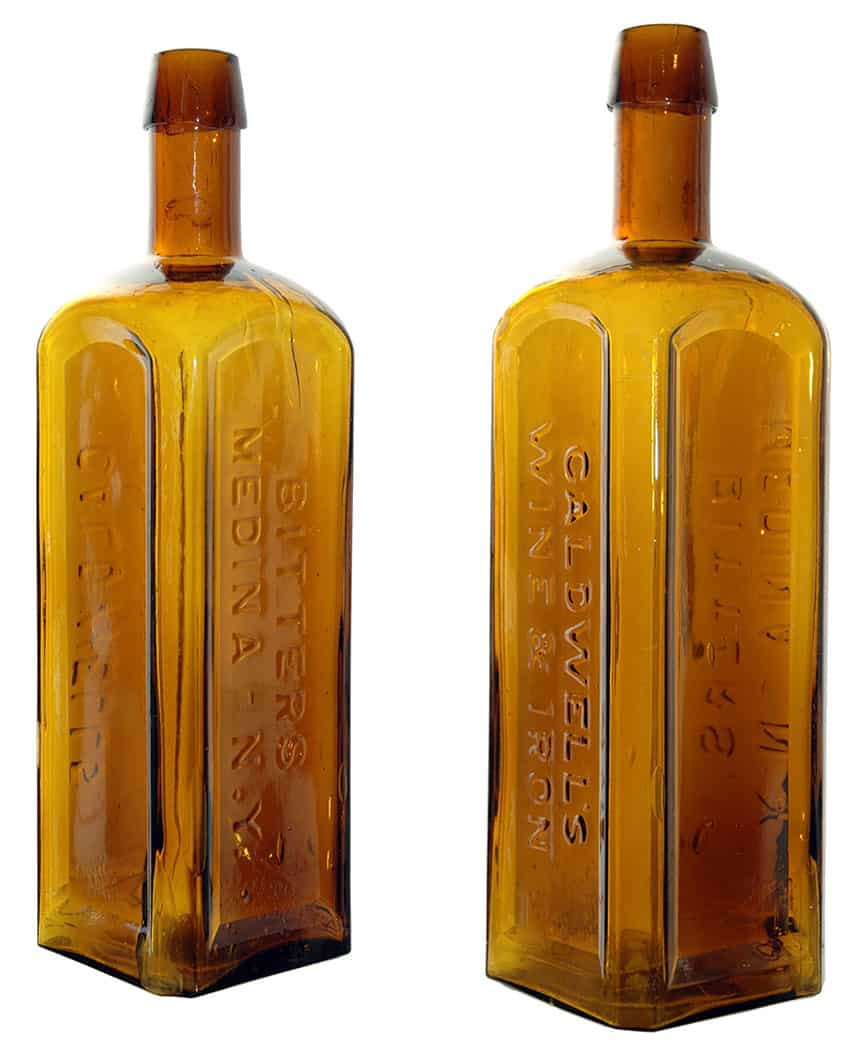 Medina is a village in the towns of Shelby and Ridgeway in Orleans County, New York and is part of the Rochester metropolitan area. The village developed after construction of the Erie Canal, which bends as it passes through the village, creating a basin that served as a stopover point. This became the center of businesses that served trade and passenger traffic on canal boats. In addition, mills were constructed on Oak Orchard Creek to take advantage of its water power. The fertile lands around the village yielded fruit which was exported to major markets of New York City and west via the canal. At the start of the 20th century, Medina was a thriving industrial town.
Caldwell's Wine & Iron bitters was only advertised in 1874 and was put out by William C. Caldwell of Medina, New York who was the proprietor and manufacturer. His newspaper ads appeared in places like Canton, Ravenna, Akron and Findlay, Ohio and Pisston, Pennsylvania. He said his bitters were a cure for Dyspepsia, Indigestion, Kidney Diseases, Liver Complaints, Nervous Affections, General Prostration and could be used as a morning appetizer. The usual broad claim by bitters manufacturers of this era. He also manufactured Caldwell's Cough Cure, Caldwell's Magnetic Chloroloid and Caldwell's Lily Balm.
Caldwell must have only been around a year or two because after 1875, he is gone, possibly dieing in 1877.
Now just a single bottle on my shelf with a story, albeit short.
Select Listings:
1850: 

William C. Caldwell born – New York State Census
1873:

Marriage: William C. Caldwell, Marriage Date: 1 Oct 1873, Marriage Place: Medina, New York, Spouse: Annie E. Hedley – England Select Marriages
1875:

William C. Caldwell, Druggist, Age: 25, Birth Year: abt 1850, Residence Date: 1 Jun 1875, Residence Place: Shelby, Orleans, New York, USA, Election District: Shelby, Household number: 55, Relation to Head: Head, Spouse's Name: Anna Caldwell, Household Members: William C. Caldwell 25, Anna Caldwell 22 – New York State Census