Dr. Van Dyke's Holland Bitters and the Headless Man
10 October 2017

My friend Gary Beatty forwarded the above picture and email below of possibly an unlisted variant of a Dr. Van Dyke's Holland Bitters bottle from St. Louis, Missouri. I am not familiar with this superb example though I am familiar with other Van Dyke bottles.
I guess the bigger question here might be, "why is that guy on their registered trademark without a head?"
Hi Ferd,
Dennis Humphrey tipped us all off to a great labeled "Dr. Van Dyke's Holland Bitters" on Ebay (pictured above). I brought it up on screen and used the "Buy it Now" option. It came from a great mutual friend of ours (Steve Ketcham) of Brrr (cold), Minnesota. Thank you Steve!
The bottle is of the same size as the V 7 L listing in Bitters Bottles except it is an entirely different mold. The inverted panels are not as beveled. The shoulders are completely sloping. Ring & Ham list a box for this bottle but not the bottle itself. It has on the label a portrait of a running headless man. In one hand is a ball and spiked chain, and in the other, a bottle of the bitters itself. With a magnifying glass, you can make out the running man on the label of the bottle in his hand. How they did that back then is incredible.
At the bottom of the label, with the aid of a magnifier, you can make out Stephens Litho, St. Louis. There is a neck label that says, "Dose, A Half Wine Glass Before Each Meal." Embossed on the sides, "Dr. Van Dyke", on the bottom "PATENTED JUNE 2nd 1896. It is a blown bottle and definitely a variant. I will forward info to Bill Ham.
Best Regards, Gary Beatty
I've got to get this out first. Who doesn't think of Dick Van Dyke! Maybe some of you aren't aware of the great comedian as Mary Tyler Moore's husband on The Dick Van Dyke Show.
With a quick search online, I found the bottom two pieces, both very illustrative of the Van Dyke bitters brand and registered trade mark. One is a trade card or label and the other looks to be a drink coaster. Both are for Dr. Van Dyke's Holland Bitters. The top piece is listed on eBay currently as Buy it Now as 1890's Dr. Van Dykes Holland Bitters, St. Louis, MO Monster Victorian Label F63. Bitters Bottles Supplement lists this as a label as V 7.
The round piece came from Bottle Pickers where Frank Wicker has written about Van Dyke's Bitters Company before. Bitters Bottles Supplement lists this as a label pin as V 7. It measures 1 1/2″ in diameter and is metal. Another internet auction house says this piece is a mirror.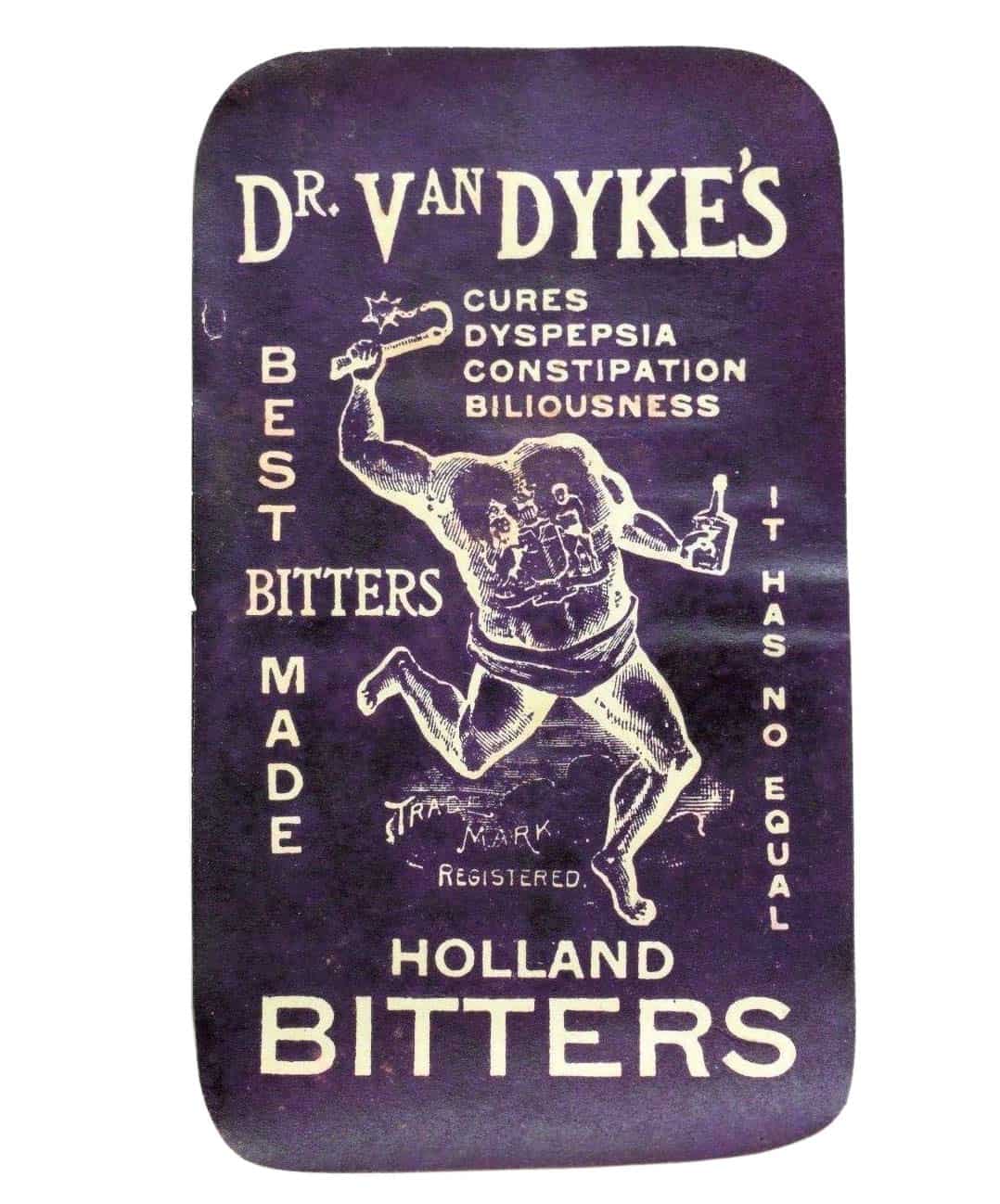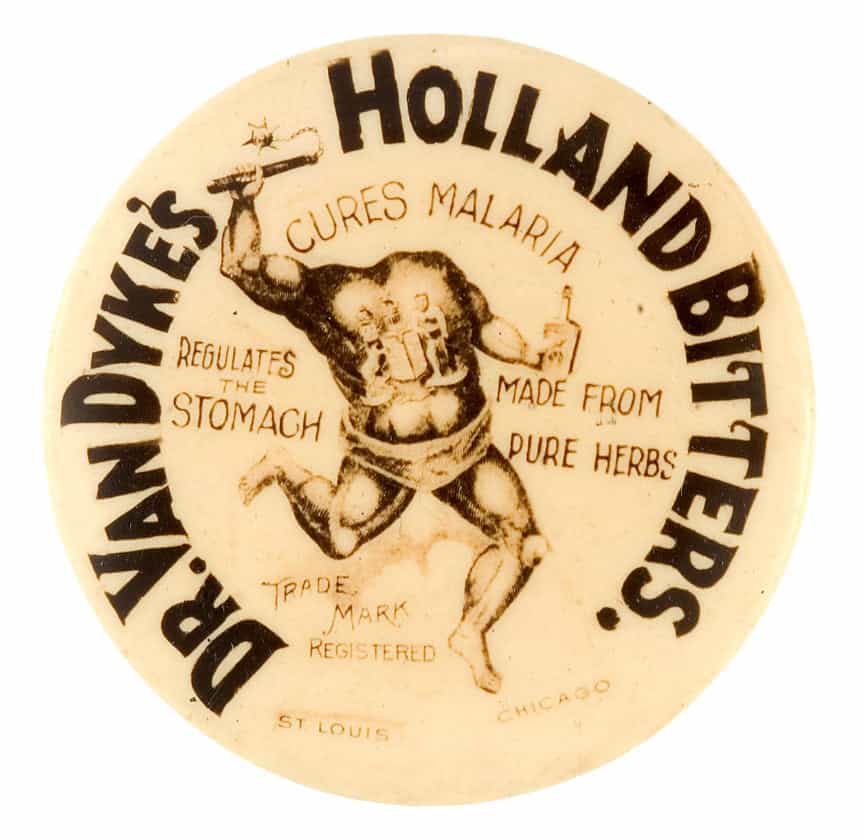 Most bitters collectors are familiar with the Dr. Van Dyke's Holland Bitters example type below which was found on eBay. This is the V 7 L listing in Bitters Bottles. You can see the reverse label too. I'm actually showing two examples below because of the fine image of the neck foil and cork on the top image.
The Carlyn Ring and W.C. Ham listing in Bitters Bottles is as follows:
V 7 L … Dr. Van Dyke's Holland Bitters
DR. VAN DYKE'S //  sp // DR. VAN DYKE'S // sp // b // PATENTED (au) / motif diamond / JUNE 2ND 1896 ( )
Van Dyke's Bitters Co., St. Louis, Missouri
Rectangular, Clear, LTCR, 4 sp
Label: Cures dyspepsia, biliousness, liver complaint, fever and ague and all diseases due to a disordered stomach. A sure preventative to malaria. It will not cure everything but it will do what is claimed for it. It is an excellent appetizer and stimulant.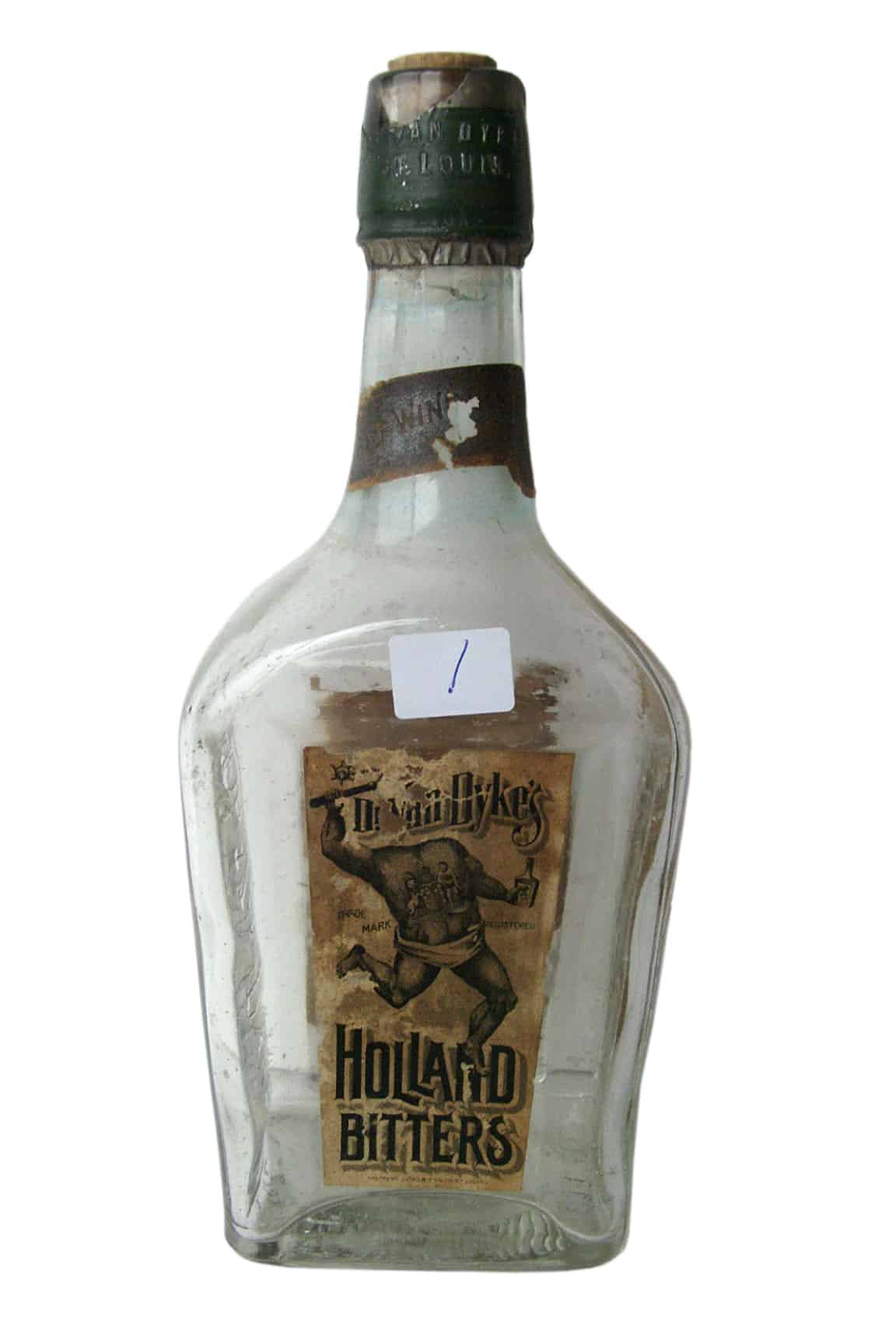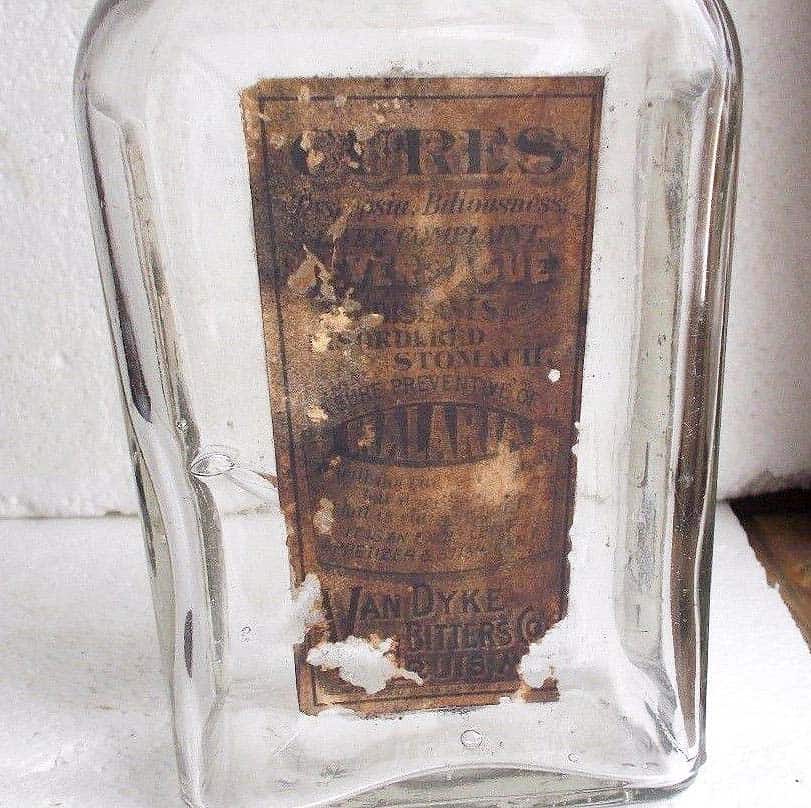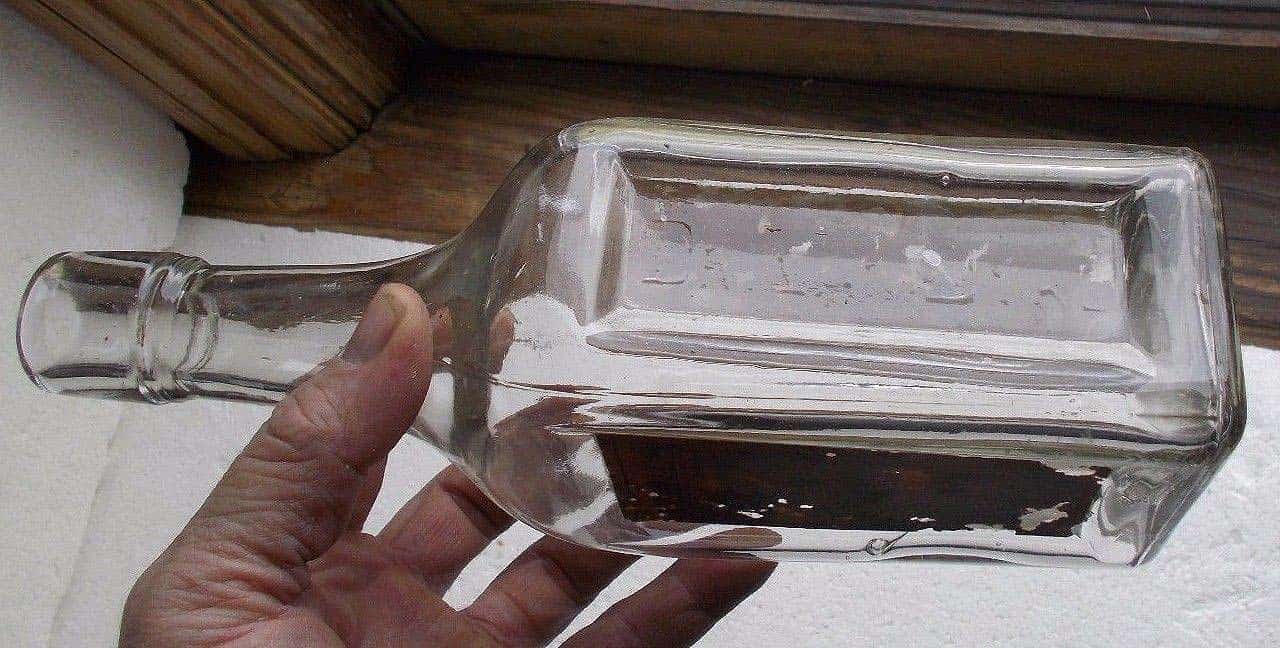 Another variant which is embossed primarily "Van Dyke Bitters Co." is pictured below. Sometimes I crop away the background so we can focus on the bottle. I've seen three examples of these rare bottles. John Feldmann had one (I believe), Frank Wicker has one and the example below is from Ellen Haas Faulkenberry up St. Louis way.
The Carlyn Ring and W.C. Ham listing in Bitters Bottles is as follows: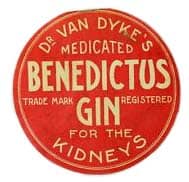 V 8 L … Dr. Van Dyke's Tonic and Purifying Bitters
VAN DYKE BITTERS CO. / PROPRIETORS / ST. LOUIS, U.S.A. // f // DR. VAN DYKE'S / MEDICATED / BENEDICTUS GIN / TRADE MARK REGISTERED // f // b // enclosed in a circle 238
11 x 2 3/4
Square case gin, Clear, LTC
Public Ledger (Philadelphia) February 4, 1870
(I doubt this is for the same bottle)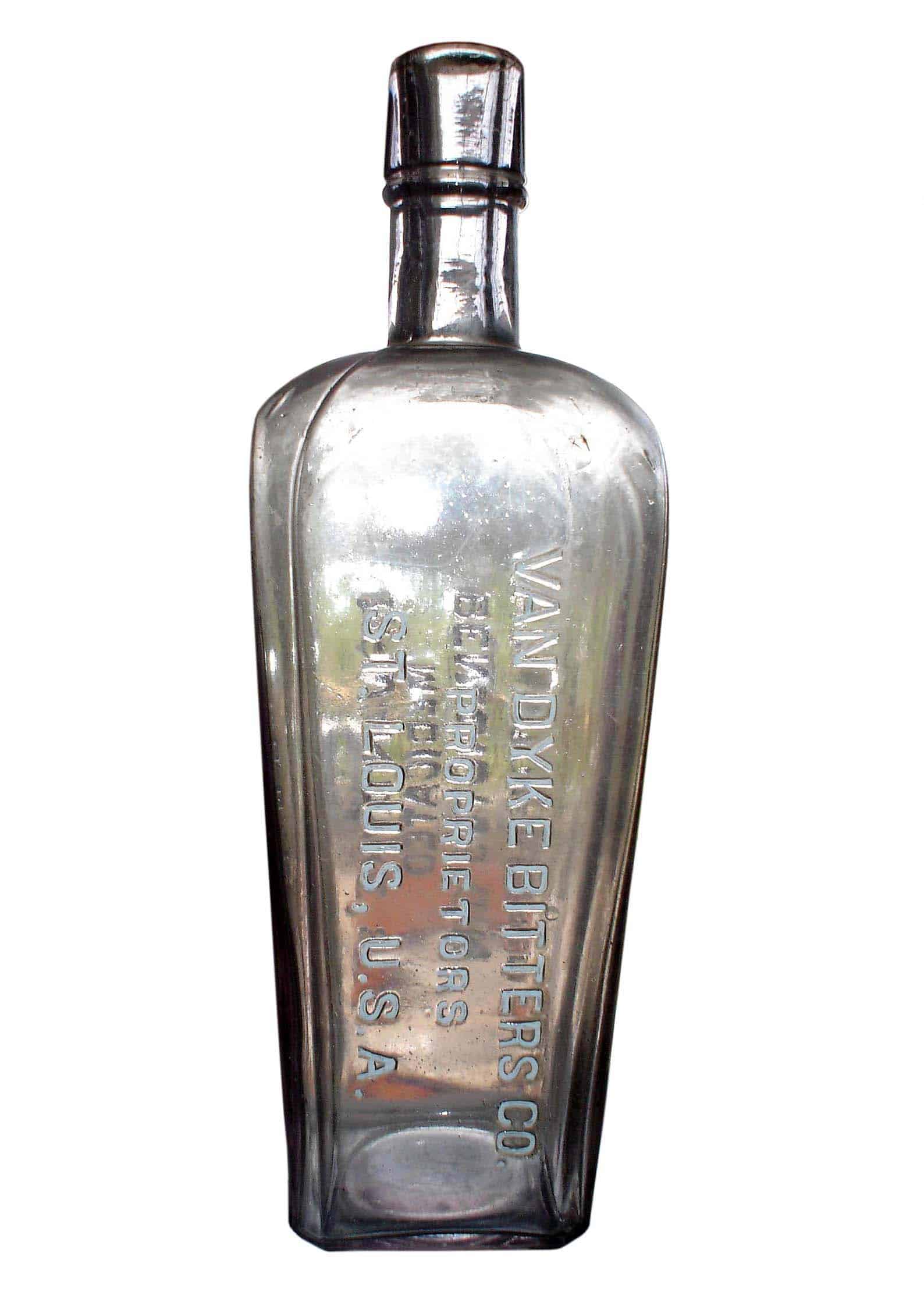 Below is a fantastic diecut advertising trade card from the Joe Gourd Collection. You can clearly see the trademark and details.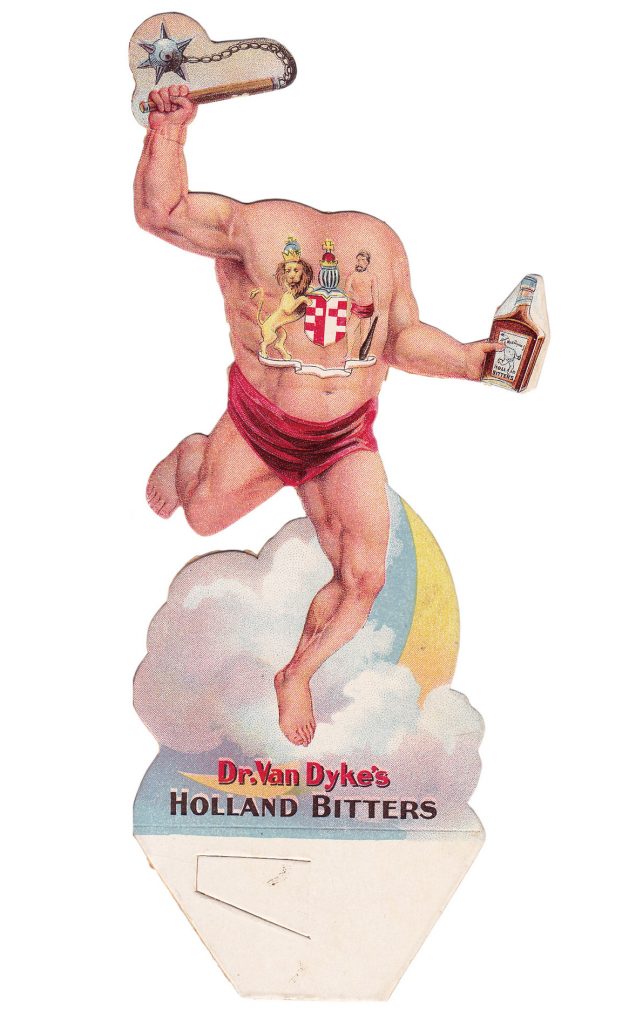 Here is a shipping crate below I found on eBay. This is also listed in Bitters Bottles on page 549. There is also a Box of Playing Cards, Funnel and a Pitcher listed for Dr. Van Dyke's Holland Bitters in Bitters Bottles.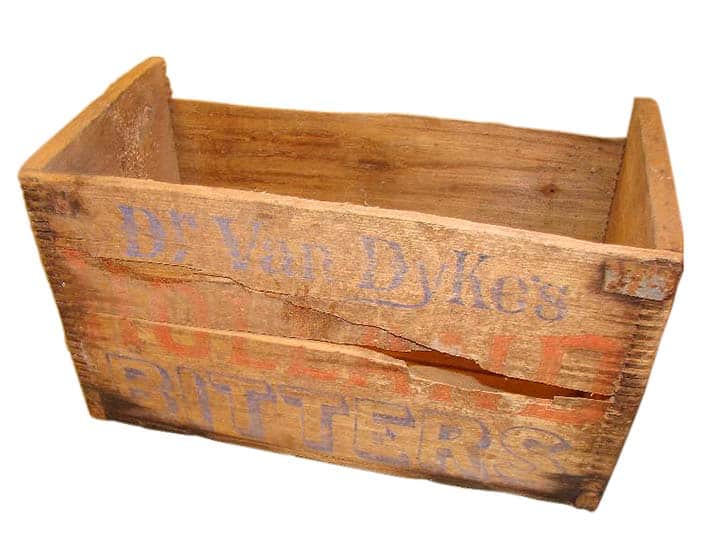 Here is a super Dr. Van Dyke's Holland Bitters paper advertisement, framed under glass. Features the trademark headless guy in upper left. Litho in Buffalo, NY.  25 – 3/4″ x 19 – 1/4″. – Dan Morphy Auctions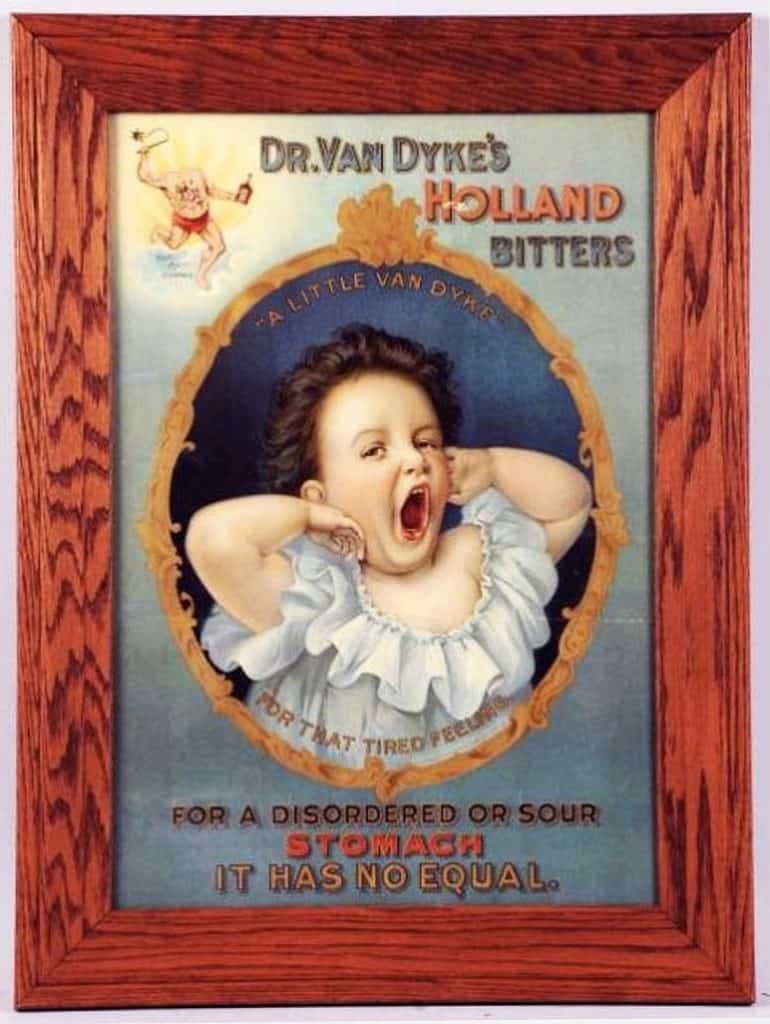 A Van Dyke Bitters Co. Weekly Time Book from the Joe Gourd collection is represented below.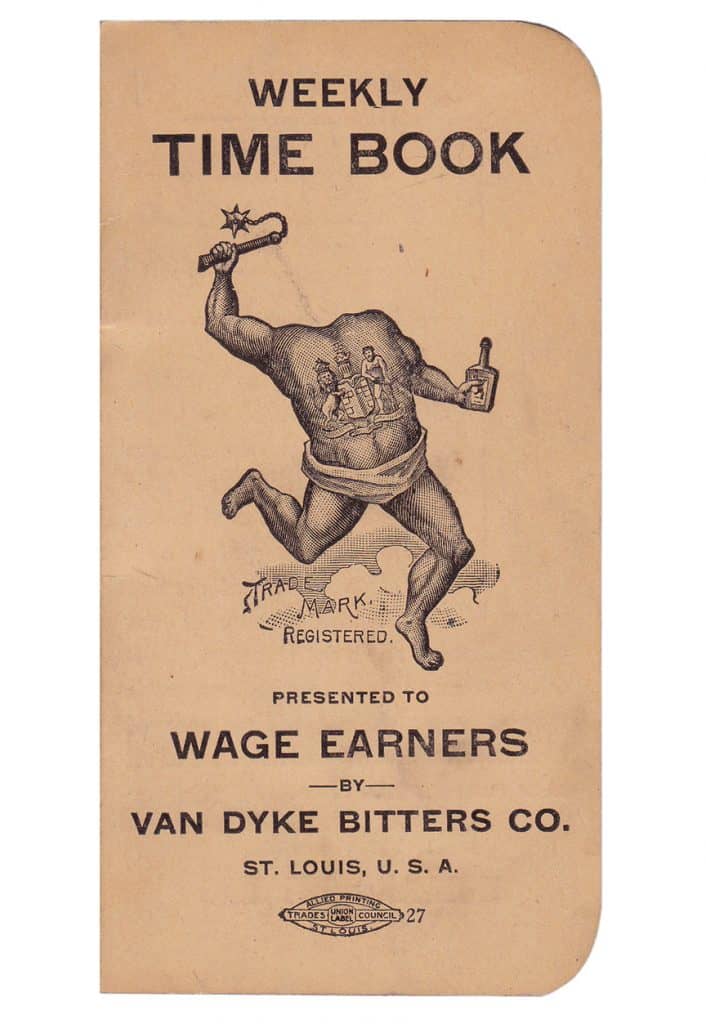 OK, let's embark on a little journey and see what we've got to look at as far as support material on the headless man. First of all, Van Dyke (or Vandyke, van Dyck) is a surname of Dutch or Flemish origin. Second, Holland Bitters first made an appearance in the United States around 1854.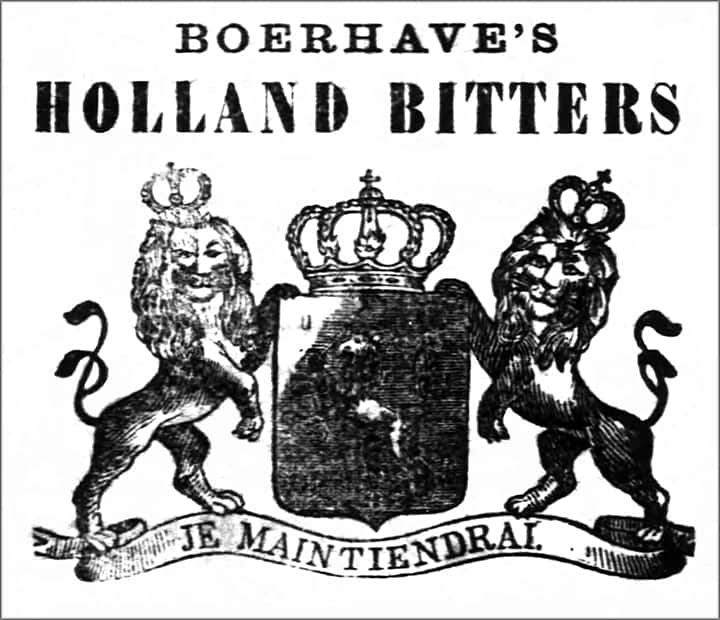 With "Holland Bitters" in the name, one might think first of Boerhaves Holland Bitters (pictured below) from Pittsburgh, Pennsylvania. Not so. Their advertising also does not reference a man without a head. There is a clue here as their trademark has the lions, crown and shield. Hey the Dr. Van Dyke's bitters, with the headless man also has a lion on the left and a caveman (man with head) or something on the right. When looking into the shield above you want to see the headless man. Actually, it is a horse on raised hind legs. I wonder if this was the inspiration for the St. Louis trademark logo?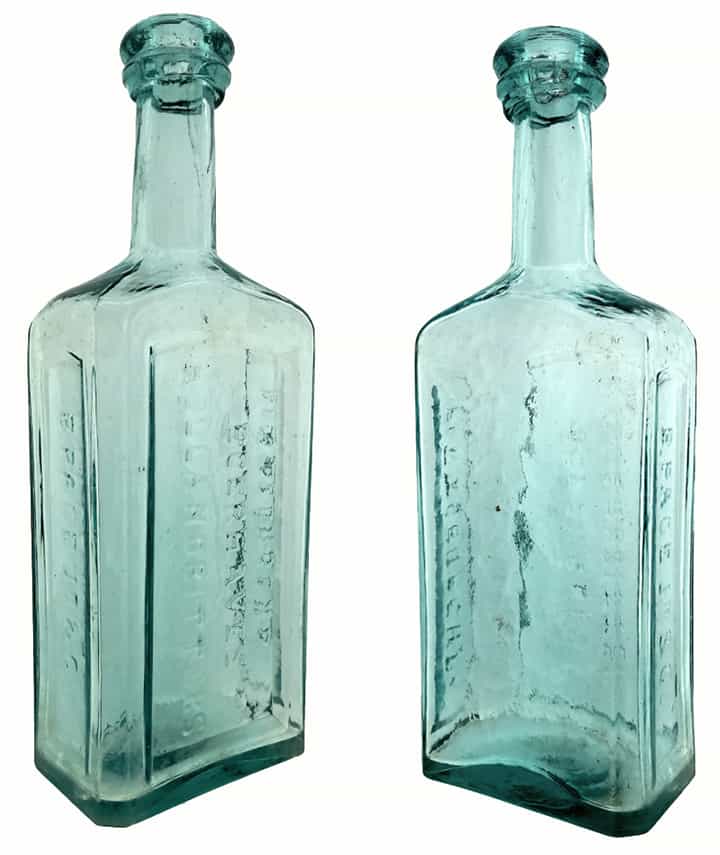 One of my newspaper searches (below) actually contains the Boerhave's Holland Bitters advertising with a Van Dyke name. Who is Mary Van Sliedrecht, daughter of Van Dyke? Dead end there.
Actually, I believe the man to the right on the chest graphics is the headless man. He just has his head. They both seem to be wearing loin cloths. So why is he headless and running with a medieval flail weapon in one hand and a bottle of Van Dyke's Holland Bitters in the other hand? I really have no solid explanation. It has to be here somewhere. Obviously, running around all over the place with seemingly no aim or purpose is tied to the phrase "run around like a headless chicken". Could it be that simple? I doubt it.

Interestingly, there is a Pennsylvania link as there was a Dr. Van Dyke's Tonic and Purifying Bitters being advertised in Philadelphia in 1870. See ad below. Notice the doctor is called "Dr. Van Kyke" in the ad! That's pretty funny. Is this the predecesor or inspiration? I bet it is! The "Dr. Van Dyke's Tonic and Purifying Bitters" is the same copy on a label of a later St. Louis variant. See V 8 L above. Dr. James M. Van Dyke was a physician listed in Philadelphia city directories from 1871 to 1878. His earliest appearance is 1861 in the directory.
As an aside, the running headless man makes me think of a Sarracena Life Bitters and a Triskelion (pictured below). We've got the head here. We're just missing the torso and arms!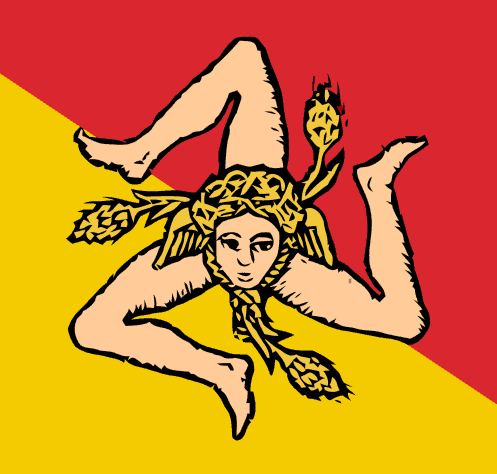 Here are some other bottle examples and advertising from our Dr. Van Dyke's Bitters from St. Louis. Most examples display the running, headless man. The small, low res example below has contents. I believe it was auctioned by Glass Works Auctions at some point in the past.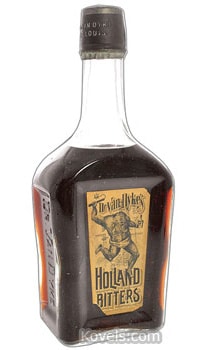 The earliest Van Dyke's Holland Bitters record I can find in Saint Louis is from a previous post I did called Cincinnati Bitters Spotting – A cross reference of directories. Here you will find a refertence to a Holland Bitters, Henry VanDyke, 1858.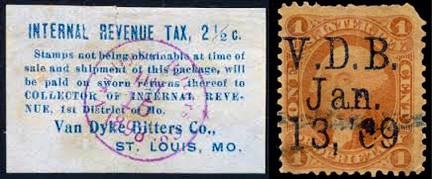 Pictured above on the left is an Internal Revenue 2 ½ cent tax stamp issued for the Van Dyke Bitters Co., St Louis in 1898 along with a 1 cent Internal Revenue stamp sur-printed with "V.D.B." for Van Dyke Bitters.
In the 1860 United States Federal Census, Henry VanDyke was listed as an agent. He was 36 years old and from Holland. He was born in 1824. His wife was named Jane and was from Prussia. A child was listed as Sophia. They lived in Ward 10, St Louis (Independent City), Missouri. Stamp images courtesy of Bottle Pickers. Was VanDyke really a doctor? Probably not. Just a hunch. I suspect he was related to Dr. James M. Van Dyke from Philadelphia. James was the inventor and proprietor. Henry was his agent for distribution. Maybe brothers?
There might be a tendency to say this might be Henry Jackson van Dyke Jr. (November 10, 1852 – April 10, 1933) who was an American author, poet, educator, and clergyman. It is not the same man for obvious reasons.
Looking at some later newspaper advertising below, we see the headless man prominantly noted as their registered trade mark. It appears in ads across the United States starting around 1901.
In conclusion, for the moment, I do not have a concrete answer for the running, headless man. If you look at the ads above, they ask you to mail them for a "Dr. Van Dyke's Dream Book and Fortune Teller" or "Weekly Time Book". I suspect the answer might lie within the Dream Book. Update: I understand the answer is not within the Weekly Time Book based on a communication from Joe Gourd.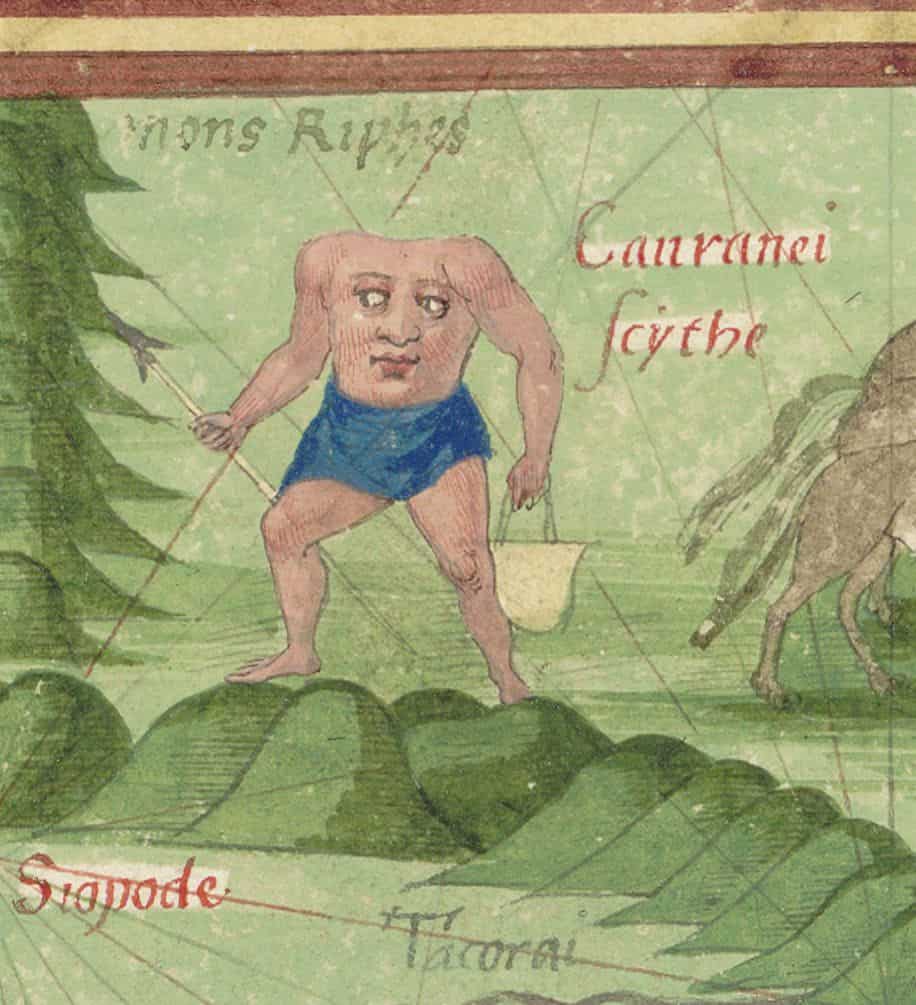 Our best bet is to look at Blemmyes, the headless men of ancient and medieval mythology. Various species of mythical headless men were rumored, in antiquity and later, to inhabit remote parts of the world. They are variously known as akephaloi and described as lacking a head, with their facial features on their chest. These were at first described as inhabitants of the Nile system. Later traditions confined their habitat to a particular island in the Brisone River or shifted it to India.
Blemmyes are said to occur in two types: with eyes on the chest or with the eyes on the shoulders. Epiphagi, a variant name for the headless people of the Brisone, is sometimes used as a term referring strictly to the eyes-on-the-shoulders type. [Wikipedia]
Note that the Blemmyes below is holding a club and something in his hand. With our headless man with the crest and eyes on his chest, we may have our source here for the trademark.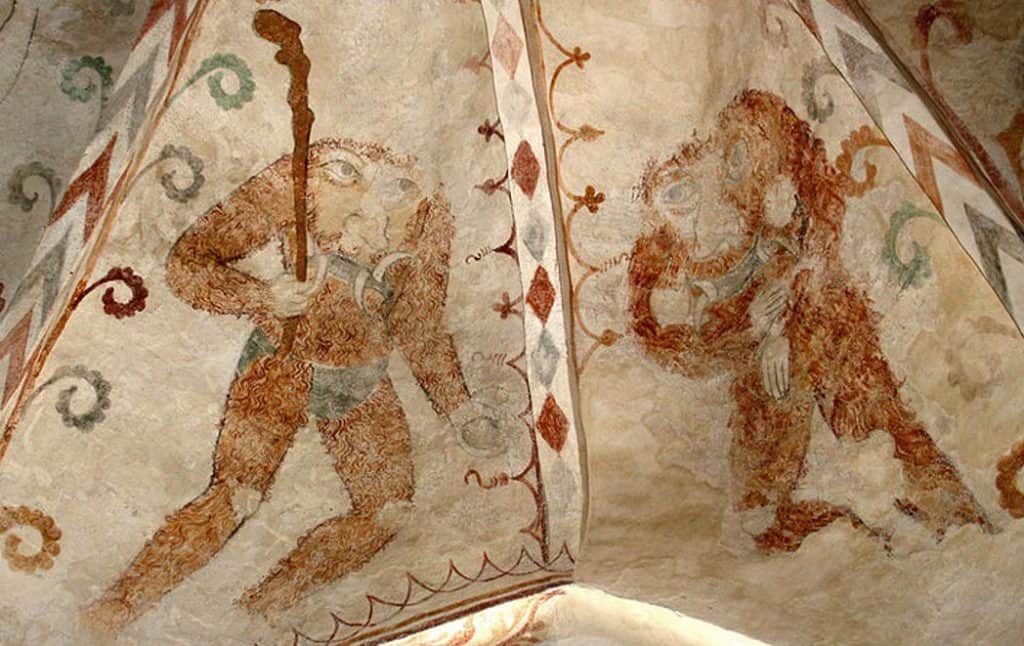 Joe Gourd, after reading the initial post, comments that the image on the man's chest is intriguing and looked to him like a heraldry crest. Van Dyke's being a Holland Bitters, he did a Google search and came up with a very similar Coat of Arms for the town of Sneek in the province of Friesland (Netherlands). See below.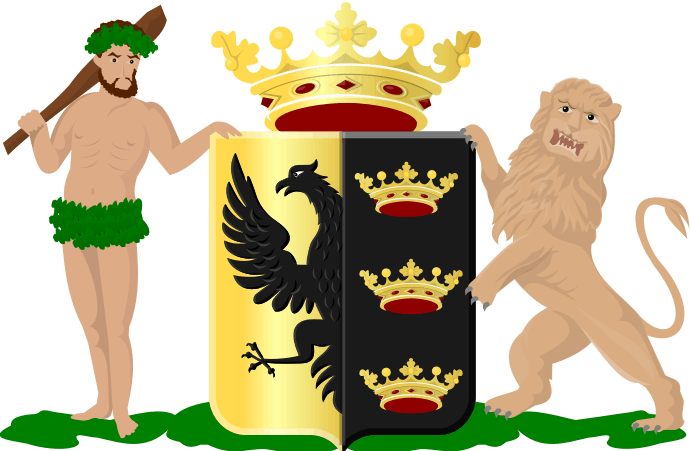 Joe notes that the man carries a club, is bearded, bare chested, dressed in a loin cloth and is pictured with a lion. Although Joe could not uncover who the man is in the coat of arms, there existed a legendary warrior in the town's history by the name of Pier Gerlofs Donia (ca. 1480-1529).
According to Wikipedia, Donia was known for his superhuman strength and size. "A tower of a fellow as strong as an ox, of dark complexion, broad shouldered, with a long black beard and moustache". Donia was also noted for the ability to wield his great sword so efficiently that he could behead multiple people with it in a single blow. A painting that accompanies this reference actually shows him about to behead one of his hapless enemies.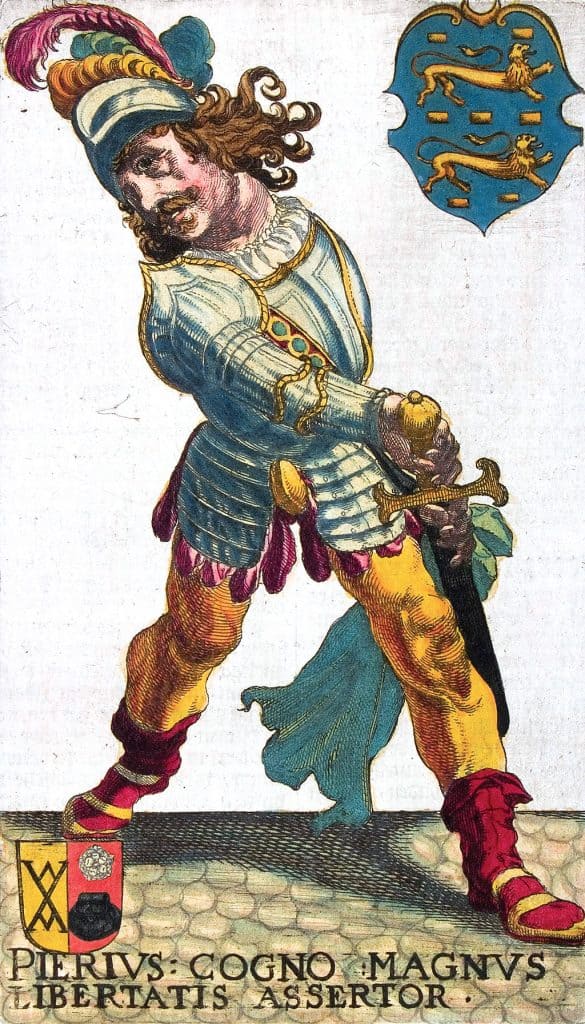 Joe says, "Could the image on both Van Dyke's headless man's chest and the Sneek coat of arms be that of Pier Gerlofs Donia? I don't know. If true, is the headless man Donia's victim or a depiction of Donia's karma (albeit a different weapon)? Again, I don't know. But in any event it has been fun to opine on this mystery, thanks to you."
Oh, the subject bottle at the top of the post appears to be unlisted as Gary asserts. Bill Ham may want to list in the forthcoming Bitters Bottles Supplement 2.