X-Rare Backwards 'N' Peruvian Bark Bitters
14 January 2017

Some nice incoming information and material on a bottle that seems to be the only unbroken example out there. Pretty darn exciting! Let's look at the material. Make sure you track back to the original post that is noted below.
I came across your article, "Could this be the same Dr. M. Perl from New Orleans?" while trying to find info on my Dr. M. Perl bitters which I acquired in New Orleans about 20 years ago. Mine is similar to the one in the referenced article, center image with indented panels. Mine is clear (light aqua) and the interesting thing about my bottle is that the "N" in PERUVIAN is backwards/reversed. The few references I have found do not show a backwards "N". Is this anomaly unusual or rare?
I am a long-time (old) digger and collector who lived in Algiers Point across the river from New Orleans city and have a number of bottles with embossed "Algiers" (instead of New Orleans). I would be pleased if you could shed any light on my DR PERL with reversed "N"- – can provide a photo if necessary.
Thanks,
Steve Hickman
Read: Could this be the same Dr. M. Perl from New Orleans?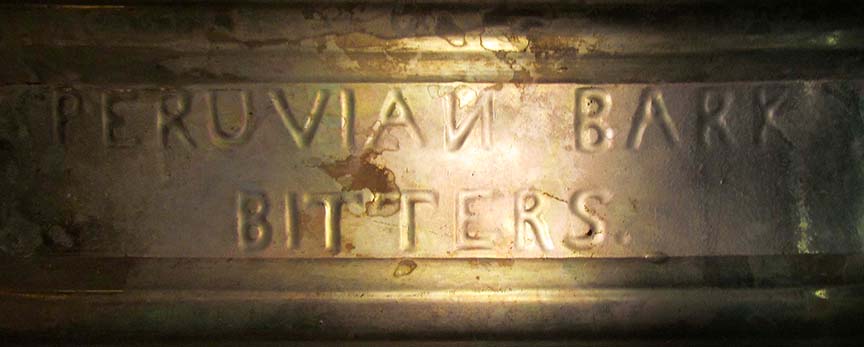 [PRG] Sounds like this might be the P 70.2 example which will be newly listed in the upcoming Bitters Bottles Supplement 2. You seem to possess the only known completely intact example. Yes, please send pics!
P 70.2  PERUVIAN BARK / BITTERS // NEW ORLEANS LA // f // DR M. PEARL
Square Aqua,

top missing,

3 sp, Extremely rare
N is PERUVIAN is backwards
Neck broken off at shoulder on example that was dug in New Orleans.
Complete example exists.
[Steve Hickman follow-up]
Ferdinand – Thanks for your response.  Attached are several images for the subject bitters bottle, including my Collection Record page (see below) I note that I left out the "LA" after "NEW ORLEANS" on the record.
The record page was done back in the early 1990s and the "lip chip" was hard for me to find today. No one in the NOLA Bottle Club had seen one at that time. The bottle was obviously dug (not by me) and has never been cleaned.
I lived in Algiers (across the river from New Orleans) and did lots of digging (mostly post Civil War brick liners) with my friend Bobby. Made a return trip last year at age 73 and we dug a mint THEO J. LALA  jug (unlisted ? no references) and a few other good ones. If the Record page doesn't show well I can resend it.  Thanks for your interest and will look forward to any new information.
Regards,
Steve Hickman