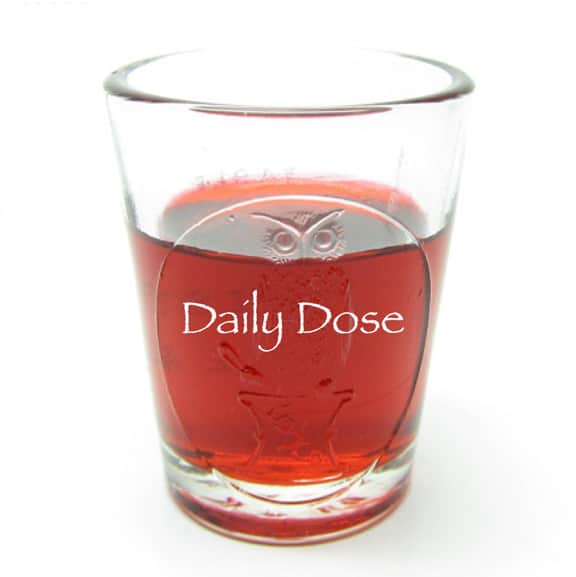 October

 

•

December

  
|
2 0 1 6
29 December 2016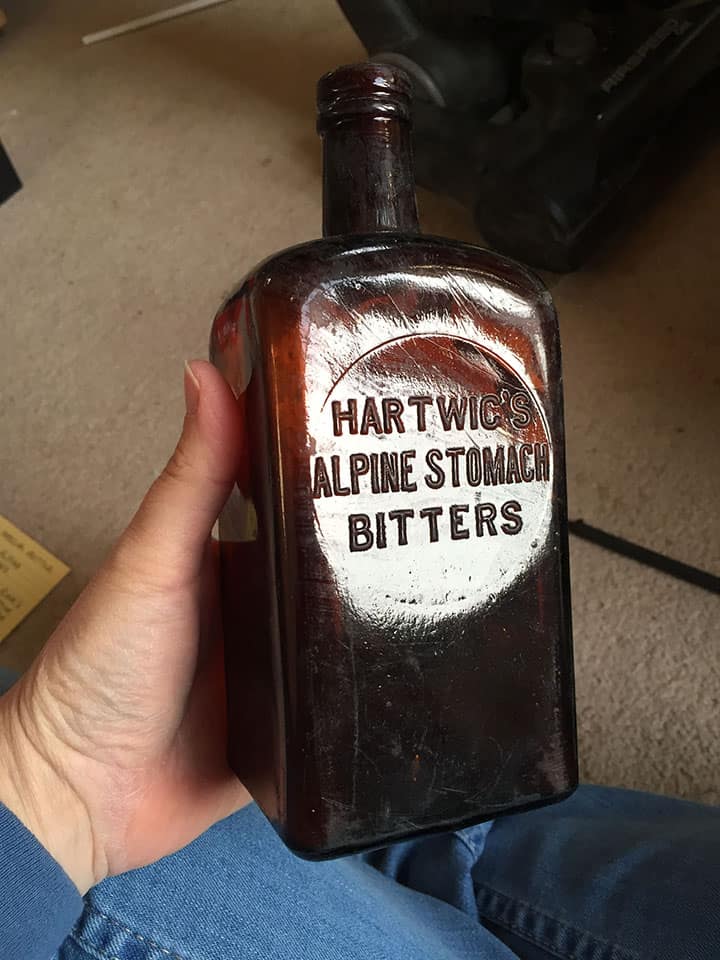 I have a bottle my Dad dug in Denver in the late 70's. His name was Jim Bryan. The bottle is Hartwigs Alpine Stomach Bitters. It is the one listed in the Ring and Ham book, and my Mom actually drew the scale drawing for the book. I can't find any info on the bottle anywhere other than the book. My Dad had a fairly large Bitters collection, some rare, some common. I am not in the position to keep them all due to lack of storage and secure display space (I have a five year old Autistic son). Enclosed are pictures. Any info you could provide including worth would be so appreciated. I am trying to figure out which bottles to keep and which to sell. Thank you for any info you can provide.
Have a wonderful day,
DRB
[FM5] Yes this appears to be the example noted in Bitters Bottles as H 63, which notes being dug in Denver. Extremely rare. This is a keeper or one to sell. Please refer to History of Kantorowicz Family and their Factory.
27 November 2016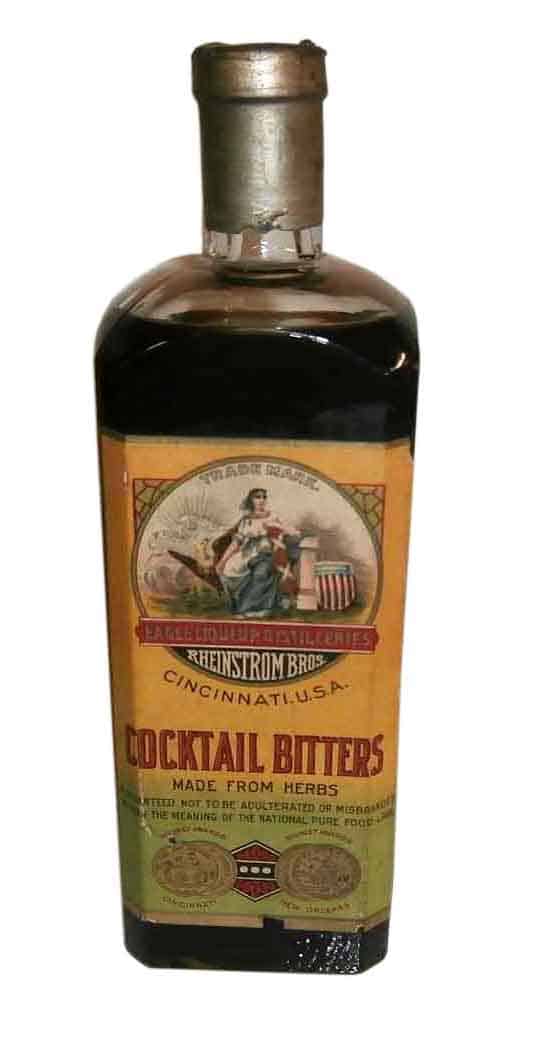 Nice example of a labeled Cocktail Bitters (L 185) from Cincinnati. See listing on eBay.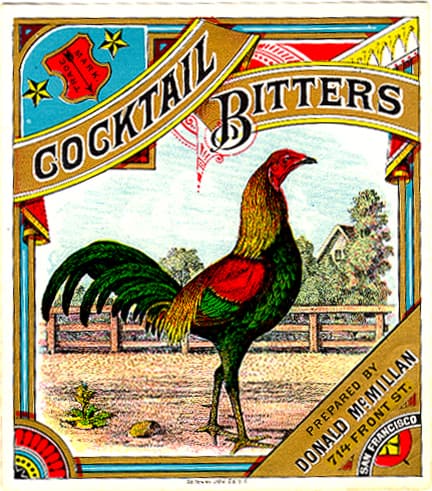 Here is a really cool label from another label only Cocktail Bitters. This one from San Francisco (C 184). Have not seen a bottle before. I believe this is from Eric McGuires Western label collection.
26 November 2016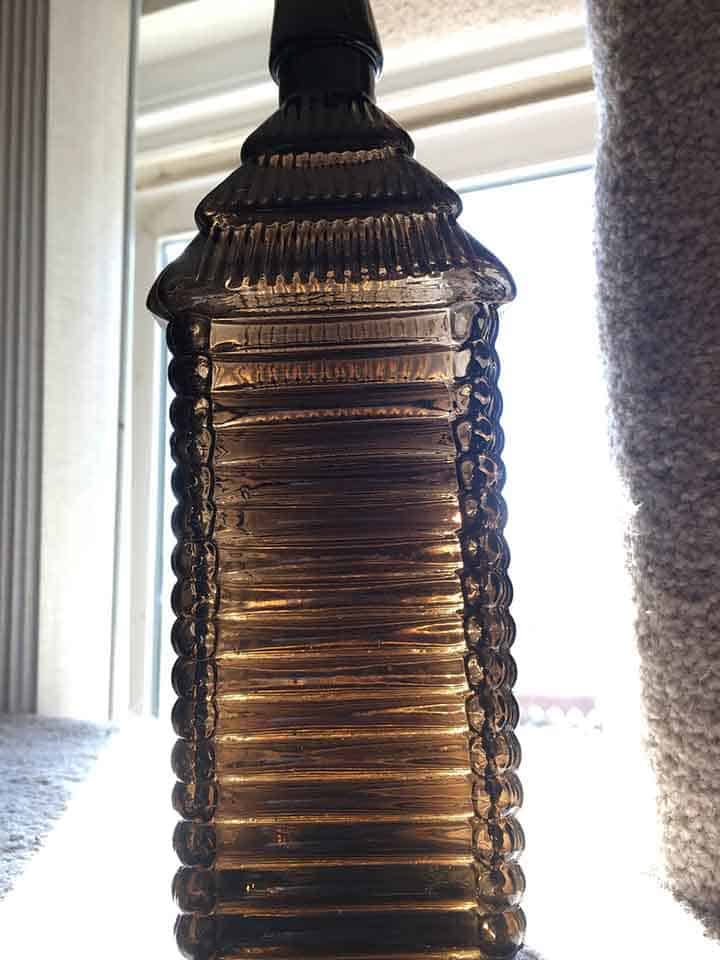 Crazy colored Drake's on eBay. Incoming communication:
Hi there Ferd. This is Clayton Johnson. I am from Reno, Nevada. I've met you a few times over the years at bottle shows, but never really talked. I want to show you this amazing colored Drakes bottle I've got, and get your advice or opinion on it. I just listed it on the bay to see if it got any interest and it did just that to say the least.
I've been answering questions every hour for the last couple days. Some told me the price was way low on it, so I adjusted it from a buy it now $8,500 or best offer to an auction style listing with a starting bid of $8,500. Some are saying too high now, others think it'll go for much more. Who knows? All I know is, it's a super rare color and possibly one of a kind. What are your thoughts? And thank you for your time.
[PRG] What about the bottle history
Not much history that I know of. I bought it on eBay for a buy it now from an antique seller that doesn't know bottles very well. I talked to her about it and she said she got it at an old estate sale in Santa Monica, California. Was in the family for many years sitting on the mantle. After the old man passed the kids sold everything. That's all she knew about it.
[PRG] How accurate are your photographs?
They are pretty darn close to actual color. I was gonna swing by Fred Holabirds place and try to get a couple of photos of it using his light box set up that he uses for his auctions. These pics I enclosed are probably the best.
25 November 2016
Looking for information for a western collector on Roberts & Co / Royal Schiedam / Schnapps. Here is a pic and clipping. There is also an archaeological report indicating another variant of this bottle being found broken at a cabin site in Oregon.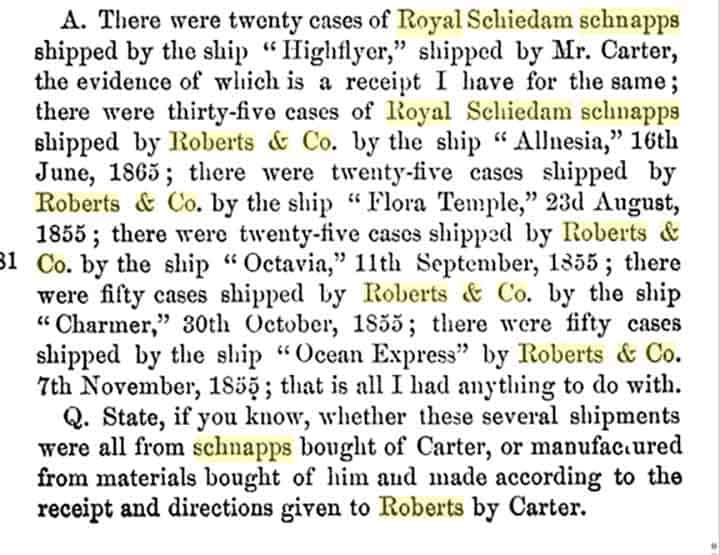 24 November 2016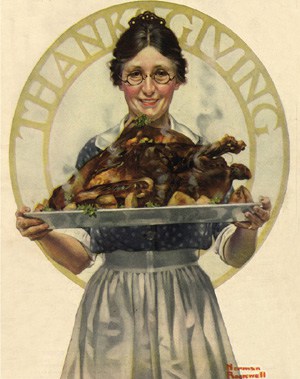 Happy Thanksgiving all! Very pleased to have added this Warner's Tippecanoe Tonic marketing piece to my collection. Unknown to collectors of this type of ephemera. Came from McMurray Antiques & Auctions.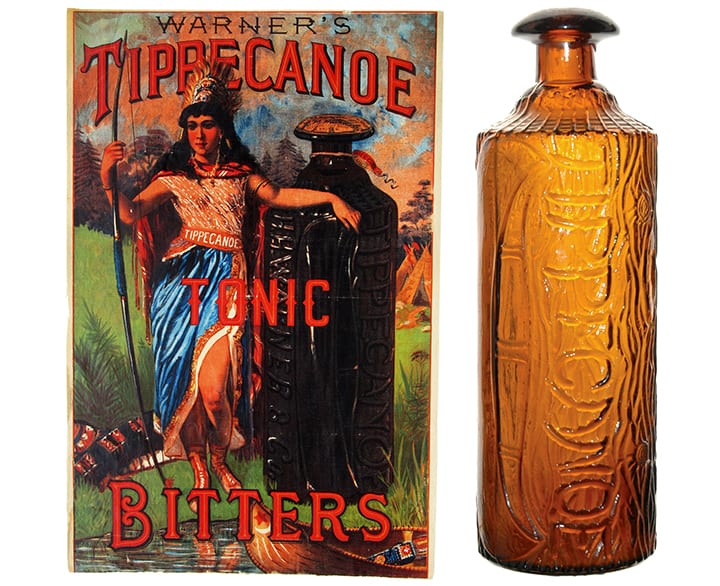 21 November 2016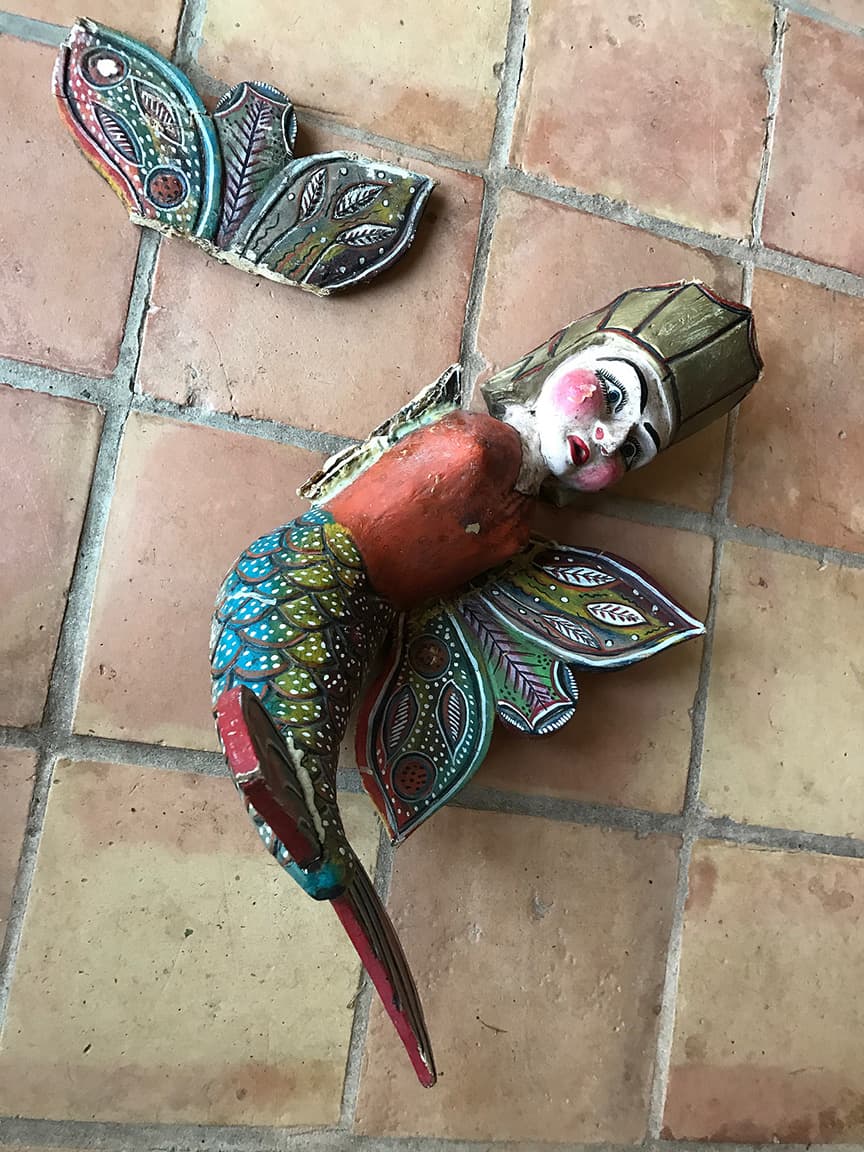 Hard to type. Broke my right-wing falling off a ladder last night hanging a carved Indian MerAngle. Broke her wing too. Not sure who hurts more.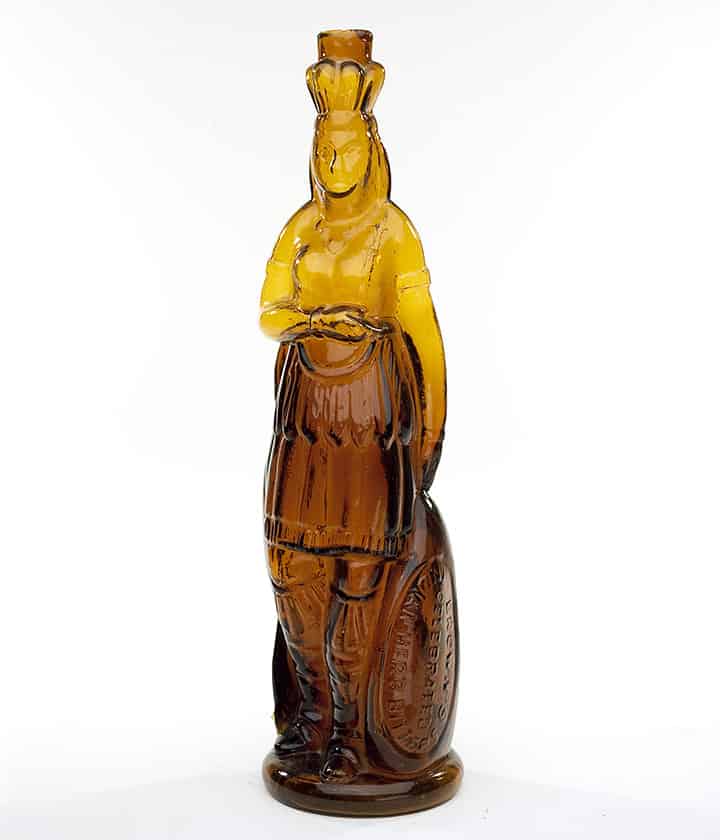 From bitters authority Frank Wicker. Hi Ferdinand, Hope all is well. I was lucky enough to win lot #161 in John Pastors Auction 17. You see quite a few two-tones in color of the Brown's Queens. I was wondering if you have seen any with a marked "dividing line of color." I have attached a few my pics. John pics are much better (PRG: John's pic above). Also I picked from a local shop a screaming yellow Normandy Herb Bitters. I will send you a pic when the tumble is complete. Have a good one… Frank
Read: Looking closer at the Brown's Celebrated Indian Herb Bitters
16 November 2016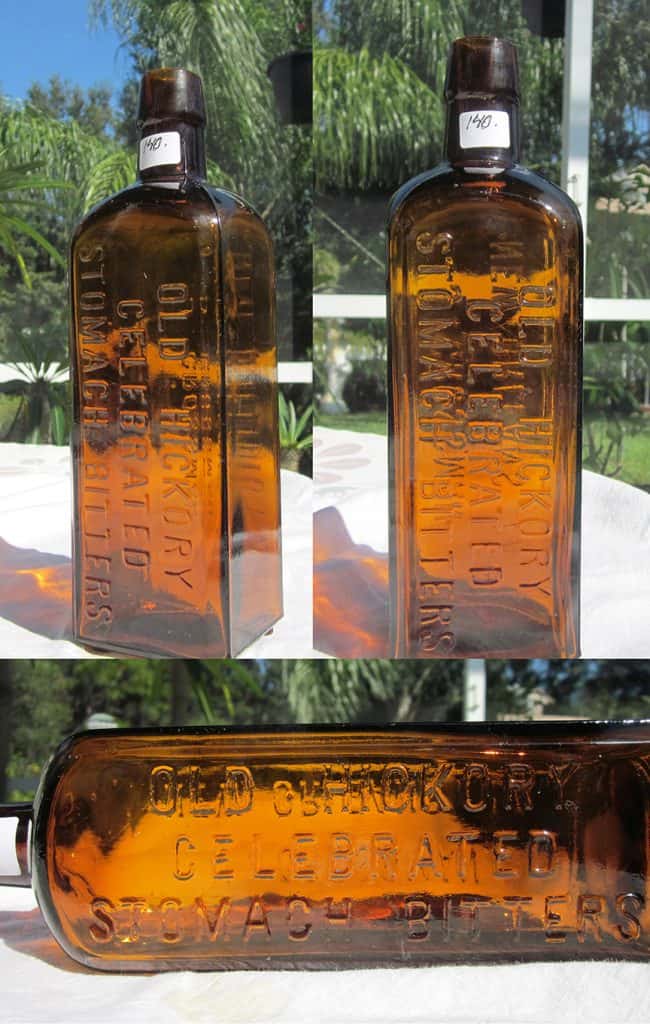 Ferd, we have two bitters that I know of named after presidents! The figural bust of General Washington, and the "Old Hickory" Bitters named after President Andrew Jackson.
Jackson received his nickname "Old Hickory" at the "Battle of New Orleans." He was a strict officer but his men loved him. They said he was as tough as "Old Hickory Wood" on the battle field. He acquired the nickname at the Battle of "New Orleans" on January 8th, 1815. Jackson and his 5000 troops defeated British Admiral Alexander Cochrane and General Edward Pohenhain and their 7500 troops.
In 1959 Country Western singer Johnny Horton recorded his biggest hit song, "Battle of New Orleans." For it he received a Gold Record. Song writer Jimmy Driftwood received the Song of the Year award for 1959. I remember the song well, here is a portion of it, "Old Hickory said we can take em by surprise if we do not fire our muskets till we look em in the eyes; we held our fire till we seen their faces well then we opened up our squirrel guns and really gave em "Well" I think every Bitters collector ought to have both of these bitters.
I advertised in John Pastors magazine for two years for the Old Hickory. I received a call two weeks ago from a Utah collector and here is a picture.
Best Regards,
Gary Beatty
PRG: Congrats Gary! Actually posted about this brand before. Read… An unlisted Old Hickory Celebrated Stomach Bitters – New Orleans
13 November 2016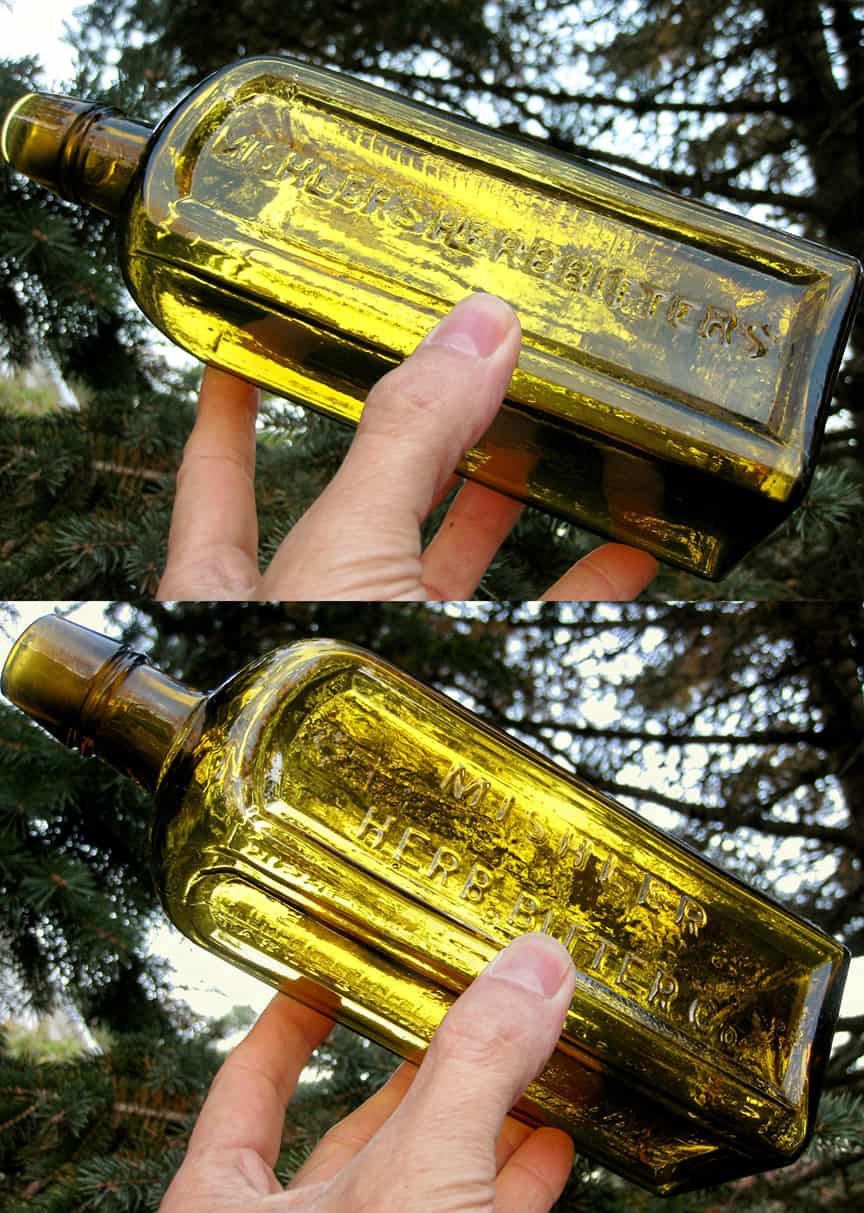 Hi Ferdinand, how are you? I was on your site reading up a bit on the Mishler's and was just wondering if you have ever come across (or already have) this particular (no S in Bitters) variant before? Not that I've seen hundreds of them, but the others I've seen like this one all have an S at the end of BITTER and I don't recall seeing any with a period after HERB and BITTER. So I have to believe that this one I have on ebay now (See listing) is VERY scarce. What do you think? Thanks and have a great day. Regards, Chris (Eib)
[FM5] Chris, this looks like a killer example of M 101.1 listed in Bitters Bottles Supplement.
Read: Mishler's Herb Bitters and The Mishler Family
06 November 2016
Here is another interesting bitters that appeared in the American Glass Gallery Auction #17. Extreme variation of a Dr. Stewart's Bitters from Columbus, Ohio. Closed at $1,200 w/0 premium.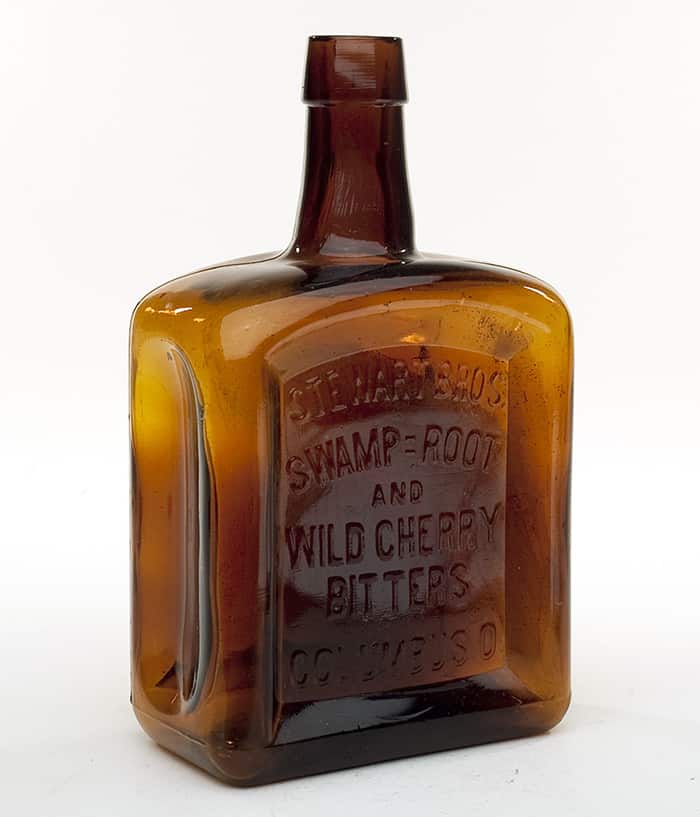 "STEWART BROS. / SWAMP = ROOT / AND / WILD CHERRY / BITTERS / COLUMBUS, O.", America, 1885 – 1895. Orange-amber shading to golden, and light honey coloration near the corners, rectangular, tooled sloping collar – smooth base, ht. 7 5/8″; (just a bit of light exterior dullness; some light interior stain or residue, but no other form of damage, and otherwise near mint). Extremely rare, one of only two known examples! There are several variations of the Stewart's Bitters in the Ring / Ham book, but nothing that is even remotely close to this example. An exciting new find!
Bill Ham notes that he has provided the following new listing in the planned Bitters Bottles Supplement 2: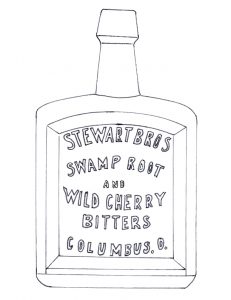 S 193.5  STEWART BROS (au) / SWAMP ROOT (au) / AND / WILD CHERRY (ad) / BITTERS (ad) COLUMBUS. O. // sp // sp // sp //
7 ½ x 4 ½ x 2 3/8 (5 ½)
Rectangular, Amber, LTC, Tooled lip, 4 sp, Extremely rare
Example found in Ohio
It reminded me of another Swamp Root Bitters in my collection which appears to be unlisted. Bill Ham notes that he has provided the following new listing in the planned Bitters Bottles Supplement 2:
S 228.7 L…The Worlds Renown Swamp Root Bitters // b // 335 on bottom)
8 x 2 3/4 x 3 (6)
Rectangular, Amber, NSC, Tooled lip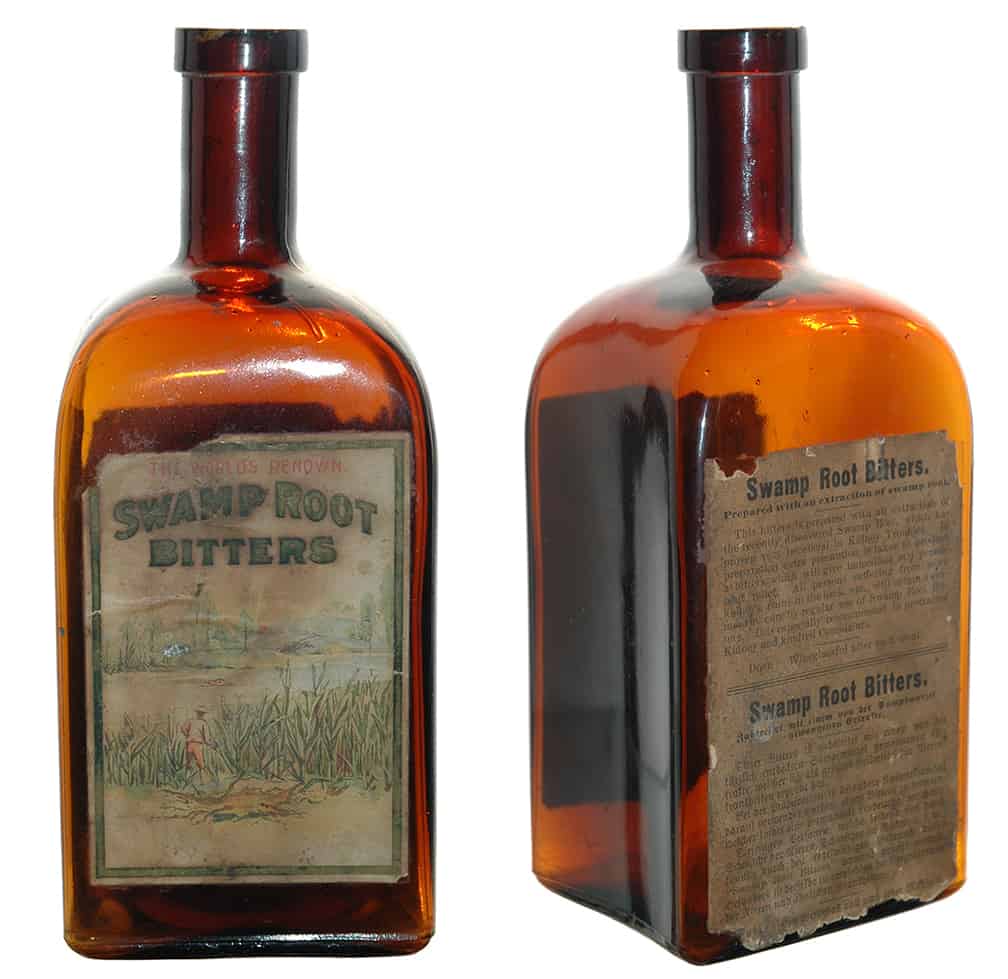 04 November 2016
Here's an odd duck bitters. Bill (Ham), how do you handle this? [05 November update from Bill]
Decanter
B 112.5 L . . . BITTERS (Label-Under-Glass)
// b // PATD APRIL 11TH 1871
11 ½
Figural Duck Back Bar, White milk glass, Shear and ground lip
From the Atterbury & Co. Glass Works, Pittsburg, Pa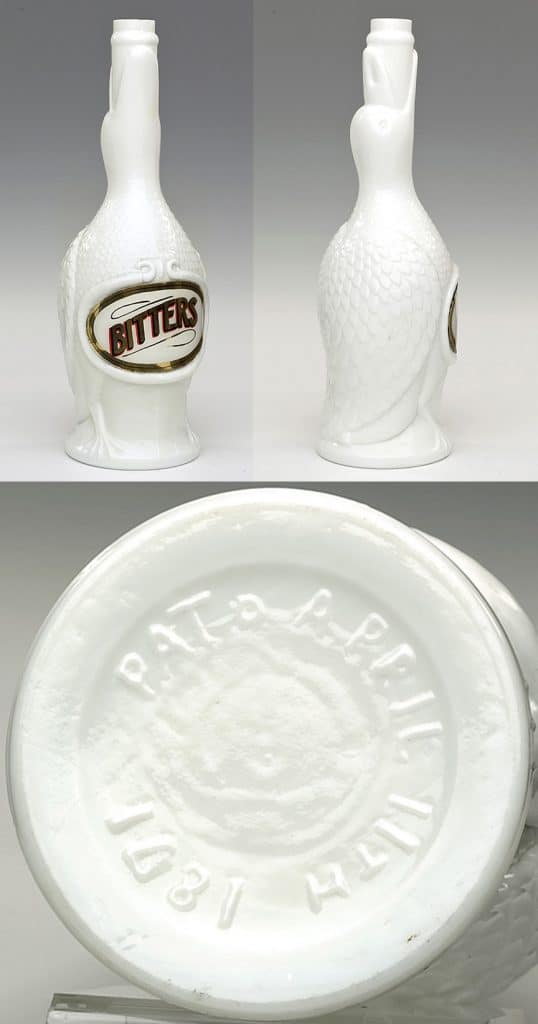 American Glass Gallery Auction #17:
"BITTERS" (Label-Under-Glass), Figural Duck Back Bar Bottle, Atterbury & Co. Glass Works, Pittsburgh, PA, 1871 – 1880. Opaque milkglass figural duck with gold, red, and black lettering on label-under-glass, factory ground mouth – "PATD APRIL 11TH 1871″ (on smooth base), ht. 11 ½"; (1/8″ flake off side of ground mouth, possibly in-manufacture, otherwise absolutely attic mint!) A choice, desirable figural, especially rare with the virtually pristine, "BITTERS" label. See item
01 November 2016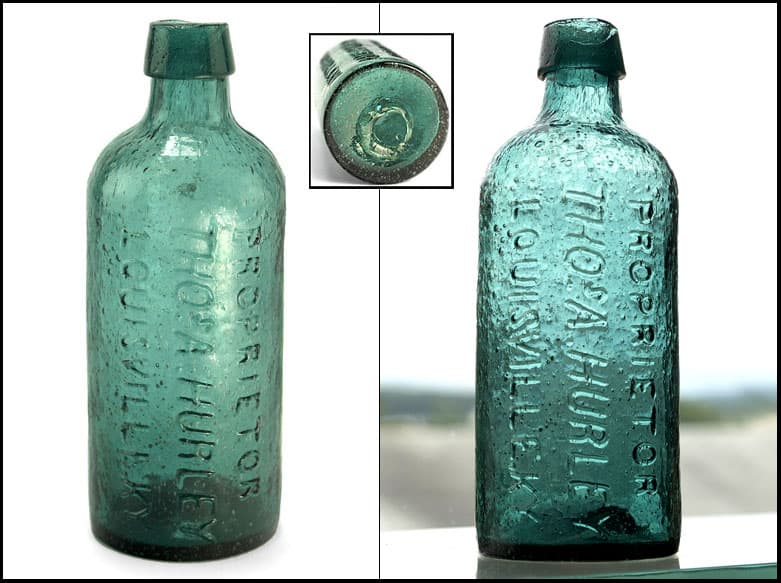 Love this Thos. A. Hurley – Louisville bubble monster above that closed last night (still call-backs) in the Glass Works Auctions | Auction #113. This is the same Hurley related to the Hurley's Stomach Bitters. My example is pictured below.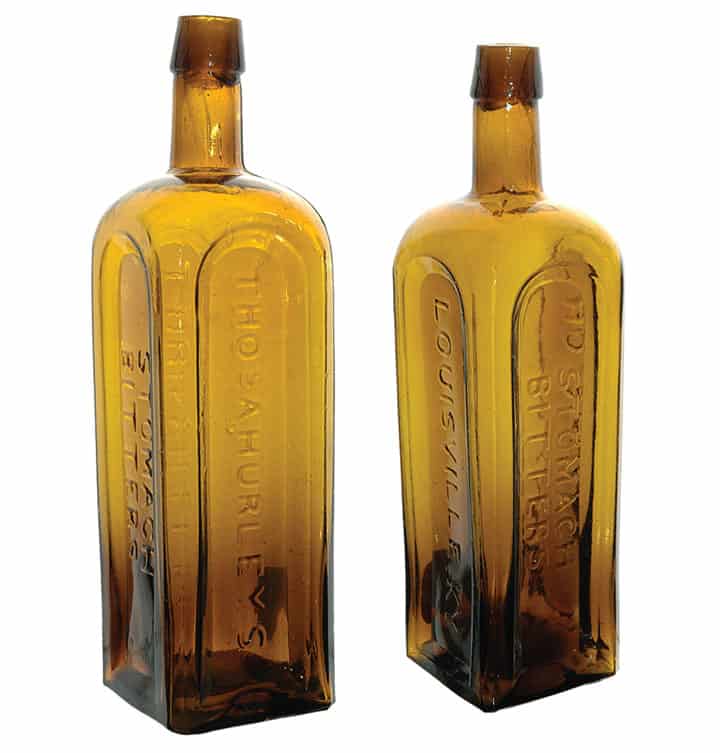 31 October 2016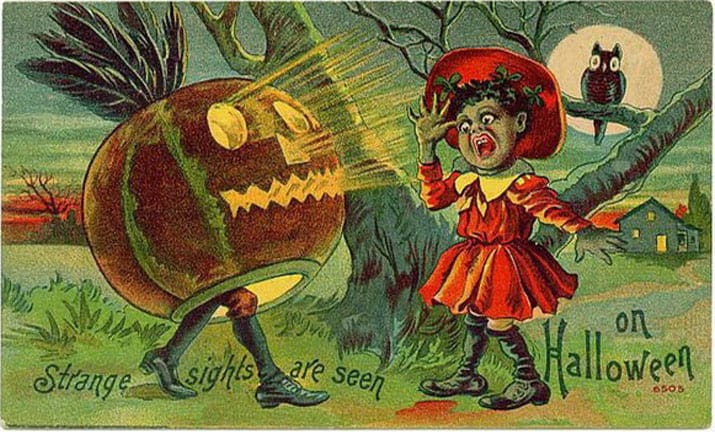 There is a pretty cool amber Tip Top Bitters closing in Glass Works Auctions | Auction #113 tonight. Check it out. My example is on the right.
29 October 2016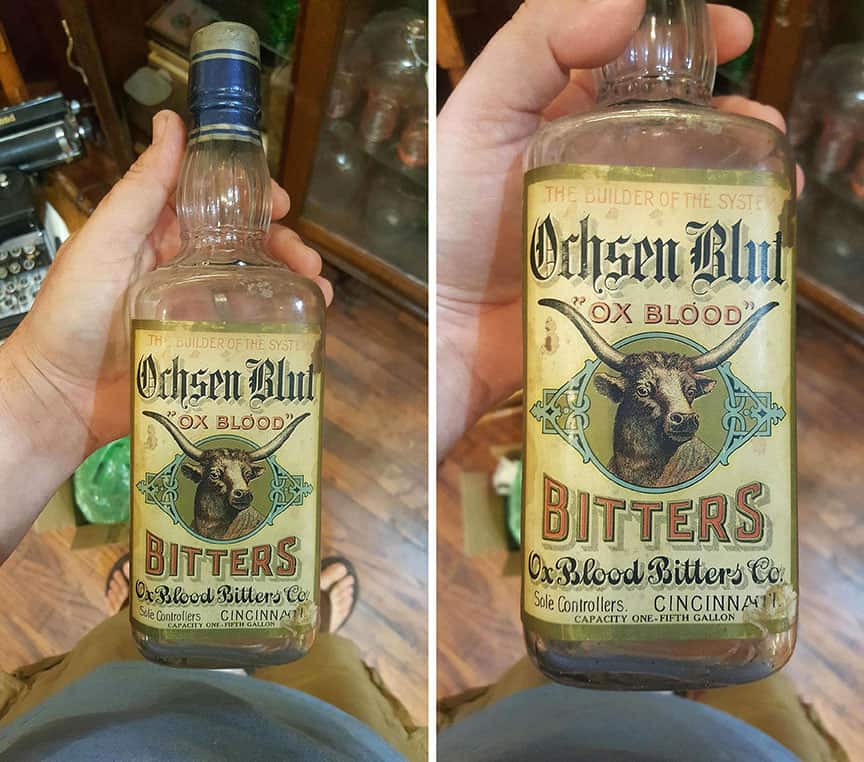 I guess it must be labeled bitters week. Brad Seigler who has an incredible propensity to find great bottles whether it be visiting collections, picking thru yard sales, or going to antique shops and bottle shows sends in this cool labeled Ochsen Blut Oxblood Bitters from the Oxblood Bitters Company in Cincinnati, Ohio. This would be O 6 in Bitters Bottles.
28 October 2016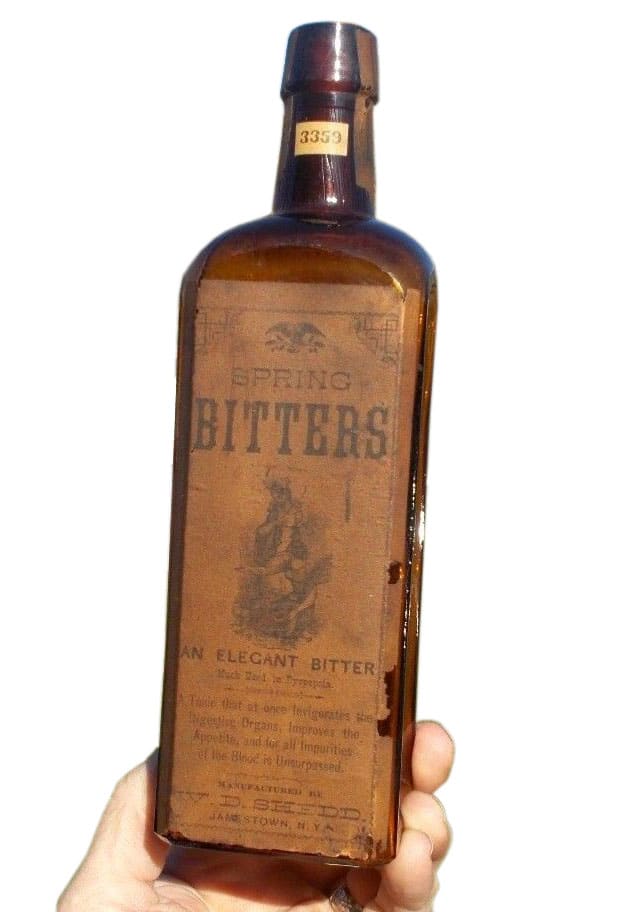 Interesting that this unlisted and labeled Spring Bitters, now on Ebay, uses the same 'Queen' art as the unlisted and labeled Dr. Bridges' Celebrated Indian Bitters that I posted about on the 26th of October. – thanks to Bill Ham for Ebay tip.
The new listing by Bill Ham for the forthcoming Bitters Bottles Supplement 2:
S 167.5 L . . . Spring Bitters, an Elegant Bitter,Manufactured by W. D. Shedd, Jamestown, N. Y.
9 3/8
Square, Amber, LTC, Tooled lip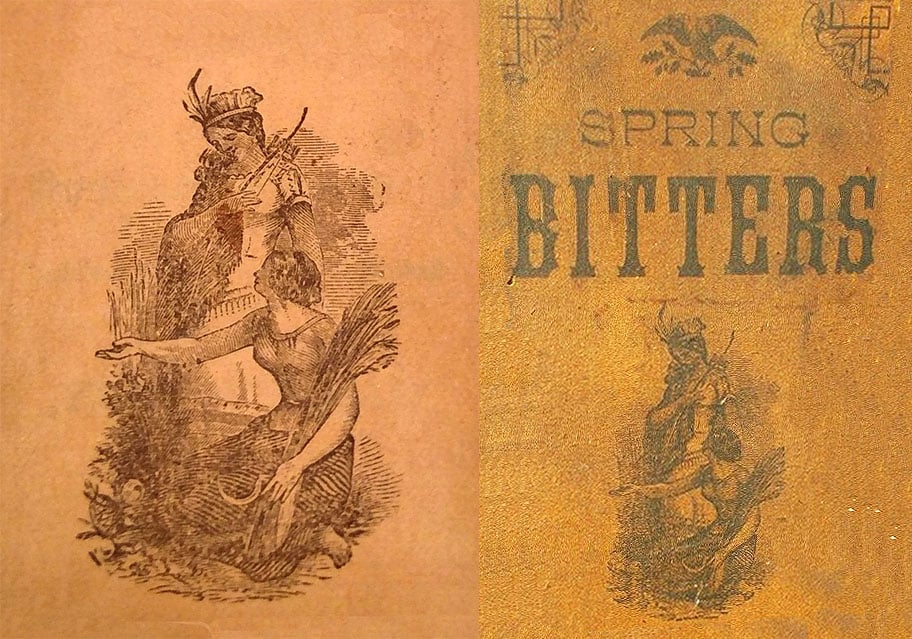 26 October 2016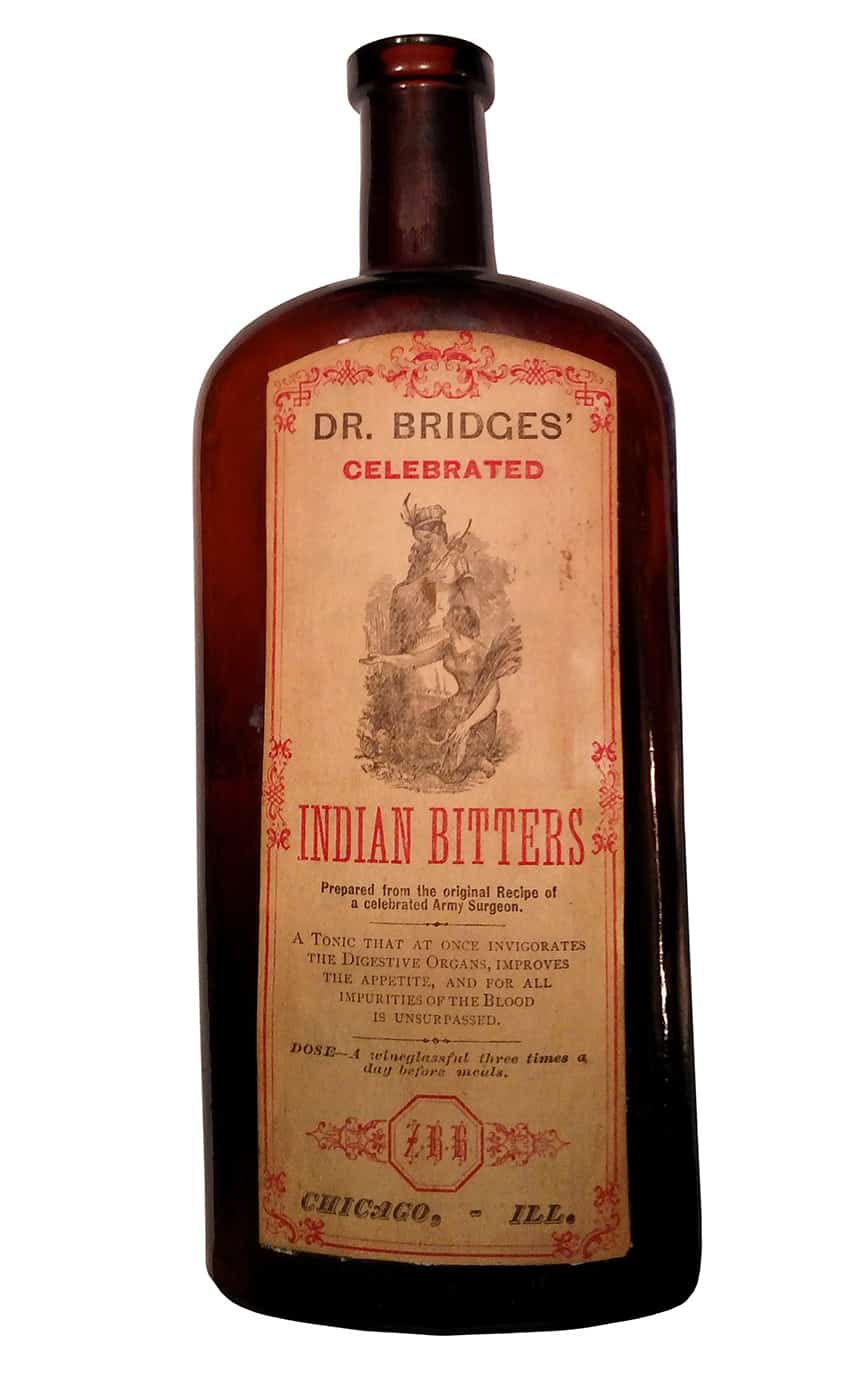 Looks like a hitherto yet unknown labeled bitters submitted by Gregg Mazurek. His email and picture that I cropped:
I am not sure you answer questions on bottles but I saw your website and thought I would take a chance. I have had a bitters bottle for many years and cannot find any information on the bottle. Often times that leads to me to believe it is not real. It is Dr. Bridges' Celebrated Indian Bitters with label showing an Indian women and a women kneeling in front of her. At the bottom of the label the initials ZBB appear over Chicago Ill. If you don't know of the bottle I can email a picture. Thank you for your help. – Gregg Mazurek
25 October 2016
Nice to see that the FOHBC board came thru and authorized $2,500 to support the Mt. Vernon Glassworks Project.
Post Update from Bruce Silva. Early Damiana Bitters or is something wrong here?

14 October 2016
In a recent conversation, Gary Beatty mentioned that there was a super rare Louisville, Kentucky bitters on eBay. A quick search reveals an A. Hoffelds Liver Bitters. I'm always glad to see that I have an example. Here is mine below.
Read: Top 25 Kentucky's Rarest Bitters Bottles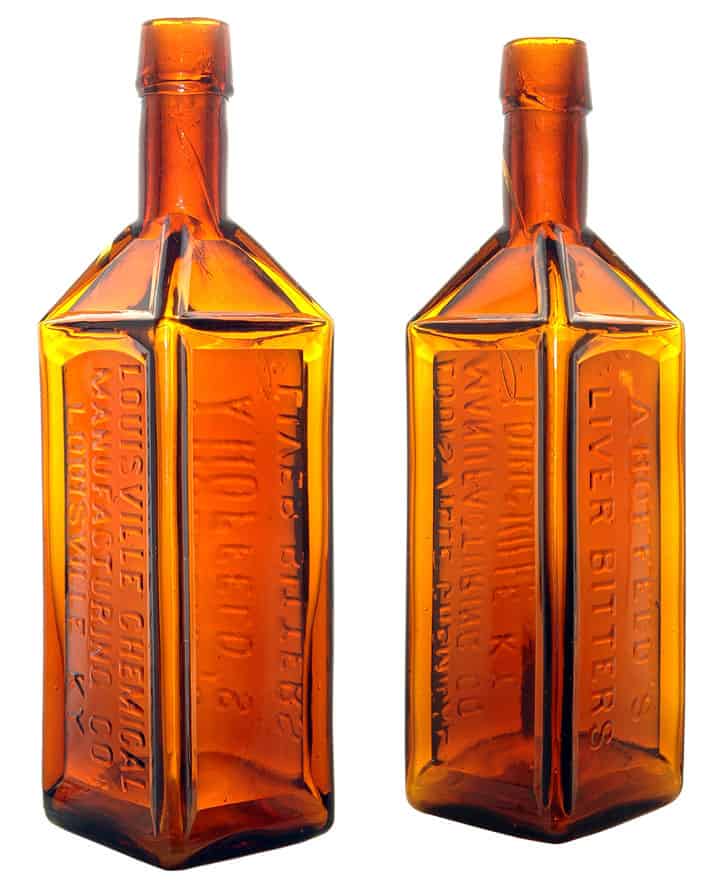 11 October 2016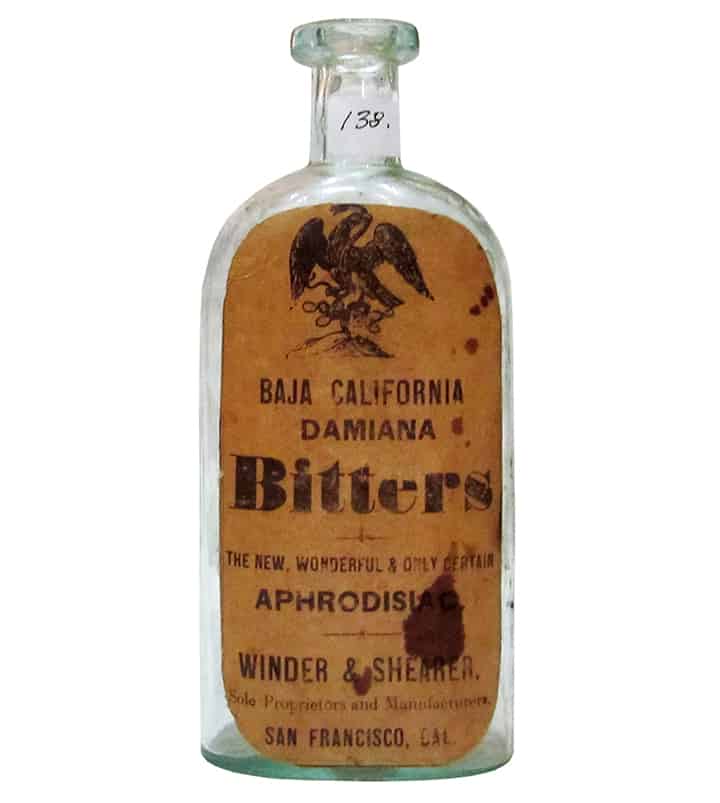 Hi Ferd, I'm sending you three pictures of bitters D 4 in the Ring & Ham Bitters Bottles book. I believe it is an unlisted variant. Bill Ham has D4 & D4.5 & D5.  I have sent this to Bill for his examination and input. I have studied the label very close and do not think it is a marriage. It is aqua flask shape with oval body. Open pontil, 6 ½ inches tall, 3 inches wide with seed bubbles and a medicine flange top. I thought you might put it on Facebook and also give me your opinion. Best regards, Gary Beatty
Read: Early Damiana Bitters or is something wrong here?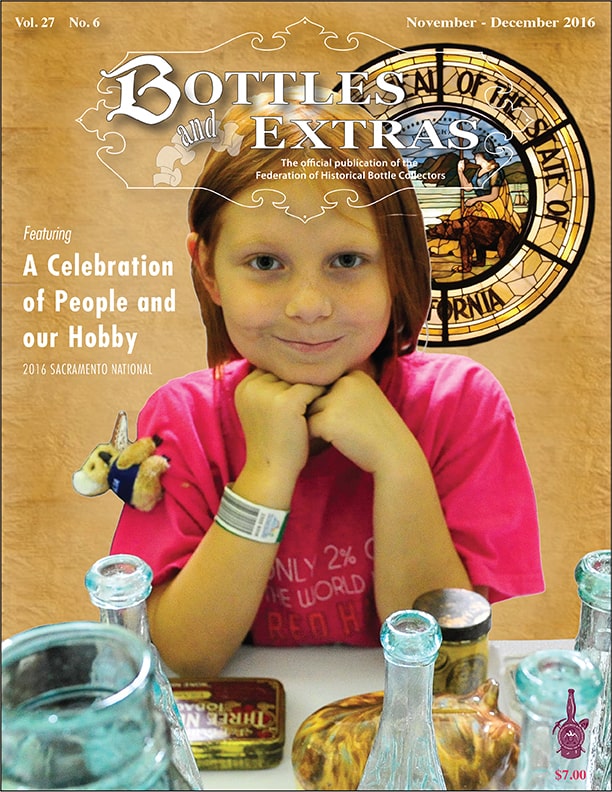 Designed 32 pages + pics of Sacramento National coverage in the next issue of BOTTLES and EXTRAS. You will not want to miss.  A really cool cover too.