Extremely rare Senour's Calisaya Bitters from St. Louis
16 March 2016

Earlier in March. I posted on Daily Dose about a Senour's Calisaya Bitters saying, "Off to Dallas and then San Antone tomorrow night. Baltimore next week for the big antique bottle show and FOHBC board meeting. Here is another Senour's Calisaya Bitters that crossed my path today (see below). Obviously with a problem. That makes the one dug last month (see above) and this one, the only examples that I have ever seen." As you can see, both have issues.
So the complete Senour's Calisaya Bitters was dug recently in Memphis, Tennessee. Probably was carried down the Mississippi some 145 years ago or so. You can read about the bottle dig at TheMemphisDiggers.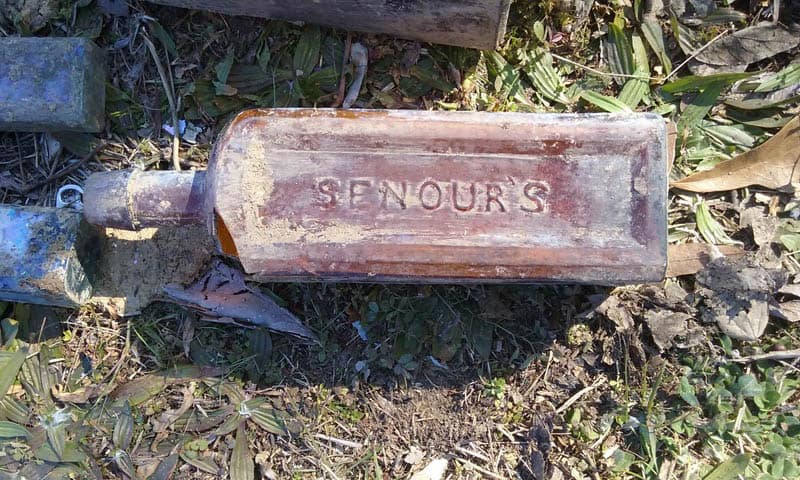 Listing
The Carlyn Ring and W.C. Ham listing in Bitters Bottles is as follows:
S 86.5

 SENOUR'S CALISAYA BITTERS
SENOUR'S // CALISAYA // BITTERS // f //
9 ¾ x 2 ¾ (6 ¾) 3/8
Square, Amber, LTC, Applied mouth, 3 sp, Extremely rare
Advertisements: The Leavenworth Times (Kansas), Thomas T. January and Charles T. Biser, Sole Proprietors, No. 206 Walnut St., St. Louis, Thursday, November 2, 1871, The Galveston Daily News, Sunday, Chas. Southerland joined firm November 24, 1872
Senour's Calisaya Bitters
The first time I can find mention of Senour's Calisaya Bitters is in a St. Louis, Missouri newspaper in 1871. January & Biser (Thomas T. January & Charles T. Biser) were wholesale liquor dealers and importers and were the sole proprietors of Senour's Calisaya Bitters. In 1872, Charles Southerland was in business with January & Biser and his name dominates advertising that year. By 1873 and 1874, you can find most advertising in Texas where I suppose, the Hispanic market was targeted. They must have stopped making the brand in 1873 and shipped the remains to New Orleans and then over to Galveston, Texas. I suspect, someone will eventually dig a bottle in our port cities here in Texas. It is interesting to note that in 1874, Williams Brothers in Dallas, Texas was selling Senour's Celebrated Calisaya Bitters by Mercer, Agnew & Co., London. Not sure of this London connection.