Mayer's Genuine Stomach Bitters
23 January 2016 (R•043019)

Here is an unlisted and labeled Mayer's Genuine Stomach Bitters that Frank Wicker recently added to his collection. Thank you Frank for sending in the pictures. A late bitters with a pretty cool label. It does not seem to be listed in Bitters Bottles and will need to be picked up in Bitters Bottles Supplement 2.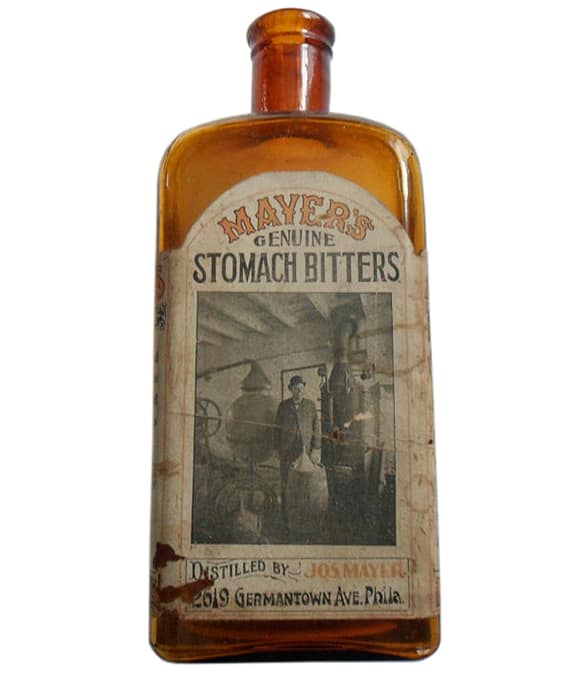 Hi Ferdinand,
I was able to add this unlisted, label only bitters to the collection. It is not listed in the Ring & Ham Bitters Bottles or Bitters Bottles Supplement books. The label is a picture of a distillery. There is also a wicker covered demijohn in the picture. The label reads "Mayer's Genuine Stomach Bitters." This bottle is from the Joseph Mayer Distillery, 2619 Germantown Avenue in Philadelphia, Pennsylvania from 1890 to 1907 according to Prepro.com.
Frank Wicker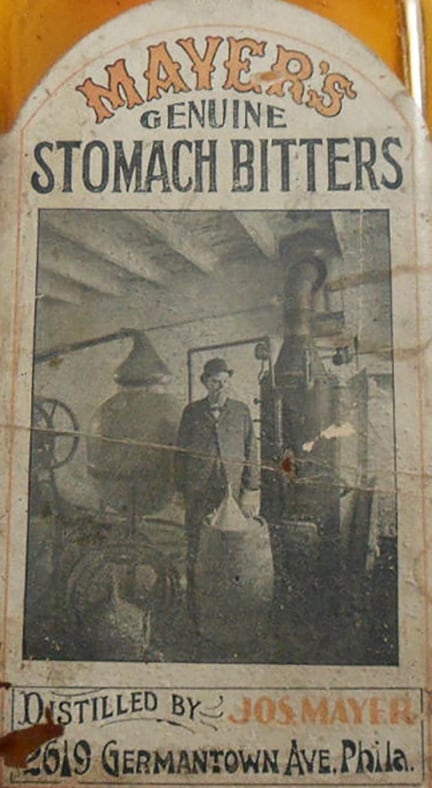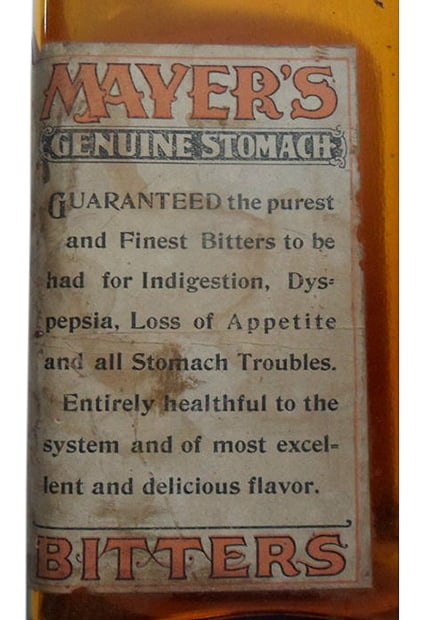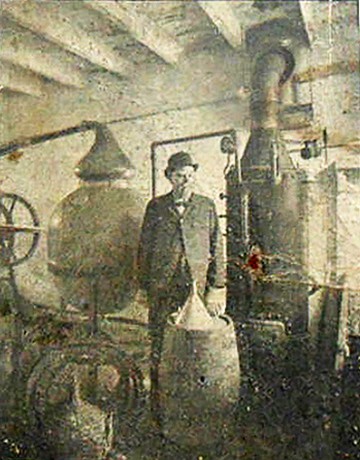 Visit BottlePickers.com
The new listing for the forthcoming Bitters Bottles Supplement 2:
M 51.1 L … Mayer's Genuine Stomach Bitters, Distilled By Jos Mayer (Joseph S. Mayer), 2619 Germantown Ave. Phila.
8 1/2
Rectangular, Amber, Tooled top
Joseph S. Mayer
As you can see, "Distilled by Jos Mayer" is noted on the label with an address "2619 Germantown Avenue" in "Philadelphia, Pennsylvania". An obvious German name not unlike my last name "Meyer". Living on Germantown Avenue is another clue he is German.
From here, by looking at a 1900 US Federal Census, we can confirm his full name as Joseph S. Mayer from Germany who was born in 1835. He immigrated to America in 1867 and married a Stephana somebody in 1870. Both his father and mother were from Germany. It looks like he set up shop in Philadelphia and making his Mayer's Stomach Bitters was the crowning achievement of his career as his death certificate in 1920 states that he was a manufacturer of stomach bitters and a bottler. You have to admit, there are not too many bitters labels that have a photograph of the proprietor that show him making his bitters. I bet it was some yummy stuff.
Select Listings:
1835:

Joseph Mayer born in Germany
1867:

Joseph Mayer immigrated to United States
1900:

Joseph S. Mayer, Age: 64, Birth Date: December 1835, Birthplace: Germany, Home in 1900: Philadelphia Ward 19, Philadelphia, Pennsylvania, Immigration Year: 1867, Marital Status: Married, Stephens (Stephana) Mayer (age 54), Marriage Year: 1870, Years Married: 30, Father's Birthplace: Germany, Mother's Birthplace: Germany, Occupation: Liquor, Bottling – United States Federal Census
1920:

Death of Joseph Mayer, Manufacturer Stomach Bitters, born 28 December 1835, Died 07 August 1920 in Philadelphia, Pennsylvania (see below)