An exciting Oswego Bitters find

…

for just 75 cents 
25 September 2015


The top Oswego Bitters image is from my collection. Three views. If you look carefully you can see 25 cents (cent symbol) embossed on the front. The amber, oval, flask is 7″ tall. It has a tooled lip. The Carlyn Ring and W.C. Ham listing in Bitters Bottles is as follows: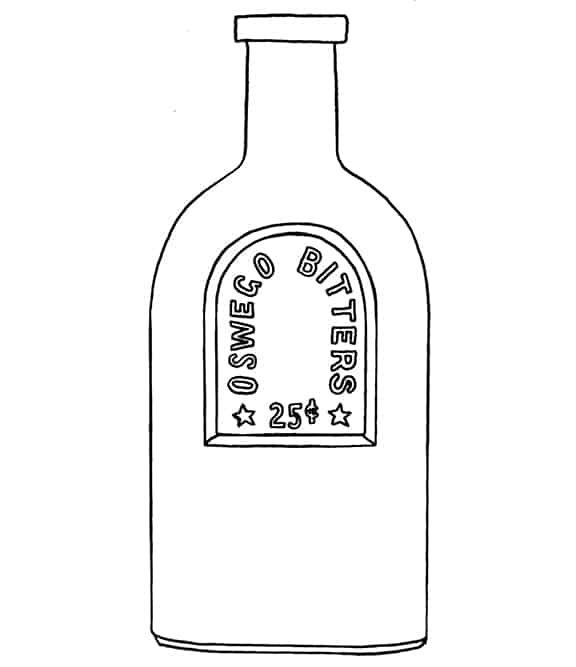 O 93

 OSWEGO BITTERS
OSWEGO BITTERS ( au ) / motif star 25 star // c //
L. Austen's Swa-Geh or Oswego Bitters
W. J. Austen & Co. Manufacturers Oswego, New York
7 x 3 x 1 1/2 (5 1/4)
Olive, Amber and yellow olive, NSC, Tooled lip, Scarce
Label: The cheapest and most efficacious medicine in the world.
Drug Catalogs: 1883 and 1891 Schieffelin, 1894 M&R
Trade Mark to William H. Burt of Oswego, New York,
February 1884. He bought Austen's Swa-Geh Bitters from
W. J. Austen & Co. in 1882. SwaGeh is an Oswego Indian word.
See: L…Austen's Oswego Bitters.
Recently Bill Ham was contacted by John Golley with a new, unrecorded example of a larger Oswego Bitters coming in at 9 3/4″ tall with the "OSWEGO BITTERS" backwards! It also has an applied mouth. Obviously an earlier example. The new listing by Bill Ham within the forthcoming Bitters Bottles Supplement 2: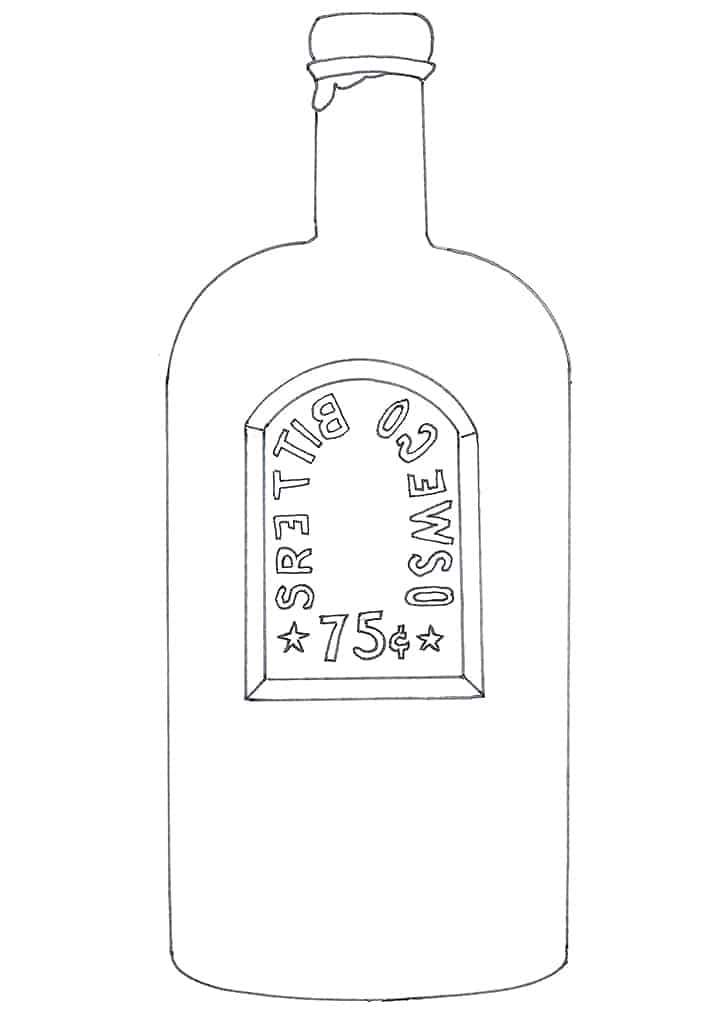 O.93.3  OSWEGO BITTERS
OSWEGO BITTERS (in arch) / (star) 75 (cent symbol) (star) // c //
9 3/4 x 3 7/8 (7 1/2)
Oval-flask, Amber, DC, Applied mouth, 1 sp, Extremely rare
Embossing is up-side-down with some letters reversed
Here are two images below that I cleaned up in Photoshop (took out the background) that John sent to Bill.
I have been carrying around this wonderful picture from Glass Works Auctions of a labeled Oswego Bitters from Oswego, New York.
It is interesting, when you Google "Oswego Bitters" you pull up information about a cemetery and ghosts. The product name most likely is a double entendre. Here is an example:
Oswego Bitters: This former burial ground has been interning the dead here since the 1700s, when Oswego Bitter was settled northwest of the village of Camillus. The area's name probably refers to herbs farmers from Oswego County harvested there in the 1800s, which came to be known as Oswego bitter or Oswego tea.  The cemetery's surrounded by the Fletcher farm. The homestead is across the Bennett Corners Road. One of the neighbors reported a light in the cemetery and watch it for about 20 minutes. The light sort of moved around slowly, and then it dissipated.  This glow had a roundish, oval shape and maybe was 2 feet along and about the same off the ground. It moved back and forth, but up close, didn't seem to light anything around it.   One resident has reported seeing the light four times over several years. – Syracuse Hauntings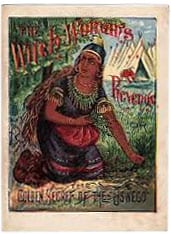 Here is a poor image (all I could find) of a sixteen-page booklet produced to market Austen's Oswego Bitters in 1882. It contains a short story entitled, "The Witch-Woman's Revenge; or, the Golden Secret of the Oswego." It is about Winona, a beautiful Indian girl, who is forbidden by her mother (the "witch-woman") to marry the son of the man who killed her father. These bitters guys used all kinds of angles to sell their product. Indians were a common theme.
Read about another bitters from Oswego, New York: Standing Proud – Poor Man's Family Bitters – Oswego, NY