Telliers Herb Bitters – Established 1834
30 August 2015

Here is a cool bitters square that I have heard about and seen on eBay before though I do not have an example in my collection. This looks like a pretty decent example. This brand is not to be confused with the Theller's Stomach Bitters which I do have on my shelf. Read: Labeled Theller's Bitters Lady's Leg – New York. There is also a Theller's Stomach Bitters (R&H T 17) square. See picture below.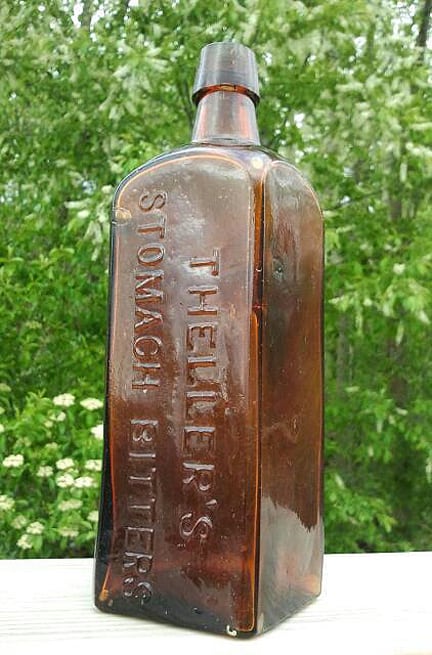 Here is an e-mail from Florida bitters collector, Gary Beatty that inspired this post.
Ferd, here is a bitters I spoke briefly with you about at Chattanooga. It is listed as T-11.5 ,n Ring & Ham's Bitters Bottles Supplement. Bill Ham has it as rated as extremely rare. It was found at a Pennsylvania flea market. Jim Hagenbach told me he has seen only two over the years. It could be a Pennsylvania bitters? Also in the Ring & Ham listing it says Est. 1884 but you can see it is embossed 1834. I wonder if you or Froggy has seen this one? Best Regards, Gary Beatty
The Carlyn Ring and W.C. Ham listing in Bitters Bottles is as follows: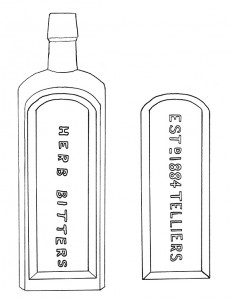 T 11.5

 TELLIERS HERB BITTERS
EST
D

1884

(should be 1834)

TELLIERS // f // HERB BITTERS // f //
9 7/8 x 2 3/4 (7) 3/8
Square, Amber, Applied mouth, 2 sp, Extremely rare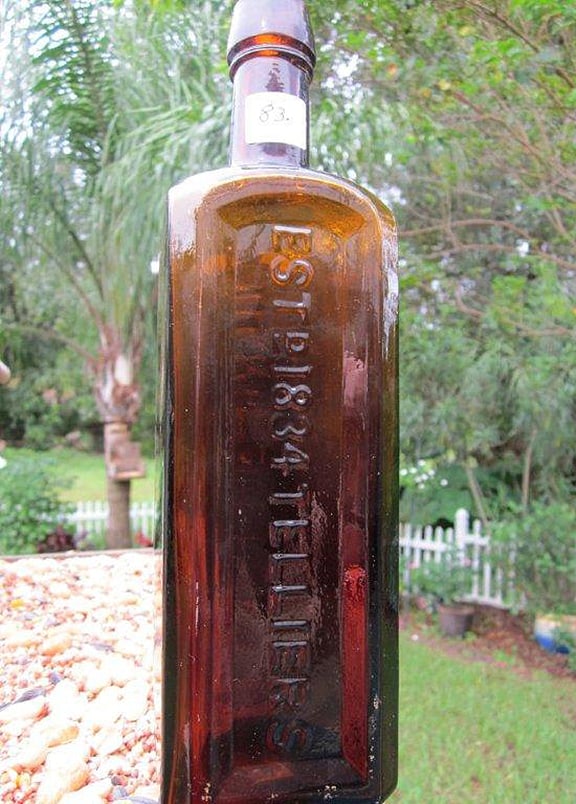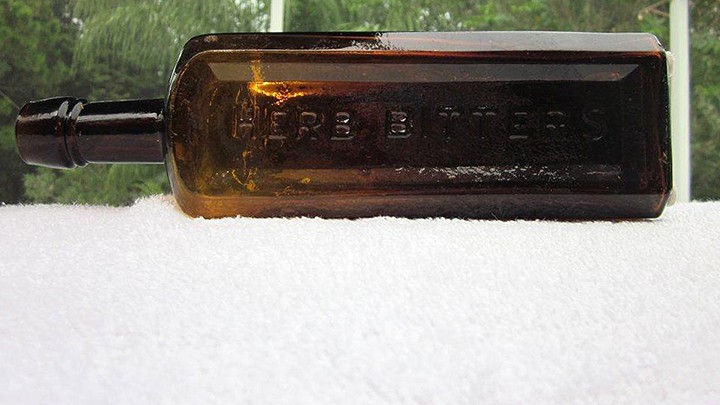 Here is a Telliers Herb Bitters example below that sold on eBay this past July with this wonderfully brief description: "Fine old bottle, needs cleaning. Thanks for looking". See listing. I would suspect Gary's example is the same and that Gary won the bottle and cleaned it upon receipt.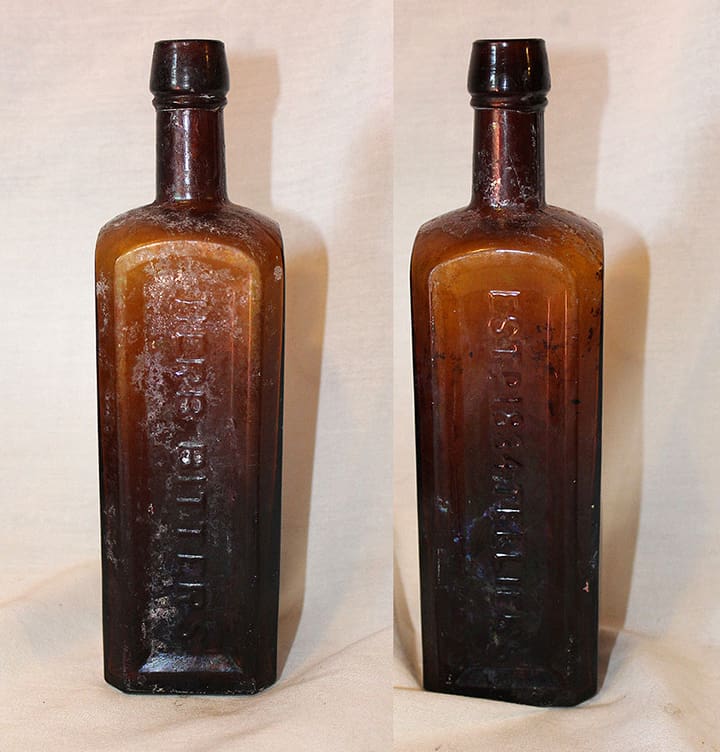 I also found reference to a Telliers Herb Bitters that was dug in Carlisle, Pennsylvania.
We went to the right about a foot and found a side, and the other two sides were found just as quick. So we had an opening 4′ x 3′ with three sides found. We had probed the sides after we broke through and could only hope for a little length in the other direction, the depth with the top off was about five feet. But the biggest question was, as it always is, are we lucky today? The second shovel of ash brought the sweetest sound a digger can hear, that beautiful screech of a bottle being disturbed from a sound sleep. Let's at least have a corktop so we can have some age, I thought. Bob brushed away the dirt to get a look at what he had scraped against. "It's a bitters", he yelled. Sure enough, as I looked over where the second shovel of dirt came out, the square bottom of a brown bottle stood straight up! Two scrapes around and out came a "Tellier's Herb Bitters".
Except for a slight amount of stain, the bottle was in the most unbelievable condition. No ground wear, no scratches, no chips, nothing. In fact, every bottle to come out of this hole was in the same condition. I've never seen a good bottle that was so close to the top. This hole was to be full of surprises.
Read: A Bitters Tale: Bottle digging in Coal Mining Country
Peter & Frank P. Tellier
We are probably talking about Frank P. Tellier who in 1880, on a United States Federal Census, was listed in Patent Medicines in Easton, Northampton, Pennsylvania. Tellier was born in 1843 and his father was Peter Tellier from France. At 17 years old he was a clerk in Bushkill, Pennsylvania and later worked with his father at P. Tellier and Son at 37 Northampton in Easton, Pennsylvania. You can see him listed as confectioner in an 1868 and 1873 directory in Easton. His wife was Huldah L. Teel. He died on 20 February 1905 in Philadelphia, Penn. His obituary said he was an Insurance salesman. Funny how a lot of bitters guys went off later into the insurance business.
If this is the guy, the bitters may have first been concocted by his feather Peter with the "Established 1834" date.