Dr. McTaggart's Liver Bitters – Bridgeton, NJ
Only known example was found in a home of a New Jersey glass blower
24 June 2015

Here is a really cool monogramed bottle sitting long on one of my bitters shelves that hardly gets a notice though it probably should. There is only one known example of the Dr. McTaggart's Liver Bitters from Bridgeton, New Jersey. The Ring and Ham Bitters Bottles listing states, "Only known example was found in a home of a New Jersey glass blower who worked at the Wheaton Glass Works around 1900. Possibly a unique test piece." Now that is interesting.
Bob Strickhart, from New Jersey, recently wrote an article called "Down Home Bitters" in the April 2015 issue of Antique Bottle & Glass Collector where he mentions this bottle briefly. That article inspired me to pull my bottle out and look at it again. So who was Dr. McTaggart and could the glass blower story be true?
The Carlyn Ring and W.C. Ham listing in Bitters Bottles is as follows:
M 63.5

 DR. McTAGGART'S LIVER BITTERS
DR. McTAGGART'S / TRADE monogram MARK / LIVER BITTERS /
BRIDGETON N.J. // f // f // f //
9 x 3 1/4 x 1 1/8 (7 1/8) 1/4
Rectangular, Amber, NSC, Tooled lip, 1 sp, Extremely rare
Only known example was found in a home of a New Jersey glass blower who
worked at the Wheaton Glass Works around 1900. Possibly a unique test piece.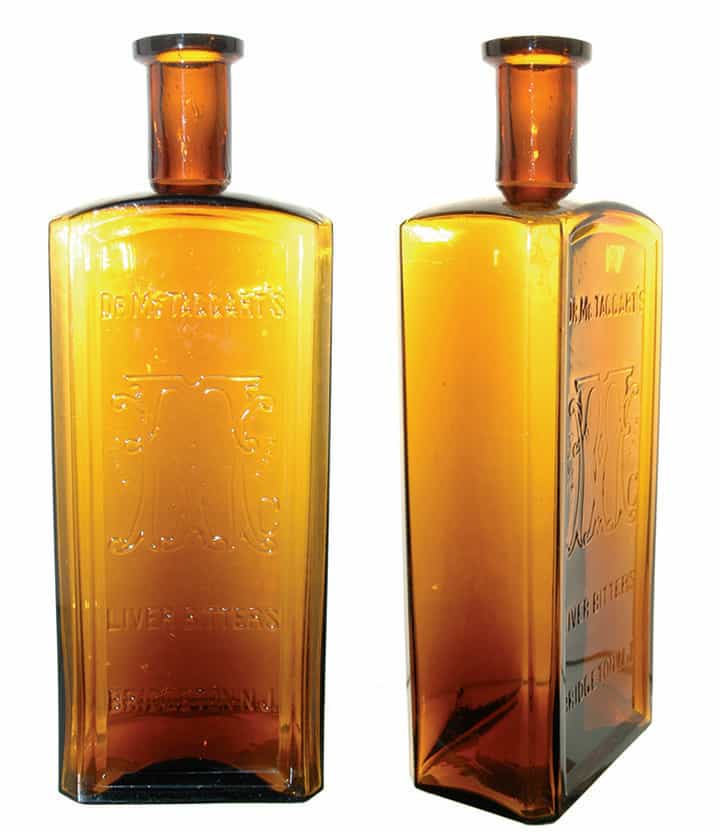 Miles Franklin McTaggart
Using the powerful search engines of Ancestry.com I can locate only one possible McTaggart in the New Jersey and eastern Pennsylvania area during the late 1800s, this being Dr. M. F. McTaggart. Further research reveals his name to be Miles Franklin McTaggart.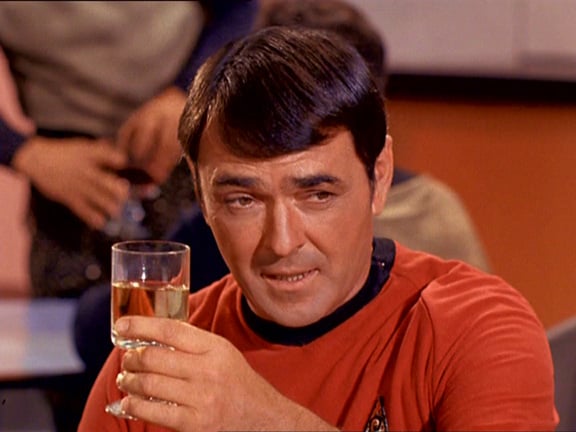 Miles McTaggart was born in March 1844 in Scotland, and immigrated to United States in 1849. His father and mother were also born in Scotland according to 1900 and 1910 Federal Census reports. Apparently McTaggart obtained his medical degree at the Electro Medical College of Pennsylvania, on 25 April, 1865, but I cannot confirm, as he listed this in court documents. Dr. McTaggart challenges the character,"Scotty" in the television and film series Star Trek for 'miles traveled' as a doctor. That is Montgomery "Scotty" Scott above, drinking some Scotch or bitters I suppose. Of course I am exaggerating, but Miles F. McTaggart was not one of those doctors that practiced in the same town, on the same street, in the same house for sixty years. He would continually move from place to place, in many cases, hotel to hotel with rather speedy departures from each town. I can almost picture him pushing his horse and medicine wagon hard as he looked over his shoulder and headed out of Dodge.
As the only known example of the Dr. McTaggart's Liver Bitters was found in a home of a New Jersey glass blower who worked at the Wheaton Glass Works, we can place a M. F. McTaggart, who was a physician, at 31 East Commerce Street in the Bridegton, New Jersey area as he is listed in a Cumberland New Jersey city directory in 1881. In 1882, M. F. McTaggart is now a physician practicing at Washington Avenue in Wilkes-Barre, Pennsylvania. In 1882 he is in Scranton, Pennsylvania. In 1889 he is in Pottsville, Pennsylvania listed as a physician specializing in chronic and female diseases according to a Reading, Pennsylvania city directory. He shows up in York in 1893 and by 1896 he is practicing in Harrisburg, Pennsylvania. In 1900 he is in Altoona, Pennsylvania and then he shows up in Akron, Ohio in 1910 according to a United States Federal Census.
Why did he travel so much? It might have been his legal problems. There are numerous reports of him being charged with practicing medicine without a license or using some dubious medical concept like using an electric battery on a female patient to further his enterprise. He also liked to not pay his rent and steal things from people. Say what?
A few examples of his notices and legal issues are listed below.
Samuel G. and Anna M. Drumm vs. Dr. 

Miles F. 

MacTaggart
A physician who was arrested on a capias on a judgment for damages for the negligent use of an electric battery on a patient, may be discharged under the insolvent law without undergoing sixty days' imprisonment.
October Term, 1891. Nos. 31 and 40. Trespass.
Dr. Miles F. MacTaggart, the defendant, a practicing physician, was arrested on a capias ad respondendum, and held to bail in $500 on each of above suits. The actions were in trespass for negligence in professional treatment.
On trial judgment went against the defendant for $300 and $200. Fi. fa. was issued, and returned nulla bona.
Ca. sa. was issued, and the defendant was arrested and taken into custody by the sheriff, and released upon giving bond in $1,000 that he would apply for relief under the insolvent laws at next term by presenting his petition under the Act of 1836.
His petition was filed at the next term. It was accompanied by a statement of his effects, his debts, and of the causes of his insolvency, and was regular in form.
Petitioner has resided in Pennsylvania over six months.
There is nothing tending to show any fraud as to the defendant not delivering up his estate.
It has not been shown that the insolvency arose from (1) Losses by gambling; (2) That he had embezzled any money with which he was entrusted ; or (3) That he has concealed his effects or colluded with any one for such concealment, with intent to defraud his creditors.
Sec. 131, Act of 31 March, 1860.
The defendant need not undergo imprisonment. The judgment upon which process was issued in this case and the defendant arrested was not in an "action founded upon actual force, or actual fraud or deceit, or in an action for a libel or slander, malicious prosecution or conspiracy, or in an action for seduction or criminal conversation," but upon a judgment in an action founded on negligence; and hence, the petitioner is entitled to an immediate discharge, without sixty days confinement.Sec. 17, Act 16 June, 1836.
Every case cited, where the petitioner in insolvency was obliged to undergo sixty days imprisonment, comes exactly within the proviso of Sec. 17, supra.
The petitioner here was in actual custody when discharged upon giving bond to present this petition.
The treatment having been undertaken with the consent and at the request of the plaintiff, was not such force as would justify the imprisonment of the petitioner for sixty days.
Cited the law of insolvents. Purdon, p. 897, pi. 25, section 17, Act of June 16, 1836: "Provided, If the petitioner shall be in custody or confinement at the time of such order, by virtue of process issued upon any judgment obtained against him in an action founded upon actual force," * * * he shall have to undergo sixty days imprisonment. The sworn statements in the case and the facts in the trial show that an electrical battery was applied to the womb of the plaintiff, and in consequence of this reckless and negligent act, force in the meaning of the law being actually used, a miscarriage was produced and the life of the plaintiff endangered. This would bring the case within the exceptions of the law, and would prevent discharge of the defendant until imprisoned for sixty days.
The exception to the law abolishing imprisonment in civil process, is for misconduct, or neglect in office, or in any professional employment, in which cases the remedies shall remain as heretofore.
The misconduct of Dr. MacTaggart was gross neglect in professional employment as an alleged physician, and under the above decision he should not be discharged until imprisonment for sixty days.
The Lancaster Law Review, Volume 11, 1894
LEGAL ACTION AGAINST AN ITINERANT PRACTITIONER IN CLEARPIELD COUNTY.
"Clearfield, Pa., October 9th, 1901. Dr. J. S. Kelso,
Sec'y Clearfield Medical Society, Woodland, Penn'a.
Dear Sir:—
In response to your request that I make out a statement in the case of Dr. Miles F. MacTaggart, I herewith submit the following:
On the 26th day of April, last, past, I was requested to appear before the Clearfield Medical Society in session at Clearfield, Pa., and was informed by the President that the Society desired to employ me as counsel for the year 1901. They informed me that one Miles F. MacTaggart had opened a transient office at the Hotel Windsor in the Borough of Clearfield, and by use of hand bills and other forms of written or printed advertisements, had assigned this office to persons seeking medical or surgical advice and treatment, without having complied with the act of Assembly requiring transient practitioners to take out a license for each day and pay the County Treasurer, for the use of said County, the sum of ten dollars therefor; that they desired me to take charge of the case and institute proceedings against MacTaggart. From an examination of the records in the office of the Prothonotary of Clearfield, Pa., I found that on the first day of February, 1901, Miles Franklin MacTaggart had registered under the act of 1881, stating that he had received his degree of M. D. at the Electro Medical College of Pennsylvania, on the 25th day of April, 1865, but I found that he had not complied with the act of Assembly of March 24, 1877, as amended by the. act of July 12, 1897, regulating itinerant practice. An information was then made before Daniel Connelly, Esq., a Justice of the Peace, and on the 26th day of April, Miles F. MacTaggart was arrested and brought before said Justice to answer the charge made in the information. Dr. MacTaggart waived a hearing and gave bail in the sum of four hundred dollars for his appearance before court. The case was returned on the 3d day of May, which did not give the defendant an opportunity to prepare for trial at May sessions, and I agreed that the case be continued to September sessions. An indictment against Miles F. MacTaggart, for practicing medicine without a license, was prepared for the grand jury at September sessions, but on the 3d day of September, the defendant waived the finding of a true bill and plead guilty. The court then suspended sentence on the defendant, Miles F. MacTaggart, on the payment of the costs, and the case now appears of record in this form. The defendant, Miles F. MacTaggart, can be brought before the court at any time and sentenced, on the application of the District Attorney of Clearfield County, Pa."
The above report was submitted to the Clearfield County Medical Society by the attorney employed to prosecute the case.
The Pennsylvania Medical Journal, Volume 5, 1902
Some Questions
So we still have questions here. Is this the right McTaggart? Probably yes. Was the bottle made as a prototype for his Liver Bitters? I bet so. He probably had skipped town before he could use the bottles with his Bridgeton address. Maybe he couldn't pay the bill?
As an interesting side note, there is another Dr. Miles F. McTaggart who practiced on the west coast. Very curious. A parallel universe as Scotty would say.
Miles F. McTaggart, M.D. Philadelphia, 1865; College of Physicians and Surgeons of Ontario, Toronto, 1880, a member of the Medical Society of the State of California, died at his home in Reno, Nev., May 22, from heart disease, after an illness of six months, aged 55 – JAMA: The Journal of the American Medical Association, Volume 44; Volume 44, 1905
Dr. Miles F. McTaggart – From the Reno Evening Gazette 22 and 23 May 1905
Dr. McTaggart came to the United States from his native Belleville, Ontario, Canada when he was a young boy, first arriving in California, then migrating from there to Reno in 1903.
Several months ago Dr. McTaggart gave up practicing medicine due to his deteriorating health from heart disease, which he had been afflicted with for some 6 months. He went to a California sanatorium in hopes that the warmer weather and treatment would regain his health.
Saturday he passed into a deep slumber of which he never awoke from.
He leaves his wife and 4 children, all but one, Mrs. Jerome Clark were at his bedside when his last breath was taken, she arrived to late.
The funeral was from the residence, 813 Center Street, Reno.
Note: The funeral and interment were on 24 May 1905.
Select Listings:
1881: 

M. F. McTaggart, Physician, 31 e. Commerce, h same – Cumberland New Jersey City Directory
1882: 

M. F. McTaggart, Physician, Washington av c Lackawanna av – Wilkes-Barre  Pennsylvania City Directory
1882: 

Miles F. McTaggart, Physician, 104 N. Wash ave cor Lack Ave, Scranton, Pennsylvania – Scranton Pennsylvania City Directory
1882:

 Dr. McTaggart, A Good Physician, from Scranton, Pennsylvania will visit Pittston clipping (see above) – Evening Gazette, Thursday, June 15, 1882
1883: 

Miles F. McTaggart, M.D., Physician, specialist in chronic and female diseases, 104 N. Wash ave, bds forest house – Scranton Pennsylvania City Directory
1884-1885: 

Miles F. McTaggart, Physician, 104 N. Wash ave, Scranton, Pennsylvania – Scranton Pennsylvania City Directory
1887: 

Miles F. McTaggart, Physician, 45 N. Third, Reading Pennsylvania – Reading, Pennsylvania City Directory
1889: 

Miles F. McTaggart, M.D., Physician, specialist in chronic and female diseases, 10 S Main, Pottsville, Pennsylvania – Reading Pennsylvania City Directory
1893:

Damages Against a Doctor, Dr. McTaggart from York (see clipping above) – Altoona Tribune, Thursday, December 7, 1893
1896:

M. F. McTaggart, Physician, 227 Herr – Harrisburg Pennsylvania City Directory
1897: 

M. F. McTaggart, Physician, 800 N. 2nd – Harrisburg Pennsylvania City Directory
1900: 

Miles McTaggart, Physician, age 56, birth March 1844 in Scotland, immigrated in 1849, widowed, married in 1884, living Altoona Ward 3, Blair, 

Pennsylvania, father and mother born in Scotland 

– United States Federal Census
1910: 

Miles McTaggart, Physician, age 66, birth abt 1844 in Scotland, immigrated in 1849, living in Akron, Ohio

, father and mother born in Scotland 

– United States Federal Census