Ward's Eureka Tonic Bitters – Covington, Kentucky
09 April 2015 (R•053017)

The other day, while looking around St. Louis for Auguste Amadee Mellier listings for his Mellier's Imperial Tonic Bitters, I came across some advertising for a Ward's Eureka Tonic Bitters from Covington, Kentucky. At first I thought that this bitters might be unlisted but alas, I do see a lonely listing in Bitters Bottles. This is an extremely rare bitters. Possibly only one or two examples reside in collections.
The Carlyn Ring and W.C. Ham listing in Bitters Bottles is as follows: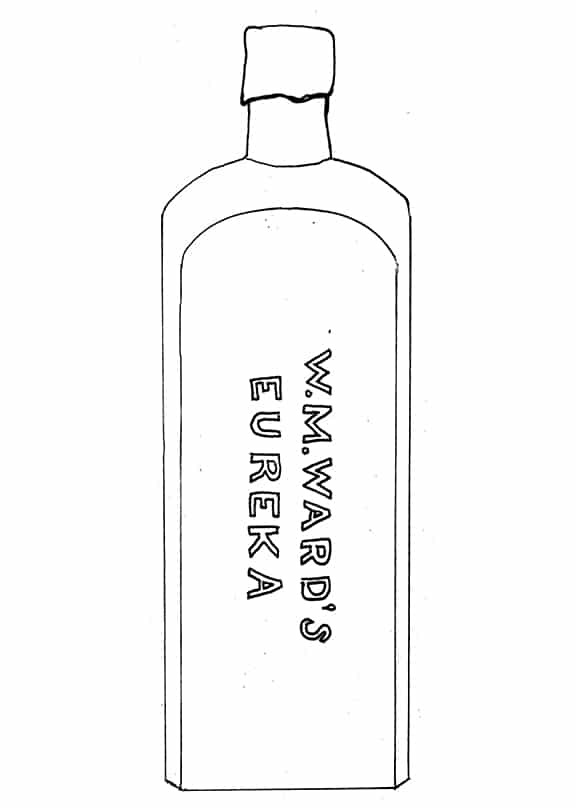 W 28

 WARD'S EUREKA TONIC BITTERS
W. M. WARD's / EUREKA // f // TONIC BITTERS // f //
8 3/4 x 2 3/4
Square, Clear, LTC, Tooled mouth, Extremely rare
William Mason Ward was born in 1818 and attended Woodward High School (pictured at the top of this post) in 1831 and 1832 in Cincinnati, Ohio. He was married to a Carrie Burrows Yeatman. I can first find him in business in Cincinnati in 1852 at 223 Main Street. In 1865, he is in Louisville, Kentucky as a partner at W. H. Walker & Co. (William H. Walker and William M. Ward). They were listed as wholesale dealers in pure old Bourbon and other Kentucky whiskies at 49 W. Market Street between 2nd and 3rd. Mr. Ward next moves to Covington, Kentucky and he is advertising his Ward's Eureka Tonic Bitters (W. M. Ward, Proprietor) at 251 Madison Street in 1868 and 413 Madison Street in 1869. He said it was purely vegetable which is hard to believe. Advertising also shows the bitters being sold in St. Louis, Chicago and Leavenworth Kansas. W. M. Ward died on April 27, 1870.
Note: WorthPoint notes that an example sold in June 2007. There was no picture. Their description:
This 8 3/4″ tall clear EXTRA RARE Bitters is nice condition, but for accuracy it does have a tiny bruise on one of the beveled sides and very small scrape chip on the bottom corner and a trace of a bruise in the lip. After saying all this, the bottle appears to be near mint. It is boldly embossed vertically – W.W.
(M)

WARD'S – TONIC BITTERS – The bottle is BIM "Blown In Mold" and dates to the 1880's. It is listed in the Bitters Book as W-28 EXTRA RARE. The white water paint will wash off if desired.
Select Listings:
1818: William Mason Ward was born in 1818 – A Memorial Relating to Woodward High School, 1831-1836, and Woodward College, 1836-1851, in the City of Cincinnati
1831-1832: William Mason Ward attended Woodward High School in Cincinnati, Ohio – A Memorial Relating to Woodward High School, 1831-1836, and Woodward College, 1836-1851, in the City of Cincinnati
1852: Wm. M. Ward, 223 Main – William's Cincinnati Guide and Business Register for 1852
1865: W. H. Walker & Co. (William H. Walker and William M. Ward), wholesale dealers in pure old Bourbon and other Kentucky whiskies, 49 W. Market between 2nd and 3rd – Louisville, Kentucky City Directory
1866: W. H. Walker & Co. (William H. Walker and William M. Ward), wines, brandies and domestic liquors, wholesale, 49 W. Main – Louisville, Kentucky City Directory
1867: W. H. Walker & Co. (William H. Walker and William M. Ward), wholesale dealers in wines and liquors, 49 W. Main – Louisville, Kentucky City Directory
1868: Ward's Eureka Tonic Bitters advertisement, W. M. Ward, Proprietor, 251 Madison St., Covington, Ky – The Cincinnati Enquirer, Tuesday, June 16, 1868
1869: W. M. W. & Co. (W. W. Ward), whiskies, 413 Madison – Cincinnati Ohio City Directory
1869: Ward's Eureka Tonic Bitters advertisement. Sold in St. Louis and Chicago – The Leavenworth Times, Sunday, April 4, 1869 (see above)
1870: W. M. Ward death on April 27, 1870