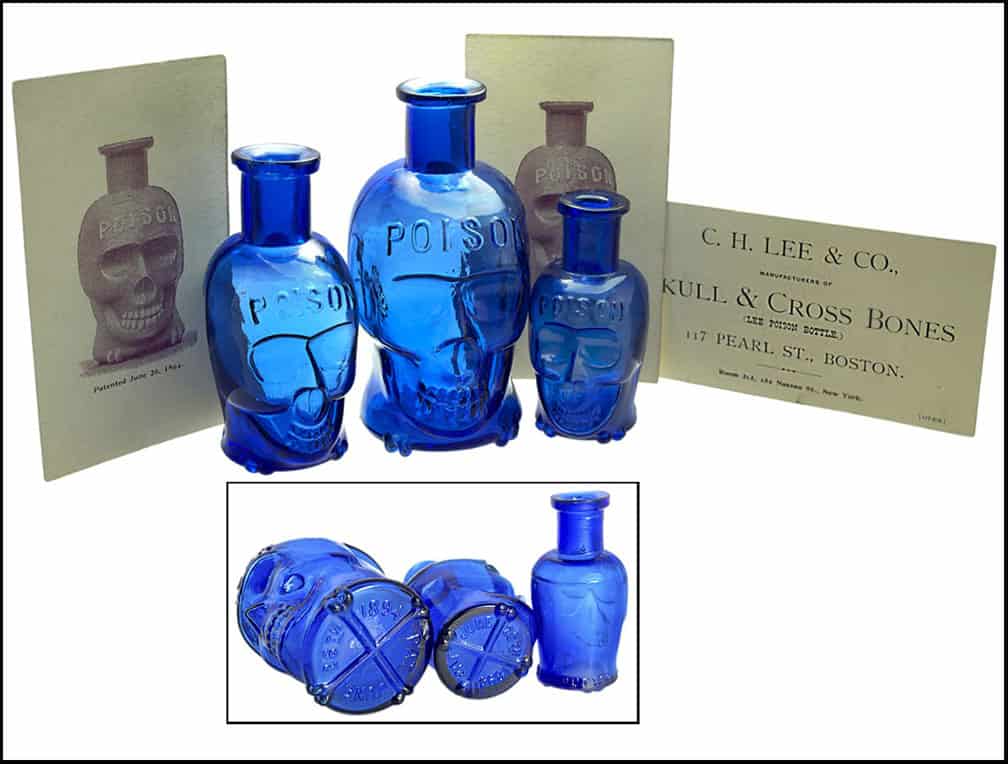 Set of Three Skull Poisons and Trade Cards
20 March 2015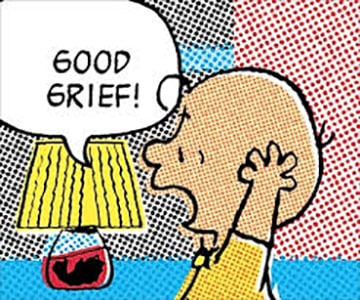 Sometimes I just feel like Charlie Brown because I have to say "Good Grief". This time, Jim Hagenbuch has a set of three Skull Poisons….plus…are you ready…. three corresponding trade cards. Wow-oh-wow. Lot 244 is currently online at Glass Works Auctions "Winter Classic" Auction 106. The write-up and pictures from Glass Works are included in this post.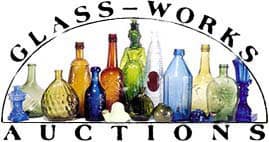 244. Set of Three Skull Poisons and Trade Cards, "POISON – PAT APP'L FOR", (Kuhn, KU-10), Massachusetts, ca. 1890 – 1910, cobalt blue, 2 7/8", 3 1/2" and 4 1/4", the middle and larger size bottles have "PAT – JUNE – 26TH – 1894" on smooth bases, tooled lips. Three identical trade cards accompany the skulls. Each shows a Skull with 'Patented June 26, 1894' on the front and 'C.H. Lee & Co. / Manufacturers of / Skull & Cross Bones / (Lee Poison Bottle) / 117 Pearl St. Boston. / Room 313, 132 Nassau St., New York'. They are 4 1/2" by 2 1/2"h.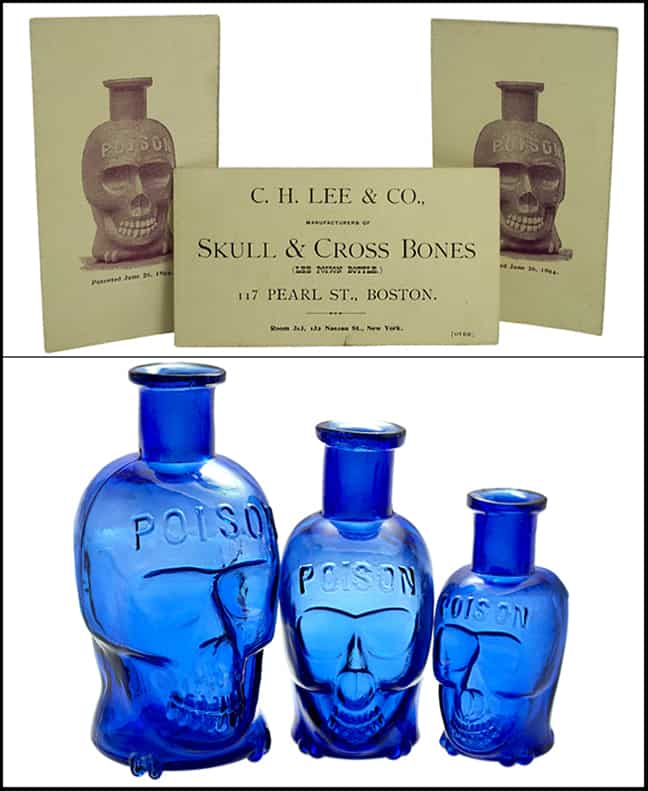 The middle size skull has a less than pinhead in size spot of roughness on the outer edge of the lip that probably occurred in making. Arguably the finest set of Skull Poisons in existence and never filled. Rarer than the Skull's are the three trade cards, one for each skull. In the mid-1980's an English collector ran an ad in the British Bottle Review magazine wanting to buy Skull poisons. A person responded to the ad offering this set, he had found them several years earlier in an old Apothecary Shop in central Wales, which is part of Great Britain. When found the Skull's and cards were inside a cardboard box filled with straw, both of which are long gone. The set is believed to be a salesmen's sample, shown to potential British buyers and left behind. For years rumor had it that a second set was also found, but this has never been substantiated, nor found.