A question about French 'Canteen Like' Bottles
14 January 2015

Two years ago, I put together a fun post on a variety of historical canteen images. This is not my area of direct expertise, but I do find them fascinating and full of history. Often I get questions related to the post. Here is an interesting one I received yesterday. If anyone could help us out here, it would be greatly appreciated.
Read: Historical Canteens – Canteen Figural Bottles
Dear Mr. Meyer
My name is Jean T. I am writing to you today with the hope that you could possibly help me to identify two bottles (jugs) that I have in my possession.
I accidentally stumbled upon your website trying to research the bottles myself, I clicked on an image of a military water or wine canteen and saw that you had all kinds of images of different ones on your site.
Let me give you a little bit of a background on the jugs first. They were purchased by Robert Florey in Paris in 1950. They were so precious to him that he hand carried them on his lap all the way from France. He paid, at the time (1950) $300 for the larger and $225 for the smaller of the two bottles, as you can see on the attached scan of his original type written description.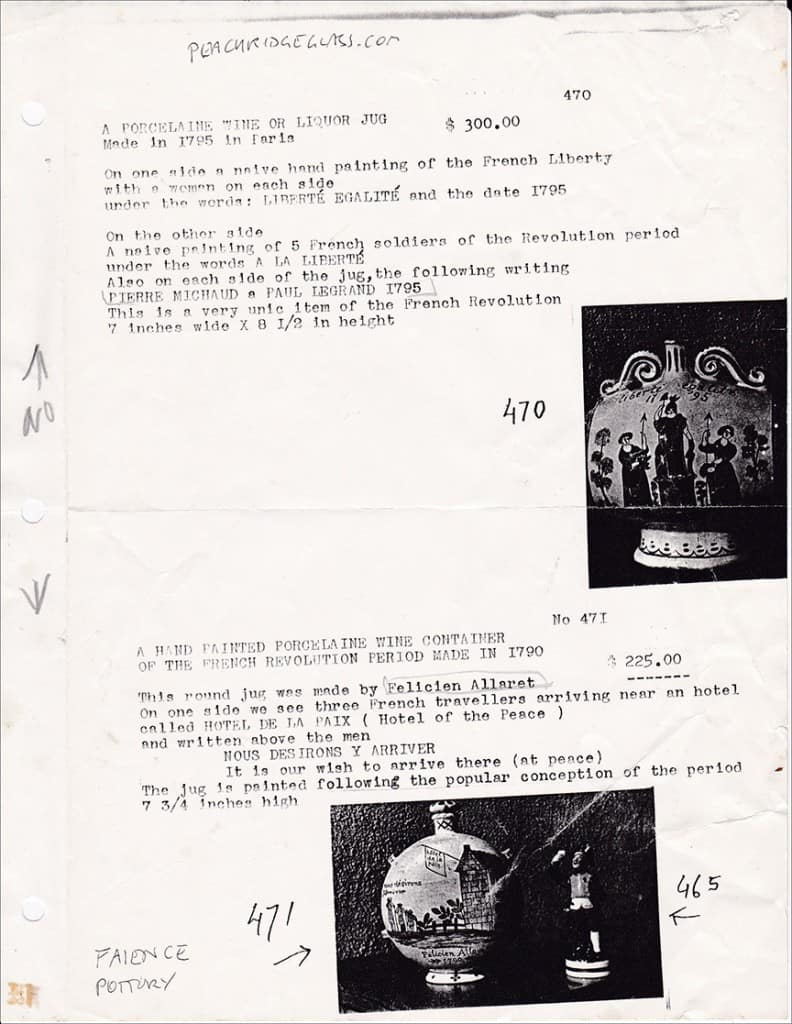 Robert Florey was the collector and owner of a WORLD RENOWNED NAPOLEON BONAPARTE COLLECTION and also a WELL KNOWN MOVIE AND TELEVISION DIRECTOR; The largest part of the collection was sold, after his death, by Sotheby's auction house in Monaco. I have also included a scan of the catalog front of the auction. His wife Virginia kept some of the more precious items for herself.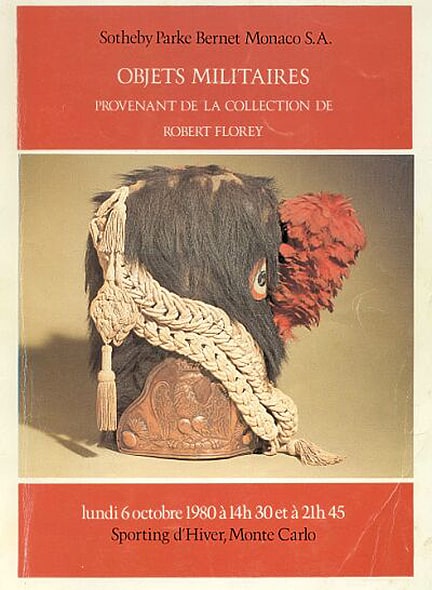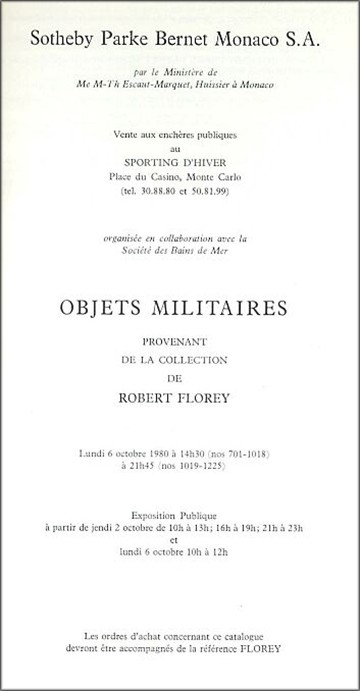 FLOREY is best known for coauthoring the original FRANKENSTEIN and directing THE COCOANUTS, MURDERS IN THE RUE MORGUE, …. (Florey adapted the Edgar Allan Poe story [Rue Morgue] for the screen after writing the first script of FRANKENSTEIN; he and Lugosi were replaced as star and director of FRANKENSTEIN and shifted to RUE MORGUE, (for more information please look up BRIAN TAVES'S book "ROBERT FLOREY, THE FRENCH EXPRESSIONIST" pages 124 to 147). In addition, Florey helmed other horror movies including "THE FACE BEHIND THE MASK", and "THE BEAST WITH FIVE FINGERS" and episodes of "THE TWILIGHT ZONE".
WHILE LIVING AND WORKING IN AMERICA MOST OF HIS LIFE (HE WAS BORN IN FRANCE), MR. FLOREY WAS SO ACCOMPLISHED IN AMERICAN AND FRENCH FILM THAT THE FRENCH GOVERNMENT DECORATED HIM WITH THE "CHEVALIER DE LA LEGION DE HONNEUR" AS WELL AS SIX OTHER FRENCH AWARDS, INCLUDING THE "GRAND CROIX DE L'EDUCATION ARTISTIQUE" AND "CHEVALIER DE L'ORDRE DES ARTS ET DES LETTRES".
Robert and his wife Virginia Florey never had children. I was a dear friend of theirs for close to 50 years and when Virginia passed in 2000, she left me her estate, which also included the rest of the collection. So this is of course, how I got the jugs.
I am myself well into my 80's now and with the help of my son and my secretary am trying to "clean house" so to speak. I have kept the jugs until now because they were interesting to look at in my breakfront. I am hoping that you can possibly help me identify and maybe give me an idea on a value of these bottles, if not, maybe you can direct me to someone that can or might be interested in them. I also included many photos of the jugs so you can see every angle and side.
Looking forward to hear from you, sincerely, Jean T