Globe Tonic Bitters – Portland, Maine
07 November 2014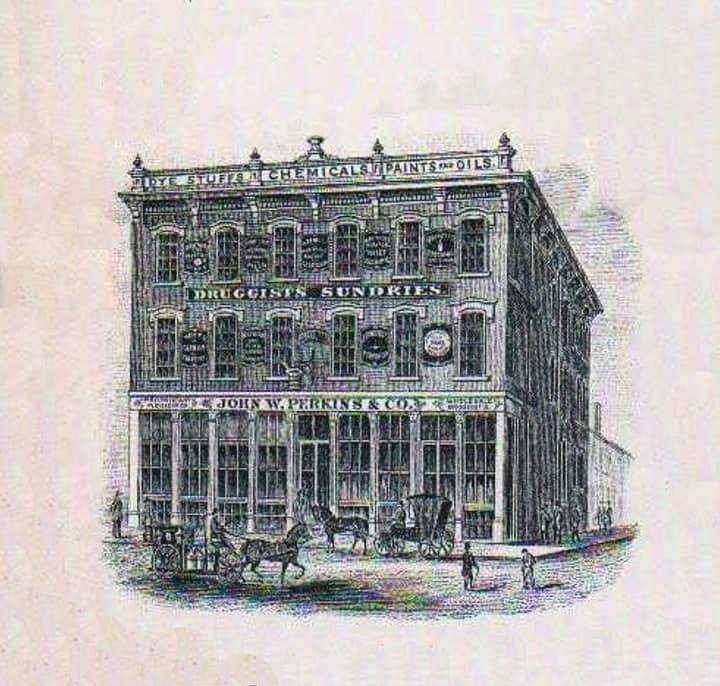 Glass Works Auctions has this spectacular example of a fully labeled Globe Tonic Bitters from John W. Perkins & Company in Portland, Maine in the "Christmas Comes Early" Auction #105 that opens this coming Monday, 10 November 2014. Please do not get this mixed up with the figural Globe Bitters by the Byrne Brothers & Company in New York.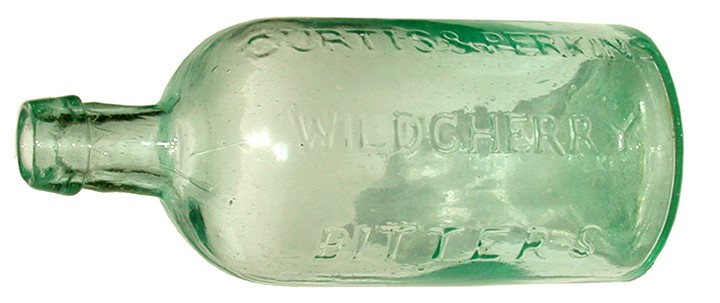 John W. Perkins moved to Portland, Maine in 1853 and opened a wholesale drug, paint, and oil establishment in partnership with L.H. Titcomb. The following year, Titcomb retired, and John Perkins's brother, Benjamin A. Perkins, who had been a member of the firm of Curtis & Perkins (see Curtis & Perkins Wild Cherry Bitters above) of New York, joined the firm which was now called J. W. Perkins & Co. There is quite a bit of material for this druggist but I could find no direct advertising tying the Globe Tonic Bitters directly to John W. Perkins,. That is why these bottle labels are so darn important.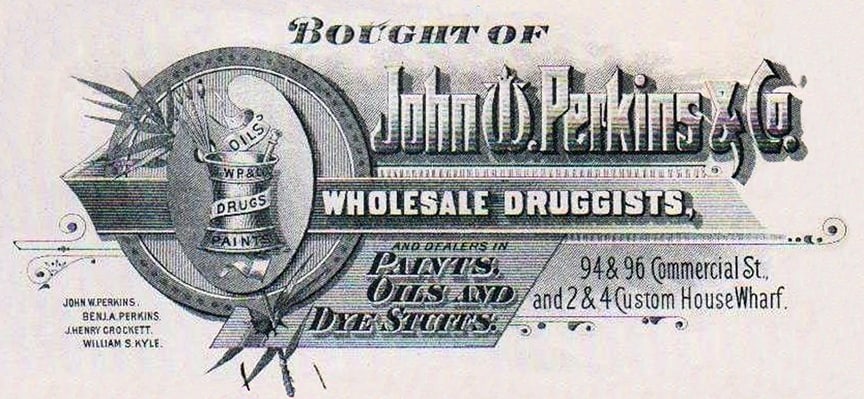 The Carlyn Ring and W.C. Ham listing in Bitters Bottles is as follows: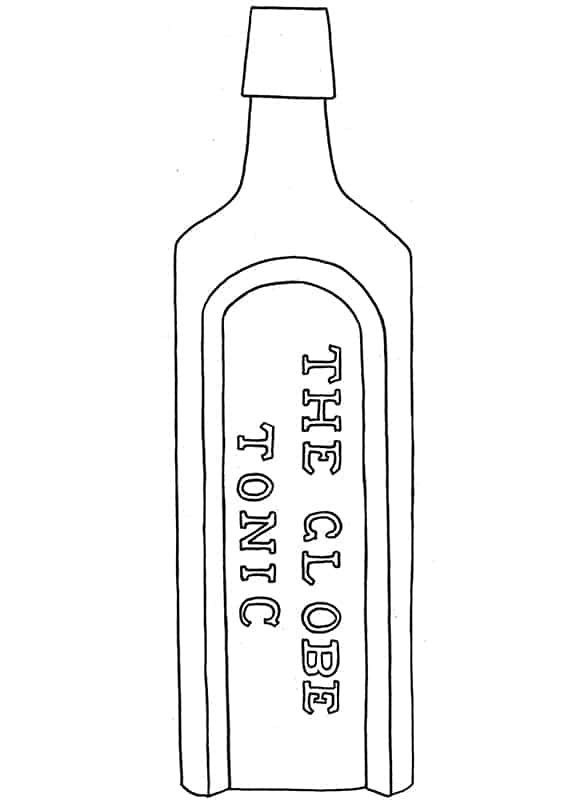 G 49

 GLOBE TONIC BITTERS
THE GLOBE / TONIC // sp // BITTERS // sp //
John W. Perkins & Co. Sole proprietors Portland, Maine
9 5/8 x 2 3/4 (6 7/8)
Square, Amber, LTC, Applied mouth, 4 sp, Scarce
Maine Business Directory 1863 – 1868
John W. Perkins & the Perkin's Family
From the Biography of John Warren Perkins Biographical Review, Cumberland County, Maine, Boston Biographical Review Publishing Company, 1896, Pages 482-484
John Warren Perkins, of the firm of John W. Perkins & Co., wholesale druggists and dealers in drugs, paints, oils, and dyestuffs, whose warehouses are at 94 and 96 Commercial Street and 2 and 4 Customhouse Wharf, Portland, Me., was born in Weld, Me., March 17, 1820, son of Dr. Lafayette and Dorcas (Abbott) Perkins.
His grandfather, Colonel William Perkins, was a distinguished officer in the Revolutionary army, and at the close of the war was appointed Commandant of Castle William, now Fort Independence, in Boston Harbor. On March 26, 1786, a son was born to him and his wife; and the event was made the occasion of great rejoicing, in which all the garrison participated. At the proper time the boy was taken to Boston, escorted by a band of music and a squad of soldiers from the fort to King's Chapel, where he was christened, the Marquis de Lafayette being the godfather and bestowing upon him his name.
Lafayette Perkins was a boy of fourteen when his father died and the family removed from Castle William. He received his early education in Boston, and took up the study of medicine under the tuition of the famous Dr. John C. Warren. Before he received his diploma the War of 1812 broke out, and he was appointed surgeon of the ship "Argus." The youthful physician became very popular with all on board; and at the close of the war, when the vessel was at anchor in the River Lyde in France, he was presented by her officers with a beautiful dress sword, which is now in the possession of his son, the subject of this sketch.
Dr. Perkins returned to Boston, and was graduated from the Harvard Medical College, August 31, 1814. He commenced practice in Boston, but soon removed to Weld, Me., where he lived twenty-one years, residing on a beautiful farm on the shore of a lake. Though actively engaged in the duties of his profession, he also dealt in real estate, making large sales; and Perkins Plantation was named in honor of him. On March 18, 1836, he removed to Farmington, where his courteous and agreeable manners, together with his skill as a physician, soon won him a large practice and made him a prominent citizen. Some years prior to his death he was obliged to retire from active practice on account of failing health. He died in Farmington, May 9, 1874, in his eighty-ninth year. Dr. Perkins was a member of the convention which met in Portland on the second Monday of October, 1819, for the purpose of framing a constitution for the State of Maine.
The Doctor and his wife, Dorcas Abbott Perkins, were the parents of six children; namely, Charles, John W., Emeline, Benjamin A., George A., and Samuel E. Charles Perkins was cut off in the promise of young manhood, just as he had finished his studies, qualifying to practice as a doctor of dentistry. Benjamin A. is associated in business with his elder brother as one of the firm of J. W. Perkins & Co. George A., who was a missionary in Turkey and a teacher at Robert College, Constantinople, returned to the United States some twenty years ago, and until a short time before his death, which occurred July 15, 1895, was active in evangelical work, preaching in different places in Maine, New Hampshire, and Massachusetts. Samuel E. was a well-known druggist in Bangor some thirty years ago; it is now six or seven years since he died at Farmington.
John Warren Perkins attended the common schools of Weld and Farmington, finishing his studies at the Farmington Academy. He was sixteen years of age when his family removed to Farmington, and in that town in 1840 he took the initial steps in the drug business. In 1853 he removed to Portland and opened a wholesale drug, paint, and oil establishment in company with L. H. Titcomb; and when, in the following year, Mr. Titcomb retired, Mr. Perkins's brother, Benjamin A., who had been a member of the firm of Curtis & Perkins of New York, took that gentleman's place, the firm being J. W. Perkins & Co. In 1863 J. A. Titcomb became a member, and on his retirement in 1869 J. Henry Crockett was admitted. W. S. Kyle joined the company in 1880, but retired in 1890; and in January, 1892, Mr. Crockett died. The Perkins brothers with the following new associates – George L. Fogg, Bion R. Lane, and William P. Millay – now constitute the firm. The establishment is one of the largest and best appointed of the kind in New England, and has maintained a high standard of credit during all the time that Mr. John W. Perkins has been its head.
Mr. Perkins has been married twice, and has three children. His first wife, Margaret Hunter, of Farmington, daughter of Thomas and Betsey (Belcher) Hunter, left one son – Edward Warren Perkins, who is in business in Arizona. The second wife, Mrs. Eliza Bellows Perkins, daughter of Charles Bellows, of New Hampshire, is the mother of two daughters: Mary B., wife of James B. Cahoon, of Elmira, N.Y., who was-an ensign in the United States Navy; and Maude E. Perkins, who is yet with her parents.
In politics Mr. Perkins favors the Republican party. He is not an office-seeker, but acceptably filled the position of Postmaster in Farmington four years, from 1849 to 1853. He is prominent in Masonry, and has filled several offices, being at present Past Commander of St. Albans Commandery, Knights Templars, of which he is also a charter member. In religious belief he is a Congregationalist, belonging to the State Street Church, of which his wife is also a member. He has a handsome residence at 328 Spring Street. No man in active business for fifty years can show a better record or stands higher for integrity among his fellow citizens than John W. Perkins, who, enjoying the confidence and esteem of his associates to a remarkable degree, occupies a prominent place among the honored merchants and public men of Portland.