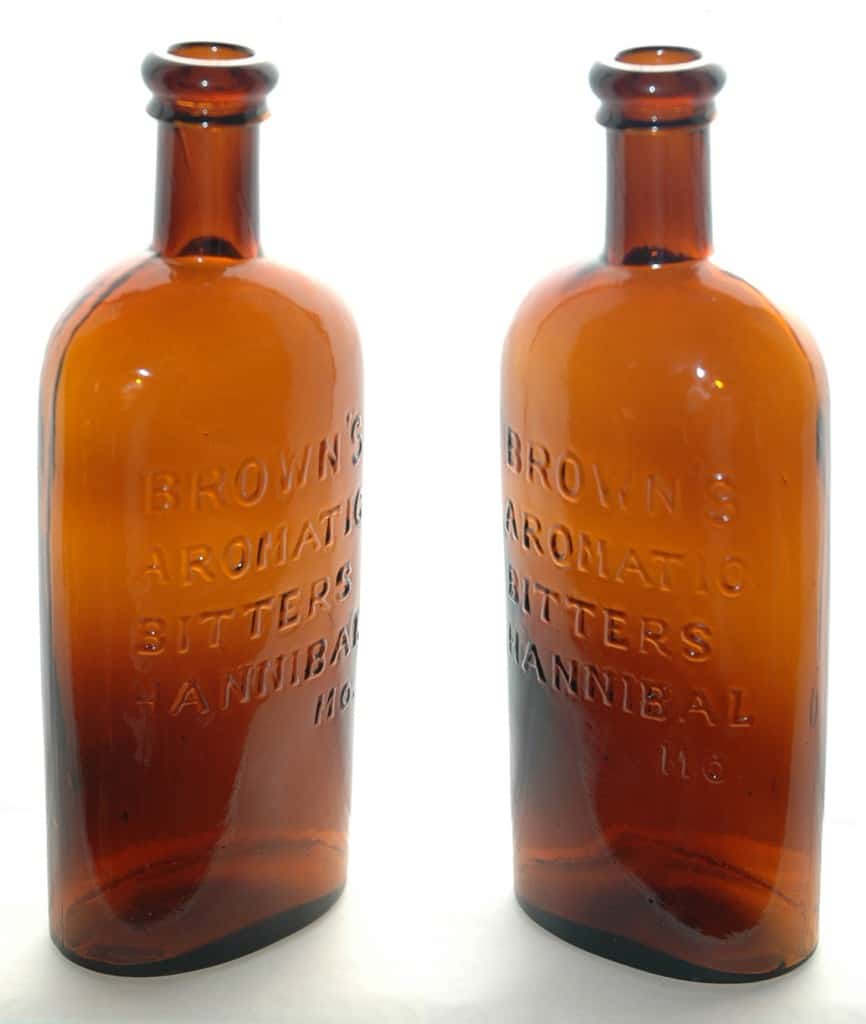 Brown's Aromatic Bitters – Hannibal Missouri
13 November 2014 (R•111514) (R•111814)
[This post was inspired by Tim Henson from Missouri]

Jim Hagenbuch with Glass Works Auctions sure knows how to tug at the heart-strings (and pull at the purse strings) as when he auctioned off the extremely rare, Brown's Aromatic Bitters from Hannibal, Missouri in Auction #87 back in October 2009. He wrote under the bottle description, "From the Mississippi River town of Hannibal, Missouri, birthplace of Samuel Langhorne Clemens, better known to most people as Mark Twain." Now that is pretty cool, a bottle from Hannibal, Missouri. I wonder if Brown knew Clemens?
Well, I did end up winning the bottle, as Jim's methods seem to work. The bottle is extremely rare and unlisted in amber. It is 8 3/4″tall, has a smooth base and has an applied double collar mouth. Apparently in 2002, Glass Works Auctions sold an aqua example for $900. You can see my catalog page below with the example. I make an 8 1/2″ x 11″ page for all of my bottles. Digitally stored, printed and inserted in large 3-ring binders.
The Carlyn Ring and W.C. Ham listing in Bitters Bottles Supplement is as follows: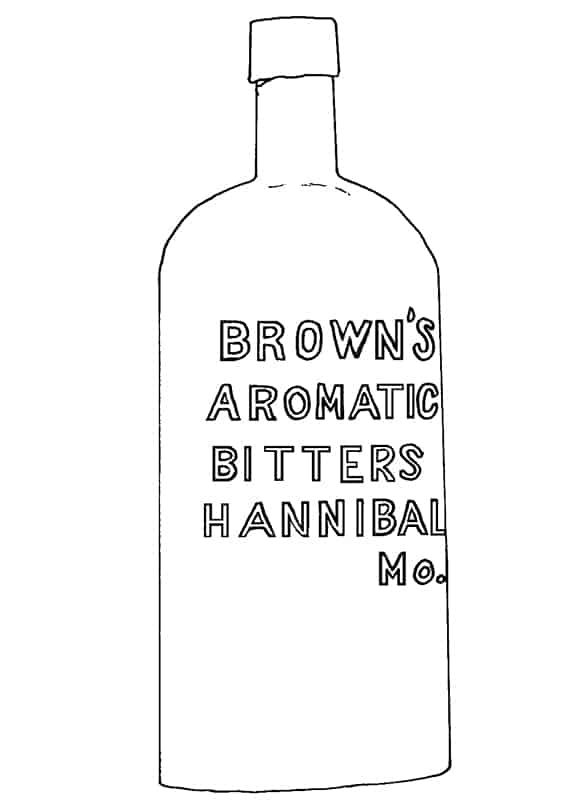 B 219

 BROWN'S AROMATIC BITTERS
BROWN'S / AROMATIC / BITTERS / HANNIBAL / MO. // c //
L…Brown's Aromatic Cordial Bitters
8 3/4 x 3 3/8 x 2 (6 1/4)
Oval,
Aqua

, LTC, Applied mouth, Extremely rare

(amber needs to be added)

The new listing by Bill Ham for the forthcoming Bitters Bottles Supplement 2:
B 219

 BROWN'S / AROMATIC / BITTERS / HANNIBAL / MO, // c //
L . . . Brown's Aromatic Cordial Bitters, Prepared by J. B. Brown, Wholesale and retail Druggist, Hannibal, Mo.
L . . . Brown's Aromatic Bitters, Prepared by J. B. Brown, Wholesale and Retail Druggists, Hannibal. MO.
8 ¾ x 3 3/8 x 2 (6 ½)
Oval, Aqua and Amber, LTC and DC, Applied mouth, Extremely rare
BAR p23, TMS 50, N&Q, UMB 527, WAT 56
James Burket Brown
James Burket Brown was a successful druggist and home builder in Hannibal, Missouri. He life story reads like a Horatio Alger story, you know, "rags to riches" as he was born from a farmer named William Woody Brown (father James Brown and wife Elizabeth Hubbard Brown) who came to Missouri in 1832 from Kanawha County, Virginia. They arrived at the Port of Scipio in Marion County, Missouri, on 6 April 1832 on the Herald, a steamboat, which plied regularly between the south and Galena, Illinois. He brought four sons, James Burket Brown, John Henry Brown, Marion Francis Brown and William Lawrence Brown. They purchased land in Ralls County south of Hannibal and they constructed a home and other buildings of logs. It was here that William Woody Brown died in 1845, along with his parents. The seeds of the other browns were firmly planted.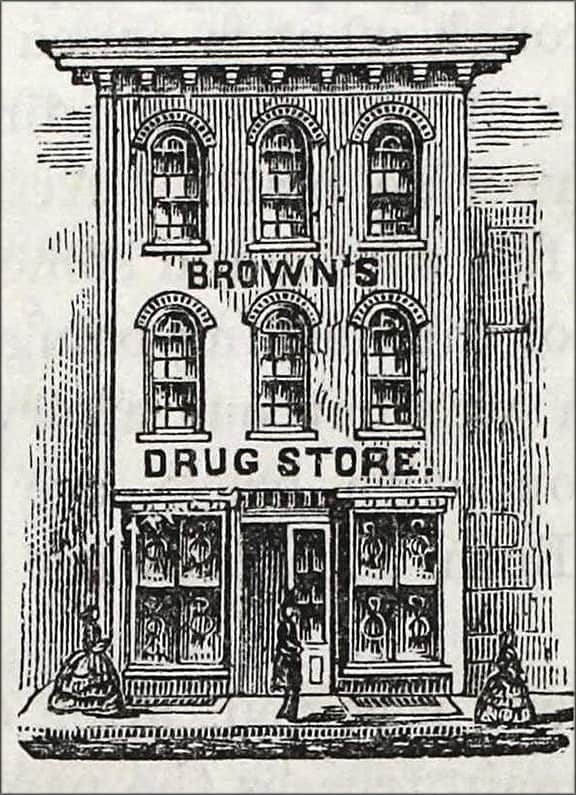 James worked from a very young age until he and two of his brothers, Marion Brown (who would become a physician in Hannibal) and William L. Brown, decided to go to California during the Gold Rush. They each came home with about $1,000 and they were flush to start new lives in Hannibal. James invested his income by buying out an old drug firm and successfully developed it so that he was able to build his own store and building in 1848 on North Main Street. They were wholesale and retail druggists and dealers in drugs, medicines and chemicals along with perfumery, window glass, glassware and many other fancy items of the day. They were also advertising pure wines and liquors for medicinal purposes. I like that, for medicinal purposes. That way they could sell the Brown's Aromatic Bitters.
James also served as mayor from 1882 to 1885 and again in 1888 and founded a family that was prominent for several generations.
The Brown family took a strong stand for the Confederacy during the war between the states. The family, fearing acts of plunder by marauding troops, hid articles of value in a small cave which had been created by removal of stone for building purposes. A Confederate flag was made from silk petticoats by Sarah Brown Carstarphen, her mother, Frances Hubbard Brown, and the wives of Dr. Marion F. (Eleanor Virginia Carter) and William L. Brown. In defiance of Union soldiers who were occupying Hannibal, Dr. Marion Brown (Sarah Brown Carstarphen's brother) displayed this flag on a wire which was extended from his office on North Main Street next to the J.B. Brown drug store. Dr. Brown persisted in saluting it whenever he passed it, in spite of the warnings of his friends. He did not fear being shot for this act, as he was the only doctor left in the vicinity. Finally, realizing that the flag would be confiscated as were other Confederate flags in the town, it was hidden. It was found in 1925 by the owners of the old J. B. Brown home at Fifth and Church Streets. It had been wrapped in paper, and a ball of twine had been wound around it. Bessie Brown placed this historic flag on display in the Mark Twain Museum on Hill Street.
It was reported that James Burket Brown, went to school with Samuel Clemens in the old log house in what is now "the park" in Hannibal.
J.B. Brown retired after sixty years of service in the drug business and turned his business over to his son, Albert S. Brown. He was, for fifty years, in the same building without any change of firm. He died in 1915.
Select Date Listings
1827: J.B Brown born in Virginia about 1827.
1832: Brown family arrives in Hannibal, Missouri.
1853: J.B. Brown & Co., Druggists and Apothecaries, City Hotel Building, Hannibal, Missouri advertisement (see below) – Hannibal Daily Journal, Wednesday March 23, 1853
1858: Brown's Drug Store, J.B. Brown, opens for business
1870: J.B. Brown, age 43, druggist, wife Nancy N. Brown, children, Fanny C., George S., Jefferson B., Albert S. Brown, Anna M. Brown, Hannibal, Missouri – United States Federal Census
1871: J.B. Brown, 217 North Main, wholesale and retail dealer in Drugs, Medicines etc. advertisement (see below) – History of Hannibal and City Directory 1871-72
1884: Honorable J. B. Brown, Mayor of Hannibal, Missouri.
1903-1905: J. (James) B. Brown, Druggist, 219 N Main – Hannibal, Missouri City Directory
1907: Veteran pharmacist, J.B. BROWN retires, Hannibal, Missouri, now eight years of age, after sixty years of service in the drug business, has retired from active work and turned his business over to his son, Albert S. Brown. He was for fifty years in the same building without any change of firm. – Meyer Brothers Druggist, C.F.G. Meyer, 1907
1915: Death James Burnet Brown