Bottle News from the Big Sky Country
30 November 2014

Always like to hear from James Campiglia up in Bozeman, Montana aka Big Sky Country. He and his digging buddies with Outhouse Patrol have it covered or uncovered in this case. James takes a moment to bring us up to speed.

Going digging tomorrow in an 1869 camp. Still can't find a thing, but only spent about three days there. The trash pit just had cans and some bones. I am researching a lot, have some maps and now own a drone. We will fly around and image from the sky now and can run over on other property too if needed. Long as the hunters don't shoot us down! Found tiny pieces of a Drakes Plantation Bitters in a yellow-green coloration. Found a nice military button with an eagle. I do plan to get an article together for you this time with some nice pictures. James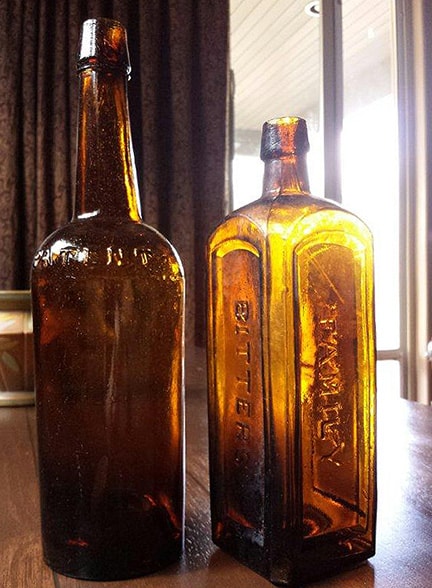 P.S #1: Ferd, Just wanted to show you the Brady's Family Bitters, cleaned up. The Whiskey is a nice McCully Pittsburgh bottle from an 1869 hole. Dug the rest of the hole and nothing to exciting other than a new base marked, W. Mc C & Co. Six straight across for my collection but plain amber. And two, J & C Maguire, St Louis, MO., clear though. Bottles were mixed with a heavy seed layer at the very bottom for most then some Jamaica Gingers up higher but all were 5+ feet and we were lucky to find this very filled-in hole.
Digging was tough this year but I played hookey as you know and went to shows a lot. Dug til the rain came down and down last Sunday and the next day snow and now below zero temps warming to about 10 tomorrow. We were on a great site but the one hole we found after 2 days searching was all burned with a heavy iron content, old stove parts, springs, etc. and all the old black ales were smashed and that is all there was; ales or Guinness, old 3-molds from across the sea. Probably 80's so the old holes from 1865 to the 1880s still are to be found. Next Spring.
Frozen in Montana but want to dig more!
Regards, James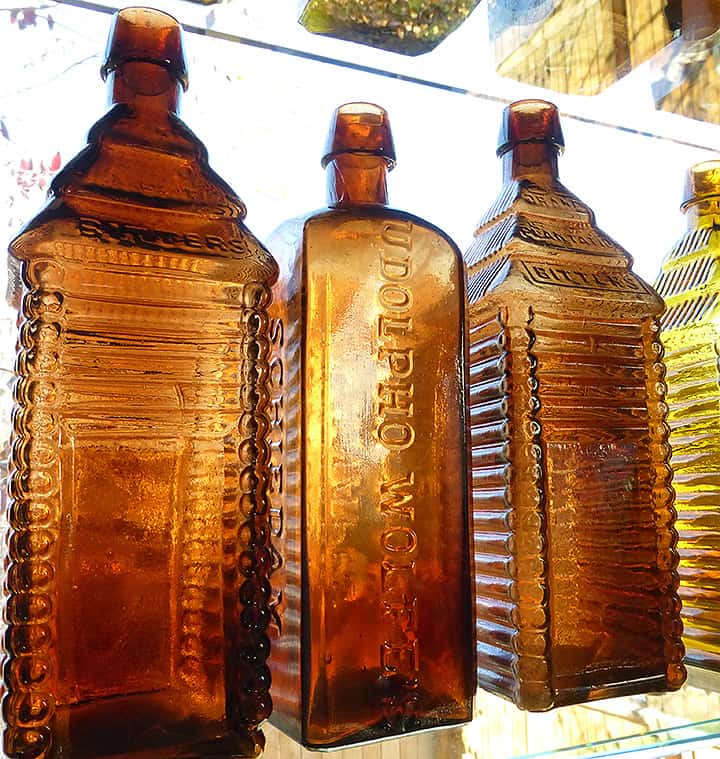 P.S. #2: Thought you might enjoy some of my pictures. The Hostetter's with the hooked J and base marked W. Mc C & Co. (in arch) 6. Fun to pair up the molds in totally different colors. Dug a nice W Mc C lately too but not a great color but 1869 camp in the hole where the Brady's Family Bitters was found and some old J & C Maguire St. Louis bottles. Not many bottles but all were whole in the hole.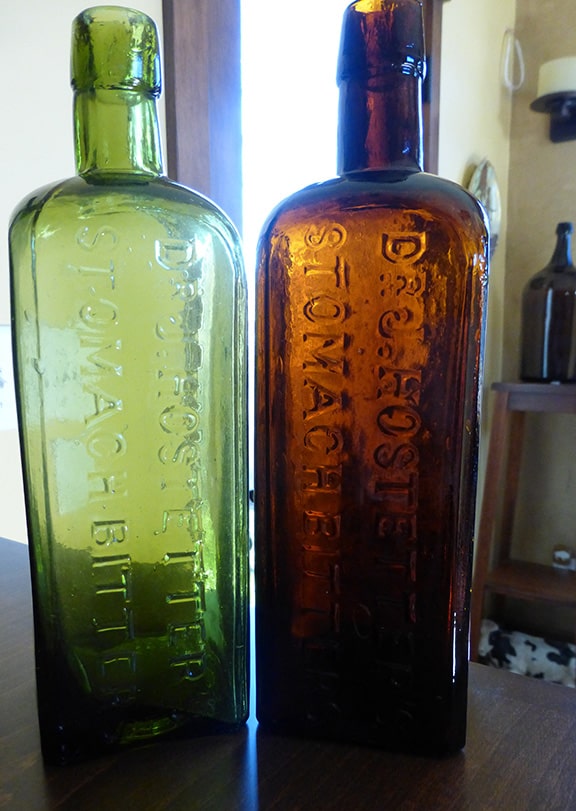 P.S. #3: Two more with nice colors W Mc C & Co G but slight different G's.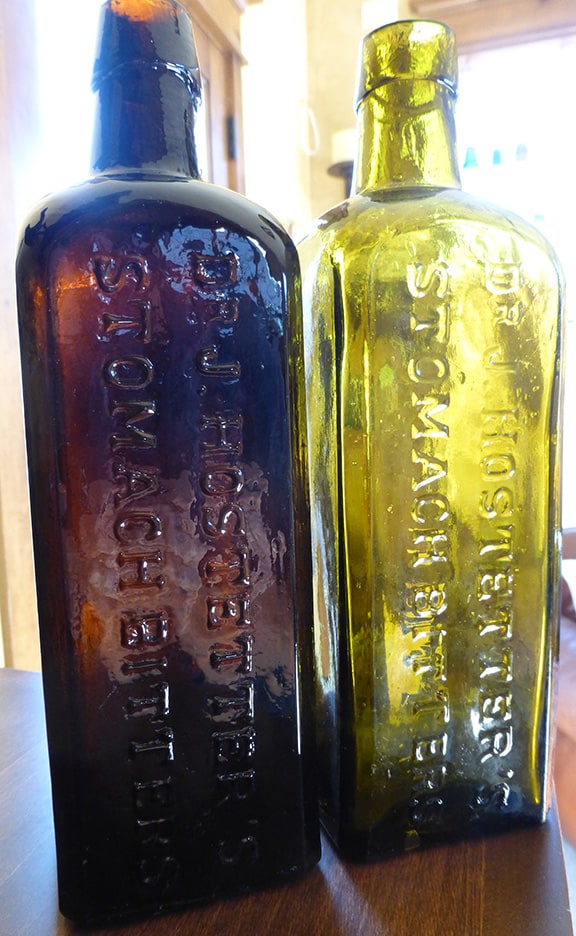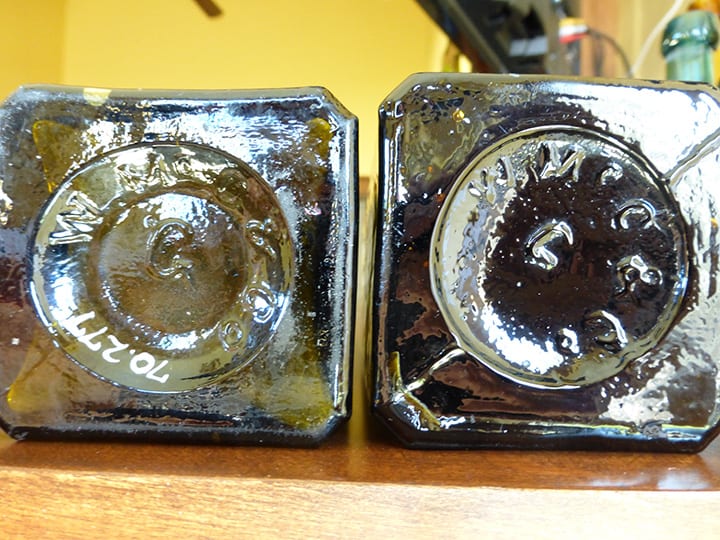 P.S. #4: Hello Ferd, Another one from my book cabinet/DVD player cabinet… I change this display often. I have really gotten more into the Townsends. Have quite a few now..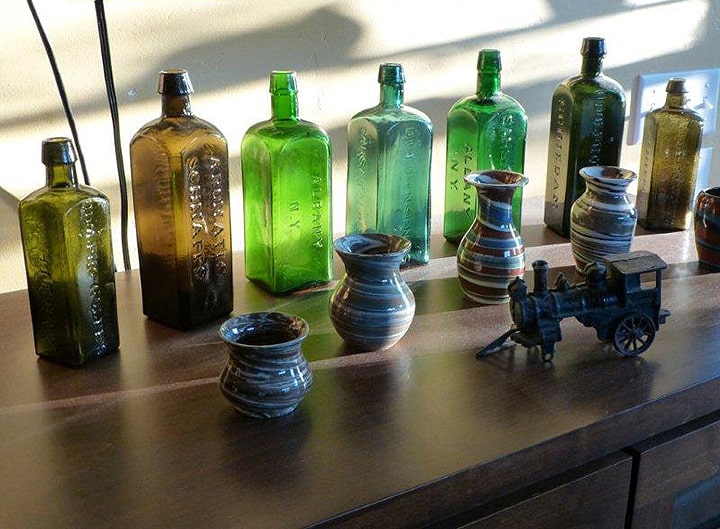 P.S. #5: Ferd, A few more pics.Hope all is well, Keep up all the great bottle work. Cant wait for the next National. What a hobby! – James