Hunki Dori Bitters – H.B. Matthews – Chicago
"Before they left, they evidently reached a high state of hilarity as they imbibed quite freely of Hunki Dori Bitters"
Burglars Drink Hunki Dori Bitters – 1874 new report (see below)
26 October 2014

It seems fitting, as a follow-up to the recent Hunk Dori Bitters post, to develop a post for another Hunki Dori Bitters. This brand was made by H.B. Matthews in Chicago, Illinois. The Carlyn Ring and W.C. Ham listing in Bitters Bottles is as follows: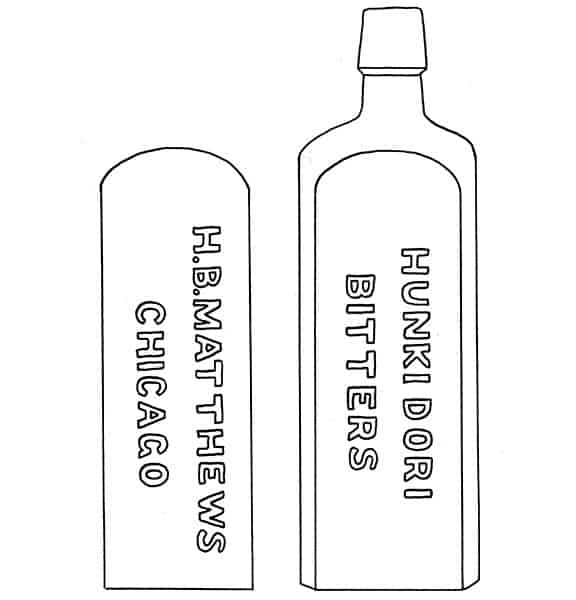 H 210

 HUNKI DORI BITTERS
HUNKI DORI / BITTERS // f // H.B. MATTHEWS / CHICAGO // f //
H.B. Matthews Sons, Manufacturer, 220 Lake Street
9 x 2 3/4 (7 1/4)
Square, Amber, LTC, Applied mouth, Rare
Chicago Directory 1877
Hunki Dori
Most modern definitions of "Hunki dori" mean "satisfaction", "OK", "every is all right", "cool" etc. In a previous post, I said I thought Hunki Dori was a honky tonk in Saigon during the Vietnam War. The phrase actually dates back at least the early 1870s as noted in this news clipping in a social column below…
Henry B. Matthews
Henry B. Matthews was born in Johnstown, New York in 1809. I believe that he had five sons, Edwin S., Henry B., Thomas, John H. and Daniel S. who would follow and join him in various business capacities throughout his life. This is reflected in their business name, H.B. Matthews Sons. From New York, I see that they were farming in Davenport, Iowa in 1860 which seems odd and later show up selling stomach bitters and as travel agents at 220 Lake Street in Chicago, Illinois in 1873. Edwin and Daniel Matthews were running the operation by then. This lasts until about 1877 though they could have been selling bitters later as they were listed as selling liquor and patent medicines until 1882. Kind of the same thing back then.
Select Listings:
1809: Henry B. Matthews (father) birth in Johnstown, New York.
1830: Edwin B. Matthews (son) birth
1845: Married wife Mary?
1846: Henry B. Matthews (son) birth
1847: Thomas Matthews (son) birth
1850: John H. Matthews (son) birth
1854: Daniel S. Matthews (son) birth
1860: Davenport, Iowa, Henry B. Matthews, farmer, age 51, born in New York – 1860 Unites States Federal Census
1873: H.B. Matthews Sons (Edwin B., travel agent, H.B. jr., travel agent, Daniel S.D. Matthews, bookkeeper), stomach bitters, 431 Lake – Chicago Illinois City Directory
1874: "A state of hilarity". Burglars drink Hunki Dori Bitters. – Sterling Standard (Illinois), Thursday, October 29, 1874
1877: H.B. Matthews Sons (Edwin B. and Daniel S.D. Matthews), bitters manufacturers, 220 Lake – Chicago Illinois City Directory
1878: H.B. Matthews Sons (Edwin B. and Daniel S.D. Matthews), liquors, 220 Lake – Chicago Illinois City Directory
1879: H.B. Matthews' Sons selling Photo Visiting Cards (see below) – Harper's Young People

1880: Chicago, Henry B. Matthews, retired grocer, age 71, born in New York, wife Mary, Edwin B. (age 50), clerk in store, Daniel S. (age 26), bookkeeper – 1880 United States Federal Census
1882: H.B. Matthews & Sons, patent medicines (Edwin B. Matthews), 954 W. Lake – Chicago Illinois City Directory
1897: Henry B. Matthews death in Chicago, Illinois, 4 November 1897