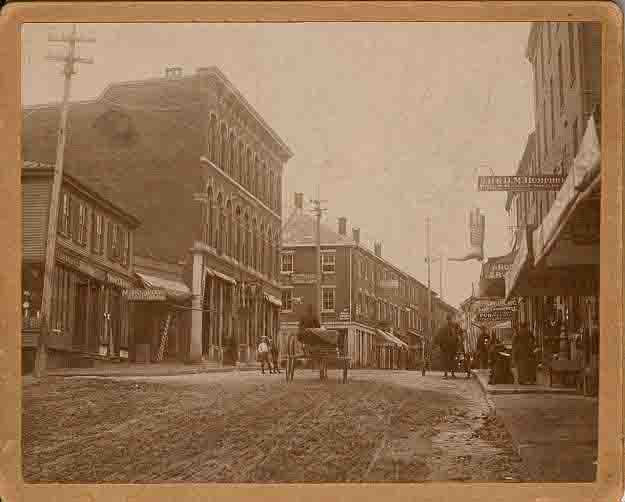 An unlisted

Anderson's Wine Restorative

Bitters

reference
27 October 2014 (R•011114)

While visiting some of the Bath, Maine city directories the other day for the Hunk Dori Bitters post, I came across an advertisement below for Anderson's Wine Restorative Bitters. The proprietor was S. Anderson & Son who were druggists and apothecaries at the corner of Front and Arch Streets in Bath, Maine. The old photograph above, from the Maine Historical Society, shows Front and Arch streets in 1892. If you look closely, on the right side of the street, beyond the hanging boot, I believe you can see a portion of the Anderson drug store sign. This bitters appears to be unlisted in Ring & Ham.
The new listing by Bill Ham for the forthcoming Bitters Bottles Supplement 2:
Advertisement
A 57.8  ANDERSON'S WINE RESTORATIVE BITTERS, S. Anderson & Son, Proprietors, Druggists and Apothecaries, corner of Front and Arch Streets, Bath, Maine
Bath Maine City Directory 1867
Dr. Samuel Anderson and Son
Dr. Samuel Anderson was born in Deering, New Hampshire on March 9, 1807. He was the third of ten children of John and Nancy Anderson, of Deering. His ancestors came to New England from Londonderry, in the north of Ireland, in 1718. They were Scotch Presbyterians, driven from their homes by religious persecution. The grandfather, named Samuel, was captain of one of the ships that brought over these Londonderry immigrants, most of whom settled in New Hampshire and named their settlement "Londonderry," in memory of their old home. Doctor Anderson was married, November 20, 1829, to Katharine Emerson of Edgecomb, who descended from the Emersons of Massachusetts. She was great-granddaughter of the Rev. John Emerson, fourth parson of Topsfield.
Anderson came to Bath in 1834. A few years later he commenced the study and practice of medicine and subsequently opened a drug store, where he continued in business the remainder of his life. Advertising read, "Dr. S. Anderson", Eclectic Physician". He had five children, Edward Francis, Climena Katharine, Samuel Jr., Nancy Elizabeth, and Laura Ann. Samuel, Jr., was born in Bath on September 7, 1835. Samuel Jr. entered his father's drug store at the age of nineteen, was afterward received as partner, and continued in the drug business his entire life. He married Almina Martha Norton, of Phillips, Maine. Their children were Harry Warren and Herbert Morrell. Harry Warren graduated at the College of Pharmacy in Philadelphia, in 1884, and has since been in the drug business in Exeter, New Hampshire. Dr. Samuel Anderson died in Bath, Maine on April 22, 1873.
Dr. S. Anderson, Dr. Anderson & Son and S. Anderson & Son ran advertisements for their business from at least 1856 to 1868 though the drug store operated up until 1902 or so. As mentioned earlier, they ran their Apothecary and Drug Store on the corner of Arch and Front Streets. They were dealers in "Choice Drugs, Medicines, and Chemicals." They had several proprietary medicines, including Anderson's Honey of Hoarhound, Lung-Worth for Consumptives, Cocoa Balm For The Hair, and Wine Restorative Bitters.
Reference: History of Bath and Environs, Sagadahoc County, Maine: 1607-1894
As far as finding a bottle embossed, "Anderson's Wine Restorative Bitters", I'm afraid we are out of luck. Just the advertising reference in 1867 above and a few support pictures from S. Anderson & Son.
Select Listings
1807: Samuel Anderson, birth 9 March 1807 in Deering, Hillsborough, New Hampshire
1829: Samuel Anderson was married, November 20, 1829, to Katharine Emerson of Edgecomb
1834: Samuel Anderson moves to Bath, Maine.
1835: Samuel Anderson, Jr. Birth 7 September 1835 in Bath, Lincoln, Maine
1856: Dr. S. Anderson Eclectic Physician, Bath, Maine advertisement (see above) – 1856 The Maine Register and Business Directory
1867-1876: S. Anderson & Son (S. Anderson Jr.), druggists and apothecaries, cor. Arch – Bath Maine City Directory
1869: "Dr. Samuel Anderson of Bath, Me., aaas chosen Anniversary Chairman" – Proceedings of State Eclectic Medical Societies, Portland, Maine, June 29, 1869
1880: S. Anderson, druggists and apothecaries, opposite Arch – Bath Maine City Directory
1902: Samuel Anderson, druggists and apothecaries, 120 Front- Bath Maine City Directory