Hyde & Gay – Hunk Dori Bitters
25 October 2014

Here is another surprise that is up on eBay now. Another unlisted bitters! The pictures have been cleaned up a bit and have been taken from the eBay listing. Alerted by Frank Wicker and Bill Ham, the Hunk Dori Bitters by Hyde & Gay in Bath, Maine is labeled and oddly enough, is missing the "I" in "HUNKI" compared to another HUNKI DORI BITTERS from Chicago (see below). Hunki Dori means "everything is fine" or "satisfied" or something like that. One of those phrases that you just hear about and wonder. I always thought it was a cool bar in Viet Nam or something. An what is it with that 'hairy eye' illustration on the label? Pretty weird.
Bill Ham has given the labeled HUNK DORI BITTERS the following listing in the forthcoming Bitters Bottles Supplement 2: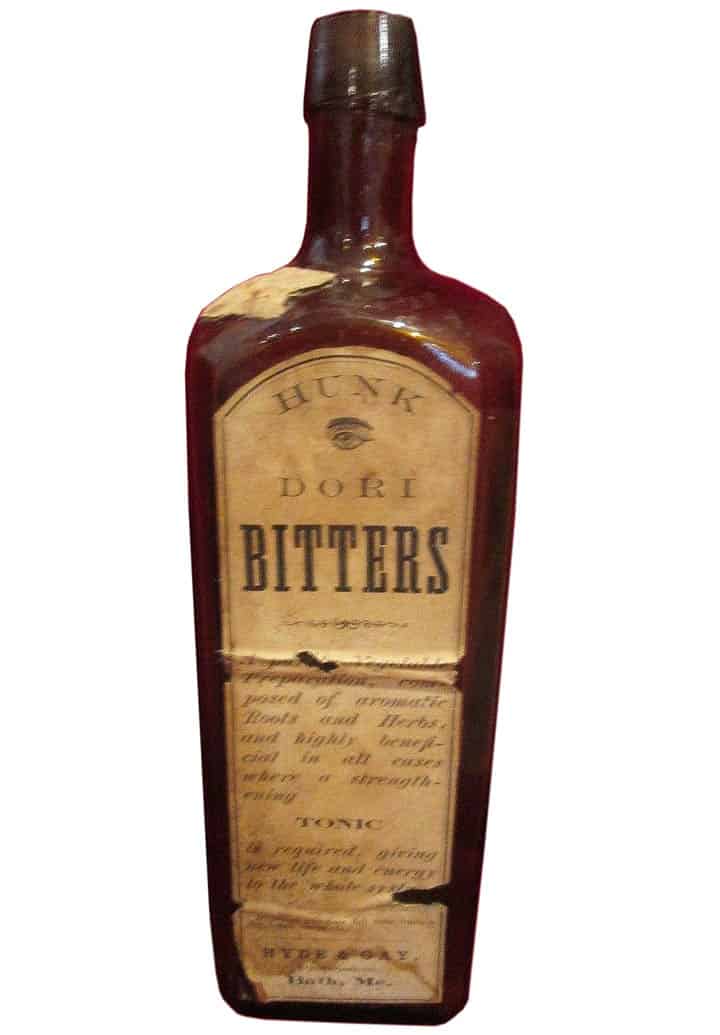 H 209.5  L . . . Hunk Dori Bitters, Hyde & Gay, Proprietors, Bath, Me.
9 3/8 x 2 5/8
Amber, Square, LTC, Applied mouth
It was a bit amusing when I first Googled and searched for information on this brand. I got page after page of gay information or more officially homosexual listings. Uh.. no wonder. Looking at the words I entered, "Hunk", "Gay" and "Bath" seemed to lead me to places that I didn't know existed.
Anyway, I refined the search and quickly found out we are talking about Henry A. Hyde who was born in 1832 in Maine and worked as a bookseller with his father Henry Hyde in Bath, Maine. The Hyde name was big in Bath as other relatives were in to commerce and shipbuilding in the early to mid 1800s. In 1867, Henry A. was in partnership with a man with the last name Gay. Hyde & Gay were druggists and apothecaries at 2 Bank Block and they were the proprietors of the HUNK DORI BITTERS. You can see the partnership listing on the bottom of the label above.
I wonder if the label is a visual trick? When you see that "HUNK" is missing the "I", what do you see and wonder about next? The 'eye'. It was there all along!
Select Listings
1791: Henry Hyde (father) birth in Lebanon, Connecticut, August 25 1791. Book Seller
1832: Henry A. Hyde (son), birth in Maine
1860: Henry Hyde (bookseller "Henry Hyde kept a "circulating library" in his bookstore on Front, head of Center street, on the corner immediately opposite Lincoln Bank. – History of Bath) and Henry A. Hyde (clerk) – 1850 United States Federal Census
1860: Henry Hyde and Henry A. Hyde both book sellers (father and son) – 1860 United States Federal Census
1863: Henry A. Hyde, bookbinder, age 31 – Civil War Draft Registration
1867: Henry Hyde, gentleman, h. Middle, n. Centre – Bath, Brunswick and Richmond Directory for 1867-8
1867: Hyde (H.A.) & Gay (G.D.H.) druggists and apothecaries, 2 Bank block, Front, h. Middle, n. Centre – Bath, Brunswick and Richmond Directory for 1867-8
1870: Henry A. Hyde, druggist, Bath, Maine – 1870 United States Federal Census
1874: Henry A. Hyde marriage to M. L. Manson on 14 January 1874 – Maine Marriage Records
1874-1876: Henry Hyde, H. Hyde, gentleman, (father & son) h. Middle. n. Centre – Bath, Maine City Directory
1900: Henry Hyde, clerk, home Phippsburg, Sagadahoc, Maine – 1900 United States Federal Census