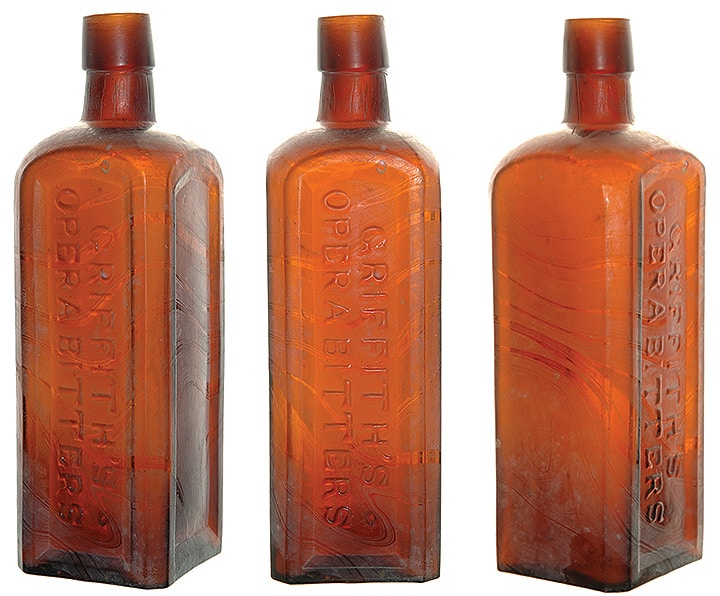 Figaro, Figaro – Griffith's Opera Bitters
16 October 2014

Wait to you see the gorgeous example of a Griffith's Opera Bitters that John Pastor has in his American Glass Gallery Auction #13, now open for bidding. No, that is not it at the top of the post. That is my homely (to some) example of this very rare bitters that is a raw as the day it was found. I left it alone as it was the only one I had ever seen. I like it that way, but boy-o-boy is this new auction example a killer.
To my knowledge, this is the only bitters with the word "opera" in it. It is believed to be from Oil City, Pennsylvania and that was fairly easy to confirm as you will see. Opera and Oil City. Grease and water. Oil City is a city in Venango County, Pennsylvania that is known in the initial exploration and development of the petroleum industry. After the first oil wells were drilled nearby in the 1850s, Oil City became central in the petroleum industry while hosting headquarters for the Pennzoil, Quaker State, and Wolf's Head motor oil companies. [Wikipedia]
The Carlyn Ring and W.C. Ham listing in Bitters Bottles is as follows. Note that amber is very rare and yellow and green are extremely rare. You mean there are yellow and green examples out there?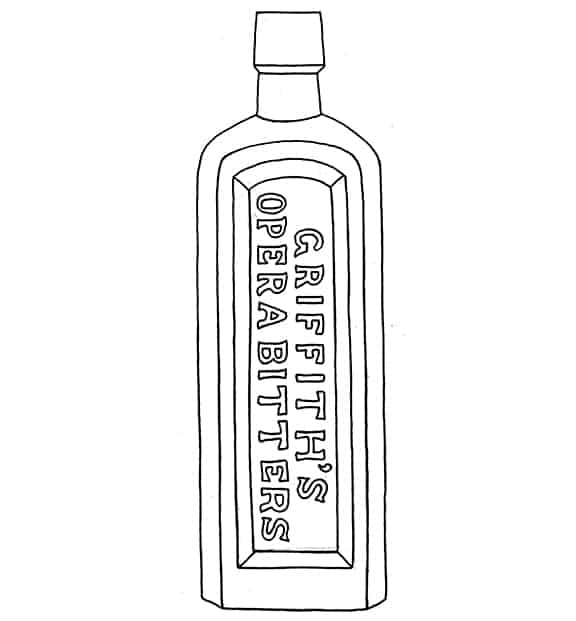 G 116

 GRIFFITH'S OPERA BITTERS
GRIFFITH'S / OPERA BITTERS // f // A. R. GRIFFITH // f //
// b // L & W / 13
8 7/8 x 2 3/4 (6 7/8) 3/8
Square, LTC, Applied mouth, 2 sp; Amber, Very rare;
Yellow olive and Green, Extremely rare
The Griffith Bothers, and there were at least three of them, were druggists and started a retail drug store business called Griffith and Brother in 1863. This was Albert R. Griffith and A.D. Griffith. Albert's name is on the bottle. He was born in 1845.
They brothers had two drug stores in Oil City, Venango County, Pennsylvania and two stores later in New York City. Maybe one of the brothers went to New York City to get out of the oil field environment and see the opera and a few Broadway plays? Maybe adding a little culture would help this Charlie Tuna sell his bitters? In 1869, the brothers opened a second drug store opposite the Opera House on Washington Street in Oil City. As early as 1870 there were advertisements for Griffith's Celebrated Opera Bitters. This is where the name most likely came from.
Later, younger brother Edward J. Griffith was running the show and sold the business in 1911 to Alfred W. Britton and Thomas Gaddess. Britton was previously employed as pharmacist with Griffith. That is a photography of one of their stores below. Look at all the bottles on the wall.
Select Listings: Griffith Brothers 
Albert R. Griffith, A.D. Griffith and Edward J. Griffith
1863: Griffith & Brother drug business established 1863.
1869: Griffith Brothers to open a new drug store notice opposite the Opera House (see below). – The Petroleum Centre Daily Record, December 01, 1869
1870: Griffith's Opera Bitters sold by W. D. Terbell & Co. advertisement (see below) – Corning N.Y. Journal
1876: A.R. Griffith & Brother, drugs, (A.R. Griffith & A.D. Griffith), 53 Centre – Titusville (Oil City), Pennsylvania City Directory
1883-85: Griffith Brothers (A.R. & A.D. Griffith), druggists, Centre & Sycamore, both living at  Harriott ave corner Washington with mother, Mrs. E. Griffith (also Thomas and William at other addresses) – Titusville, Pennsylvania City Directory
1885: Griffith Brothers open 3rd drug store in New York City at 2241 Third Avenue.
1887: Griffith & Bro's Diuretic Cordial advertisement (see below) – The Oil City Derrick, Thursday, December 1, 1887
1892: Griffith Brothers advertisement "The People's Druggist! (see below) – Oil City Derrick, Saturday, July 16, 1892
1896: Griffith & Brother listing (see below). They have two locations in Oil City and one location in New York city.
1897: Albert R. Griffith death, April 7, 1897 (see below). Now notes two locations in New York City. – The Druggists' Circular and Chemical Gazette
1911: Alfred W. Britton previously employed as pharmacist buys, in partnership with Thomas Gaddess, the E.J. Griffith establishment, on of the oldest drug stores in Venango County – Venango County, Pennsylvania: Her Pioneers and People
1916: Edward J. Griffith death (see below) – NARD Journal, 1916