Herman

Rosswinkle's Crown Bitters

– Cincinnati
28 September 2014

Here is another great bitters that I picked up as a floor sale at the 2014 Lexington National Antique Bottle Show. The Rosswinkle's Crown Bitters. I had been tracking this example and was glad to bring it home. Highly whittled and a great color, it will proudly join my collection.
The Carlyn Ring and W.C. Ham listing in Bitters Bottles is as follows:
R 102  ROSSWINKLE'S CROWN BITTERS
ROSSWINKLE'S // CROWN // BITTERS // f //
8 7/8 x 2 5/8 (6 3/4) 1/4
Square, Amber, LTC, Applied mouth, 3 sp, Extremely rare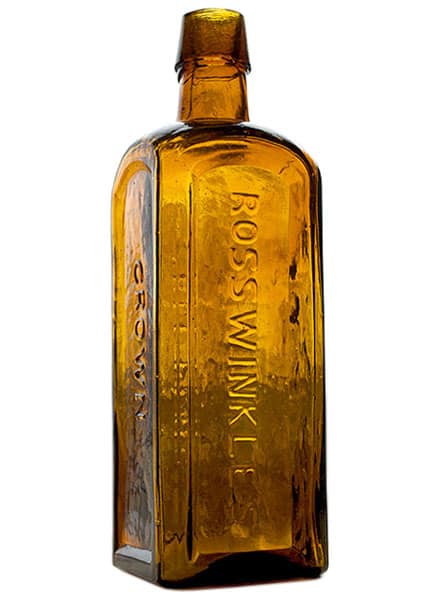 This bottle had previously shown up at a Glass Works Auctions event with the following description:
"ROSSWINKLE'S – CROWN – BITTERS", (R-102), American, ca. 1865 – 1875, yellowish amber, 9"h, smooth base, applied mouth. Pristine perfect condition in a bright color and with highly whittled glass! We auctioned this bottle in 1996 and have not seen one since! Ex. Carlyn Ring Collection.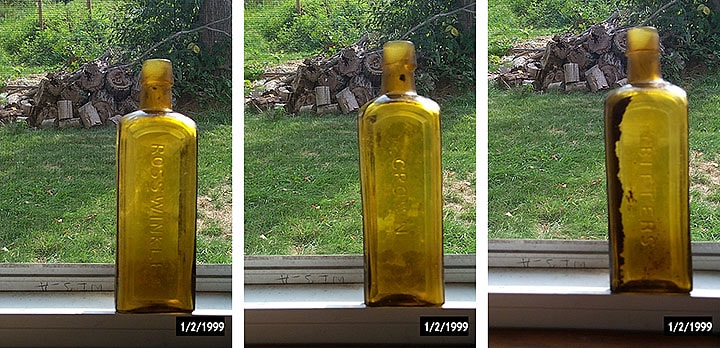 I also had these pictures above that were in my files. I can not attribute them to any one person but I believe this is a different example.
I am going to go out on the limb here, but using the powerful search engines of Ancestry.com, I was able to enter "Rosswinkle" in the 1870 era and got a hit for a Herman Rosswinkle in Cincinnati, Ohio. He was at first running a coffee house and then was a saloon keeper for many years. I will hang my hat here unless some other door opens. With no advertising, trade cards or a label, this is a tough one.
Select Timeline:
1824: Herman Rosswinkle born about 1824 in Germany
1861: Herman Rosswinkle, coffee house, n.e.c., Broadway St Landing h 84 Pike – Cincinnati Ohio City Directory
1862: Herman Rosswinkle, coffee house, 1 Casilly's Row – Cincinnati Ohio City Directory
1866-67: Herman Rosswinkle, saloon, Broadway & Levee – Cincinnati Ohio City Directory
1869: Herman Rosswinkle, 1 Casilly's Row – Cincinnati Ohio City Directory
1870: Herman Rosswinkle, Cincinnati, Ohio, saloon keeper, age 46, birth Deutschland, wife Mary, children:  Mary, Elizabeth, Anna, Herman, Emma, Frances, Frederick – 1870 United States Federal Census
1871-81: Herman Rosswinkle, saloon, n.w.c. Front and Vine – Cincinnati Ohio City Directory
1883: Herman Rosswinkle, h. 54 Clay – Cincinnati Ohio City Directory