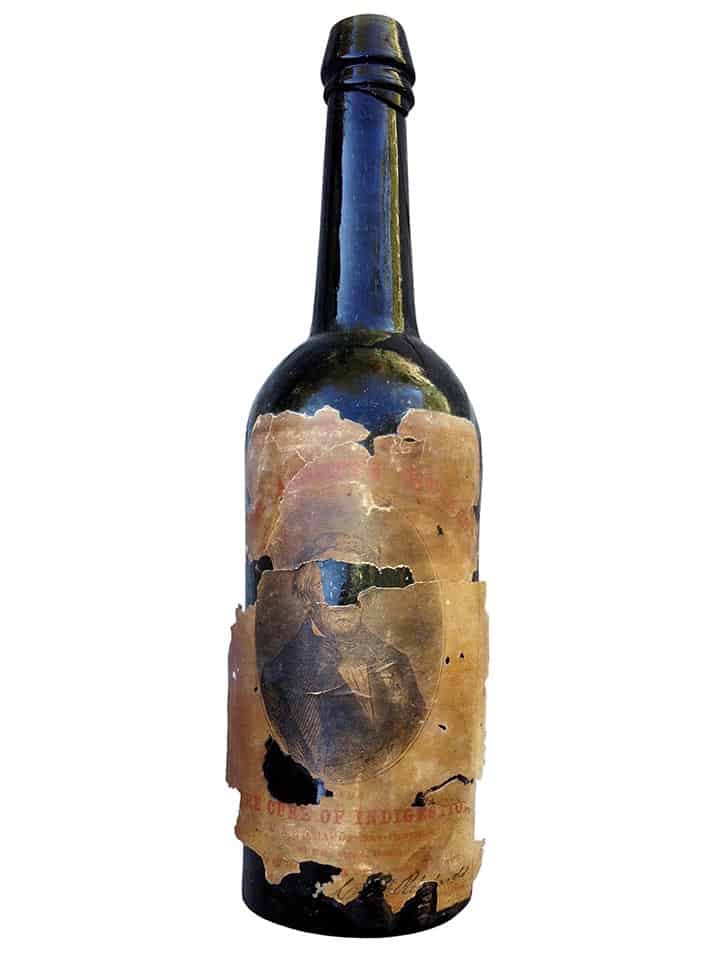 An unlisted Dr. Abbott's Bitters by C. A. Richards
15 September 2014 (R072719)

Here is another labeled bitters that was presented to me by Jerry Forbes at the Downieville Bottle Show. With a label in rather poor shape, it is still exciting none-the-less because we have an unlisted Dr. Abbott's Bitters. The bottle was found in Sacramento in an attic in 1999, off of J Street, by a contractor who sold the bottle to Jerry.
The label reads "Dr. Abbott's Bitters" with a picture I presume of Dr. Abbott. Also on the label, "For the Cure of Indigestion", "C. A. Richards, Sole Proprietor" and "80 State Street, Boston". The label is also signed by C. A. Richards. Advertising for this brand seems to be from 1849 to 1860. There are plenty of advertisements showing cases of Abbott's Bitters for sale in places such as Vermont, Richmond and even Honolulu, Hawaii.
I immediately liked this bitters because of the Dr. Abbott name and the C. A. Richards link. We certainly know this name. Read: Two examples of a C.A. Richards 99 Washington St. Boston.
Carlyn Ring and W. C. Ham do have a related listing in Bitters Bottles:
A 3.5…DR. ABBOTT'S BITTERS
I.D. Richardson & Son, Agents, 34 Elm Street, Boston
Newspaper Advertisement: Salem, Mass. Nov 1, 1849
The subscriber having relinquished the manufacture and sale of the above Bitters entirely to his agents I. D. Richardson & Co., No. 24 Elm Street, Boston, on account of ill health, would inform his friends, and the public that any of his medicine purchased of them, can be depended upon as genuine. All orders and communication must be addressed to the above firm.
The information above probably means that C. A. Richards took over the brand around 1850 or so from I. D. Richardson & Co.
Here is a new listing that will be used in Bitters Bottles Supplement 2:
A 3.4 L … Dr. Abbott's Bitters, (Portrait Dr. Abbott in oval), For the Cure of Indigestion, C. A. Richards, Sole Proprietor, 89 State Street, Boston, signature C. A. Richards
11 ½ x 3
Round, Black green, DC, Applied mouth
Bottle found in Sacramento, California
Read Daily Dose, Saturday, 27 July 2019
Read about another Abbott's Bitters: Abbott's Aromatic Bitters – A Later Bitters with Class