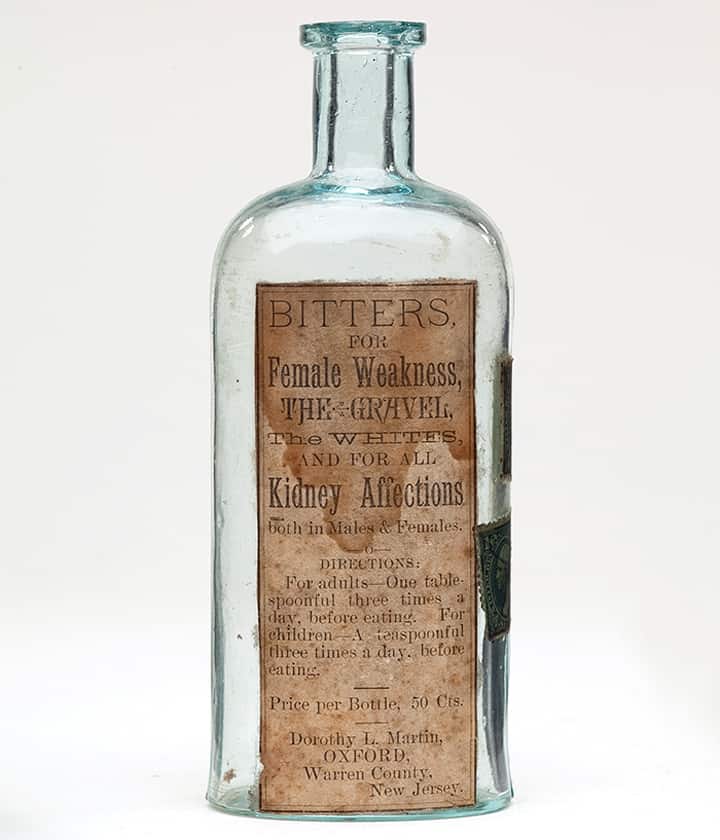 Dorothy L. Martin's, Bitters for Female Weakness, The Gravel, The Whites and For All Kidney Affections
26 May 2014

What an super series of photographs for Dorothy L. Martin's, Bitters for Female Weakness etc. in the present American Glass Gallery Auction 12. Nice little package here with a label, two proprietary stamps and a great product name. I love it. Not much on Mrs. Martin other than she may have been born about 1826 and died on April 5, 1884 in Oxford, New Jersey. She would have been married to Phillip J. Martin (1823 – 19134). The brand reminds me of Dr. Dromgoole's English Female Bitters & Yellow Fever.
John Pastor's write-up:
"MRS. D. L. MARTIN'S / FAMILY MEDICINES / PAT. OCT. 25. 81" (with complete, original label and proprietary revenue stamps), Whitall-Tatum Co., Millville, NJ, 1882 – 1890. Aquamarine, oval, tooled square collared mouth – "W T.& Co" (on smooth base), ht. 6 5/8″; (bottle is perfect, label has some stains). Label reads in part, "BITTERS, / FOR FEMALE WEAKNESS"…"DOROTHY L. MARTIN, / OXFORD, / WARREN COUNTY, / NEW JERSEY". A very rare bottle, believed to be unique with label. A very unusual, historical bitters (medicine) bottle. It is interesting to note that there are very few early medicines or bitters intended for female disorders, and even fewer, that were put out by females proprietors.
UNITED STATES PATENT OFFICE
DOROTHY L. MARTIN, OF OXFORD TOWNSHIP, WARREN COUNTY, N. J.
MEDICAL COMPOUND.
SPECIFICATION forming part of Letters Patent No. 248,594, dated October 25, 1881.
Application filed August 4, 1881. (No specimens.)
To all whom it may concern:
Be it known that I, DOROTHY L. MARTIN, citizen of the United States, residing at Oxford township, in the county of Warren and State of New Jersey, have invented a new and useful composition of matter to be used for the treatment of the chills and fever, the gravel, the kidney disease, the whites, and weakness of the womb, of which the following is a specification.
My composition consists of the following ingredients, combined in the proportions stated: bitter-root, one-half ounce; dogwood-blossom, one-half ounce; cayenne-pepper, one-quarter ounce; one pint the best rye whisky. These ingredients are to be thoroughly mingled by agitation.
In using the above-named composition the patient takes one table-spoonful before each meal if a person over ten years of age, and if under ten years of age one tea-spoonful before each meal If, however, the chill is coming on, the patient should take, if over ten years of age, two table-spoonsful immediately; if under ten years of age, two tea-spoonfuls immediately. If the chill is off then the patient does not take any until the fever has left him.
Of the remaining diseases specified above the patient takes one tablespoonful three times a day before meals.
In the ease of chills and fever this composition, if taken according to the above directions, will effect a permanent cure in one week's time, and the patient in the other diseases above specified will be relieved in two days, and permanently cured in one month.
What I claim, and desire to secure by Letters Patent of the United States, is –
The herein-described composition of matter, consisting of bitter-root, dogwood-blossom, cayenne-pepper, and rye whisky, in the proportions specified.
DOROTHY L. MARTIN.
Witnesses:
NICHOLAS HARRIS
JOSEPH M. RODEBURY, JR.