The Bust of Lafayette – Coventry Glass Works Mold
Mold Section Found in the River in Mansfield, Connecticut
28 May 2014

John Pastors, American Glass Gallery Auction #12 ends this evening and I sit here watching a few items of special interest. One is the extremely rare, aqua, GI-85a Bust of Lafayette historical flask. John's pictures and auction lot description are reposted within. What caught my attention was his comment, "one half of the original 2-piece mold for this flask is on display at the Corning Museum of Glass, Corning, NY. The mold section was found in the river in Mansfield, CT."
"LAFAYETTE" / BUST OF LAFAYETTE / "COVETRY / C-T" – STARS AND LIBERTY CAP / "S&S" Historical Flask, Coventry Glass Works, 1825 – 1830. Aqua, sheared mouth – pontil, Pt; (professionally cleaned to original luster and near mint, but retains a little light oxidation, or fine graininess, between the ribs and a little on the reverse). GI-85a. Extremely rare, one of only three known in aquamarine (and with one of the other two examples having damage). Variant with two rivet impressions in the shoulder.
This is the same example that sold at auction, Nov. 2005, for $8,400 (including buyer premium). It is the only undamaged example to be offered at public auction, and as noted, displays near mint. However, it was professionally cleaned some time ago and if the buyer desired, it could possibly be improved just a bit with today's perfected cleaning methods. Regardless, a great example and a great rarity!
Note; one half of the original 2-piece mold for this flask is on display at the Corning Museum of Glass, Corning, NY. The mold section was found in the river in Mansfield, CT. (See CMOG video below)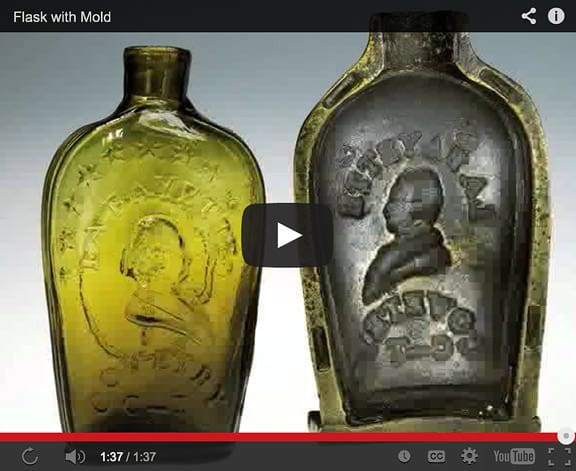 Listen as curator Jane Shadel Spillman describes Flask with Mold produced by Stebbins and Stebbins. The manufacture and decoration of hand-blown tableware was a slow and costly process. Glassmakers soon sought ways to speed production and to decorate their wares more inexpensively. One way to do this was to blow the glass into a mold, which shaped the glass and decorated the surface in one operation.


The earliest examples of this molded glass imitated cut glass. A housewife's book, published in 1815, suggested "those who wish for Trifle dishes, butter stands, at a lower charge than cut glass may buy them in moulds, of which there is a great variety that looks extremely well if not placed near the more beautiful article."
The mold-blown flask shown here is decorated with a portrait of the Marquis de Lafayette, a French soldier and statesman who served in the American Revolutionary Army. Half of the brass mold in which this flask was made is also illustrated.
Gift of Gladys W. Richards and Paul C. Richards.