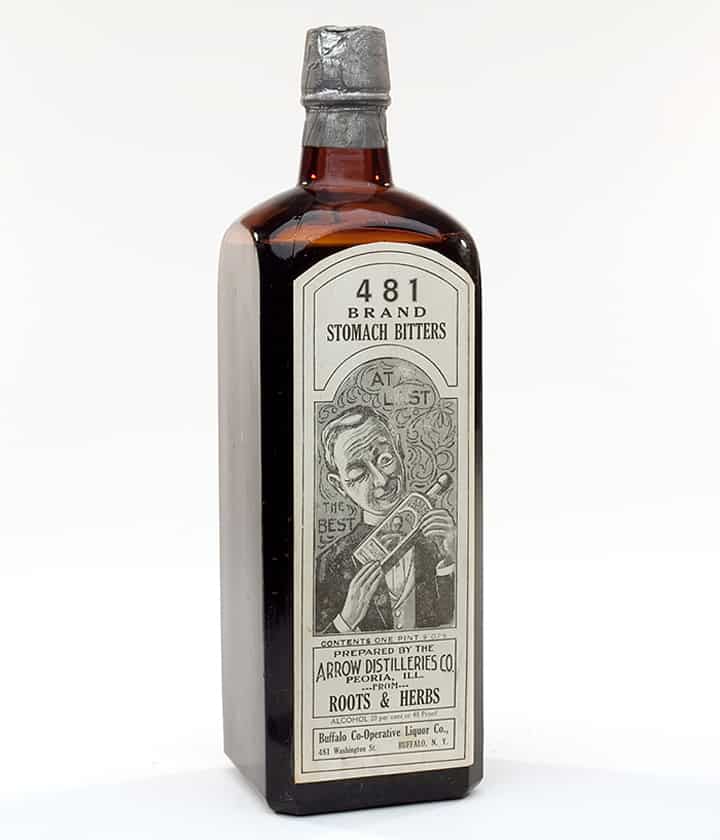 Look at this labeled 481 Brand Stomach Bitters
25 May 2014

That is exactly what the gentleman is doing with one keen eye, looking at his 481 Brand Stomach Bitters, "At Last"…."The Best". Hidden away in John Pastor's current American Glass Gallery Auction #12 is this labeled beauty. What a cool, yet late, bitters bottle with a killer label and neck foil stamp. I also believe it to be unlisted in both Bitters Bottles books. John's nice pictures are included (top and below) and his write-up is as follows:
Label only Bitters, "481 / BRAND / STOMACH BITTERS" / (image of man holding bottle of bitters) / "AT / LAST / THE / BEST / PREPARED BY THE / ARROW DISTILLERIES CO. / PEORIA, ILL. / Buffalo Co-Operative Liquor Co., / 481 Washington St. BUFFALO, N. Y.", Illinois Glass Co., Alton, ILL, 1916 – 1920. Amber, square, ABM sloping collared mouth – "I" (within diamond) on base, ht. 9 5/8″; (a ¼" wide flake down side of lip, beneath the original neck foil). Original label, contents, neck foil & seal. Although it is an early machine bottle, it is fast approaching 100 years of age. Probably not many of these around. This one must have been put away in the back of a cupboard for the past 95 years.
The Buffalo Co-Operative Liquor Co., located at 481 Washington Street in Buffalo, New York operated from about 1911 to 1918 according to Jack Sullivan. This is confirmed by looking at Buffalo directories and at the Annual Report of the State Commissioner of Excise of the State of New York in 1918. House specialities included Palate Whiskey and Jolley Club Whiskey. President at the time was Anthony Fischer. Their street address obviously gave the name to their 481 Brand Stomach Bitters. The brand, according to the label was prepared by The Arrow Distilleries Company in Peoria, Illinois who were in business from 1912 to 1919.
Anthony Fischer was born in Alsace – Lorraine and came to Buffalo in 1880 at the age of 17. He worked first in a tavern in lower Main Street, and a few years later bought the business and operated it 22 years. He then acquired the tavern next to the Iroquois and named it the White Bear. He fortunately sold it a year before prohibition. During the dry years, Mr. Fischer was a partner of Martin Delaney in the Buffalo Co-operative Liquor Company which sold spirits for medicinal use. Mr. Fischer died at 89 years old in 1950,