Pipifax

–

The Celebrated German Bitters

or

Vaudeville's Funniest Clown

or the Acrobatic Act

or

 

the

Bottle Devil

?
12 April 2014 (R•041314)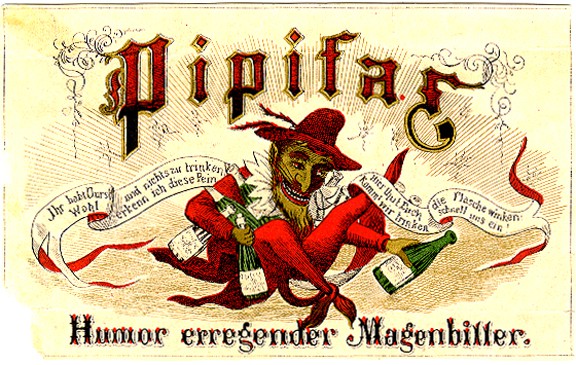 OK, so what is a Pipifax? I know it is a labeled bitters and until recently, I did not have an example in my collection. Without the word, 'Bitters' embossed on the bottle and being somewhat 'plain Jane', I shied away until I could find a nice example. This I finally did when I purchased a bottle from Doug Hansen at the recent Morro Bay Bottle Show.
So again, what is a Pipifax? Apparently, Pipifax means nonsense or trifles. It is a German word. Little Pipifax was touted as Vaudeville's Funniest Clown in advertisements in the 1920s (see below).
Guhl & Harbeck, from Germany made a cast iron Pipifax Knife Sharpener in the 1920s (see below). That is kind of weird. Those German's, working up to Kristallnacht, Meserschmidts and V2 rockets I guess. Not talking Sharper Image here either.
Then there was Pipifax and Panlo, the acrobatic act in the 1920s (see below). "Pipifax and Panlo have a perfectly good eccentric acrobatic act and the bill finishes with the Musical Johnson's and their xylophones" from Goodwin's Weekly (Salt Lake City, Utah), "a thinking paper for thinking people" in 1915.
Could these acts be the forerunner to Ted Mack's Original Amateur Hour? Remember Geritol, one of the brands that sponsored the Amateur Hour? Interesting that, to this day, we are still making, selling and swallowing bitter concoctions to 'give us energy'.
I suppose the 1910s and 1920s were the zenith for the name Pipifax. I really don't have any friends named Pipifax, do you? I did have an eccentric Aunt on the Meyer side and her second or third husband had the first name Fairfax. Kind of similar. They probably took Geritol.
So What is Pipifax?
The Rosicrucians were a sect of Philosophers who flourished in Germany during the seventeenth century and prosecuted profound researches into Natural science and Occult Philosophy, and sought to discover the ELIXIR OF LIFE.
Pipifax marketing
Carlyn Ring and W.C. Ham, in Bitters Bottles, give the Pipifax brand and bottle a P 104 designation and title it Pipifax Celebrated Bitters. They say it was manufactured by Herman (Hermann) Wolfgang in Berlin, Prussia. It is an amber square with an applied mouth and later tooled lip. This may want to be updated with the San Francisco information within this post.
Rick Simi, over at Western Bitters News, says that the first mention of Pipifax Bitters that he has found was an 1871 co-partnership notice of Max Walter, J. W. Shaeffer and A. B. Falkinburg for the manufacture and sale of the Pipifax bitters invented by Mr. Hermann Wolfgang of Germany. If you notice, I found an advertisement above from 1870 where Max Walter was the sole agent for Pipifix Bitters. Max was a wholesale liquor merchant who was born in 1832 in Germany. It is great that we can build on Rick's initial post.
1870: Max Walter, Agent, 426 Sansome Street, near Clay, San Francisco Chronicle advertisement
1871: Shaeffer & Walter, (John W. Shaeffer and Max Walter) agents Pipifax Bitters, 302 Battery, San Francisco City Directory
1871: Henry Martin Beach, local agent Pipifax, N E cor Battery and Sacramento, dwl 813 Stock
1872: Shaeffer, Walters & Co. sell entire stock of Pipifax Bitters to J. M. Goewey & Co. – Sacramento Daily Union, 14 October 1872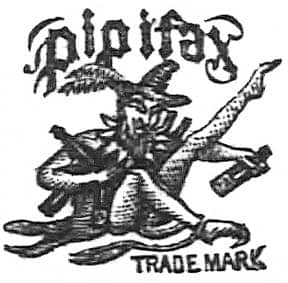 Searching online I see that on July 12, 1871, Walter and Shaeffer obtained Pipifax Bitters Patent 434 in San Francisco. Their trade mark was a 'Demon Holding Six Bottles of Bitters', (Annual Report of the Commissioner of Patents). What is odd, is that the trade mark looks more like a jester or muse holding six bottles. He does have a tail though. I guess they had second thoughts and wanted to distance themselves from the Hostetter's dragon brand. I also find it quite ironic that the marketers of this bitters make such outlandish claims like "The Rosicrucians were a sect of Philosophers who flourished in Germany during the seventeenth century and prosecuted profound researches into Natural science and Occult Philosophy, and sought to discover the ELIXIR OF LIFE." They then go on and call their brand, 'Pipifax' which for the most part, means nonsense.
Eric McGuire provided these excellent graphics (above and below) for Pipifax and says that late in 1870, Walter & Schaefer first trademarked their little demonic character as  the above label will attest. This label was submitted to the State of California and received Trademark Number 188. When J. M. Goewey purchased the brand, he attempted to remake the demon image with something a little softer. The second attachment (below) is Goewy's new label, trademarked as Number 257 in California on 9 September 1873. It appears neither marketing approach was very successful.
Marianne Dow has led us to the poem, The Devil's Bout by Jean Wright (below). Marianne adds, "Pipifax was a drunken devil, one of 500,000 that Satan imprisoned in corked bottles, and when corks pop, they say, "the devil's out".
Rick Simi further states that in October of 1872, Shaeffer, Walter & Co. ran an advertisement (see below) saying that they have sold their entire stock of bitters to J. M. Goewey & Co. In December of 1872, the firm of Engel & Hass takes over the "agency" of Shaeffer, Walter & Co. and are advertising for the patronage of liquor dealers and the general public. By April of 1873, J. M. Goewey & Co. are the sole proprietors of the Pipifax brand. Goewey & Co. continue to advertise in several newspapers that they are the sole proprietors and have for sale Pipifax Bitters until March of 1875 when all mention of the company and the product stops.
I do see later advertisements for Pipifax Bitters that go all they way up to 1891 where Sroufe and McCrum were selling Pipifax Bitters at 208 Market street in San Francisco. The bitters was also sold in Montana, Hawaii, Arizona and Victoria, B.C. besides California. This was a bitters for miners and prospectors.