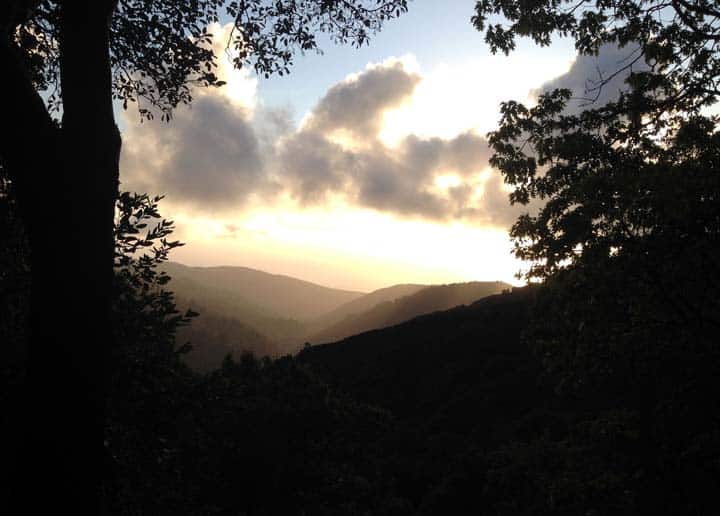 Forbes Visit, off the Pacific Coast of Big Sur
Light, Reflection & Shadow
11 April 2014

My last hurrah and setting sun from my magnificent and recent west coast bottle trip was saved for last when I visited my good friends, Jerry and Helen Forbes in Big Sur, California. As far as endurance and accessibility, we had to travel miles up winding dirt roads in a 4-wheel drive vehicle, into the mountains, and off the Pacific coast of Big Sur. Coming from Carmel, it was an exciting ride along US 101/Highway 1, with the steep, dark cliffs juxtaposing nicely with the crashing teal waves. Next it was passing thru a winding, thin road framed by towering redwood trees and rushing brooks. I felt like I was in some type of enchanted land that only occurs in my imagination and movies.
You see, Jerry and Helen work in Carmel, California and trek daily to their treehouse retreat home that they painstakingly and lovingly built, room by room, over the past thirty or so years. Way off the beaten path, I was able to visit with the Forbes after the Morro Bay bottle show put on by the San Luis Obispo Bottle Society. Read: 2014 Morro Bay Bottle Show. I was also able to look at some incredible bottles and see some amazing things. Their daily commute back and forth to work is breathtaking to say the least.
You know when you are finally getting close to the Forbes compound when you are greated by this gigantic wood carving of Sur Man who greets you on the last leg of the drive to the concealed house. Anchored in stone, this sculpture was torn from the footing in a recent storm.
The first bottle I touched was a local wine. We toasted on a deck that Jerry built overlooking the mountain passes and the Pacific ocean.
Jerry is kind of a Renaissance Man. He knows just about everything, he has been everywhere, can fix and build things, loves music and has seen just about every great performer ever known, such as Jimi Hendrix, Janis Joplin, the Grateful Dead, Bob Dylan, Pink Floyd etc.; some numerous times. Jerry was actually a musician at one time and their son Aron, who is getting married within the month, is an accomplished, globe trotting musician based out of Los Angeles.
Staying at the Forbes tree house for a few nights is like being at a jungle spa or mountain retreat. No cell service, intermittent internet, comfortable surroundings and the influx of nature dominate every setting and emotion. Even a simple plate of cheese and fruit is a play on light, reflection and shadow.
A rather nice Drakes Plantation Bitters takes on a special meaning when hit from a burst of Pacific setting, mountain sun.
When I was led to my guest room on the second floor of the house, I unpacked and let my eyes rest on some incredible bottles. What a way to relax and be stunned at the same time.
As exciting as the bottles were, I have to admit, I had just as much fun and enjoyed walking around the house and property taking pictures of little settings that were positioned to make you stop and admire. Again, the light play, nature and the surprise of finding objects in rooms and along pathways was an adventure. I even had time to take a long run with Cutter, my barking buddy.