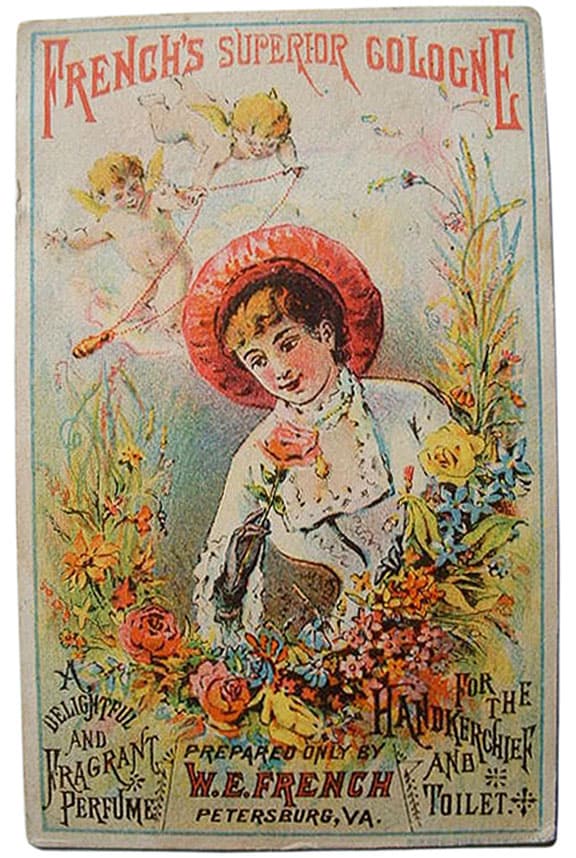 Two bitters that W. E. French was selling in Petersburg, Virginia
09 March 2014

I completed a post the other day on some extremely rare bitters put out by H. N. Winfree in Chester, Virginia and James D'Alton in Petersburg, Virginia. Read: The Winfree's Bitters Family. I am also preparing a post on the extremely rare, Magic Bitters put out by Minetree & Jackson in Petersburg.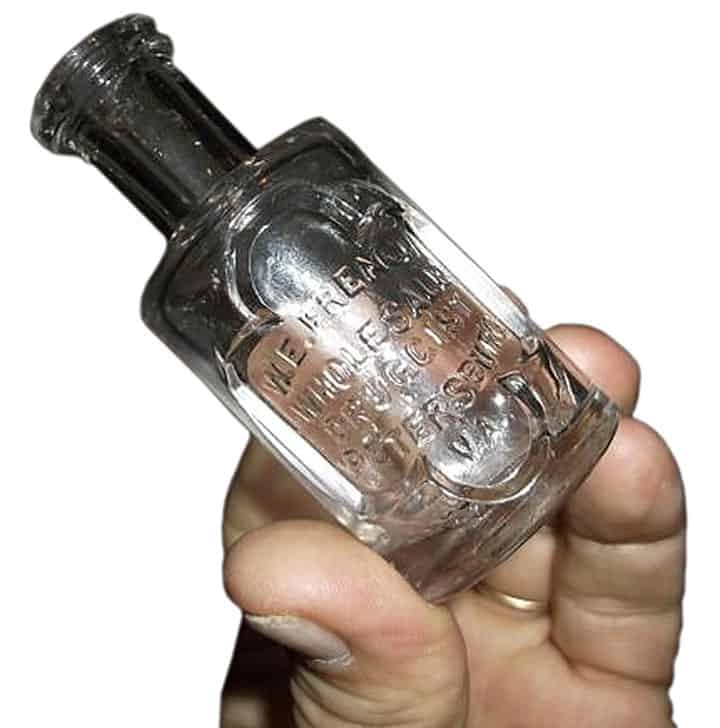 Before I do this, I wanted to revisit 'Petersburg' and look at a trade card image I have been carrying around for Cockade Bitters put out by Wm. E. French in Petersburg, Virginia. What reminded me of William French was a card image sent to me the other day by trade card authority Joe Gourd (see yawning child card) that mentions a French's Virginia Tonic Bitters on the back of the card, along with other French products, such as French's Superior Cologne, French's Cholera and Diarrhea Mixture and French's Arnica Liniment. I was able to find one of his bottles on ebay which is pictured above.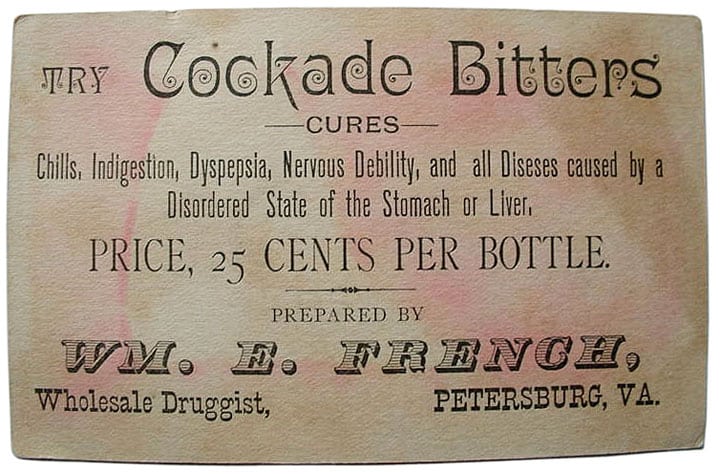 I see that Carlyn Ring and W.C. Ham have a listing for a labeled, F 88, French Virginia Tonic Bitters from Petersburg listed in Bitters Bottles. That listing may want to be updated to read, "French's" instead of French as we are talking about a name rather than the country.
French's Virginia Tonic Bitters – Cures Dyspepsia, Chills and Fever and all Disorders of the Liver and Stomach. Price, 50 Cents per Bottle
French's Cockade Bitters – Cures Chills, Indigestion, Dyspepsia, Nervous Debility, and all Diseases caused by a Disordered State of the Stomach or Liver, Price, 25 Cents per Bottle 
I do not see a listing for French's Cockade Bitters as noted on the back of the trade card above. This will need to be listed in the next Bitters Bottles Supplement.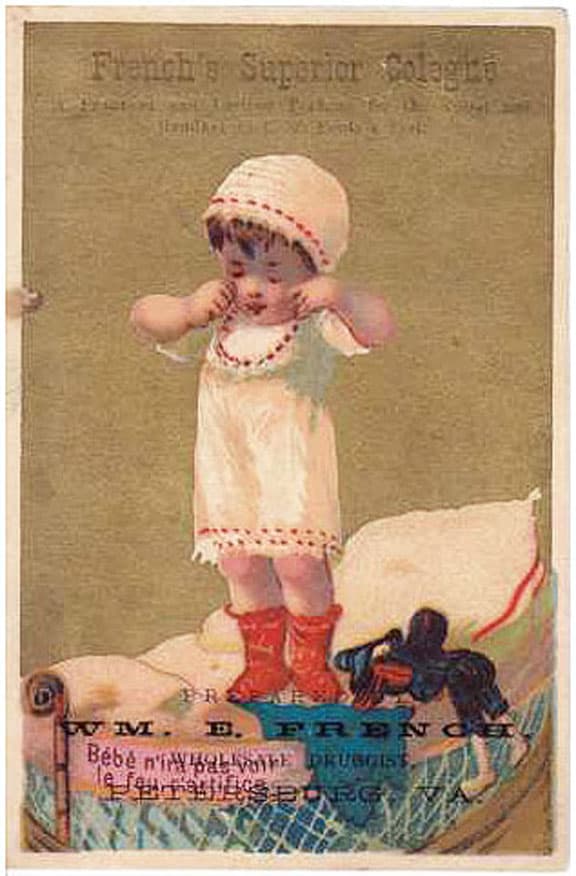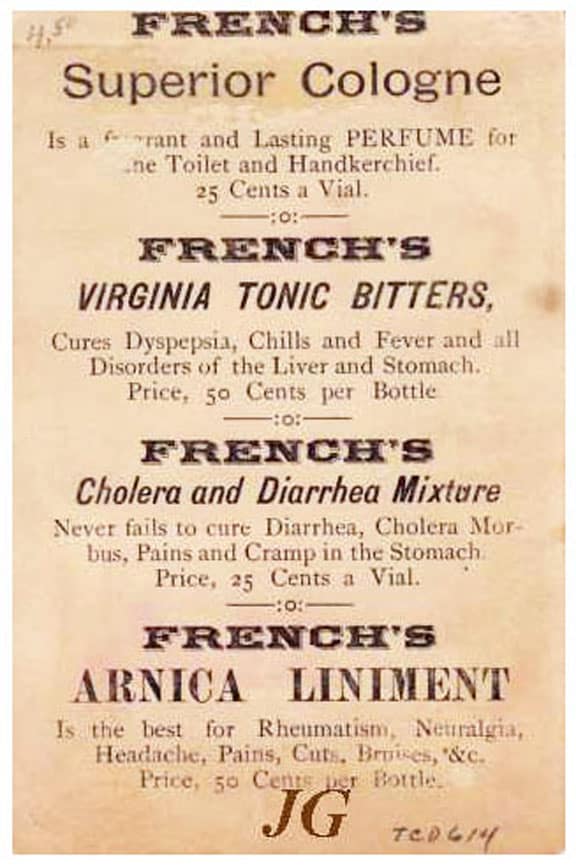 William E. French
William E. French was a druggist and manufacturer of bitters, medicines and perfumes in Petersburg, Virginia. He was born in December 1845 in Virginia and was the son-in-law of Erasmus Orlando Hinton, (1830 – 1908) another well known, Petersburg druggist. French's wife was Marian Hinton, and they were married in 1878. They had a daughter named Josephine.
What is interesting is that the French's and the Hintons lived together as one big happy family with a whole gaggle of children. Lucky they were both druggists! Captain Erasmus Orlando Hinton purchased 416 High Street in Petersburg, pictured above, in 1857. He was the grandson of Sarah Newsum, the niece and heiress of Peter Jones of Folly Castle who laid out High Street on a portion of his lands in Petersburg.
It looks like William French was also a Special Agent for The Fidelity Mutual Life Insurance Association of Philadelphia and a Manager of the Academy of Music in Petersburg. I am unsure why he is listed in Petersburg as a druggist, and as a druggist in Richmond and the manager of Peoples Pharmacy in Norfolk from 1906 to 1910 unless he had a child.
1861-1865: Civil War: William E. French, Private, Petersburg City Guard, Virginia Infantry, Company A, 12th Regiment.
1880: William E. French (33), Druggist, living with his wife Marian (25) and Daughter Josephine J. (1) in the household of Erasmus Orlando Hinton (49), wife Imogen (45). Son Erasmus (27), John (25), Edmond (19), Imogen (18), Charles (14), Leonline (11), Ellen (9) and Elise (5). – United States Federal Census
1882: William French, Druggist, 202 N. Sycamore – Petersburg, Virginia City Directory
1882: William E. French, Petersburg, Second Vice President – Virginia Medical Monthly, 1882
1886 – 1888: William E. French, Wholesale and Manufacturing Druggist (see advertisement below), 202 N. Sycamore, h 178 High – Petersburg, Virginia City Directory
1897: William E. French, Special Agent, The Fidelity Mutual Life Insurance Association of Philadelphia, h 178 High – Petersburg, Virginia City Directory
1899: William E. French, Special Agent, The Fidelity Mutual Life Insurance Association of Philadelphia, 1 N. Sycamore, Manager Academy of Music, h 178 High – Petersburg, Virginia City Directory
1903: William E. French, Manager, Academy of Music, h 178 High – Petersburg, Virginia City Directory
1906: William E. French, Druggist, 1229 E. Broad – Richmond, Virginia City Directory
1907: William E. French, Druggist, 263 High, h 178 High – Petersburg, Virginia City Directory
1910: William E. French, Manager People's Pharmacy, 25 Berkley Avenue – Norfolk, Virginia City Directory