Black Hills Bitters made by F.C. Parmelee in Honeoye, New York
20 March 2014 (R•032214) (R•072819)
BLACK HILLS BITTERS !
THE GREAT FAMILY MEDICINE!
Contains

Hope

and valuable Herbs and Roots (obtained only from the Black Hills. Try a bottle to-day!

It may save your life!

I did a post yesterday on Black Hills Bitters (Read: Black Hills Bitters To The Front!) and got a little tangled up in the hills and missed the mountain. What I mean is, I found some more advertising, suggested by Mark Yates, on Fulton History (FultonHistory.com) that now leads me to believe that the bitters was put out by F. C. Parmelee in Honeoye Falls, New York instead of Edward H. Davis in Rochester. Davis was just one of many druggists selling the brand in Rochester and elsewhere. Some of the newspaper advertising from 1878 – 1880, and there were many examples, were quite outlandish in their claims. A few representative examples are pictured in this post.
Thousands who have been cured say: Use Black Hills Bitters.
Price only $1.00 per bottle.
Cheaper than doctors' bills. Sold by all druggist throughout the United States and Canada.
Wholesale Depots: New York City, Chicago, San Francisco and New Orleans.
Honeoye Falls, New York
Honeoye Falls is a village in Monroe County, New York. The population was 2,674 at the 2010 census. The village includes a small waterfall on Honeoye Creek, which flows through the village and gives it its name. The falls are pictured below.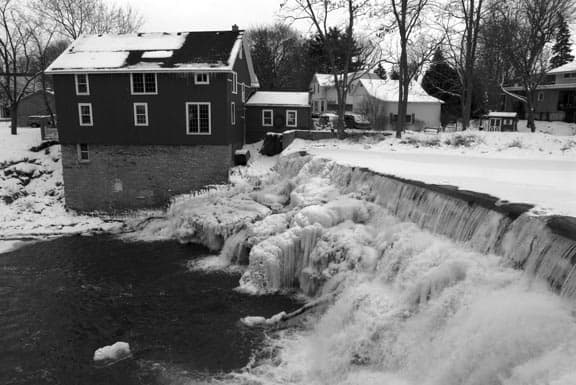 Honeoye is a Seneca word translated as "a lying finger," or "where the finger lies." The Village of Honeoye Falls is within the Town of Mendon. The Village was founded in 1791 by Zebulon Norton when he purchased 1,820 acres of land for the price of 12½ cents per acre. He built a grist mill and later a saw mill, at a waterfall on Honeoye Creek. The area was originally known as Norton Mills. In 1827, Hiram Finch built a second mill, which would come to be called the Lower Mill to differentiate it from the earlier mill. On May 17, 1973, the Lower Mill was listed on the National Register of Historic Places. [Wikipedia].
Black Hills Bitters Advertising
F. C. Parmelee
So far, all I can really find is a F. C. Parmelee who was a druggist living in Mendon, (Monroe County), New York. Mendon was an affluent suburb of Rochester.
1853:

F. C. Parmelee born, New York. Father born in Connecticut, mother in New York. – 1880 United States Federal Census
1877 – 1888:

Beach & Parmelee, (Otis S. Beach and Auburn W. Parmelee) druggists, Main cor. North ave., Village of Owego, NY, 1887 – 88 Directory
Winfield Scott JOHNSON, dispenser of divers and sundry delicious drinks and poisons too numerous to mention at BEACH & PARMELEE'S drug store left for a week's sojourn in the busy and wicked city of New York.
1879:

Newspaper advertisement (below) Black Hills Bitters. Price one dollar, Large bottles. For sale by all druggists in Hornellsville, or address F. C. Parmelee, Medical Hall, Honeoye Falls, N. Y. – Hornellsville Weekly Tribune, July 16, 1879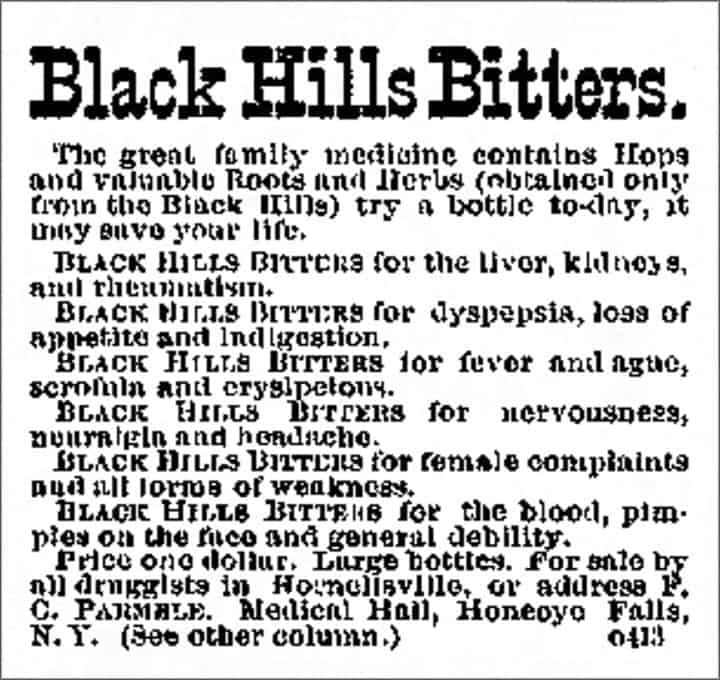 1880:

F. C. Parmelee, druggist, wife Jennie. living Mendon, Monroe County, New York – 1880 United States Federal Census
E. M. Parmelee
I did find an advertisement for Parmelee's Mandrake and Dandelion Bitters (see further below). Interesting. It seems like this would be P 27 L … in Bitters Bottles by Carlyn Ring and W.C. Ham. This 12-side aqua bottle was made by the Parmelee Drug Company in Norwich, New York in the 1894 – 1894 time period.
There is also a very interesting listing in Bitter Bottles for a P 26L … Parmelee's Hop, Iron & Buchu Bitters with "E. M. Parmelee" from Dansville, New York noted on the label. This is an amber square that was put out between 1888 and 1894.

The new listings in Bitters Bottles Supplement 2 will be:
Newspaper Advertisement
B 115 BLACK HILLS BITTERS. The great family medicine contains Hops and valuable Roots and Herbs (obtained only from the Black Hills) try a bottle to-day, it may save your life. Price one dollar, Large bottles. For sale by all druggists in Hornellsville, or address F. C. Parmelee, Medical Hall, Honeoye Falls, N. Y., Hornellsville Weekly Tribune, July 16, 1879
Handbill
P 26.1 PARMELEE'S HOP, IRON AND BUCHU BITTERS, Cleanse the Blood! And Health Will Follow, In Large Bottles 50 Cents. Prepared by E. M. Parmelee, Danville, N.Y., Reverse advertisement for Parmelee's Mandrake and Dandelion Bitters. See s2B 115 and s2P 26.2
Handbill
P 26.2 PARMELEE'S MANDRAKE AND DANDELION BITTERS, Deranged Condition of the Stomach, Bowels, Kidney or Liver…, Large Bottles, 25 Cents. Manufactured only by E. M. Parmelee, Danville, N.Y., Reverse advertisement for Parmelee's Hop, Iron and Hop Buchu Bitters. See s2 B 115 and s2 P 26.1