Are the

J.T. Wiggins Gentian

Bitters

and

Dr. Goddin's Compound Gentian Bitters

related?
03 December 2013 (R•120813 – J T Wiggins info update) 
(R•120813 – Embossing Comprison) 
(R•120813 – JT Higgins Pure Herb Bitter added) (R•012414 – Glass Works Auctions 3rd Example appearance) (R•032019)

A good number of us bitters collectors are aware of the extremely rare, Dr. Goddin's Compound Gentian Bitters from Richmond, Virginia. There are two variants and they are both aqua, square and very architectural in design with fluted vertical ribs and a gorgeous geometric sculpted shoulder. Variant 1 (G 52) has Richmond, Va embossed on the bottle and the other variant (G 51) is without this Richmond copy and an abbreviated 'Compound'. I am fortunate to have both examples in my collection (pictured below). Jeff Burkhard has an example (without Richmond) and I believe another midwest collector has an example with the Richmond copy. I suppose there are others but I have not had the opportunity to see.
What many bitters collectors may not know, is that there is an almost identical bottle in amber, embossed J T Wiggins Gentian Bitters. This is the story of the two brands, or at least part of the story where I try to answer the question "are they related?"
Dr. Goodin's Compound Gentian Bitters
The Carlyn Ring and W. C. Ham listing in Bitters Bottles is as follows:
G 51 

DR. GODDIN'S COMP GENTIAN BITTERS
DR. GODDIN'S / COMP GENTIAN BITTERS // 3 vertical ribs /
f // 3 vertical ribs //
9 5/8 x 3 (7 1/8) 1/2
Square, Aqua, LTC, Applied mouth, Extremely rare
G 52 

DR. GODDIN'S COMPOUND GENTIAN BITTERS
DR GODDIN'S / COMPOUND / GENTIAN BITTERS / RICHMOND. VA. // three vertical ribs // f // 3 vertical ribs //
9 5/8 x 3 (7 1/8) 1/2
Fancy square, Aqua, LTC, Applied mouth, Extremely rare
Compound abbreviated on the G.51 variant. G 52 has Richmond, Va. embossing.
Reverend Norman Avery Harwood Goddin 'aka'
Dr. Goddin
b. 1828, Death: Apr. 7, 1892, Norfolk City, Virginia
Excerpt: In 1855, 18-year old Ellen married 27-year old Rev. Norman Avery Harwood Goodin of Henrico Co, Virginia, youngest son of Capt. John O. Goddin and Roxana Ford. Her husband, N.A.H. Goodin was at that time a Methodist minister in Enfield, and shortly after their marriage they removed to Wilson, North Carolina (where her brother Alpheus P. Branch, of BB&T Bank fame, had settled). Here they would become parents to two known children: James W. Goddin (1857-aft 1880), and Ida Goddin, who died in infancy about 1859.
When the Civil War broke out, her husband enlisted and was commissioned Captain with Company G. of the North Carolina 5th. The 5th North Carolina Infantry Regiment was organized at Halifax, North Carolina in July 1861. Ordered to Virginia and joined with General Longstreet when they arrived at Manassas on July 19th, 1861, and fought in the Battle of First Manassas. It later was brigaded under Generals: Early, Garland, Iverson and R. D. Johnston. It served in the Army of Northern Virginia in the campaigns from Williamsburg (1862) to Cold Harbor (June 1864); and served under General Early during the Shenandoah campaign in August 1864, later Petersburg and Appomattox campaigns.
In 1861, Ellen took sick and her husband resigned his commission on August 17, 1861 to return to her side. She lasted but a few months, and died on December 4, 1861. She was only 24 years old. She is buried here with her infant child, Ada, and memorialized on the same monument erected for her brother, Alpheus P. Branch.
After Ellen's death, her husband returned to Enfield where he would later marry Ellen's older sister in 1862, Rebecca Branch (1829-1895), the widow of Edward Tillery of Enfield, Halifax County. Rebecca came to the marriage with two Tillery children – Olivia Tillery (1850-1897) and Mary Eliza Tillery (1853-aft 1880). Rebecca would raise her nephew, James; and she and Rev. Goddin would have 2 sons together – Wellington L. Goddin (1863-1883) and Norman Avery (1867-1883). Rev. Goddin was known to still be in Enfield as late as 1867, where he performed marriages.
For reasons unknown, Rev. Goddin left the ministry, and by 1870, had returned to Richmond, VA where he became involved in the patent medicine business, and later opened a drug store under the name Goddin & Tribbett. From this point forward he was referred to as Dr. Goddin; however, whether he ever received a medical degree is not known. It is known he had several patented medicines, or "bitters" as they were known. [Find a Grave]
I think the above information may be incorrect regarding Goddin & Tribett. Norman Avery Harwood Goddin was a physician in Richmond and I can not find a link to him and Goddin & Tribbett who were grocers. His father was Capt. John Otey Goddin (b 1780 – d 22 Feb 1865). Capt. John Goddin owned Goddin's Tavern (pictured below).
Other records show a John Marshall Goddin being a partner of Goddin & Tribbitt (see obit below). As to who put out the Goddin's Compound Gentian Bitters, I can not confirm at this point if it was John Marshall Goddin or Norman Avery Harwood Goddin. I also wonder why the older amber Goddin bottle pictured above is embossed M.A.M. GODDIN? Could this embossing really be 'N A M' for Norman Avery Harwood Goddin? So many questions…
J T Wiggins Gentian Bitters
Where this gets really interesting is when you know that there is another brand, J T Wiggins Gentian Bitters that is very similar in many ways. The Wiggins is an extremely rare, amber bottle in almost the exact mold. I have only seen and held one example and that was with Howard Crowe (Gold Hill, North Carolina), when he had the bottle under his table a few years back at the Baltimore Antique Bottle Show. His bottle is perfect and was the only known example (that I am aware of) until one showed up on ebay a few years back. This was snagged by Jeff Burkhardt in Cedarburg, Wisconsin. That bottle is pictured in this post (top of post with the Dr. Goddin's Compound Gentian Bitters and both pictures below).
Very little is known about the J T Wiggins Gentian Bitters except a clue from Howard Crowe relayed to Jeff Burkhardt. Jeff relates the following:
"The bottle would appear to be from exactly the same mold as the aqua DR. GODDIN'S COMPOUND GENTIAN BITTERS, a Richmond, Virginia bottle. In speaking to Howard Crowe regarding the rarity and origin of the bottle, Howard told me research done by the original owner of his example indicated it may be from Wilmington, North Carolina"
"The bottle is extremely rare. To Howard's knowledge, mine and his are the only two known examples. Howard has shown his to Jim Hagenbuch, who replied "I've never seen this one before". The bottle was not listed in Carlyn Ring's book, but is W-108.3 in Ham's 1st volume, Bitters Bottles. Bottom line: Two known examples, maybe a 3rd exists."
The Carlyn Ring and W.C. Ham listing in Bitters Bottles is as follows:
W 108.3  J T WIGGINS GENTIAN BITTERS
J T WIGGINS / GENTIAN BITTERS // 3 vertical ribs // f // 3 vertical ribs
9 3/4 x 3 (7 1/8) 1/2
Fancy Square, Amber, LTC, Applied mouth, Extremely rare
See GENTILIAN BITTERS and DR. GODDINS COMP GENTIAN BITTERS
CLUE #1: Starting with the Wilmington, North Carolina clue, I find the following advertisement (see below) for a Wiggin's Pure Herb Bitters represented by Adrian & Vollers, Wholesale Dealers and Commission Merchants listed in the 1871 Wilmington, North Carolina Directory. Bingo.
The Ring and Ham listing for the Wiggin's Pure Herb Bitters (see above) is as follows:
W 108.5  J T WIGGINS PURE HERB BITTERS
J T WIGGINS / P x U x R x E /HERB BITTERS // f // f // f //
9 3/4 x 2 1/2 (7) 3/8
Square, Amber, LTC, Applied mouth, Extremely rare
This next advertisement below, actually ties the two brands together. Wow! The Goodins Compound Gentian Bitters is linked to J. T. Wiggins, Proprietary Wholesale Agent as noted in The Old North State, Salisbury, North Carolina, December 10, 1869.
So, we now have Richmond and Norfolk, Virginia and Wilmington, North Carolina linking in this story.
James Thomas Wiggins –
Wilson, North Carolina
James T. Wiggins was born 1844 in Henderson, Granville County (now Vance County), North Carolina, the youngest of three known surviving children (1 girl/2 boys) born to farmer Thomas T. Wiggins and his wife, Lucy Ann Lewis.
He was the paternal grandson of Thomas Wiggins (1777-1815) and Cealy Mitchell; and great grandson of Frederick Wiggins (ca. 1748-1836) and his (1st) wife Sarah Smith, all of Henderson, Granville County. On his mother's side, he was the maternal grandson of Joseph Lewis and Elizabeth Walker of Granville County.
James' father died before 1850 and his mother struggled to support her family. When the Civil War came, James would serve as a Sergeant with the North Carolina 54th; while his older brother, Joseph, served and died with the North Carolina 24th. His sister died in 1862, so by the wars end, James was the sole surviving sibling.
In 1868, James married Ella Bland Gilliam, daughter of Thomas Booth Gilliam and Julia Foster of Virginia, who had settled in Wilson which was a quaint southern town located 40 miles east of Raleigh, North Carolina. The couple settled in Wilson, and although they had a long marriage, it was childless. Wiggins built the above charming Italianate cottage in 1872 for himself and his wife.
James was a retail merchant and ran a general store for some years where I would suspect the J T Wiggins Gentian Bitters was manufactured and sold around 1869 or so. He was also a tobacco planter, ran the town's sawmill and helped develop the local school system. He would eventually become the Mayor of Wilson in 1899, but he eventually settled into real estate.
James T. Wiggins died in 1926 at the age of 81. His wife of 58 years would survive him 9 years. Ella died in 1935 at age 84.
It is important to note here that we now have record of Goddin and Wiggins both being in Wilson, North Carolina during the same tome period.
CLUE #2 is that both brands use the word "Gentian".
Gentian is a herb. The root of the plant and, less commonly, the bark are used to make medicine. Gentian is used for digestion problems such as loss of appetite, fullness, intestinal gas, diarrhea, gastritis, heartburn, and vomiting. It is also used for fever, hysteria, and high blood pressure. Some people use gentian to prevent muscle spasms, treat parasitic worms, start menstrual periods, and as a germ killer. Gentian is applied to the skin for treating wounds and cancer. Gentian is used in combination with European elderflower, verbena, cowslip flower, and sorrel for treating symptoms of sinus infections (sinusitis). It is used in combination with other products for malaria. In foods and beverages, gentian is used as an ingredient. In manufacturing, gentian is used in cosmetics.
Alrich Adrian & Henry Vollers, Wilmington, North Carolina
1865: ADRIAN & VOLLERS, Wholesale Grocers and Liquor Dealers, Commission Merchants and Provision Dealers, Corner of Dock and Front Streets.
Standing prominently forward among the great commercial houses of this city, this extensive and veteran house has claims upon the attention of the reviewer of the business interests of Wilmington that are possessed by few houses in the city. The high character earned by nearly twenty years of honorable business enterprise, the great resources and facilities accumulated and acquired during that time, the experience of the wants of the trade, gained by long observation of its requirements, and the energy, business ability and liberality that characterizes all operations of the house, command for it a conspicuous and honored position among the mercantile institutions of the country. The establishment was founded by its present proprietors in 1865, and has from the start exerted a wholesome and continually increasing influence in the support and promotion of the interests of the City of Wilmington as a center of supply for the large area tributary to the city, particularly in the lines to which the house is specially devoted. They supply a heavy and growing trade throughout both North and South Carolina, their annual transactions in all lines amounting to more than half a million of dollars. Their stock of groceries and liquors is probably the largest in the city, being of an average value of $60,000. They also transact a large general commission business, and are extensive dealers in all kinds of provisions. Their business premises are centrally located, large and commodious, the building being a two-story structure, 60×150 feet in dimensions. In the different departments of the house, they employ eighteen assistants and keep two traveling salesmen constantly on the road.
The individual members of the firm are Messrs. A. Adrian and H. Vollers, both natives of Germany and residents of Wilmington thirty and thirty-five years, respectively. Each of these gentlemen have at different times been members of the City Board of Aldermen. They employ a large capital in their business, and the aggregate of their trade constitutes an important factor in the commercial wealth and progress of Wilmington.
1885: ADRIAN COMPANY, Wholesale Grocers, Front and Dock Streets.
The largest proportion of the wholesale grocery trade of Wilmington is with merchants away from the city, and almost exclusively in heavy groceries. The business of the above named house differs from others in this respect, inasmuch as it supplies chiefly the trade of the city and adjacent towns, not only with staple goods, but with every description of groceries. The business was founded some forty years ago as Adrian & Vollers. It was incorporated under its present designation about six years ago. The company occupy central premises at the above address, consisting of a store, with a warehouse at the rear. Here they carry a complete and most diversified line of staple and fancy groceries, making a specialty of case goods, table delicacies, etc.
Alrich Adrian
Alrich Adrian (1834-1897); and wife, Christine Fraas (1850-1937), natives of Germany. Adrian was a city alderman and co-owner of Adrian & Vollers, wholesale grocery.
Henry Louis Vollers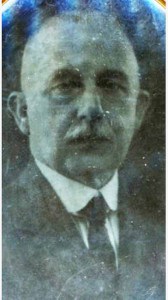 Portrait of Henry Vollers. Henry Louis Vollers (1859-1922) was born in Wilmington, North Carolina, the son of German immigrants. Vollers was in the grocery business, a member of the firm of Turrentine, Vollers & Company in 1889. He opened his own wholesale grocery business, H. L. Vollers Company, several years later and was also President of the Independent Manufacturing Company, which operated a shingle mill in Castle Hayne, North Carolina. Vollers served as a member of the Board of County Commissioners from 1900 to 1912, and was director of both the Wilmington Savings Bank and Trust Company and the Murchison National Bank. He was an active member of St. Paul's Evangelical Lutheran Church, where he served as secretary of the Church Council for 28 years. He is buried in Oakdale Cemetery.
1890: VOLLERS & HASHAGEN, Wholesale Provisions, Cigars, Etc. A. C. L. Crossing.
The transactions of this city in grain, provisions and other staple food products are very large and are annually expanding. The above named enterprise serves to forcibly illustrate the character and magnitude of the business. This enterprise was founded in 1890 and has since steadily developed and grown. The firm occupy extensive premises at the above indicated address, comprising a warehouse 300×30 in area. It is admirably located for the receipt and shipment of goods, the railroad tracks entering the premises, so that goods can be loaded and unloaded at the doors. The firm are extensive handlers of salted meats, corn, oats, hay, flour, etc. They are in direct connection with the products of leading packers and flour mills of the West and obtain their supplies under the most favorable conditions. Goods are obtained in car load lots direct from the mills, elevators and packers to destination without breaking bulk. The business of this house in its particular department is perhaps equal to any other in this locality. At any rate it is certain that no similar establishment has better inducements to offer the trade. As regards flour, the firm sell this staple under their own brands. Of these we would mention "Q," a fancy straight, "Silver Corn," a fancy straight and "Stock's Best," a fancy patent flour. All of the above are in demand with the public and therefore with the trade. A special department of the business of this firm is their cigar trade. Messrs. Vollers & Hashagen are exclusive handlers throughout North and South Carolina of the celebrated goods made by the former house of Powell, Smith & Co., New York, which is now merged into the American Cigar Co. Of these in especial demand and standard on the market are "Cuban Blossom," "Renown," "Topical Twist," and "Cremos," five-cent cigars of the very best quality and of established popularity. The firm do a very large trade in these and probably sell about three-quarters of all cigars sold in this city. The individual members of the firm are H. L. Vollers and F. C. Hashagen, both of whom are well known business men. Mr. Vollers is a director of the Atlantic National Bank and of the Wilmington Savings and Trust Company. Mr. Hashagen is a director of a building and loan association and generally identified with the material welfare of the city. The firm, with all facilities and ample capital, is in every way in a position to attract and hold its full share of legitimate patronage.
Constantly in store and transit large supplies of PROVISIONS, GROCERIES, Liquors, Foreign and Domestic, Cigars and Tobacco, Also Agents for Udolpho Wolfe's Celebrated Scheidam Schnapps, Imported Wines and Liquors.
Excerpt
From merchants in New York, Baltimore and Philadelphia. Additional contributions were made by a number of Wilmington citizens who gave building material, furniture, and books. Mr. W. P. Clyde, proprietor of the Clyde Line, donated $50 and made no charge for freight on many articles procured in the North, such as stained glass windows, the bell, carpet, etc. The ladies of the congregation, partly by collections and partly by a fair, raised a large sum of money. Messrs. Adrian and Vollers donated the bell, of 1,000 pounds weight, on which are cast the following inscriptions in raised letters:
On one side – Presented by Adrian and Vollers to the St. Paul's Evangelical Lutheran Church Wilmington, N. C, 1868 And on the other side – "I TO THE CHURCH THE LIVING CALL AND TO THE GRAVE I SUMMON ALL." – History of St. Paul's Evangelical Lutheran Church, Wilmington, North Carolina, 1858-1958 (1958)
CLUE #3: Mold Similarity (from Jeff Burkhardt)
I have compared  the embossing "GENTIAN  BITTERS" on both the Wiggins and Goddin's, and find the embossed characters and position of same, to be identical. This leads me to believe that the "slugged-out" characters before the word GENTIAN on the Wiggins bottle, were once the embossing "COMP." from the Goddin's mold.
Attached are pictures of the faint "slug-out" and embossing of each. This means the Goddin's is earlier, the mold for which was later modified and used by Wiggins. From your research, it appears James T. Wiggins was the link between these two bitters. Did Goddin's sell the rights to his product to Wiggins? Did J. T. then go with a modified amber version of Goddin's bottle to further market the product as his own? If so, couldn't have been too successful as attested to by the rarity of the Wiggins mold.