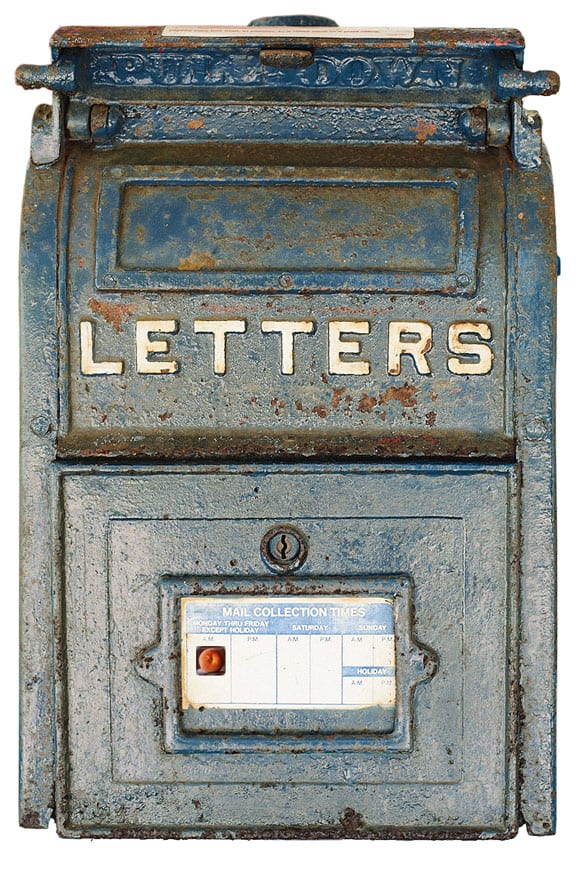 Please feel free to send any antique bottle or glass questions to ferdinand@peachridgeglass.com. The information will be posted if relevant or of interest to the readers. I will try to answer or wait for another reader to respond. Quality images are very important. Thanks! If you want to see previous questions,go to "Mailbox Letters" in "Categories" on the right column of each page.
Mailbox Letters
October – December 2013
---
Canteen Bottle Question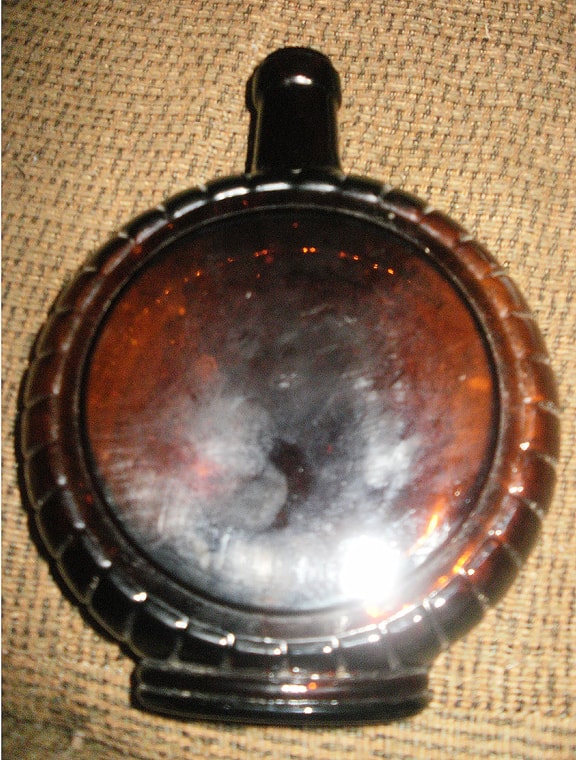 I have a Canteen Shaped Bottle I noticed in the historical canteen page on your website. There is one (pictured) like mine. I have inclosed some pictures of what mine looks like. Any info would greatly Help – Joshua
PRG: Not sure Joshua. There is no embossing on bottle. Hard to give info.
Read: Historical Canteens – Canteen Figural Bottles
---
Brown's Celebrated Indian Herb Bitters Repro??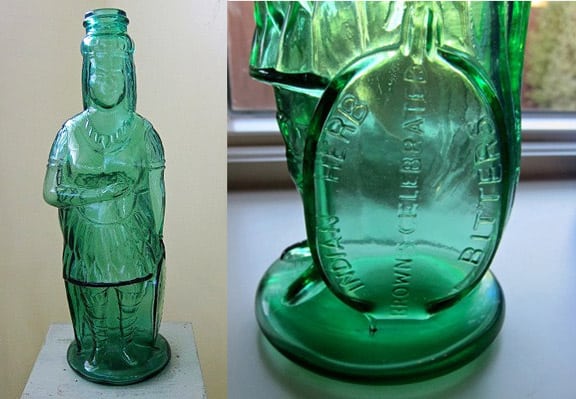 Hi there. I just found your fabulous web-site by accident. I am not a bottle collector, but picked this up yesterday and was trying to find out something about it. I'm an artist, and love colorful bottles! Anyway, your web-site is very interesting and what beautiful images. I think, from the photos and your descriptions, that this is probably a reproduction. I believe that because of the shape of the top of her head, compared to the photos. I can find only one very thin seam, which goes up the middle of her back and ends at her waist. The lip on the bottle top is thick and rounded, but has that extra ridge, unlike the photos, but it is the same as in your photo of the renderings. Any info would be greatly appreciated. Maybe I'll start collecting bottles; its' kind of like a treasure hunt! Thank you so very much……..Sarah in San Diego
PRG: Most definitely a later reproduction. See: Looking closer at the Brown's Celebrated Indian Herb Bitters
---
Question about Glass Factories
Just found your wonderful site and got some great information – thanks! I am a direct descendent of Josef Greiner, 4th great grandfather, who worked at the glashutte in Holsthum (Holzam) Germany in the late 1700's. I am VERY impressed with your list of glass works for the United States and wonder if you have – or if you know of – a list of the glaswerks in Austria, Germany and France in the period 1400-1850?
I have tried to list some but don't read German or French and find it very frustrating! Any assistance or suggestions would be most appreciated.
Read: Glass Works and Glass Factories Index
---
African Gin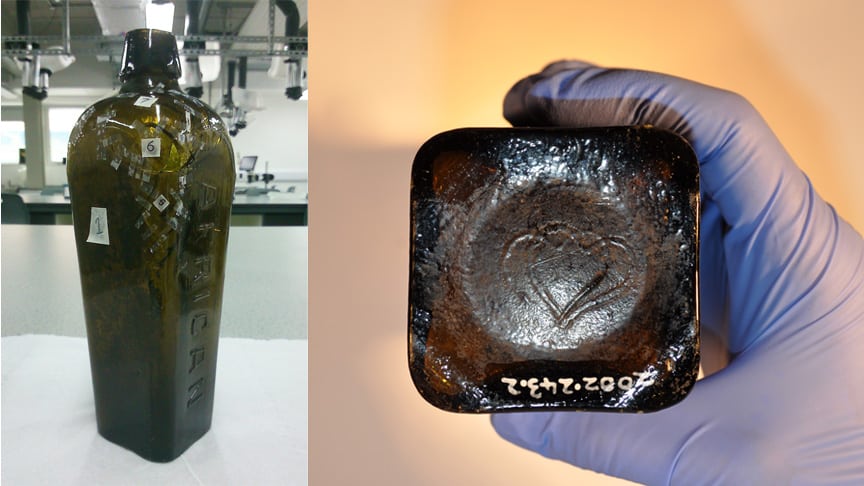 My name is Caroline Rogers and I am a MA student studying MA Conservation of Historic Objects, at the University of Lincoln in the UK.
I have been given a green glass gin bottle to conserve, but I can't seem to find a maker/manufacturer for the mark I can see on the bottom of the bottle. I am pretty sure it dates from around 1840 onwards. I believe it was found at Wilberforce House, in Hull UK. Please find attached photographs of the bottle.
I hope you or someone you know, might be able to help me.
Thank you
Caroline
---
Mayer Bottling Plant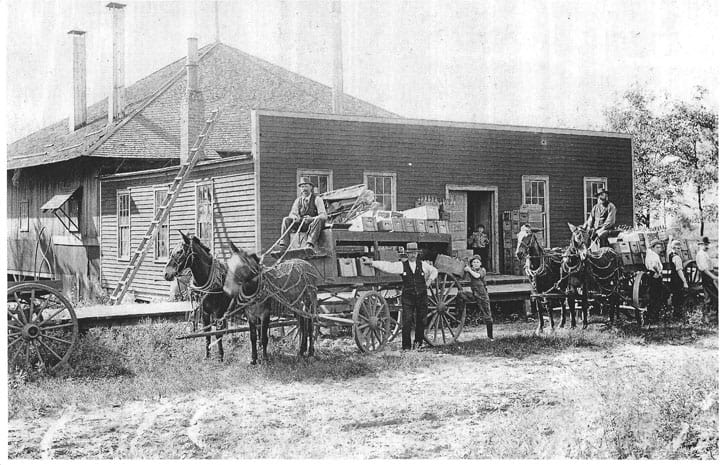 Hello Ferdinand and Elizabeth, – I came across your website wholly by surprise while doing some ancestry research. What a wonderful, comprehensive site, and was pleasantly surprised to find posted on 29 August 2013 (Read: How we Transported our Goods, Beer and Liquor Back Then) a photo of the old Mayer Bottling Plant! Joseph Drackert was a G-G Grandfather of mine. Charles H. Mayer was a G-Grand-Uncle. Joseph's daughter Louise (or Louisa) was married to Charles. Charles started the plant in 1886, and it was still in operation as late as 1952, according to an old advert I found. Not sure yet when it actually closed; only know for sure that the building no longer stands.
In 1919, Harry E. Drackert, Joseph's Grandson, opened his own bottling works in Crown Point. It closed either in 1942 or 44, due to wartime sugar-rationing. I believe the building still stands. I'm lucky enough to have one bottle from each plant sitting in my living room vitrine!
The photos are basically self-explanatory. Photo #3 is still a bit mysterious, since I'm not sure if the building pictured is actually part of the Drackert plant or not. I'm assuming that the lady standing by the truck is Beulah Drackert (Joseph's Granddaughter & Harry's Aunt) since she was identified by family members as such.
Anyway, thought you may be interested in the "Sketchy" history I've discovered so far.
Best regards, & happy hunting /collecting!
John Bertalan,
Giessen, Germany
---