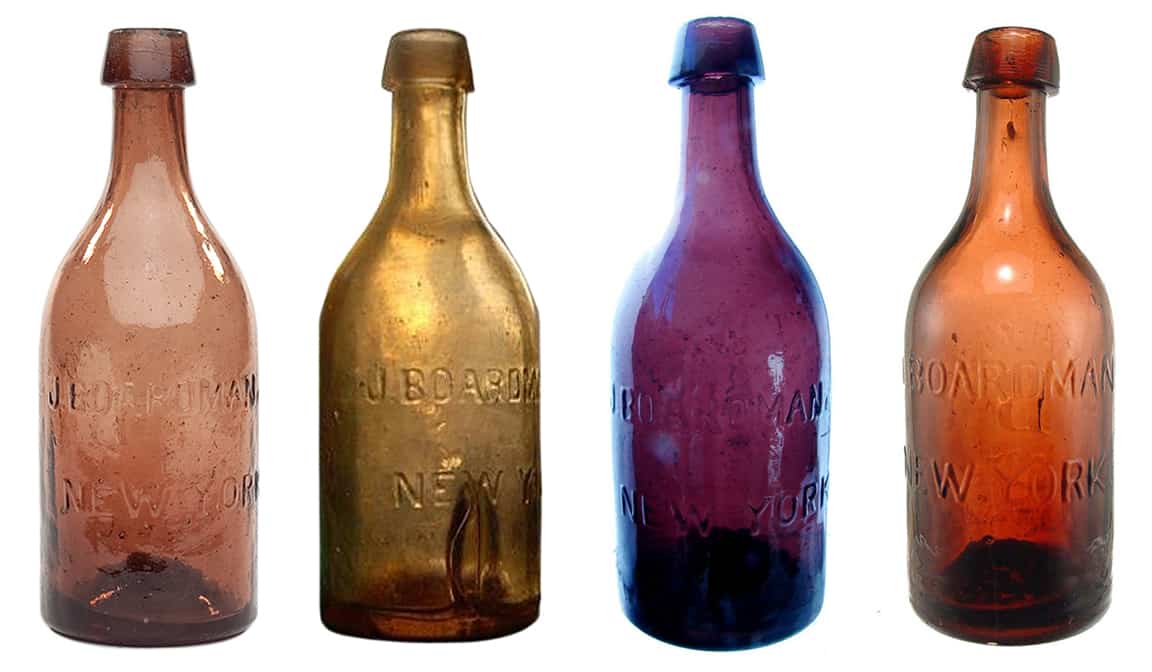 J. Boardman & Co. – New York – Mineral Waters
21 October 2013
Over the last decade or so, I have only seen two examples that came out of the ground in New York City (and heard of a third from a reliable source). The one in my picture (pictured below) is more of a champagne than pink; a headless companion was found on the same site with a bit more pink. Truly beautiful examples throughout this post – and with the different tones and hues would make a great color run.
Andy Goldfrank

John Pastor has this beautiful pink toned, J. Boardman Mineral Water in his current American Glass Gallery Auction 11 that closes next Tuesday night, 29 October (pictured above). I posted the image over on the Peachridge Glass (PRG) facebook page and it quickly drew a lot of comments and some other great examples out for viewing.
The bottle in the auction looked familiar to me as it has been on PRG Daily Dose before sitting in a window (see above).
I hope to spend a little time later today trying to find a blue and green example, if they exist. I also hope to find out a little about Boardman. So far, I can place John Boardman in New York City at 368 and 890 Broadway selling mineral waters in 1848 – 1857 (see listings below).
Andy Goldfrank comments, "according to an article in Historical Archaeology on the Five Points from when the United States built a new U.S. Courthouse in the 1990s, Boardman was listed in the New York City directories from 1846 to 1858. Directories were Doggett (1846-1858), Doggett & Rode (1851-1852), Rode (1852-1855) and Wilson (1855-1858). The article is entitled "Good for What Ails You: Medicinal Use at Five Points" by Michael C. Bonasera and Leslie Raymer, Vol. 35, No. 3 (2001); it is available on JSTOR and the Society for Historical Archaeology website."
I would also like to find out why the auction example was found in Wilmington, North Carolina.
Read More: Jacob Youngblood and the Bernhard Soda Water Apparatus